When we think of gangster films, we tend to think of the classics—like Francis Ford Coppola's The Godfather, Brian De Palma's Scarface, and Martin Scorsese's Goodfellas. They belong to a whole genre comprised of New York City Mafia flicks.
But what about gangsters from across the pond? Britain has its own unique type of gangster cinema that you simply can't catch anywhere else. We're talking about things like the Cockney sarcasm of Michael Caine and the dark comedy of Guy Ritchie.
Here are our picks for the best British gangster movies ever made, worth checking out if you want crime cinema with a twist.
15. Blue Story (2019)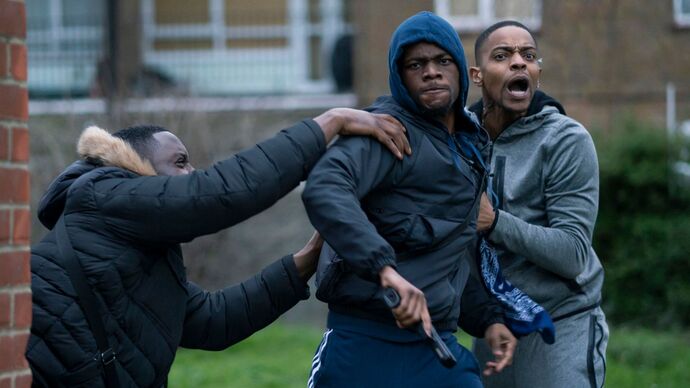 This one's a little different from the rest of this list. Blue Story shows us the life of modern-day gangsters in England, specifically the Peckham versus Deptford areas of London.
Tragically, Blue Story is based on true events and was written, directed, and narrated by Rapman (a.k.a. Andrew Onwubolu) as an expansion of his 2014 YouTube series.
Rapman retells his experiences of intergang violence, where many lives were wasted at the hands of trivial territorial disputes. Far removed from the wit and humor of most British gangster films, Blue Story rings out an urgent cry for the gang crisis happening in London today.
14. Green Street Hooligans (2005)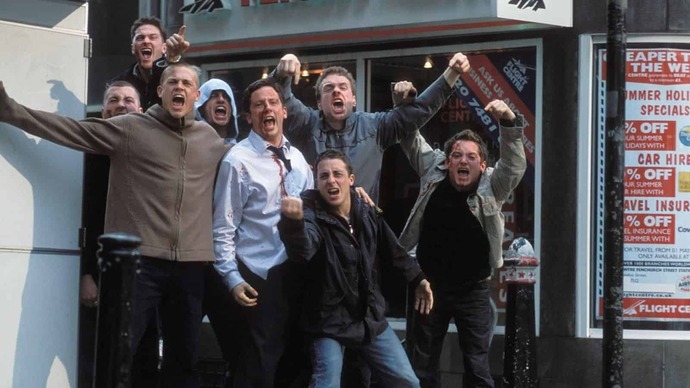 Technically, Green Street Hooligans (also called just Green Street) is about soccer hooligans rather than gun-wielding professional gangsters. However, that doesn't stop Lexi Alexander from framing it like a gangster flick with all its usual conventions.
This time, it isn't the Montagues versus Capulets or the Peaky Blinders versus the Birmingham Boys. It's West Ham United versus... well, anyone that's not West Ham United.
To non-fans, it might sound silly that a whole homicidal rivalry can erupt from a dumb game of sports... Just make sure you don't say that to a real soccer hooligan!
Elijah Wood plays the Yank, who's taken in by a Green Street Elite hoodlum in London (played by Charlie Hunnam). At first, he can't make sense of the violence and toxic masculinity. Then, he loves it.
13. Legend (2015)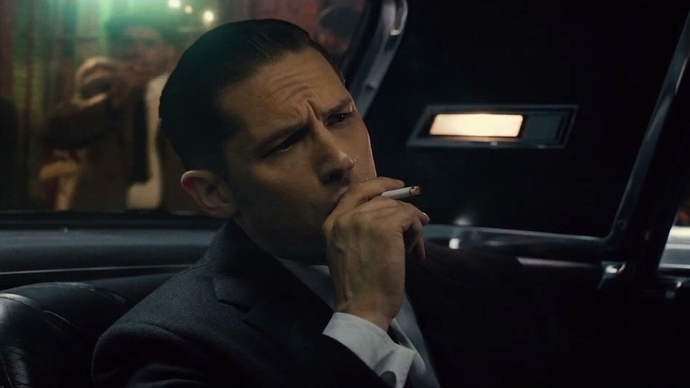 Tom Hardy is the perfect fit for a modern, tough, oh-so-very-British gangster who's suited up and ready to punch.
Following his powerful performance as the notoriously brutal bare-knuckle prisoner Charles Bronson in Bronson (2009), Hardy appeared as another real-life British criminal. Or, should we say, criminals.
The Kray twins practically ran the East End of London during the 1960s, acting as a double threat with their differing personalities.
Hardy eloquently captures both—the measured sophisticate and the unpredictable psychopath—under Brian Helgeland's skillful direction.
12. Brighton Rock (1948)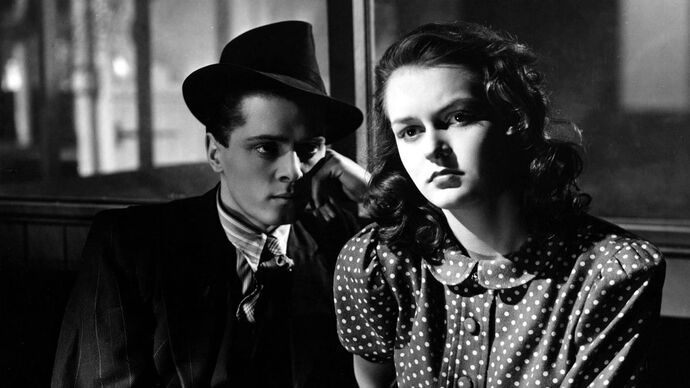 Even though Brighton Rock was remade in 2010 by Rowan Joffé, it was far from successful—so we're sticking to the original for this list.
Brighton Rock (also known as Young Scarface) is the oldest movie on our list, so expect a classic black-and-white gangster flick straight out of the 1940s. You'll see a baby-faced Richard Attenborough star as Pinkie Brown, who's a low-level gangster in Brighton, England.
Based on Graham Greene's 1938 novel, Brighton Rock follows Pinkie as he lies and kills his way through the seaside town.
Director John Boulting's risky crime drama was banned in New South Wales for it's "horrific" depiction of violence, but the film has since been heralded as a noir classic.
11. Gangster No. 1 (2000)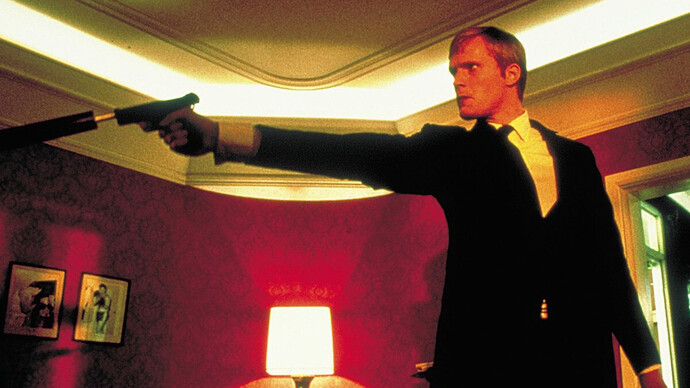 The Cockney accent is never as fully on display as it is in the British gangster genre. In Gangster No. 1, we find Paul Bettany, Malcolm McDowell, David Thewlis, and Saffron Burrows having a whirl at it, giving Michael Caine a run for his money.
Like any gangster—no matter how high or low in the hierarchy they are—Paul Bettany's unnamed ruffian feels like he runs his city.
If he can just manage to impress his butchering boss, he thinks he'll rule London entirely (which is basically like ruling the whole world).
Paul McGuigan's energetic crime flick flashes back to the 1960s, when British gangsters were at their peak of power and sophistication. Yes, Gangster No. 1 is funny, but it also demands to be taken seriously.
10. Sexy Beast (2000)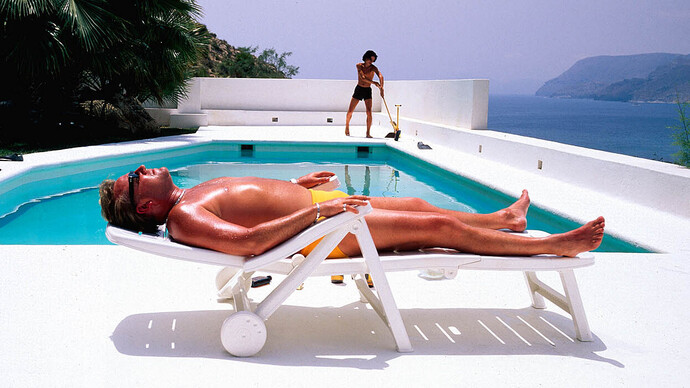 Gal (played by Ray Winstone) is content and living it up in Spain when his old criminal buddy "who knows a bloke, who knows a bloke, who knows a bloke" comes and ruins it all.
Don Logan (played by Ben Kingsley) nags Gal out of retirement to aid in one final bank heist in London, who doesn't go down without a fight (and neither would we, given that lush Mediterranean villa).
Like his oceanside view, Sexy Beast comes at you in waves, cleanly directed by Jonathan Glazer. By chucking two hardened Cockney geezers into a luscious Spanish paradise, Glazer successfully makes one black comedy you won't want to miss.
9. Layer Cake (2004)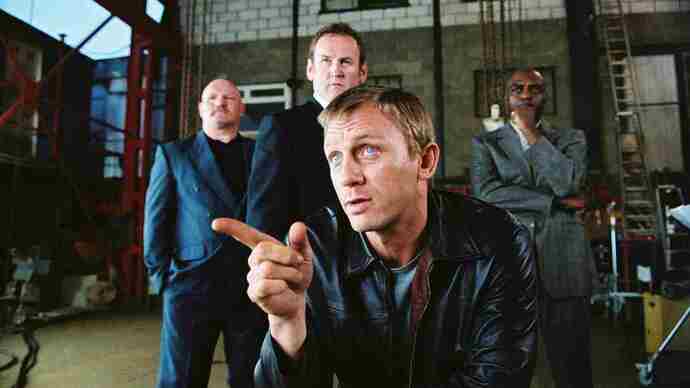 "I'm not a gangster, I'm a businessman!" XXXX claims... But who's seriously going to believe that from a guy named XXXX?
In Matthew Vaughn's directorial debut—who was producer for many of the Guy Ritchie films on this list—Layer Cake features all the conventions of the British gangster genre in an effortlessly stylish way.
A somewhat gruesome maze of humor and plot twists, Layer Cake follows one criminal's failure to enjoy retirement.
Based on J. J. Connolly's 2000 novel, Matthew Vaughn's modern British noir boasts an all-star cast of Daniel Craig, Colm Meaney, Michael Gambon, Sally Hawkins, Tom Hardy, and Sienna Miller.
8. Performance (1970)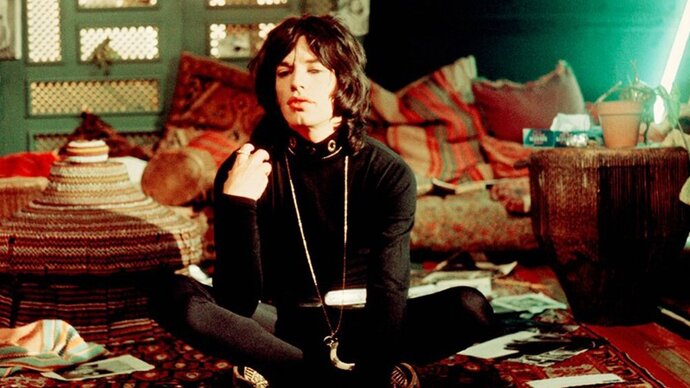 Seeing a famous singer in a movie is always cause for a double take—especially when it's someone like Mick Jagger! The Rolling Stones legend plays a musician in the unique crime drama Performance, jointly directed by Donald Cammell and Nicolas Roeg.
Chas (played by James Fox) is just as vicious as the next gangster, but even he can regret things. After killing an old mate, Chas realizes he's vulnerable and goes into hiding.
And what's the best way to lay low when you don't want to be found? How about as a crazy ex-rock star in the country?
Performance is one of the more artistically liberal gangster movies, which solidified Mick Jagger's eccentric reputation and encapsulated the London bohemian scene of the 1970s. Everyone hated it at first, but now Performance is appreciated for its great influence.
7. In Bruges (2008)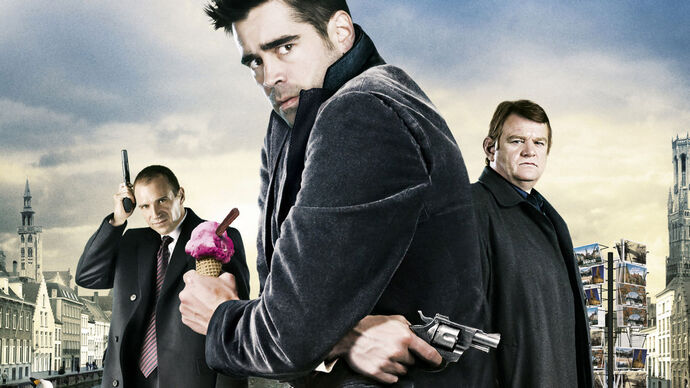 In Bruges is a British gangster movie that neither takes place in Britain nor features your traditional British gangsters.
Ray (played by Colin Farrell) and Ken (played by Brendan Gleeson) are Irish hitmen sent to lay low in Belgium after they accidently kill a boy. There, they simply wait for further instructions from their boss.
The British aspect of In Bruges comes not only from its English writer/director Martin McDonagh, but also from its main antagonist Harry Waters (played by Ralph Fiennes) as well as its narrative callback to the British 1957 play The Dumb Waiter.
Ralph Fiennes's performance as Ray and Ken's boss is satirically British in the best way: a ton of Cockney slang and even more swear words than all of The Wolf of Wall Street. In Bruges is one of the few truly funny films that can also make you truly cry.
6. Lock, Stock and Two Smoking Barrels (1998)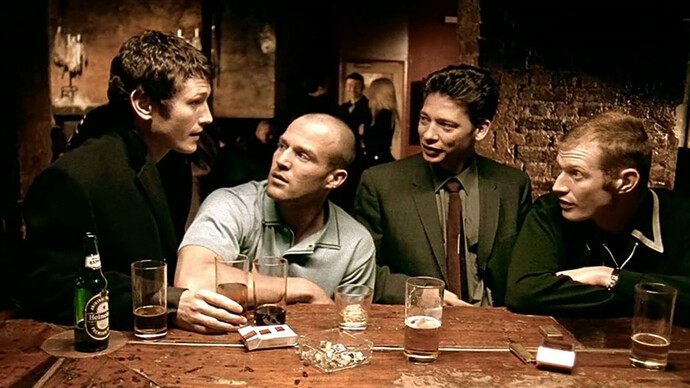 What happens when you mix the violence of Quentin Tarantino with the cockiness of East London gangsters? You get an awesome directorial debut! From Guy Ritchie, no less.
Guy Ritchie put his stamp down with Lock, Stock and Two Smoking Barrels by establishing his trademarks: crude, fast-talking macho men; brutal but funny punch-ups; and some of his favorite actor collabs.
Lock, Stock and Two Smoking Barrels gives us a very potent warning: don't play poker with the mob unless you can afford it. Vinnie Jones, Jason Statham, Jason Flemyng, and Dexter Fletcher star in this scrappy heist movie with tons of edge and energy.
5. Get Carter (1971)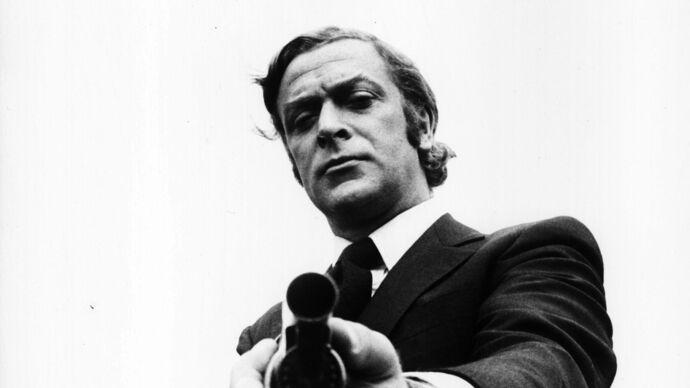 Mike Hodges's directorial debut stars another Cockney icon of British cinema—one who later became a Hollywood favorite, and one you probably already know and love: Michael Caine.
In Get Carter, Michael Caine plays Jack Carter, a mobster of the more sophisticated kind who still knows how to kill. And one thing's for sure: you don't want to vex a professional killer.
When his brother dies in a drunk driving accident, Carter is out for revenge. This authentic anti-hero—clearly influenced by early American crime films—is quietly ruthless and naturally vicious.
Critics of the time were resentful of Carter's remorseless character, but modern viewers are smart enough know he's not a role model!
4. The Gentlemen (2019)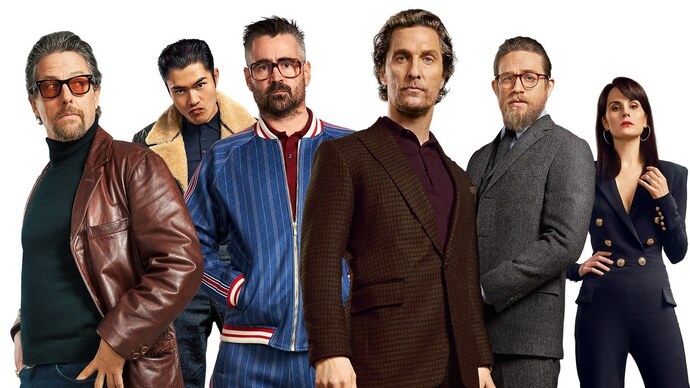 If you've seen Guy Ritchie's 2023 spy film Operation Fortune: Ruse de Guerre, you'll notice that Hugh Grant's character seems a little familiar if you go back and watch The Gentlemen.
In this one, Grant plays Fletcher, a private detective who's hired to investigate the connection between a cannabis baron (played by Matthew McConaughey) and a duke (played by Samuel West).
Although not the exact same character, the similarities are striking—and we're here for it! Fletcher's sarcastic deadpan humor perfectly embodies Ritchie's callous British charm.
3. The Long Good Friday (1980)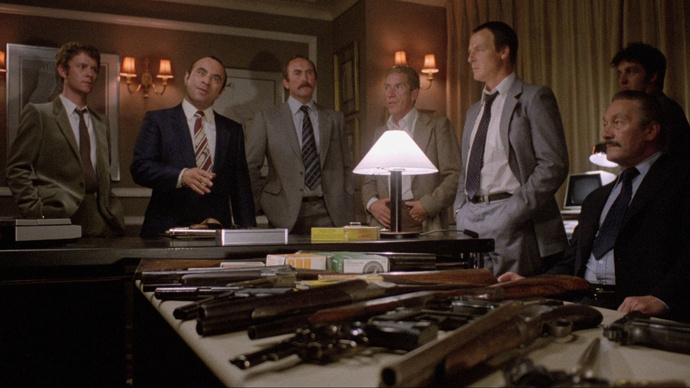 Gangster movies can get a little lazy because they usually have a solid, prewritten framework to fall into. The Long Good Friday is not one of these movies; instead, it's intelligent, tightly written, and led by a pugnaciously hot-headed gangster who's trying to go legit.
Bob Hoskins is Harold, the cunning criminal protagonist who's just the tip of John Mackenzie's award-winning movie. Beneath it all, there's a whole web of political scandals and police corruption.
Set in the late 1970s, The Long Good Friday features some interference from the IRA. Thrills and kills lurk inside London's underbelly, and the movie feels just as tough as its characters. Buckle in!
2. Snatch (2000)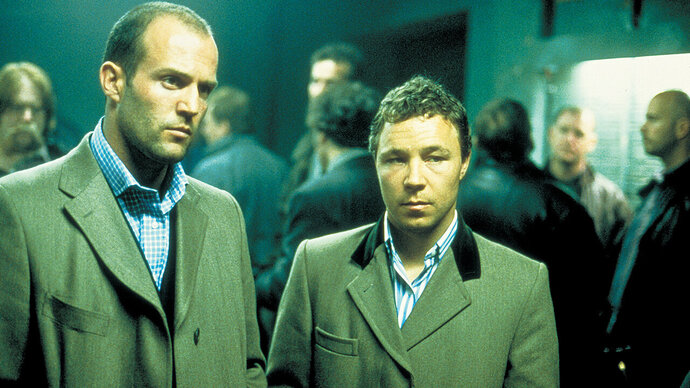 Back in 2000, Brad Pitt appeared—unexpectedly—as a Hollywood star caught in the British gangster world in Snatch.
Mickey "One Punch" O'Neil (played by Brad Pitt) is an Irish traveler who's talked into a boxing match with one of the fighters belonging to crime boss "Brick Top" Pulford (played by Alan Ford).
Snatch has snappy pacing, aggressive characters, and an ensemble cast of Jason Statham, Stephen Graham, Vinnie Jones, Dennis Farina, Rade Šerbedžija, Jason Flemyng, Lennie James, and Benicio Del Toro.
This British gangster flick is full of zany and misfit characters, making it a rollercoaster ride from start to finish!
1. The Italian Job (1969)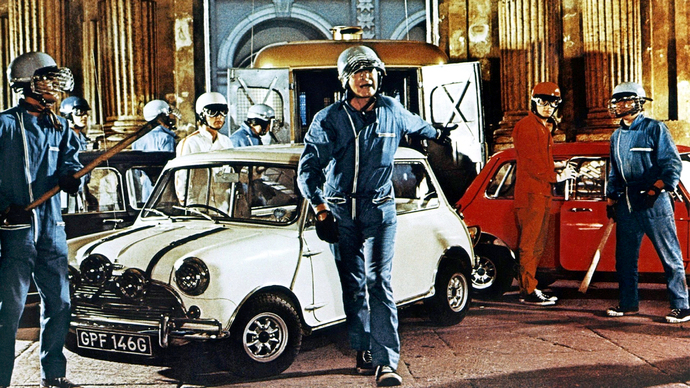 "You were only supposed to blow the bloody doors off!" shouts Charlie Croker (played by Michael Caine) when the bullion van blows up in the middle of heist training.
In The Italian Job, fresh-out-of-prison Charlie Croker already has the mob after him, so he embarks on a heist to steal gold from an armored security truck in Italy.
This cult comedy features one of Caine's most famous roles—just as conniving and thieving as the aforementioned Jack Carter from Get Carter, but far more likable.
Peter Collinson's caper movie has been parodied, remade, and referenced time and again, and it even inspired an annual charity event in the UK (also called The Italian Job).
Although director F. Gary Gray did his best with the American remake of The Italian Job starring Mark Wahlberg, it will never have the rustic charisma of this British crime classic.