The 1980s were an incredible decade for movies. It was the age of sci-fi movies, family movies, adventure movies, coming-of-age movies, blockbuster movies, with iconic titles across all of them.
Ridley Scott's Alien had just been released in 1979. Steven Spielberg was on the rise as a hot director. Film budgets were starting to skyrocket. And the retro aesthetic of the 80s is remembered so fondly that modern shows like Stranger Things are trying to recapture it.
Why were the 80s so impactful on cinema? Well, just look at the legendary movies that came out during the decade and you'll have your answer. Here are some of the most iconic movies of the 80s that still get referenced to this day.
10. When Harry Met Sally (1989)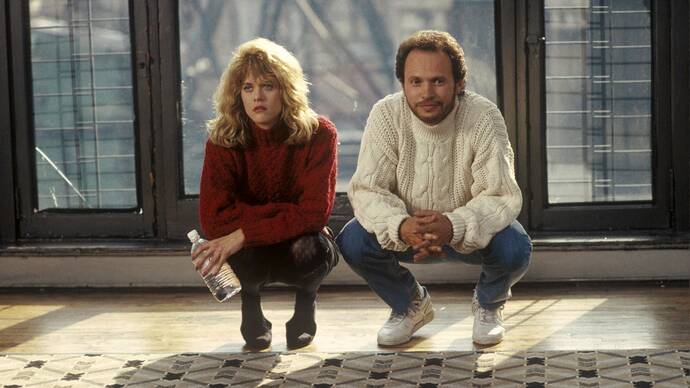 "The first time we met, I really didn't like you that much..."
When Harry Met Sally is mostly famous for that one scene (if you've seen it, then you know the one). But Rob Reiner's romance-comedy has a lot more to offer than that. In fact, it practically changed the face of the genre by bending its rules.
Billy Crystal and Meg Ryan star in this classic battle of the sexes, where two graduates bump into each other after five years apart. If you like Woody Allen movies, you'll love this one. It's intellectual, lighthearted, and boasts a similar modern-city romance feel.
9. Indiana Jones and the Raiders of the Lost Ark (1981)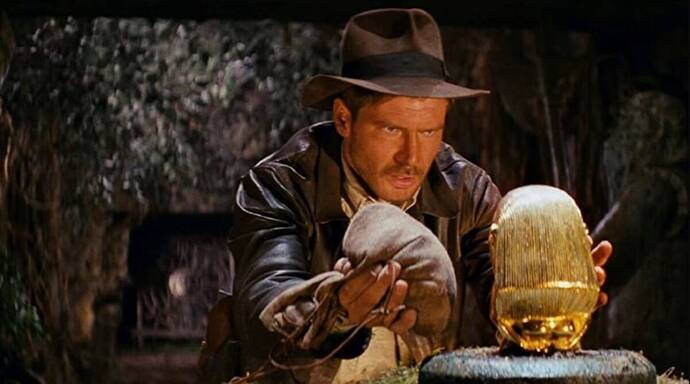 "Snakes. Why'd it have to be snakes?"
Indiana Jones still has movies coming out, with the fifth installment set to release in 2022. The first (and best) film to trigger this whip-slashing, treasure-hunting franchise was released in 1981, starring Harrison Ford as the great Indiana Jones.
Steven Spielberg's family adventure is one of the classics, following an archaeology professor with a passion for exploration. It's funny, charming, gritty, and practically bursting at the seams with creative action sequences and sarcastic one-liners.
Indiana Jones and the Raiders of the Lost Ark sees Jones up against the Nazis in finding the biblical Ark of the Covenant.
8. Platoon (1986)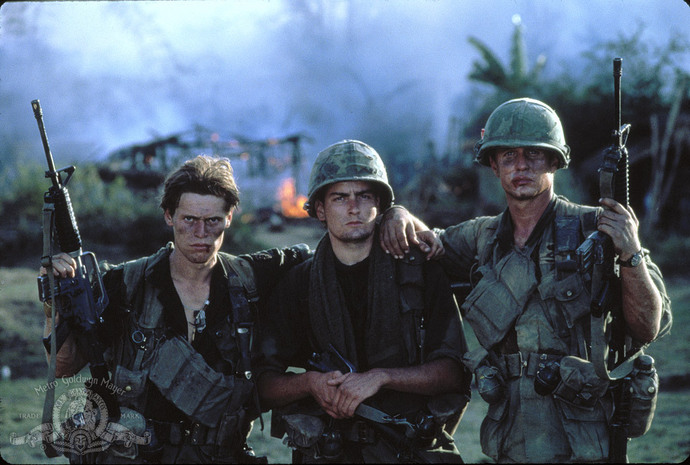 "Feelin' good's good enough."
The 70s and 80s loved a good Vietnam War movie, and Platoon is one of the best in the genre.
Oliver Stone's war drama follows a platoon of American soldiers throughout the South Vietnam wilderness. Charlie Sheen, Tom Berenger, Willem Dafoe, Johnny Depp, and Forest Whitaker each deal with the horrors of warfare as their idealism dwindles away.
You've probably seen the image of Dafoe on his knees, arms flung into the air. It's a recreation of the Art Greenspon photo, and this famous scene—with "Adagio for Strings" ringing out on the soundtrack—became the iconic movie poster.
7. Back to the Future (1985)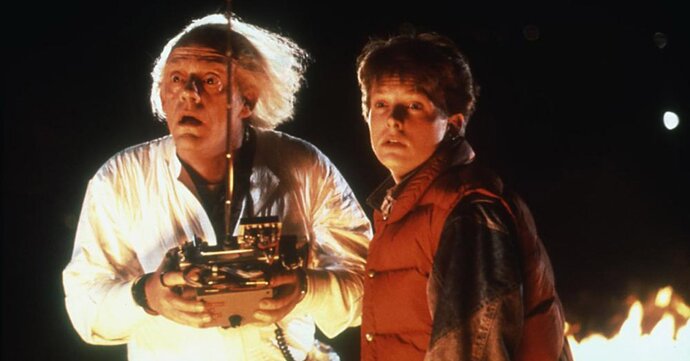 "Great Scott! This is heavy..."
We use the word "iconic" to describe a lot of old movies these days. Cinema is apparently chock full of "iconic" quotes, characters, and stories. But Back to the Future is truly as iconic as they come, and it embodied an entire generation.
Eventually becoming a trilogy, director Robert Zemeckis captured the minds of kids and adults alike in his classic 80s adventure flick, which starred Michael J. Fox as the young Marty McFly skating through the town of Hill Valley.
His friend (an eccentric scientist named Dr. Emmett Brown played by Christopher Lloyd) creates a time machine out of a DeLorean and accidently sends Marty back to the year 1955.
Back to the Future is a smart and imaginative high-concept comedy—one that will stay in our hearts forever.
6. Do the Right Thing (1989)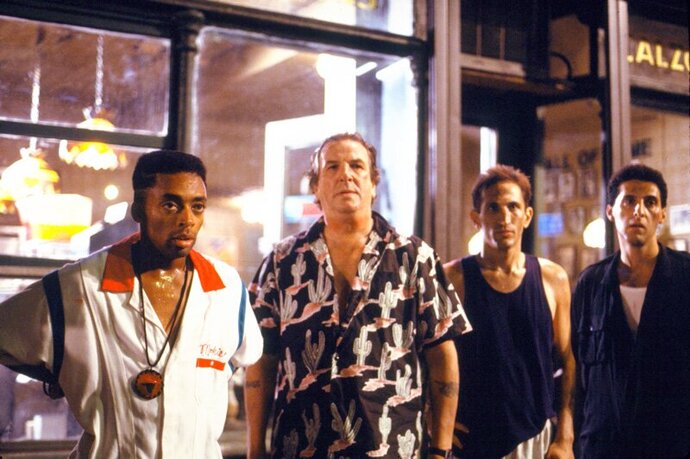 "It's murder. They did it again."
This "Spike Lee Joint" is one of the director's absolute finest creations. It's a timeless socio-political message wrapped up in sharp filmmaking, snappy cinematography, and nuggets of comedy.
The message is clear: disparities of power will always lead to violence. Lee advocates for peaceful protest by showing us the reverse in Brooklyn, as the Italian-Americans clash with the African-American community who also clash with the Korean store owners.
The heat of the movie—set during the hottest day of the year—only intensifies emotions. You can almost feel the sweat coming off the screen! Do the Right Thing is educational entertainment at its best, teaching us to... well... do the right thing.
5. Blade Runner (1982)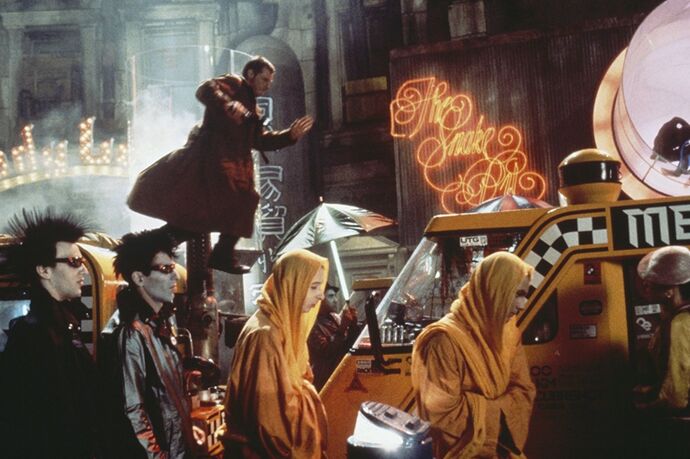 "All those moments will be lost in time... like tears in rain."
Ridley Scott had just made Alien, but he wasn't stopping. Next came another sci-fi cinema landmark: Blade Runner. It's a timeless classic that, for once, received a decent sequel in 2017.
Blade Runner is more than a story. It's a world. Ridley Scott's dystopian Los Angeles is crammed with people, advertisements, litter, and rain. Illegal humanoid replicants are on the loose, and it's up to officer Rick Deckard (played by Harrison Ford) to hunt them down.
Elements of the neo-noir, cyberpunk, fantasy, crime-thriller, and sci-fi genres all work together in Scott's cult classic, which can be read as a warning against industrialization, mass advertisement, climate change, and artificial intelligence.
4. Scarface (1983)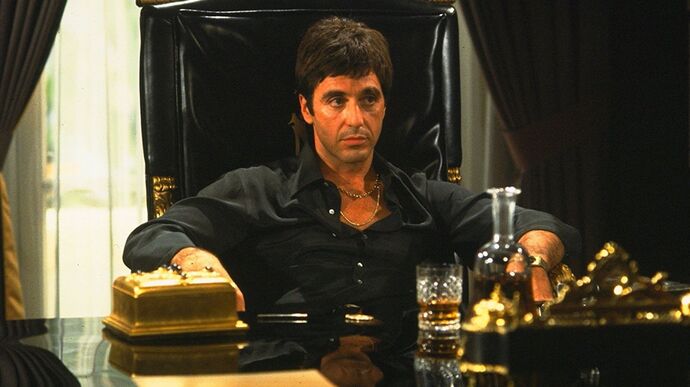 "Say hello to my little friend!"
Al Pacino is the face of Tony Montana, a Cuban refugee-turned-drug lord. After arriving in Miami in 1980, Tony begins to build an empire that's later torn down by paranoia and betrayal.
As you can guess from his nickname, Tony is loosely based on the real-life gangster Al Capone, so named for the scars on his left cheek.
Scarface is a remake of the 1932 film by Howard Hawks, and a rare example of a remake that proved far more successful. Today, Scarface is more of a pop culture reference than a cinematic masterpiece.
Director Brian De Palma was originally criticized for his excessive use (at the time) of violence, but it quickly went on to be one of the public's favorite gangster movies.
3. E.T. the Extra Terrestrial (1982)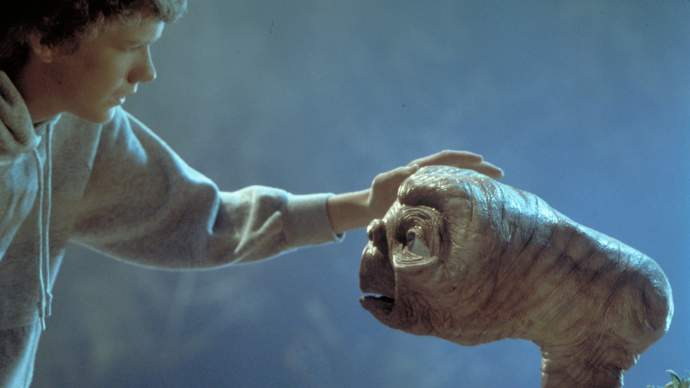 "He's not a goblin. He's a spaceman!"
We couldn't make this list without mentioning this lil guy. Based on Steven Spielberg's own imaginary childhood friend, E.T. is an objectively ugly yet somehow still cute alien who's stranded on Earth.
Ten-year-old Elliott (played by Henry Thomas) befriends the creature, determined to get him home before scientists can get their hands on him and conduct experiments.
Apparently, the filming of Indiana Jones and the Raiders of the Lost Ark in Tunisia had made Spielberg lonely, who dreamed of childhood memories that he later brought to life with this movie.
E.T. the Extra Terrestrial immediately received universal acclaim, winning four Academy Awards and becoming a solid family favorite.
2. The Breakfast Club (1985)
"We're all pretty bizarre. Some of us are just better at hiding it."
The Breakfast Club is one of those movies you see playing on screens in other movies—probably with the scene of Judd Nelson's fist in the air. It's one of the many coming-of-age films from the 80s, alongside the likes of St. Elmo's Fire, Heathers, and Pretty in Pink.
Taking place entirely in one room, The Breakfast Club features five students who are forced to spend their Saturday in detention. Each student is from a different clique, and they all hate each other at first.
But after a few spliffs, dance-offs, and deep chats, they form an unlikely bond. John Hughes really captured that teenage feeling of rebellion, loneliness, and identity, making this film quintessential to the 80s as well as the teen movie genre overall.
1. Raging Bull (1980)
"I don't go down for nobody."
Silence and black-and-white don't often scream gritty sports drama—more like boring silent cinema. But director Martin Scorsese used these tools to bring us the greatest boxing movie ever in Raging Bull.
Robert De Niro plays real-life middleweight boxer Jake LaMotta, known for his viciousness in the ring. De Niro won an Oscar for his portrayal of the abusive boxing champion, who served a brief stint as a stand-up comedian and was jailed for six months on a chain gang.
Raging Bull went down in history as a "culturally, historically, or aesthetically significant" film that's remembered for its unique, stylistic vision and its employment of the anti-hero.
Other honorable mentions:
The Shining (1980)
The Goonies (1985)
Stand By Me (1986)
Top Gun (1986)
Dirty Dancing (1987)
Full Metal Jacket (1987)
Beetlejuice (1988)
Dead Poets Society (1989)
Keep going with our complete series of articles on all the most popular and iconic movies by every decade: