There's a special subgenre in film that veers away from the heavy amounts of action, romance, drama, and conflict that tend to permeate most movies. We're talking about hangout movies.
In a hangout movie, the story tends to be low-key and, in many cases, features a slice-of-life narrative. Not much plot actually happens between the characters, who often don't have much to do.
They're called hangout movies because the characters mostly just linger in each other's company, passing the time with trivial conversations—and we feel like we're hanging out with them.
Here are our picks for the best chill movies that really feel like a hangout between the characters and ourselves.
20. Slacker (1990)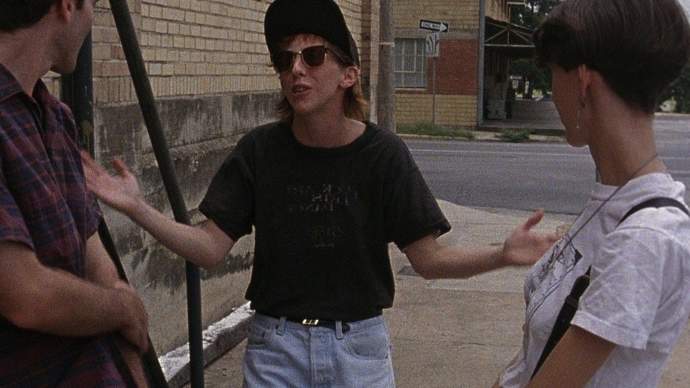 To kick off our list, we're featuring Slacker, which was directed by indie phenomenon Richard Linklater in his feature film debut. It's the perfect hangout movie for slackers.
The characters find themselves drifting in and out of insubstantial conversations with people who enter their day, and the scenes meander, never in a rush to get anywhere.
19. Friday (1995)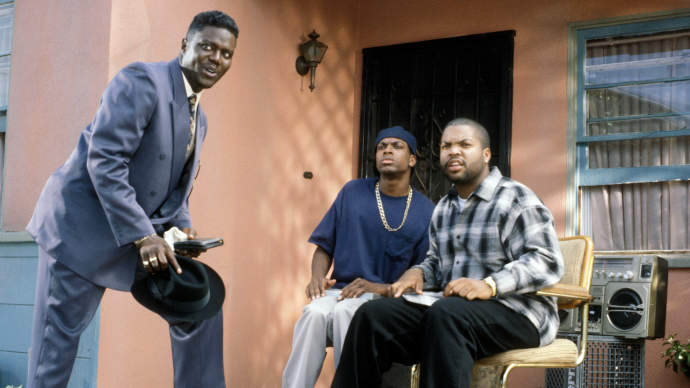 The 90s cult classic Friday, directed by F. Gary Gray and starring Ice Cube and Chris Tucker, became iconic for portraying the hood as a different kind of place than most movies did at the time.
The story follows two dudes who owe a large debt to a gangster. While they do intend to pay it off, they don't necessarily busy themselves about it. There's plenty of time for idle conversation in their lives, no matter how pressing the issue.
18. The Big Lebowski (1998)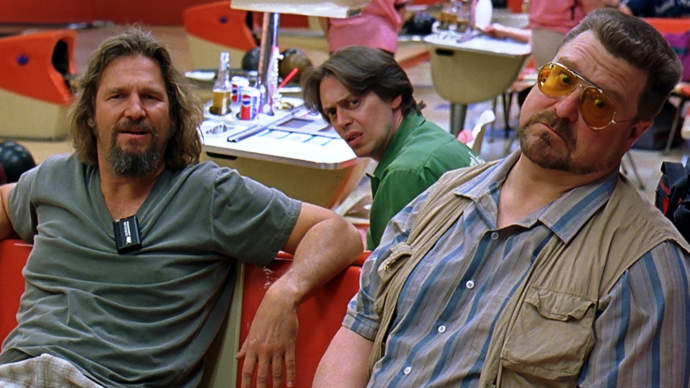 Directed by the Coen brothers, The Big Lebowski actually wasn't too well-received when it first released. However, it slowly developed a cult following, and then went on to inspire a whole religion called Dudeism.
The Big Lebowski centers on The Dude (played by Jeff Bridges), who finds himself in the middle of a conspiracy. But without much intuition, he remains pretty powerless throughout the entire fiasco.
Also starring Steve Buscemi and John Goodman, The Big Lebowski is a free-spirited hangout classic and one of the best by the Coen brothers.
17. This Is Spinal Tap (1984)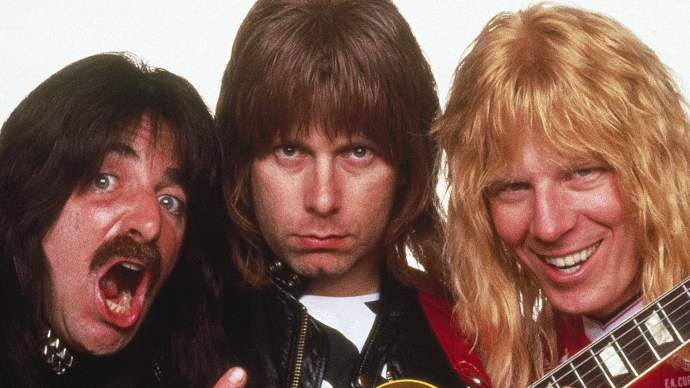 Everyone wants to hang out with rock stars—but you probably wouldn't want to hang out with these rock stars!
This Is Spinal Tap is a mockumentary film that follows the tour of the fictional Spinal Tap, a once-great rock band that's currently on (what they eventually realize to be) their final tour.
Directed by Rob Reiner, this cult classic comedy is absolutely hilarious and features some iconic quotable lines.
16. The Breakfast Club (1985)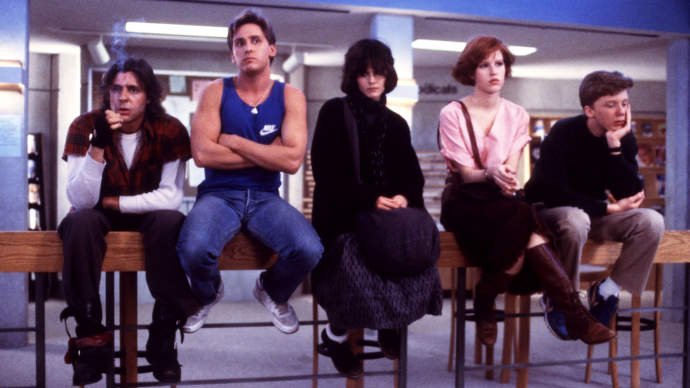 If you've ever landed yourself in detention, you likely found that detention is far from the soul-searching experience that The Breakfast Club makes it out to be. But that's okay!
When five teenagers—all from different backgrounds and social cliques—wind up in an all-day Saturday detention together, they're able to get past their differences and get up to all manner of hijinks.
A fun movie filled with extremely memorable sequences, The Breakfast Club (the title of which is a slang term for detention) is a hangout movie that every teenager should watch at least once.
15. Clerks (1994)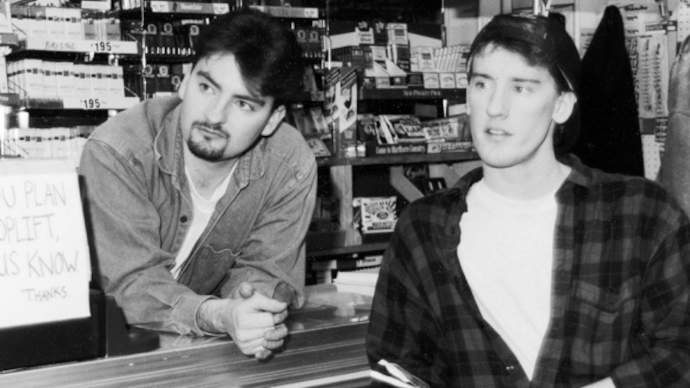 Directed by Kevin Smith, Clerks wasn't just a fantastic independent feature film debut. It's also the quintessential hangout movie!
The film takes place almost entirely within a convenience store as it follows the conversations of two friends and the patrons of their shop.
Clerks is a wonderfully chill watch, which is what made it into the cult classic that jumpstarted Kevin Smith's career.
14. Big Night (1996)
Directed by, written by, and starring Stanley Tucci, it's clear that the man had a very specific vision in mind for Big Night.
The story takes place in a restaurant as two brothers—Primo (played by Tony Shalhoub) and Secondo (played by Stanley Tucci)—try to ensure the survival of their business by staging a fancy dinner.
Big Night features some of the most exquisite food ever, so if you're going to chill to this movie, it's best have some snacks ready!
13. This Is the End (2013)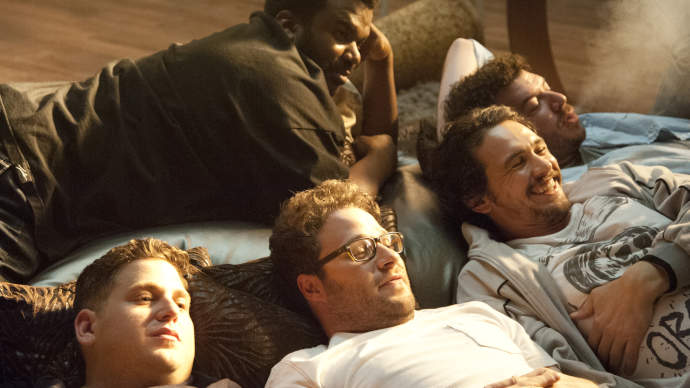 Directed by Seth Rogen and Evan Goldberg, This Is the End features one of the greatest ensemble casts of all time as it brings together dozens of famous movie stars to simply hang out together on camera.
But this isn't your typical hangout. Sure, the actors may be playing themselves, but most of them are playing exaggerated versions of themselves—and their reactions are all played up after an apocalyptic event destroys Los Angeles.
Starring Seth Rogen, Jonah Hill, James Franco, Danny McBride, and Craig Robinson, This Is the End is a hangout for the end of the world.
12. The Big Chill (1983)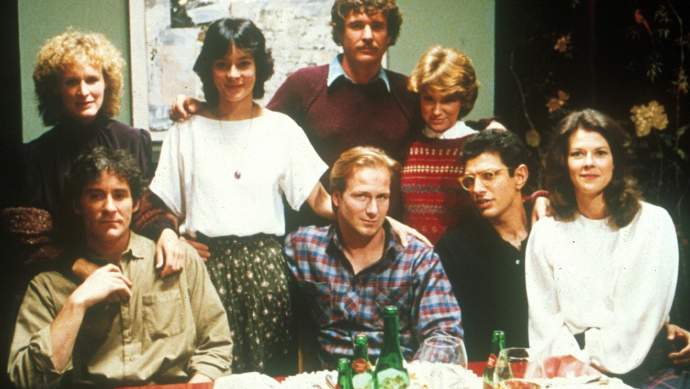 If there's one movie to chill to, it has to be The Big Chill. I mean, it's right there in the name!
The Big Chill is a comedy drama about an old friend group in their thirties who meet up together when one of their members commits suicide. As they hash things out at this impromptu reunion, it's clear that most of them are terrified about where they are in life.
Starring the likes of Kevin Kline, William Hurt, Glenn Close, and Jeff Goldblum, what more can you ask for? When it first came out, The Big Chill was a movie that captivated a whole generation—and it remains one of the most spectacular hangout movies to this day.
11. Easy Rider (1969)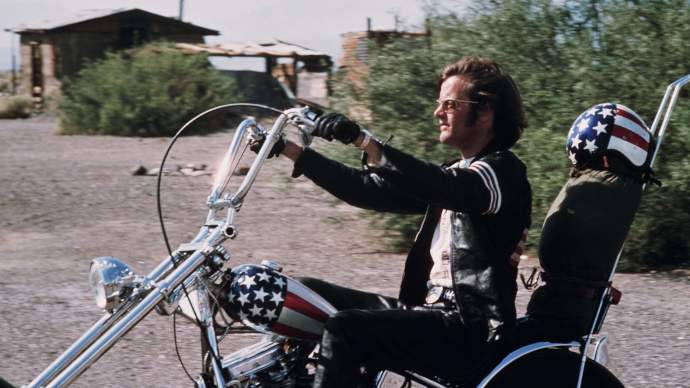 Directed by Dennis Hopper, Easy Rider represents the end of New Hollywood in many ways. But even if you don't care about cinema history, it's still a perfectly chill movie worth watching today.
Easy Rider is a road movie that centers on two bikers (played by Peter Fonda and Dennis Hopper) as they ride across America. Along the way, they meet all kinds of people and indulge in a lot of drugs.
The film is one of a kind, and it's one of the most important movies in American cinema. Even the stories behind the making of this movie are the stuff of legend. It's that good!
10. Fast Times at Ridgemont High (1982)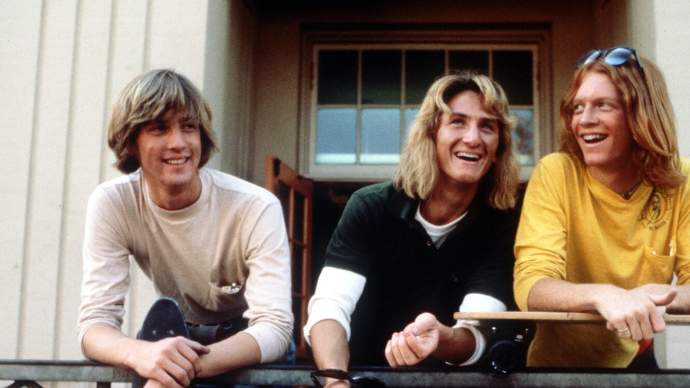 Amy Heckerling's Fast Times at Ridgemont High is an iconic comedy film that every high schooler should see at least once.
Following the lives of various teens at Ridgemont High, the film shows us just how awkward, silly, and funny it is to grow up.
Starring Sean Penn, Nicolas Cage, Jennifer Jason Leigh, Judge Reinhold, among others, Fast Times at Ridgemont High is a cult classic comedy that's one big hangout worth chilling to.
9. Caddyshack (1980)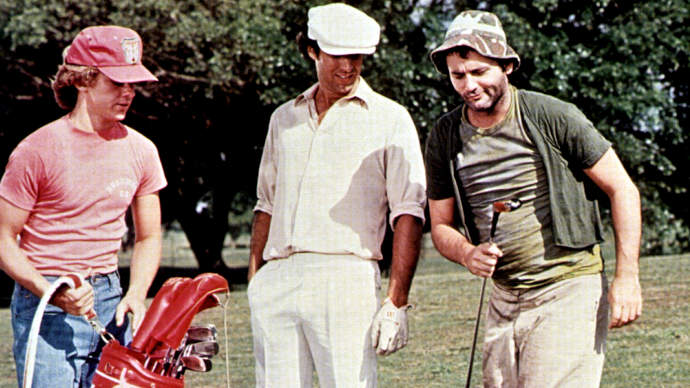 Here we have the summer comedy film that practically invented the summer comedy genre: Caddyshack. Set on a golf course, guests and club staff get up to all manner of shenanigans during one summer.
Nothing serious happens in this film, mostly because none of the characters are serious at all. In fact, the most sincere endeavor undertaken by any character is when the greenskeeper (played by Bill Murray) attempts to kill a gopher.
Between Bill Murray, Chevy Chase, Rodney Dangerfield, and Ted Knight, Caddyshack ends up being not just one of the best comedy sports movies, not just one of the best comedy films of the 1980s, but one of the most rewatchable movies ever made.
8. Night on Earth (1991)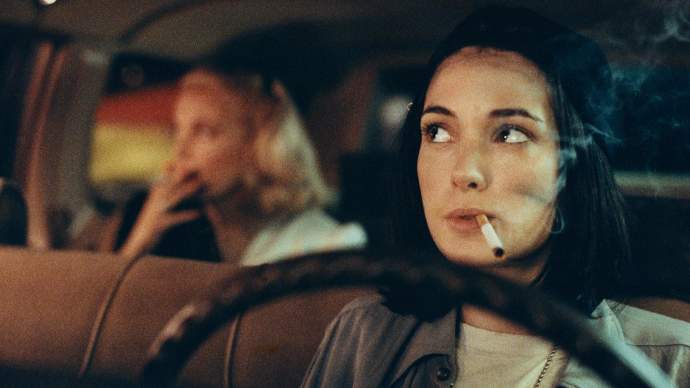 Truth be told, the entirety of Jim Jarmusch's filmography could fit into the genre of hangout movies. However, if you ask me, Night on Earth is definitely the "chillest" of them all.
Centering on the encounters that people have in taxi cabs across five cities around the world, Night on Earth provides a feeling of intimacy without feeling intense. It's very much a relaxed hangout movie.
Starring Roberto Benigni, Winona Ryder, and Gena Rowlands, Night on Earth is one of indie director Jim Jarmusch's best films.
7. Lost in Translation (2003)
Sofia Coppola has directed several notable films, but Lost in Translation remains her best directorial effort to this day.
A washed-up movie star (played by Bill Murray) and a recent college graduate (played by Scarlett Johansson) meet in a Tokyo hotel. Having no one else to talk to, they develop a special bond that helps them both navigate the internal crises they're experiencing.
Lost in Translation has a timelessly intimate quality that makes it immensely poignant. It may be labeled as a comedy drama, but few films convey loneliness as well as this one does.
6. Before Sunrise (1995)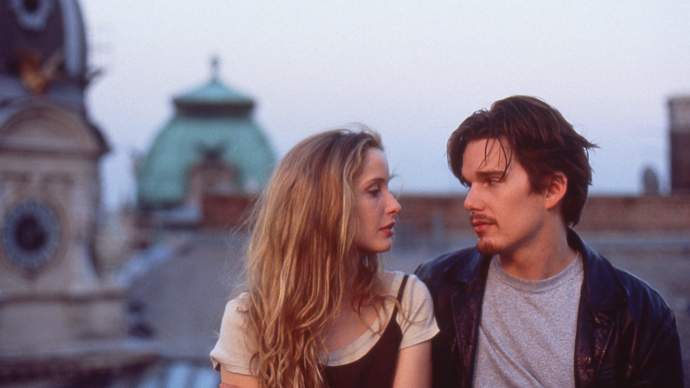 As it turns out, Richard Linklater is the king of the hangout movie. He's already been featured above with Slacker, and he'll be making another appearance later on in this list.
But we can't overlook Before Sunrise, in which two travelers (played by Ethan Hawke and Julie Delpy) meet and fall in love. With one of them leaving in the morning, they resolve to spend all of their time together just talking, laughing, and hanging out in Vienna until dawn.
Richard Linklater announced himself to the world at large with this touching romance drama, which continues to be recognized as one of the greatest romance dramas ever made.
5. American Graffiti (1973)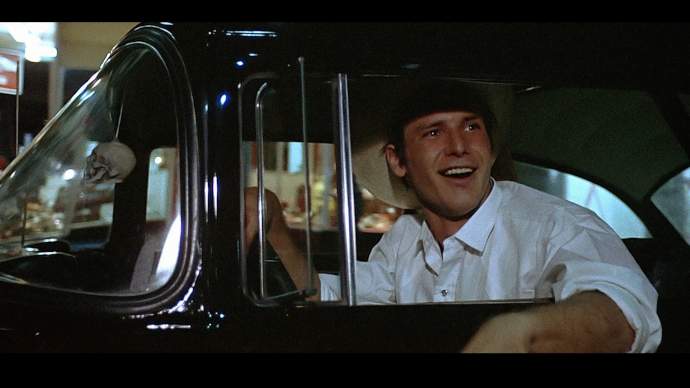 Before George Lucas went on to Star Wars superstardom, he directed a small indie film called American Graffiti in 1973.
American Graffiti traces the experiences shared by a friend group of teenagers as they finish high school and face the prospects of university. Romance, competition, and drama abound.
Starring Ron Howard and Richard Dreyfuss in early roles, American Graffiti is a coming-of-age tale like no other while also doubling as a surprisingly chill and fun hangout flick.
4. Dazed and Confused (1993)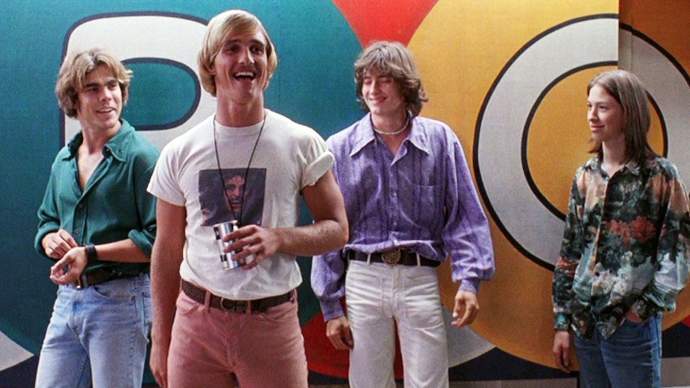 In between Slacker and Before Sunrise, Richard Linklater dazzled the world with Dazed and Confused. If you're looking for a truly chill movie, it's hard to think of one that's more chill than this.
The story—if you can even say there is one—follows the lives of teenagers as school is finally out for the summer. These teenagers find themselves on various exploits as their nights of partying intertwine.
Who wouldn't want the end of the school year to look like this? Dazed and Confused is quintessential summertime cinema, and it also happens to be one of the best stoner films (as you might tell from its title).
3. Withnail & I (1987)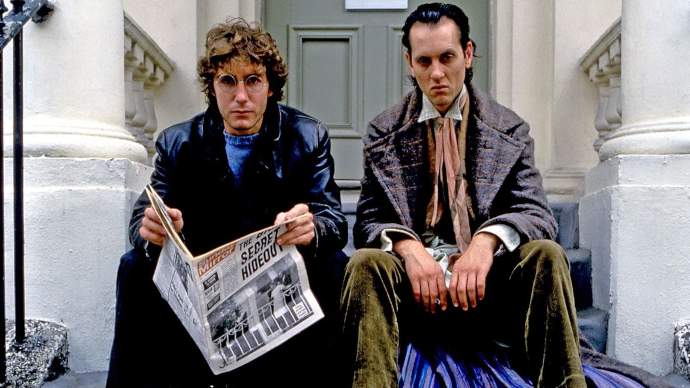 Directed by Bruce Robinson, Withnail & I is a British classic. We're not just talking about a Hollywood film with British actors—this is a full-blown British production in every way.
Conveying the exploits of two out-of-work actors (played by Richard E. Grant and Paul McGann), Withnail & I follows the two thespians as they take a trip away to the countryside to clear their heads.
What transpires during this time may not exactly be relaxed, but it's certainly hangout gold! Starring Richard E. Grant in a career-defining role, it spoke to a generation of actors hoping they'd also make it.
2. Once Upon a Time in Hollywood (2019)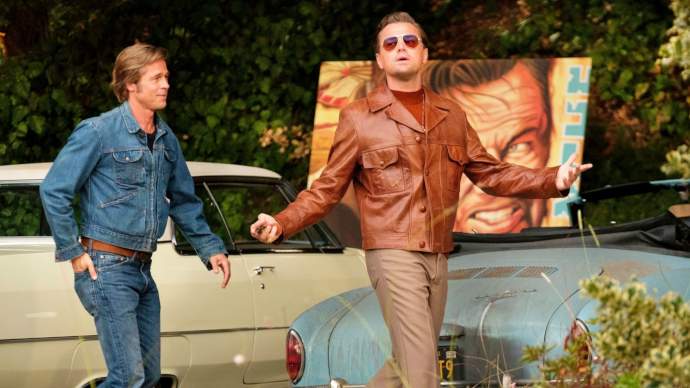 Quentin Tarantino has always said that he's a fan of the hangout genre, and he proved it with Once Upon a Time in Hollywood.
The plot centers on the almost washed-out actor Rick Dalton (played by Leonardo DiCaprio) who finds himself near the end of his career. He's supported by his best friend and stunt double, Cliff Booth (played by Brad Pitt). And that's pretty much the story!
For fans of Tarantino's previous work, the lack of a substantial plot likely came off as confusing. However, if you take it for the hangout film that it is, it's one of his greatest movies with the coolest vibes.
1. Rio Bravo (1959)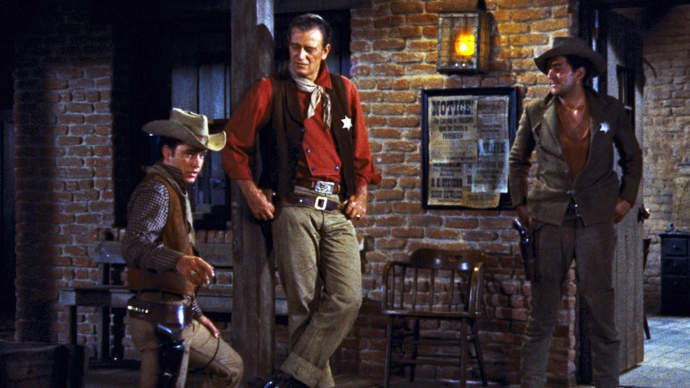 Directed by Howard Hawks, no film feels like more of a chill hangout than Rio Bravo. It's an oldie but a goldie in this regard.
When the wealthy criminal Nathan Burdette (played by John Russell) threatens to break his brother out of prison, sheriff John T. Chance (played by John Wayne) gathers a small band of unlikely heroes to talk through their options. Let the chilling ensue!
Quentin Tarantino has cited Rio Bravo as one of his favorite films of all time, and for good reason! This is the quintessential hangout film, which more than likely inspired many of the filmmakers on this list (including Tarantino himself, as he's admitted).
For that reason, Rio Bravo tops our list as best hangout movie of all time to watch when you just want to sit back and chill.