Cinema is one of the more unique mediums in how it combines artistic expression with the mechanics of business.
No other creative medium can boast the same perfect storm of obsessive writers, yearning actors/actresses, and tightly-wound producers of the magical-yet-stressful world of filmmaking.
And as one might expect, several filmmakers have tried to capture the different aspects of Hollywood and the American movie industry, including things like the crippling effects of writer's block, the dream of breaking out, or the tediousness of retakes.
Here are our favorite picks for the best movies about making movies. Even if you have no interest in filmmaking and have no relation to the industry, these movies are still worth watching.
12. Trumbo (2015)
Bryan Cranston stars in Trumbo as famous screenwriter Dalton Trumbo, whose communist tendencies put a spanner in the works. Trumbo combats his blacklist placement by selling scripts on the black market.
As the writer behind epics like Spartacus (directed by Stanley Kubrick) and Exodus (directed by Otto Preminger), Trumbo's predicament made him resort to writing scripts without any credits.
The nostalgic aesthetics of Hollywood's golden age is contrasted by the political tension of America's climate in Jay Roach's drama based on Bruce Alexander Cook's 1977 biography of the real Trumbo.
Free Trial Offer
Did you know you can try Amazon Prime for FREE for 30 days? Get instant access to movies, TV shows, games, ebooks, and more—no commitments.
11. The Disaster Artist (2017)
It's universally agreed upon that The Room (directed by Tommy Wiseau) is the worst film ever made. Wiseau's bad script and bizarre acting makes for a film that's so bad, it's good.
The cult classic has been repeatedly watched, analyzed, mocked, and enjoyed—so much so that Hollywood went ahead and made a comedy-drama about the creation of The Room.
James Franco perfectly embodies Wiseau's elusive persona, starring alongside his brother Dave Franco and best friend Seth Rogen. The Disaster Artist is surprisingly touching for a comedy about the strange world of Wiseau, presenting the niche subject to a wider audience.
10. Their Finest (2016)
Can propaganda ever be beautiful? Director Lone Scherfig thinks so. Set during the Second World War, Their Finest takes a refreshing female angle that revamps the Ministry of Information's morale-boosting war movies.
Whereas men want to tell a heroic tale of a fictional soldier, Catrin Cole (played by Gemma Arterton) fights to tell the true story of the bravery of two sisters at Dunkirk.
From script to set, we witness the old-school ways of filmmaking that aided in the British war effort. Funny, charming, and surprisingly tragic at times, Their Finest is a fine piece of wartime cinema.
9. Adaptation (2002)
Adapting a book into a screenplay is long, grueling work... something that Charlie Kaufman learned in Adaptation.
Nicolas Cage stars as both Charlie and his twin brother Donald (who's a complete freeloader). Self-loathing anxiety, depression, and sexual frustration cloud Charlie's ability to write.
Tasked with adapting the 1994 novel The Orchid Thief by Susan Orlean (played by Meryl Streep), Charlie's life becomes inexplicably tangled in his work. Spike Jonze's comedy-drama is semi-biographical, though the real story was likely less wild and frantic.
8. The Artist (2011)
This black-and-white Oscar-winning film echoes the dawn of cinema through its silent approach to modern filmmaking: like the silent films of old, The Artist has practically no dialogue and only relies on visual cues and dance routines.
The French movie, directed by Michel Hazanavicius, follows the film star George Valentin in 1927. At the premiere of his latest hit, he falls in love with the young Peppy Miller—and his life begins to unravel as "talkies" (i.e. movies with sound) are introduced.
Jean Dujardin and Bérénice Bejo star as the potential lovers and The Artist received widespread critical acclaim.
7. Chaplin (1992)
The legendary Richard Attenborough tells the story of another cinematic legend in Charlie: the one and only Charlie Chaplin. Chaplin wasn't just an icon of his time; he's remembered as influential throughout history to this day.
Beginning his life in poverty, Chaplin was raised on theater. After a spell of sleeping on the streets, he joined Keystone Studios in 1913 and rose to fame with his persona of The Tramp.
Attenborough recounts the idol's life—his wealth, his affairs, his films, and even his FBI run-ins. Robert Downey Jr. elegantly portrays the troubled star who, despite facing his share of tragedy, brought smiles and joy to thousands of viewers across the world.
6. The Aviator (2004)
The Aviator is another biopic, although one that isn't strictly film-bound. It follows Howard Hughes, who spreads his eggs across many baskets, from business to aviation to movie-making. Unfortunately, Hughes suffered with severe OCD that led his life downhill.
Leonardo DiCaprio stars as the once-dazzling, charismatic genius who's haunted by the invisible dust around him. Martin Scorsese directs this nearly three-hour epic, documenting Hughes' rise and fall. (Take note of the muted color grading that reflects the 1930s!)
5. Hail, Caesar! (2016)
Get ready for an all-star cast in the Coen brothers' musical comedy Hail, Caesar! starring the likes of Josh Brolin, George Clooney, Channing Tatum, Scarlett Johansson, Ralph Fiennes, Tilda Swinton, Jonah Hill, Frances McDormand... we could go on and on.
But don't just watch it for the famous faces! Watch it because it's packed with good fun. Kidnapped stars and pregnant actors make hell for Hollywood fixer Eddie Mannix (played by Brolin). It may not be the Coens' most critically astute movie, but it's certainly worthwhile.
4. The Souvenir (2019)
The Souvenir is more than just a film about making films. Director Joanna Hogg takes an intricate look into issues of class, art, love, addiction, and adulthood.
Dreamily filmed with luscious vignette cinematography, The Souvenir follows a shy film student who forms an intense—and at times toxic—relationship with an older man.
As an A24 film, you can expect The Souvenir to be an absolute gem of independent cinema, and Hogg certainly delivers. The acting is subtle and brilliant, the pacing is slow and lyrical. It's also quasi-autobiographical of Hogg's own time in film school.
3. Me and Earl and the Dying Girl (2015)
Me and Earl and the Dying Girl honors the magic of cinema as much as any other film on this list. Directed by Alfonso Gomez-Rejon, the comedy-drama puts a spin on the usual cancer-kid movie.
When awkward teen Greg (played by Thomas Mann) is forced to befriend Rachel (played by Olivia Cooke), they come to form an unexpected bond. Oh, there's also Earl (played by RJ Cyler).
Greg and Earl have a history of making short parody movies, so they decide to make a film for Rachel, who's diagnosed with leukemia. Old home-movie-style footage and fourth-wall breaks give some creative flair to this otherwise sad story.
2. Barton Fink (1991)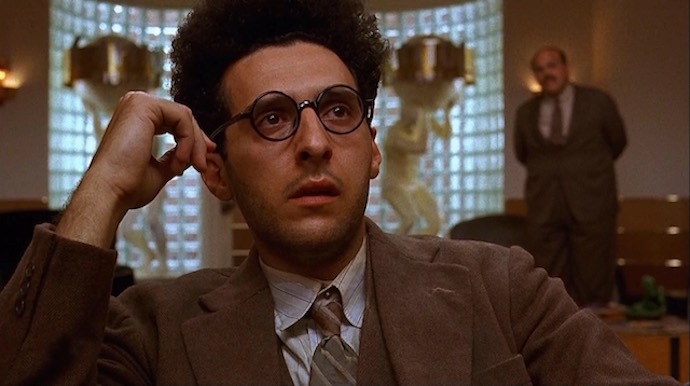 Joel and Ethan Coen use their knowledge of the movie industry to bring us a slightly more acclaimed peek into Hollywood in Barton Fink. Period drama meets black comedy meets psychological thriller in this tale of a playwright who turns to the big screen.
Ludicrous Coen-flavored events distract his ability to focus, and writer's block plagues his creativity. Barton Fink is a borderline cult favorite for its sheer madness and intellectual humor. Barton Fink won the Palme d'Or in 1991.
1. La La Land (2016)
La La Land took the public by storm in 2016, sweeping the Oscars despite the embarrassing Best Picture fiasco. Beloved celebrity duo Emma Stone and Ryan Gosling get their dancing shoes on for Damien Chazelle's musical that even musical-haters can love.
Fantastically whimsical cinematography takes us on a journey through the Hollywood dream, where wannabe actress Mia (played by Stone) meets wannabe jazz musician Sebastian (played by Gosling).
La La Land tackles the idea of whether hard work is enough to turn your dreams into reality—but not in a cynical way. The awe and wonder of film sets and jazz clubs are fully appreciated, with an ending sequence that just might bring you to tears.