EarFun Free Pro
EarFun Free Pro
If you're looking for noise-canceling true wireless earbuds without spending too much, the EarFun Free Pro is a solid option—especially as your first set of true wireless earbuds.
If you're looking for noise-canceling true wireless earbuds without spending too much, the EarFun Free Pro is a solid option—especially as your first set of true wireless earbuds.
The Good
Active noise-canceling works well, even for earbuds
Surprisingly good sound quality that beats similarly-priced headphones
Simple pairing and charging operations
Extremely affordable price (MSRP $60)
The Bad
Bass-heavy sound can obscure audio details in the lower mids
Can be difficult to get the earbuds out of the case
Whether you're looking to drown out distractions so you can get work done or you just want music to keep your mind occupied while out on a run, a pair of true wireless earbuds is nice to have.
The only problem is that most true wireless earbuds worth buying will cost you at least $100—often much more.
That's where the EarFun Free Pro earbuds step in. They promise to deliver proper audio performance at an incredibly affordable price (MSRP $60), and they're complete with many of the features you'd mainly find on top true wireless earbuds.
Are the EarFun Free Pro noise-canceling true wireless earbuds actually as good as they claim to be? Or do you end up getting what you pay for? I took several weeks to test them out, and here's what I found.
My review unit was provided for free, but my opinions are my own and haven't been influenced in any way.
Overview of the EarFun Free Pro
The EarFun Free Pro earbuds feature true wireless operation, meaning there are no wires other than the one included for the charging case.
You also get active noise-canceling, dual composite dynamic drivers for better separation between highs and lows, and IPX5 water resistance and sweat resistance. The EarFun Free Pro also features a built-in voice assistant, which we'll barely touch on here.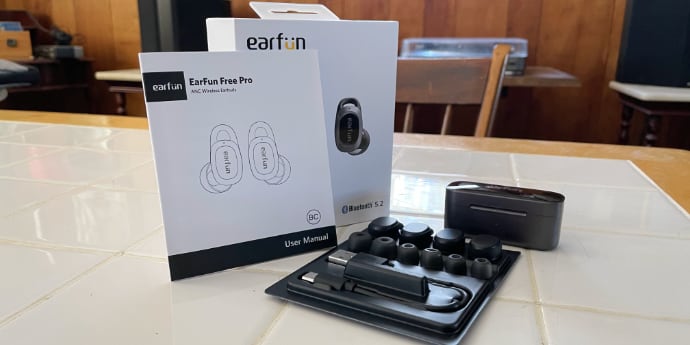 I tested the earbuds by playing music from Tidal on a MacBook Pro to test the aptX codec, as well as on an iPhone 12 to test the AAC codec. In addition to music, I played a few podcasts and an audiobook to see how they worked for speech.
To evaluate audio, I compared them against: a set of Apple AirPods (not the Pro version), a few sets of wired in-ear headphones that I have, and—just to see how they fare against something way out of their league—my Sennheiser HD 650 headphones through a Schiit Modi DAC and Asgard amplifier.
The EarFun Free Pro: What's Good?
Pairing was simple with both the MacBook and the iPhone. The earbuds automatically entered pairing mode when I pulled them out of their charging case, then automatically started pairing again when I disconnected them from the Mac.
Speaking of the charging case, it's a nice size and works as advertised. If you keep the earbuds inside the case whenever you're not actively listening, you should always have some battery life left in them when you go to put them on.
When it comes to earbuds, the quality of noise-canceling depends on how well they fit with your ear canal. To this end, EarFun provides three sets of tips in different sizes, as well as two alternative sets of the "fins" that keep them snugly in your ears.
I found that the default tips and fins fit me just fine, so once I activated noise-cancelation by triple-tapping on the left earbud, it worked surprisingly well.
And while I find that noise-canceling isn't usually as effective with in-ear headphones as with over-ear headphones, in this case it worked well—especially with music playing.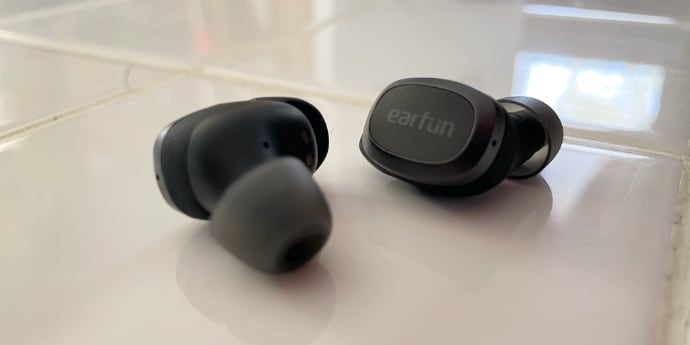 It turns out that the EarFun Free Pro earbuds handle music pretty well! The sound was much more present than I expected, with a decent soundstage for in-ear headphones, powerful bass, and present-but-not-irritating highs.
Playing The Bronx's "Ribcage," the earbuds pumped out plenty of power without the bass overpowering the guitars.
For music, I even preferred the sound of the EarFun Free Pro over my standard AirPods, although I can't say how well they would hold up against the AirPods Pro.
While the audio quality wasn't as good as my best set of wired in-ear monitors, it was still better than a few wired sets that had cost a little more than the EarFuns.
I usually don't expect much audio detail out of wireless headphones, but the EarFun Free Pro captured the various bits of background sound on Fleetwood Mac's "Rumours" album that are usually hidden on wireless earbuds.
The EarFun's soundstage was respectable for earbuds, but still fairly narrow—especially when compared to my wired over-ear headphones, as expected.
The EarFun Free Pro: What's Bad?
The EarFun Free Pro, like many wireless headphones and earbuds, are awfully bass-forward. If you're looking for that, these will probably be nice for you, but the booming low end often obscures detail in the lower mids.
When I mentioned the good audio detail above, that was when I was listening on my MacBook, which presumably connected via aptX. I'm clarifying this because I noticed that same detail wasn't there when I connected to the iPhone, which uses the AAC codec.
The sound was still good, but the details felt smeared in a way that I hadn't noticed when connected to the MacBook.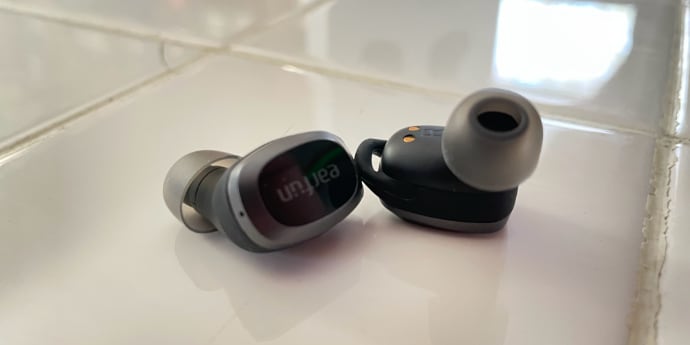 Since there are no buttons on the EarFun Free Pro, you have to use gestures. Most of the time, these worked fine. But sometimes—especially on the iPhone—they would either take a few seconds to register or wouldn't work at all.
And getting the earbuds out of the charging case can be a little difficult at first, so start by holding them over a desk or your lap to make sure you don't dump them on the ground.
The EarFun Free Pro: Our Verdict...
Sale Alert
This year, EarFun is celebrating their 4th Anniversary, which means you can get this—and other audio products—up to 40% OFF. See current deals here.
I have a complaint that I'm not going to put as a "bad" quality of the EarFun Free Pro: when I first paired them, only the right side earbud worked. This was my fault given that I tried pairing them without even consulting the manual.
Fortunately, this was easy to fix: I had to place the earbuds back in the charging case, close the lid, then take them back out and place them in my ears. This was all it took to fix the issue, so I thought prospective buyers should know, just in case.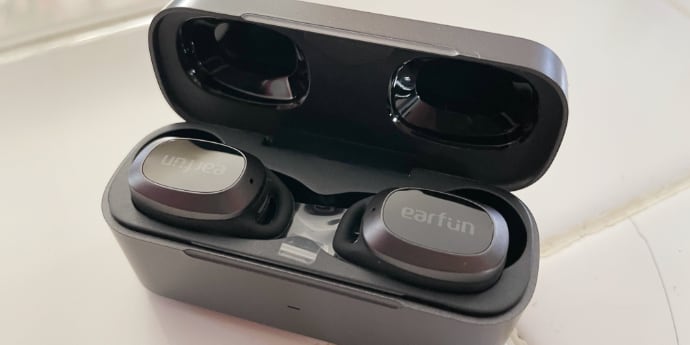 If you're looking to buy your first set of true wireless earbuds, or if you're looking to add a set of solid true wireless earbuds to your collection of headphones, these are great for the price.
I'd expect the EarFun Free Pro true wireless earbuds to retail for more than their actual asking price, so you're getting a great deal—the price-to-quality ratio is very good.
EarFun Free Pro
EarFun Free Pro
If you liked this review, consider checking out the complete whatNerd Reviews Index!