Nintendo sold an insane amount of Switch consoles this year, and many of them are looking forward to elevate their gaming experience to the next level.
If you're struggling to find a gift for someone, and if you know that person is a brand new Nintendo Switch owner, there are so many gift ideas that they'll love!
Here are some of the best gifts to give to that beloved Nintendo Switch player in your life. Few things will make them happier than receiving one of these cool gifts.
The ChargePlay Clutch by HyperX is the closest thing to a must-have Nintendo Switch accessory. This beast of a device is an all-in-one gaming session booster:
It extends battery life by up to extra 5 hours.
It has rubber grips for a more comfortable handheld experience.
It has detachable handles that snap together to form a Joy-Con controller.
It adds a bit of heft so the Switch feels better to hold.
It has a sturdy, wide kickstand.
All for an insanely reasonable price. I don't understand why more Nintendo Switch players aren't talking about this awesome accessory, because it solves so many common problems when trying to play in handheld mode.
There are lots of extra controller options for the Nintendo Switch, but none come close to the official Switch Pro Controller.
Not only does it have twice the battery life of a Joy-Con, but it has a more ergonomic grip and larger buttons for adults, and it can be used in both wireless and wired modes.
The build quality is really what you're paying for, as the feel of a Switch Pro Controller is second-to-none for Nintendo Switch controllers.
The Nintendo Switch comes with a basic Joy-Con grip that provides a more comfortable hold when playing in docked mode, but what happens when the Joy-Cons run out of juice?
The Joy-Con Charging Grip is essentially the same thing except it has a USB port that lets you keep playing while the Joy-Cons charge. A solid accessory to have around, especially for anyone who frequently plays docked.
Nintendo did their best to make the Switch as comfortable as possible while keeping its streamlined design, but it can still cause cramping in handheld mode during long sessions—especially for adults with larger hands.
The Split Pad Pro replaces the Joy-Cons with a more comfortable grip, plus better quality buttons and pads.
For Nintendo Switch players who love racing games, including Mario Kart 8 Deluxe, the Racing Wheel Pro is a top-shelf gift.
It comes with a wheel and pedals for a true-to-life racing experience. The wheel has on-board controls and it's compatible with most racing games available on the Switch.
Ring Fit Adventure is the ideal game to give as a gift. It comes with a Ring-Con device and leg straps, which are used to provide a real workout for the player as they play through the game's levels.
Get fit while having fun, without having to leave the house? Who wouldn't love a gift like this?
SanDisk makes a Switch-branded microSDXC memory card that's optimized for the Nintendo Switch.
Available in multiple sizes, we recommend the 256GB option because it's spacious enough to hold dozens of games while remaining cost-effective (the 512GB card is almost 3x the price).
Most travel cases for the Nintendo Switch are only for the handheld console—no room for accessories.
This bad boy is meant to carry the entire system: the Nintendo Switch dock, the cables, the console, the Joy-Cons, and any extra accessories you want to bring along.
It's durable, protective, well-reviewed, and looks great. It's the perfect gift for any Switch owner, but especially perfect for Switch owners who are always on the go.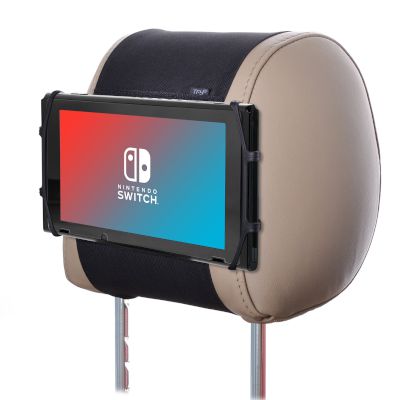 This headrest mount is an ideal gift for backseat Nintendo Switch players. It conveniently allows mounting and unmounting of the console, and holds the device securely even during rough rides.
Plus, the silicon holding net is flexible enough that you can use it to hold other devices, like tablets!
When all else fails, you can't go wrong with a gift card to the Nintendo eShop. Who wouldn't love to load up their device with several more games?
For Nintendo Switch players who are already decked out in accessories, this may just be the best gift.
We recommend buying your gift cards from Raise.com, a marketplace for users to sell their unwanted gift cards. You can often grab fully loaded gift cards for less than their value, meaning more bang for your buck!