Do you ever get exhausted from the amount of strategic thinking involved in turn-based, stealth, strategy, and puzzle games? When your brain needs a break, idle RPG games are an excellent option!
Idle RPG games put unique spins on the idle game genre, elevating the gameplay in ways that make them more exciting than just having to repeatedly click or tap the screen for progress.
Looking for a mobile game you can play with no effort? Here are the best idle RPG games for Android and iOS worth checking out.
10. Assassin's Creed Rebellion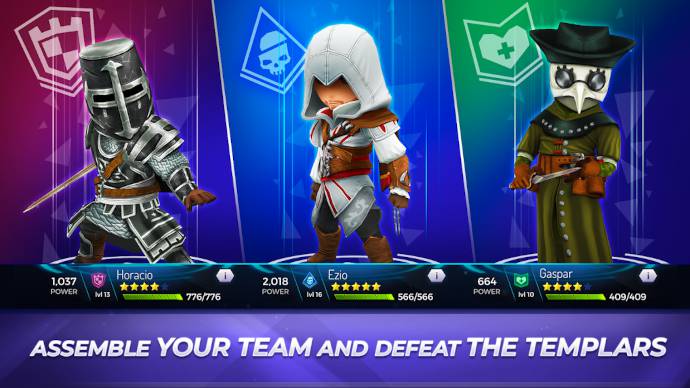 Developed by Ubisoft Entertainment
Released in 2018
4.1 on Google Play Store
4.7 on App Store
The Assassin's Creed franchise uses its Animus plot device to great effect, delving into different heroes across multiple time periods.
There have been so many iconic characters throughout the series, most of whom never interact with each other because they live hundreds of years apart in totally different parts of the world.
That's where Assassin's Creed Rebellion comes in! This idle game is officially made by Ubisoft, the notable company behind the mainline Assassin's Creed franchise.
Assassin's Creed Rebellion allows you to summon characters (like Ezio, Altair, and Shao Jun), slot them into your team, and send them on missions together. The art style is chibi-inspired with exaggerated features, making even the most hardened assassins look adorable.
Like many Ubisoft games, Assassin's Creed Rebellion is a bit of a cash grab—you'll need to buy in-app items if you want to get the best and most iconic characters from the series. Still, it's a fun journey to go on even if you never spend a penny.
9. Raid: Shadow Legends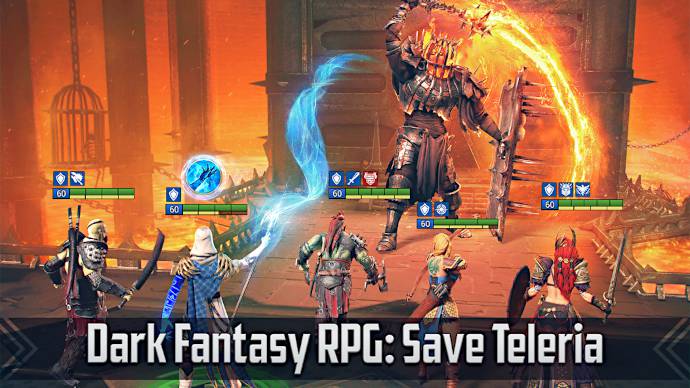 Developed by Plarium Games
Released in 2018
4.6 on Google Play Store
4.7 on App Store
Although Raid: Shadow Legends has been criticized for not having enough free content, the developers have promised to keep a balance between free and paid items.
That said, you can still play the game without making any purchases, but you'll still see pesky ads for paid perks.
Out of all the mobile RPG games on this list, Raid: Shadow Legends has the most stunning visuals. The characters are all 3D-rendered, which makes the game look like it belongs on a console.
Champions come from 16 different factions, such as Knights, Elves, Demonspawn, Skinwalkers, Sorcerers, and more. You can unlock more powerful attacks for your team of fighters as you progress through the challenging campaign, battle bosses, or try your luck in the PvP arena.
Keep in mind that while Raid: Shadow Legends isn't primarily an idle game, it does have idle qualities—you'll have to put some thought into your actions, but you can use auto mode to have the AI fight for you.
8. Hero Wars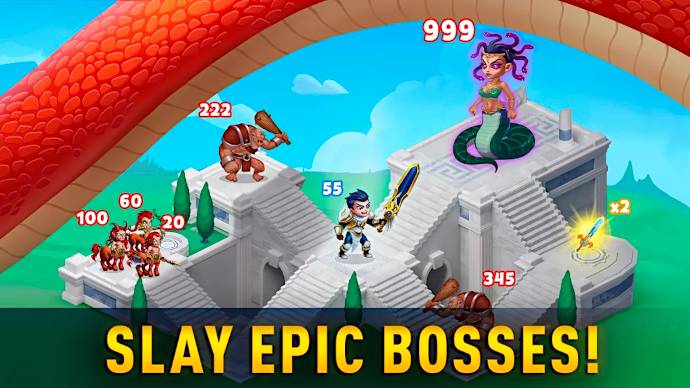 Developed by Nexters
Released in 2016
4.2 on Google Play Store
4.5 on App Store
Want to go on a fantasy adventure but don't want to spend loads of time grinding or mastering different commands? If so, Hero Wars might be right up your street!
In Hero Wars, you recruit powerful allies to round out your adventuring party so you can take on increasingly more exciting and dangerous quests as you level up. Use the money you make on those adventures to purchase better equipment and recruit better heroes for your party.
There's a good mix of interesting character designs and a balanced gacha mechanic that makes it more likely to score higher-level heroes the longer you play the game.
The core gameplay of Hero Wars involves setting up your team in a formation and ensuring that each hero works well with the other heroes in your party. There's a surprising amount of strategy at play once you unlock a decent number of heroes.
But most importantly, you can complete the entire story of Hero Wars without ever buying any of the in-app purchases.
7. Almost a Hero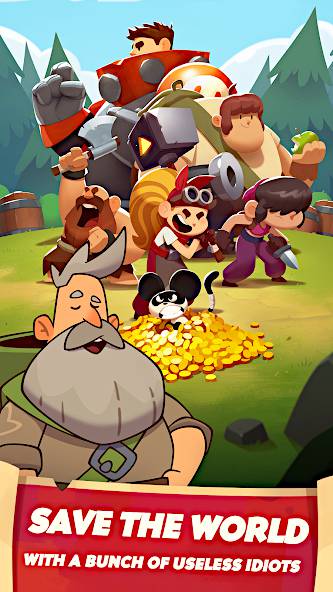 Developed by Bee Square Games
Released in 2017
4.4 on Google Play Store
4.8 on App Store
All heroes have to start somewhere. In the case of Almost a Hero, your heroes start out as full-blown idiots. You'll be recruiting these idiots and giving them the training and equipment they need to turn them into the heroes needed by the world.
Almost a Hero is a tongue-in-cheek title with plenty of humor mixed into the idle game's solid mechanics. You set your heroes up in their roles and send them on their way, knowing that the rewards they gain will be waiting for you whenever you log back in.
The art style is sharp and cartoonish (which fits in with the overall tone of Almost a Hero) and most of the equipment hilariously looks like it's been been cobbled together from scraps.
There are 17 different heroes that you can recruit, which might seem limited compared to the other games on this list.
However, there are multiple game modes and you can customize each hero to make sure they fit well with your party's balance, so there's plenty of content to keep you entertained for many hours.
6. AdVenture Capitalist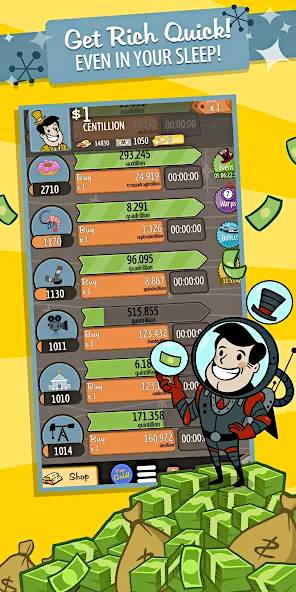 Developed by Hyper Hippo
Released in 2014
4.5 on Google Play Store
4.7 on App Store
In today's economy, we can all stand to make a bit of extra money—even if that money is just virtual. AdVenture Capitalist is a decidedly tongue-in-cheek game that allows you to do exactly that.
AdVenture Capitalist spins the idle game formula by tasking you with one goal: build a fortune without doing any work.
This game rewards you for thinking of ways to get out of doing work. Hire the right managers for your business and invest in automation so you can sit back and let the cash flow in.
Once you get your business empire running smoothly, save up your virtual cash until you have enough to invest in a new business idea.
There's no end to AdVenture Capitalist, so you can always rely on it to help you kill time between classes or meetings. It's far too easy to spend hours and hours in this game, wasting precious time when you should be doing other things.
AdVenture Capitalist is free-to-play with in-app purchases that give you boosts when you need them, but you can advance through the game without buying anything.
5. Trials of Heroes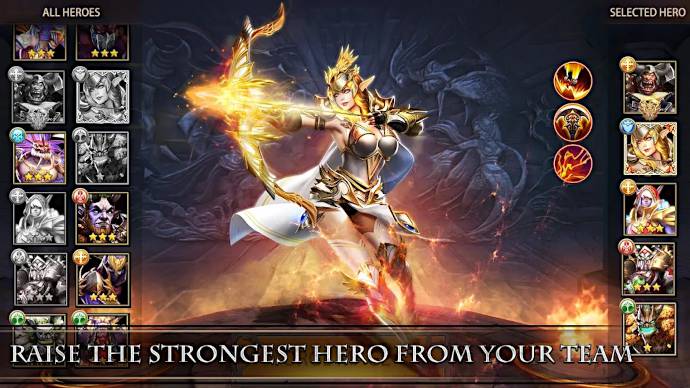 Developed by Jupiter Entertainment
Released in 2018
4.3 on Google Play Store
4.5 on App Store
Trials of Heroes is yet another fantasy-themed idle heroes mobile game. This game comes packed with over 100 heroes that come from six different races.
Like the other mobile RPGs on this list, Trials of Heroes involves leveling up your heroes in battle, as well as creating better armor and weapons.
Trials of Heroes involves a lot of tapping and grinding, but its auto-battle mode can give your tired fingers a break. When you go offline, your characters will train, battle, or go on adventures by themselves.
If you get tired of doing the same, generic battles, you can also engage in raids, battle other players, join a guild, climb the treacherous Dark Tower, or complete quests.
4. Taptap Heroes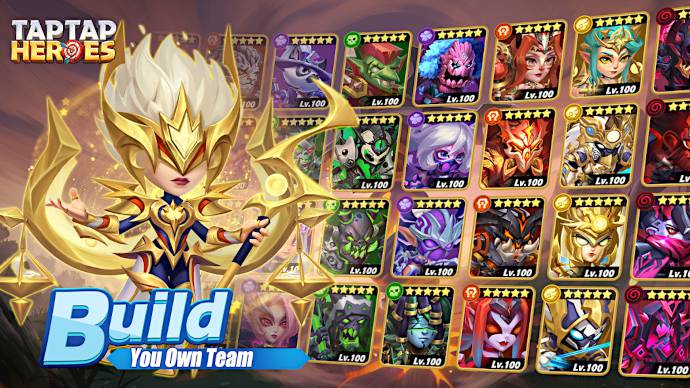 Developed by Ajoy Lab Games
Released in 2018
4.6 on Google Play Store
4.4 on App Store
If you're a fan of idle games that involves tons of satisfying tapping, then you'll love Taptap Heroes.
Taptap Heroes takes place in the land of Mystia, the home to over 200 collectible heroes from six factions. After Mystia's sacred sword gets stolen by evil forces, the heroes must retrieve it before its power gets used for the wrong reasons.
As you fight your way towards victory, you'll have to tap the screen to eliminate hordes of enemies. When your finger gets tired, the game will take care of the fighting for you—your characters will automatically fight when you log out for seven hours or less.
Taptap Heroes also lets you summon new heroes, upgrade your cast of characters, earn rewards, and play with friends in the Guild Arena.
3. Idle Heroes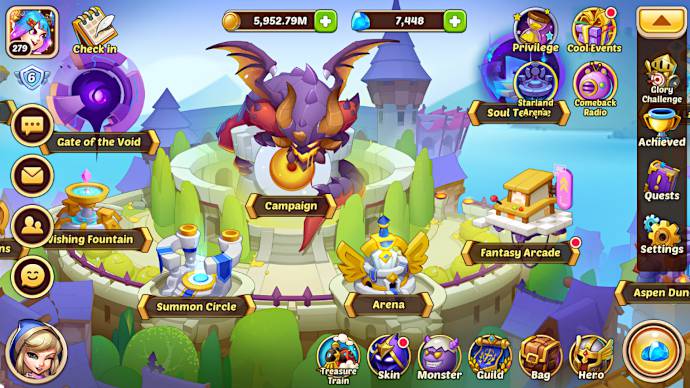 Developed by DHGames
Released in 2016
4.6 on Google Play Store
4.8 on App Store
Idle Heroes has over 200 heroes in its library, each belonging to a specific faction. Like AFK Arena, you'll get more heroes by "summoning" them. You can get summons over time, or redeem them using the scrolls you earn or buy.
Idle Heroes lets you train a team of fighters without actually playing the game. Put your characters in training mode, go about your day, and they'll level up by the time you open the app again.
Luckily, Idle Heroes has enough content to prevent you from getting bored. Not only can you advance through the campaign mode, but you can also partake in guild wars, complete quests, climb a dangerous tower, as well as battle other players.
2. Fallout Shelter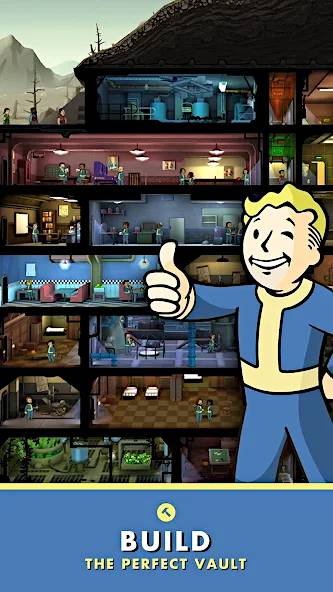 Developed by Bethesda Softworks
Released in 2015
4.5 on Google Play Store
4.8 on App Store
While most Fallout games are focused on exploration and combat, Fallout Shelter puts you in the role of a Vault Overseer. You start off by putting your Vault together and choosing where certain resources will be kept and where your vault dwellers will live.
After that, you sit back and let things happen—until something inevitably goes wrong. You then spend time troubleshooting a solution and fixing any damage before settling back into a comfortable routine, always waiting for the next crisis to strike.
The core gameplay of Fallout Shelter is plenty fun, but there's also a semi-sequel called Fallout Shelter Online. The main difference between the two games is that the newer game has PvP features, allowing you to set your sights on neighboring Vaults and compete for resources.
Both games are worth playing—it just depends on how competitive you're feeling. Either way, Fallout Shelter lets you get your idle gaming fix in one of the best game settings out there.
1. AFK Arena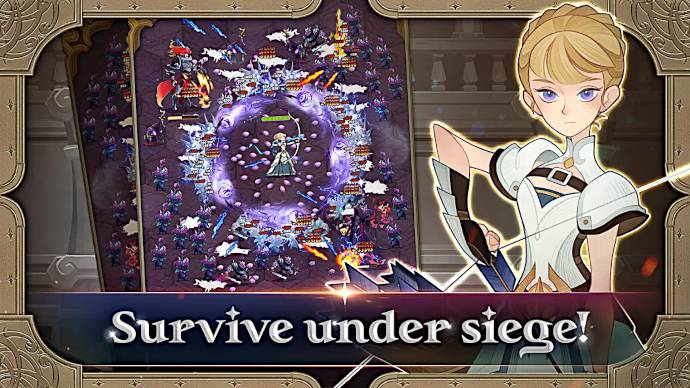 Developed by Lilith Games
Released in 2018
4.5 on Google Play Store
4.7 on App Store
As you can see in the video above, the ads for AFK Arena look nothing like the app's actual gameplay. Once you put this annoying marketing tactic aside, you'll find that the game is addictingly fun to play.
In AFK Arena, you'll assemble a team of heroes, and put them on the battlefield to fight against a group of opponents. For every level you complete, you'll earn more loot to improve your fighters, as well as earn new ones.
Since AFK Arena is an idle game, the characters fight for you. The main factors you control are the placement of the heroes, as well as their equipment and level upgrades.
Each character has different abilities, a unique story, and beautiful artwork, which makes AFK Arena stand out from other mobile games.