Some people eat to live, other people live to eat. Either way, eating the same old food day after day isn't just boring—it can be quite unhealthy, especially if you only have time to eat junk food and frozen dinners.
If you want to eat healthier but can't find time to hit the store for fresh groceries and home-cooked meals, you might want to look into meal subscription boxes that periodically deliver straight to your door.
There are countless meal subscription services that offer all kinds of variety for all kinds of diets and lifestyles. Here are the best meal delivery services for busy people who want to eat healthier!
Best Food Subscription Box for Value: EveryPlate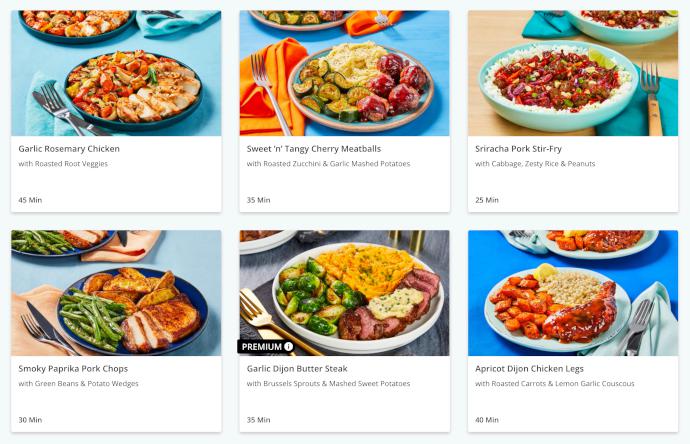 EveryPlate is our preferred meal delivery service because it addresses one of the most common issues with meal kits: they cost more than you might normally spend on a serving of food.
No matter which plan you choose, you're only paying $5 per meal serving. EveryPlate has 2-person and 4-person plans, and each one supports between 3 and 5 meals per week.
If you're a college student, you can get a 20% discount by verifying your student status via UNiDAYS. That brings the cost down to $4 per meal serving, which is quite affordable even for students.
EveryPlate manages to keep its costs down by using simple packaging, simple ingredients, and simple recipes that are quick to cook. Note that there's a $9 shipping fee per box, which is on par with most meal kits that charge for shipping.
Best Food Subscription Box for Meal Variety: Home Chef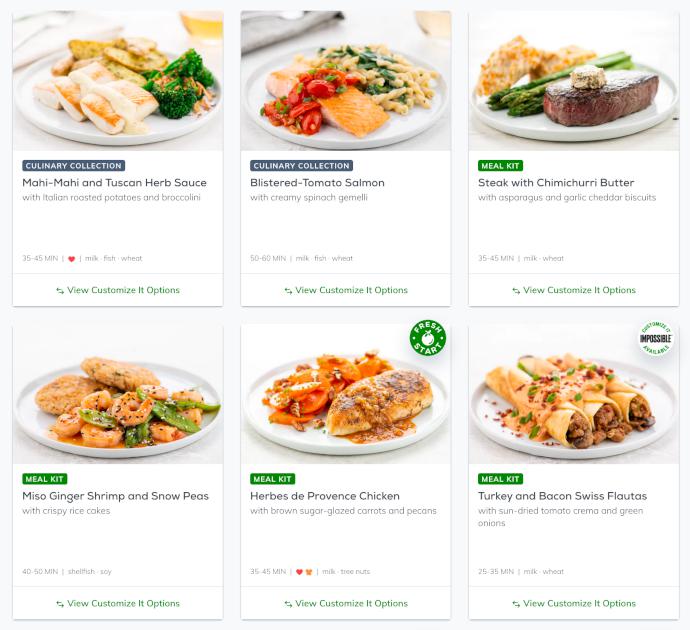 Home Chef is the meal delivery service to use if you want to make interesting dishes that you normally wouldn't even think about. That's because Home Chef features a new menu of 30+ options each week, which is more than any other meal kit.
You pick and choose your menu every week, and you can filter menu items by preferences (e.g. calorie-conscious, 15-minute prep, vegetarian, etc). You can customize each week's box by upgrading, swapping, or doubling up on proteins.
And it's not too expensive. Each box's cost depends on what you've selected for the week, with prices averaging around $9 per meal serving and free shipping. (Minimum value of $50 per box.)
Special Deal
As a whatNerd reader, you can get $60 OFF your first 4 Home Chef boxes! Order now to take advantage.
Best Subscription Box for Paleo/Keto Diets: Green Chef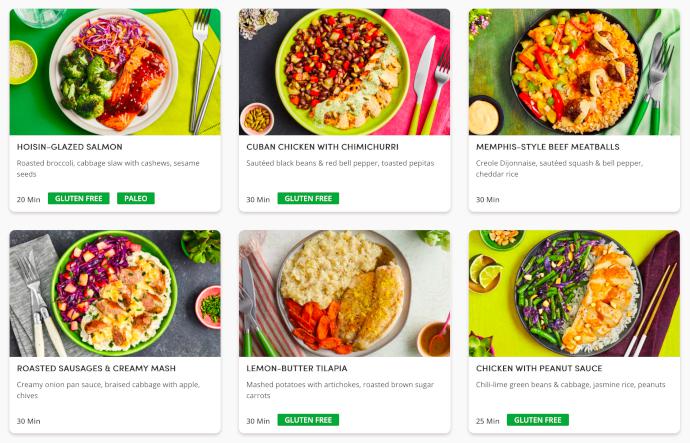 A few years ago, I used to follow the keto diet—and later, the paleo diet. I felt great while doing it, but I had to stop because I got sick of eating the same meals over and over. Back then, finding tasty keto and paleo dishes wasn't so easy.
Green Chef is a meal delivery service that specializes in keto and paleo meals. Every week, you get a choice of 9 different recipes that are all delicious, filling, and able to be cooked in 30 minutes or less.
With Green Chef, you can choose between 2-person ($13 per meal serving), 4-person ($12 per meal serving), and 6-person ($11.50 per meal serving) plans that each support 3 or 4 meals per week.
There's also a $9 to $27 shipping fee per box depending on how many meal servings are included in the shipment.
All of this makes Green Chef one of the more expensive meal kit services, but keto and paleo aren't cheap to begin with. Green Chef also sources high-quality organic ingredients, which taste great but reflect in the final cost as well.
Best Tasting Food Subscription Box: HelloFresh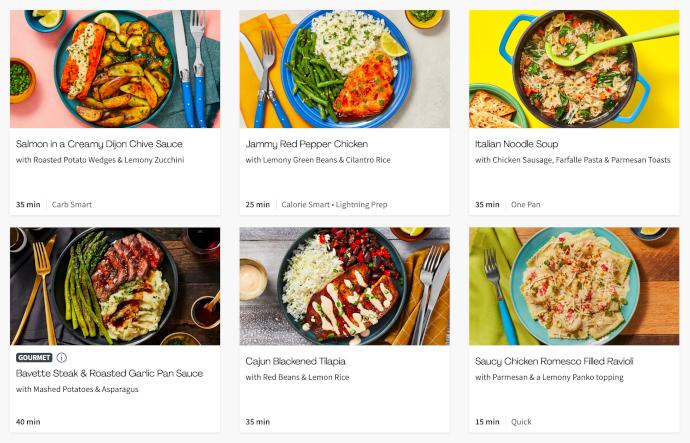 HelloFresh has quickly become America's favorite meal delivery service, and that doesn't happen if the service isn't actually worth its price—and, more importantly, tastes really good.
HelloFresh has a flexible plan that can fit your personal meal kit preferences. Want family-friendly meals? Or meals that are quick and easy to make? How about meals that are filling but light on calories? Or ones that are packed with meat and veggies?
After picking your preference, HelloFresh plans are tailored for either 2 people (between 2 to 5 meals per week) or 4 people (between 2 to 4 meals per week). All of this averages out to between $6 and $7 per meal serving, which isn't bad at all.
Each box comes with a $9 shipping fee, so you definitely get more value per buck with the larger 4-person boxes. You can also schedule to skip certain weeks, up to 6 weeks in advance.
Most Eco-Friendly Food Subscription Box: Blue Apron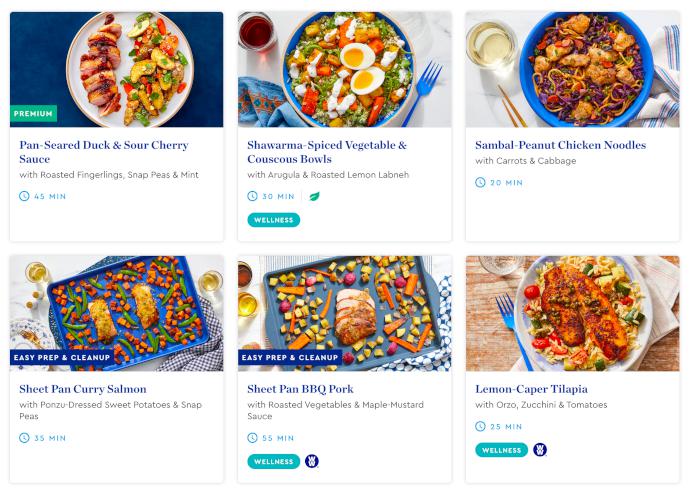 Blue Apron was the first meal subscription box I ever tried, so it holds a special place in my heart. It was one of the first to pioneer the idea of subscription meal kits in the US, having launched in 2012.
One of Blue Apron's unique selling points is its commitment to high-quality, responsibly-sourced ingredients. On top of that, the shipment boxes and ice packs are recyclable, reducing environmental impact.
Blue Apron has plans for 2 people (between 2 to 4 meals per week at $10 per meal serving) and plans for 4 people (between 2 to 4 meals per week, averaging between $7.50 to $9 per meal serving).
All Blue Apron plans come with free shipping (except for the 2-person 2-meals-per-week plan which has an $8 shipping fee). You can skip certain weeks as long as you mark it before the week's box ships.
Best Food Subscription Box for Vegetarians: Splendid Spoon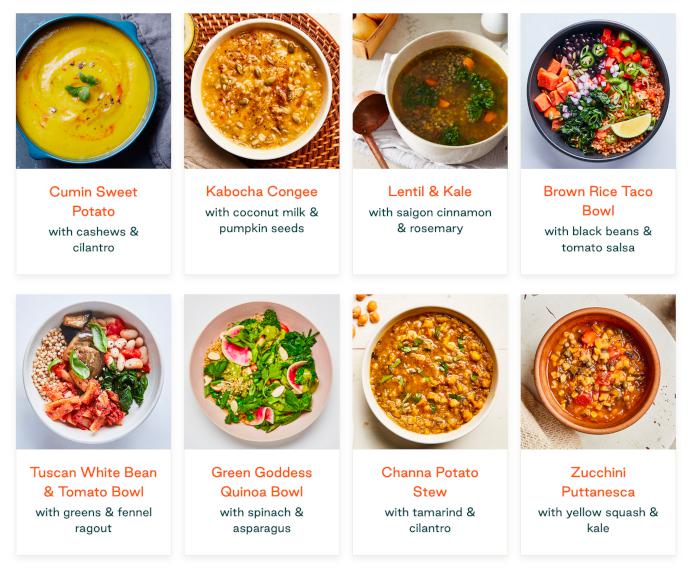 Have you been wanting to go vegetarian but couldn't figure it out? Not sure what kinds of meals you can make without fish or meat? Or maybe you're already vegetarian and want more variety in your meals?
Splendid Spoon is a worthy meal delivery service with weekly shipments that contain personalized 100% plant-based meals. These meals include smoothies, soups, grain bowls, and noodle bowls.
The one big difference with Splendid Spoon versus all the other meal delivery services on this list is that Splendid Spoon's meals are all prepared for you. You don't have to cook a thing yourself.
Splendid Spoon offers five different plans:
The Breakfast plan includes 5 protein-packed, fruit-based smoothies. (About $13 per meal serving.)
The Lunch plan includes 5 veggie-packed, grain-based bowls from a selection of 50+ meals. (About $13 per meal serving.)
The Breakfast + Lunch plan includes 5 smoothies and 5 grain bowls, like the individual plans. (About $7.50 per meal serving.)
The Breakfast + Lunch + Reset plan includes 5 smoothies, 5 grain bowls, and 5 light soups. The light soups comprise a sixth "Reset day" where you eat only light soups throughout the day. (About $8.85 per meal serving.)
The Breakfast + Lunch + Dinner + Reset plan includes 5 smoothies, 5 grain bowls, 5 noodle bowls, and 5 light soups for the aforementioned Reset day. (About $9.17 per meal serving.)
All plans include free shipping. All plans are designed for a single person. If you'd like to feed multiple people, you can purchase individual Splendid Spoon plans per person.
Special Deal
Right now, whatNerd readers can get $75 OFF your first 3 Splendid Spoon boxes! Order now to take advantage.
Best Food Subscription Box for Healthy Snacking: NatureBox
NatureBox is the ideal food subscription box for health-conscious snackers. All of the snacks featured at NatureBox are smart and healthy: no high-fructose corn syrup, no artificial ingredients, and no hydrogenated oils.
You can purchase individually on NatureBox's online store, but you get more bang for your buck with one of NatureBox's different curated snack boxes that get delivered to your door every month.
The cheapest snack box is the "Bestsellers Box" (4 snacks) at $34/month, while the most expensive snack box is the "Delightful Box" (10 snacks) at $61/month. As a NatureBox member, snack boxes are cheaper at $29/month and $50/month, respectively.
The optional NatureBox membership costs $36/year and provides benefits like 25% to 40% off most items, $6 in store credit every month, and free shipping on orders over $40.
More Unique Snack Boxes to Try
This article is just a shallow peek into a vast ocean of food-related subscription box services. If you're looking for snack ideas that are more interesting than chips and popcorn, you should check out our favorite Japanese snack subscription boxes!