Apparently, the 90s decade was the last era for small-scale movies that didn't need to have sequels planned nor franchises to join. It was a time when movies could still take chances—and it shows.
By contrast, the 21st century has become an era of only two things: auteur films and blockbuster stories. We're less and less likely to see films that have any meaning other than to rake in big bucks at the box office. Anything else lives exclusively on streaming services.
So, in a way, the 90s represented the last bastion of purely theatrical filmmaking, and the romantic comedy dominated that era.
It gave us an entire genre of actor and actress who seemed to specialize in the rom-com—like Sandra Bullock, Matthew McConaughey, Hugh Grant, Julia Roberts—and jumped from one rom-com to the next, willfully falling in love with reckless abandon.
And, to be honest, it was extremely charming! Here are our picks for the best 90s romantic comedy movies that we still look back on fondly and believe are worth watching today.
10. Green Card (1990)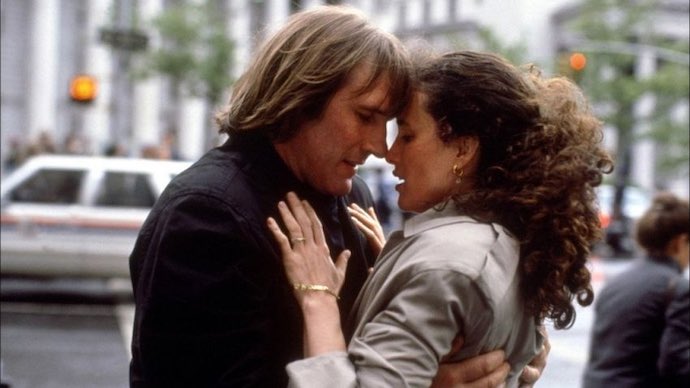 Andie MacDowell remains a queen of 90s cinema. She appeared in several great movies of the era, and almost all were rom-coms—like Green Card, which has aged like a fine wine since its initial release in 1990.
It tells the story of a young woman who marries a French immigrant (without meeting him) so he will be able to stay in the US. But when their marriage ends up under investigation, the two strangers are forced to live together and learn about one another to fool the authorities.
Peter Weir's picture is full of funny moments and great storytelling. Along with his other works, Green Card has the feeling of a story that's slightly different to the norm, featuring passionate performances from both Andie MacDowell and Gerard Depardieu in their leading roles.
9. 10 Things I Hate About You (1999)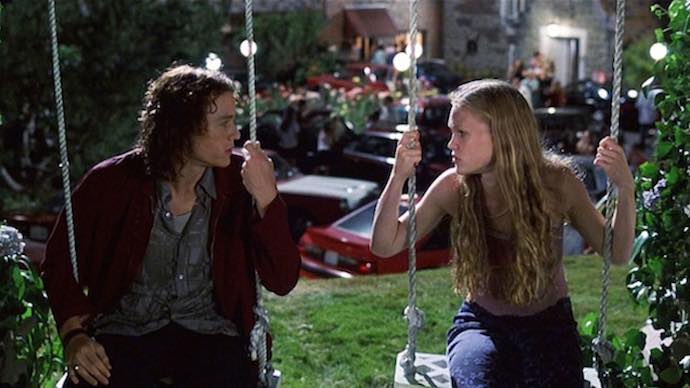 Armed with a precocious cast of pre-famous superstars, 10 Things I Hate About You is a teen angst movie based on The Taming of the Shrew.
At first, Patrick Verona is paid to date the difficult-on-the-surface Kat Stratford—but as he does, he ends up seeing sides to her that nobody else knows about. The pair do battle with one another in many ways, all while falling hopelessly in love with each other.
Heath Ledger and Julia Stiles lead the cast with Joseph Gordon-Levitt in a supporting role, resulting in a movie that made their Hollywood careers and one that remains effortlessly charming over 20 years later.
8. Pretty Woman (1990)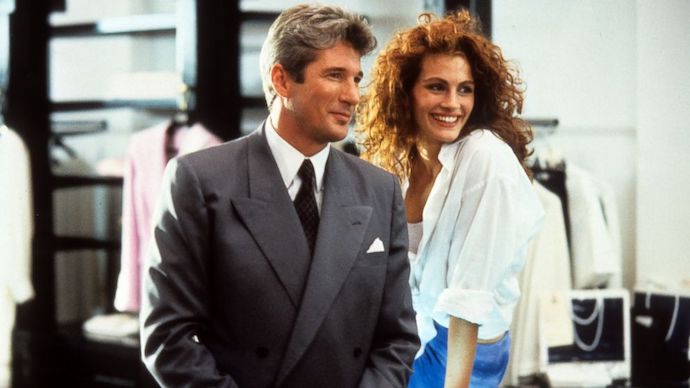 Getting its title from the famous Roy Orbison song, Pretty Woman became a 1990 hit as Julia Roberts and Richard Gere starred as an upbeat prostitute and the businessman she encounters by chance.
After Julia Roberts' Vivian shows Richard Gere's Edward how to drive his car, they spend the night together in his hotel and strike a business deal: Vivian poses as his date for the various business functions Edward has to attend before leaving LA and going back to New York.
The film is still as fun today as it was 30 years ago, with Roberts and Gere praised for their roles (and Roberts earning an Oscar nomination).
7. Notting Hill (1999)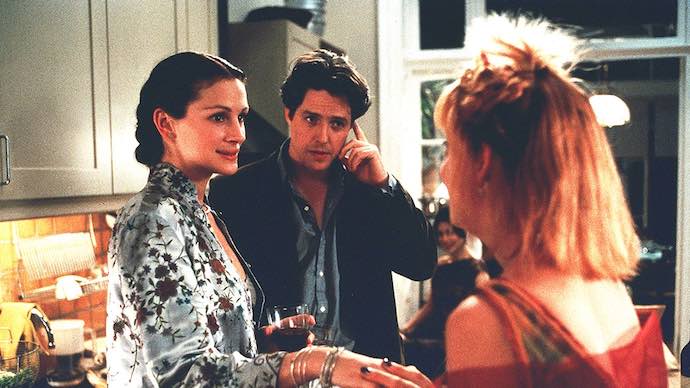 Notting Hill feels like a British film in every sense of the word: it's small in scale, it's packed with wit, and it stars Hugh Grant.
Written by Richard Curtis, Notting Hill centers on William Thacker, a failing bookstore owner in West London who bumps into Hollywood megastar Anna Scott—and, despite just meeting her, they end up kissing.
Hugh Grant and Julia Roberts make the picture endlessly rewatchable, and it's made even more rewatchable by the performances of the pitch-perfect supporting cast featuring Hugh Bonneville, Rhys Ifans, Emma Chambers, and Tim McInnerny.
6. Clueless (1995)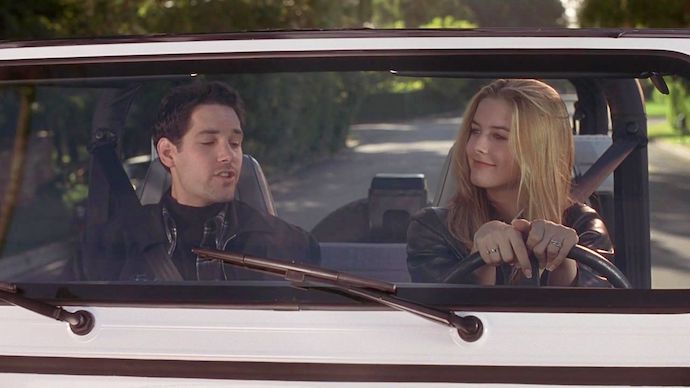 Based on Jane Austen's novel Emma, Clueless is blessed with a whimsical script and iconic performances from Alicia Silverstone and Paul Rudd.
The movie follows Cher (the pampered high school daughter of a high-price lawyer) and her attempts to make everyone around her dance to her tune. What makes the film so likable is that she isn't a horrible person—she wants to help people in her own way, but she's simply misguided.
Paul Rudd and Alicia Silverstone's chemistry is some of the best in 90s rom-com as they fall in love slowly and without knowing it.
5. While You Were Sleeping (1995)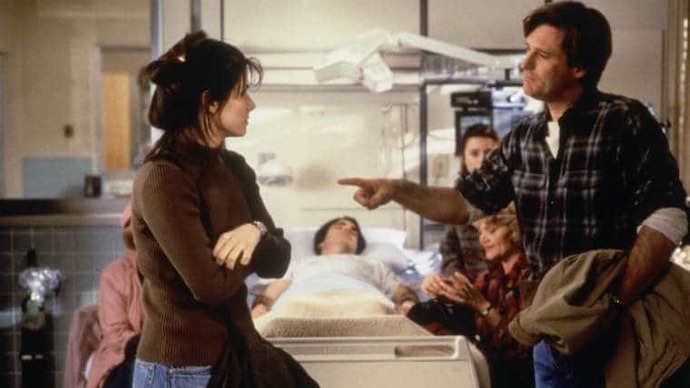 Of the many great stars to come out of 90s rom-coms, Sandra Bullock is the one who had the most charm that simply oozed on screen.
While You Were Sleeping is evidence of this. As Bullock's character Lucy is accidentally mistaken for the fiancée of a man in a coma, she falls in love with his kind and loving family—also his brother, Jack.
Bullock's outing here is perhaps the sweetest and most heartwarming performance ever given in a rom-com. With Bill Pullman as her love interest, the movie became a 90s classic.
4. Sleepless in Seattle (1993)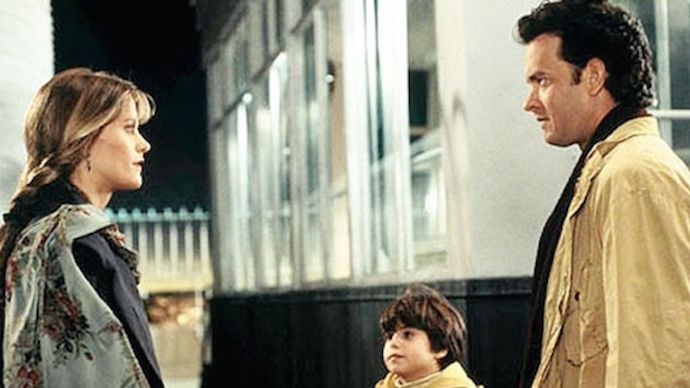 Tom Hanks and Meg Ryan's chemistry in only a handful of scenes together was such a hit with audiences that they became iconic as a rom-com duo—all because of Sleepless in Seattle.
Nora Ephron's brilliant script sees two people from different parts of the US fall in love without speaking: after Tom Hanks' Sam loses his wife, his young son calls a radio station and tells their story to the whole country—with Meg Ryan's Annie Reed listening from her car.
Sleepless in Seattle is a heartbreaking yet heartwarming ride, with good people not entirely getting what they want due to an attraction that spans the continental United States. However, the true skill here is Ephron's ability to keep the story flowing without tonal shifts.
3. Four Weddings and a Funeral (1994)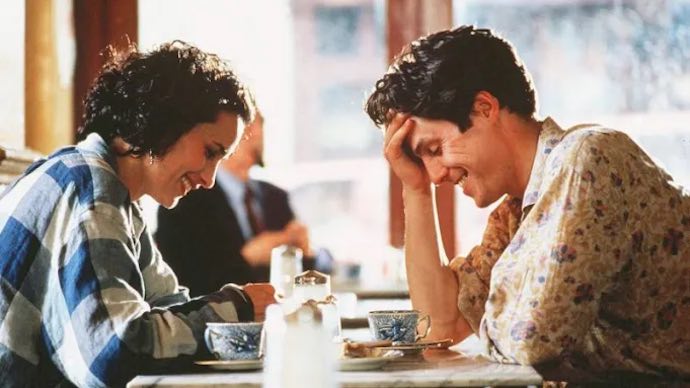 Four Weddings and a Funeral is at first a brilliant comedy and at last a heartbreaking melody on the impermanence of love. Starring Andie MacDowell and Hugh Grant, it follows a bunch of young 30-somethings as all their friends start getting married.
When Charles (played by Hugh Grant) meets Carrie (played by Andie MacDowell) at a wedding, they instantly have a love connection—which both of them try to forget about since she's engaged to be married.
Richard Curtis' film was nominated for Best Picture and Best Original Screenplay at the Academy Awards, while Hugh Grant won a Golden Globe and a BAFTA for his performance.
2. Groundhog Day (1993)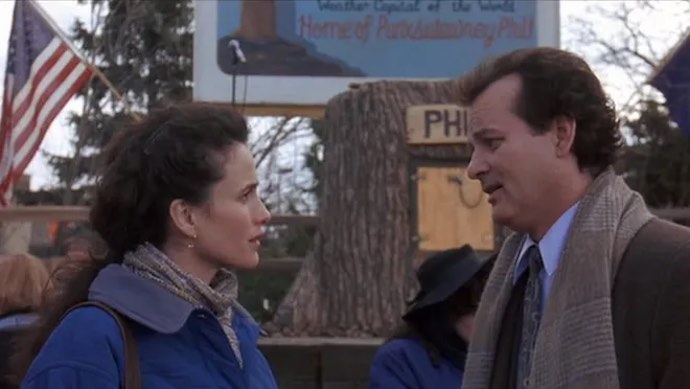 Some films are timeless classics. Other films are elevated to a whole new status altogether, as in the case of Groundhog Day.
The story follows a weatherman named Phil after he finds himself stuck in a time loop, reliving the same day over again for decades. He's marooned in the town of Punxsutawney on Groundhog Day as a selfish and self-important character who's unable to die despite numerous attempts.
Over time, Phil becomes a better person and stops thinking that his life is the most important one in the entire world, slowly changing his selfish ways with every repeated day. He also falls in love with his producer, Rita (played by the queen of rom-coms, Andie MacDowell).
The film remains one of the best comedy movies ever made, and Bill Murray's leading performance is legendary.
1. As Good as It Gets (1997)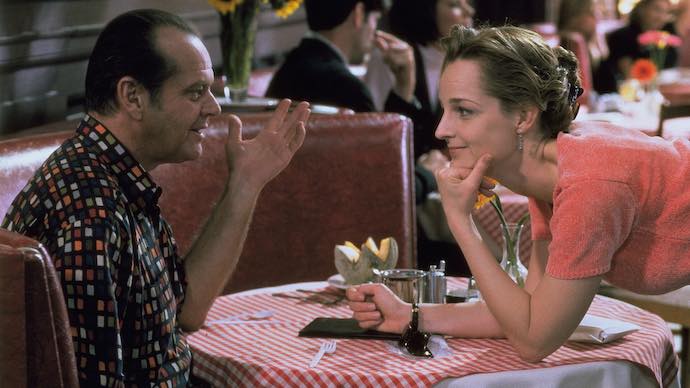 Few things are better in rom-com cinema history than Jack Nicholson and Helen Hunt sitting at a dinner table as he tries to find a compliment good enough to keep her from walking out.
As Good as It Gets tells the tale of Melvin Udall, an OCD writer who's bothered by his homosexual neighbor Simon and has a crush on the waitress who always serves him. However, after his neighbor is savagely beaten and robbed, Melvin starts caring for him and his dog.
With his own life turned upside down, Melvin can't function properly—and meanwhile he and the waitress Carol begin a strange relationship as they accompany Simon on a road trip to see Simon's estranged parents.
Jack Nicholson and Helen Hunt walked away with Academy Awards for their performances in As Good as It Gets, with Greg Kinnear garnering a nomination for Supporting Actor. The film itself has become a rom-com icon in its own right and is a must-watch to this day.