Finding new music that feels like it speaks directly to you can be a unique and thrilling experience. Sometimes you want to keep a song to yourself, but that's not always the case. There are often times when you want to share the music you love with your friends.
Back in the day, you'd bust out your cassettes and make a mixtape, but those days are behind us, at least for most of us. Thanks to streaming services, there are much more efficient ways to share music via making playlists. We've put together a few options for sharing playlists with your friends.
1. Spotify Playlists
If you use Spotify already, the service's playlists are probably at the heart of your listening experience. When it comes to both music discovery and playing what you already like, Spotify is so good that you may not even bother making your own playlists. When it comes to sharing though, you'll want to make your own playlists.
The great thing about Spotify is that playlists don't have to be one-way. If you want your friends to be able to share songs with you via the same playlist, simply turn on Collaborative mode in the playlist settings.
2. 8tracks
Of all of the options here, 8tracks is the most focused option. This service doesn't aim to compete with Spotify or Apple Music on their own terms. Instead it aims at being the ultimate spot to make and share online mixtapes.
8tracks is rare in that it was founded in 2006 and the site launched in 2008 and is still running. You can make and listen to playlists free, but for ad-free listening you need a subscription. If all you're looking to do is share playlists, the free offering should be just fine.
3. Apple Music Public Playlists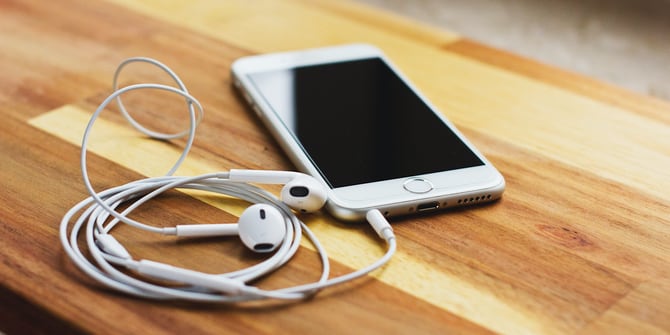 As Spotify's biggest competitor, Apple Music has put a lot of work into its playlists. Similarly to Spotify, Apple's main focus is on providing you with music you want to listen to before you know you want it, but there are nice playlist building and sharing features too.
You have the option to either make a playlist public so anyone can see it, or to directly share with friends and family members. Unfortunately, while Apple has talked about collaboritive playlists, they don't seem to be supported just yet.
4. Soundcloud
If you and your friends are mainly into electronic music — no matter which varieties — you probably already know about Soundcloud. You may not be familiar with how easy it is to make and share playlists using the service though.
You can make playlists of other people's music or your own if you happen to produce your own music. Then you can easily share by inviting your friends to listen. There are no collaborative playlists yet, but hopefully the site will add them in the future.
5. YouTube Public Playlists
When you're looking for audio fidelity, YouTube videos aren't your best friend. That said, you can use the service to make the video equivalent of a mixtape, and that makes the service's offering unique, especially if you'd otherwise have trouble getting your friends to pay attention.
Like many other services, YouTube lets you easily make any playlist public. Just make a playlist of videos as you would any other way, then set it to public and share it with your friends. There's no easy collaborative option, but it's not really necessary.
Best Ways to Discover New Music
As mentioned at the top of this post, finding new music can be immensely exciting. When you make and share playlists, you're kind of paying it forward by helping your friends find music that they might love as much as you do. What about you, though?
If you can't get enough of finding new music, we can help with that. Just take a look at our list of the best music discovery services.