One exciting thing about anime is that sometimes the story features real-world locations that you can actually visit in person—except they're drawn in the vision and style of the anime.
Indeed, the directors and illustrators of anime don't just put effort into their character designs, but also into the backgrounds and settings that give life to the story.
Some of these real-life places are iconic enough that you might recognize them even if you've never been to Japan, but sometimes the real-world location is itself mundane and only noteworthy because a certain event or plot point just happens to takes place there.
From tourist spots to iconic scenes, here are some of the real-life places and locations featured in anime that you can visit.
Bite Into Japan
TokyoTreat is our favorite Japanese snack box, with 15–20 full-size Japan-exclusive snacks and drinks in every box, delivered right to your door every month.
10. Yamagata City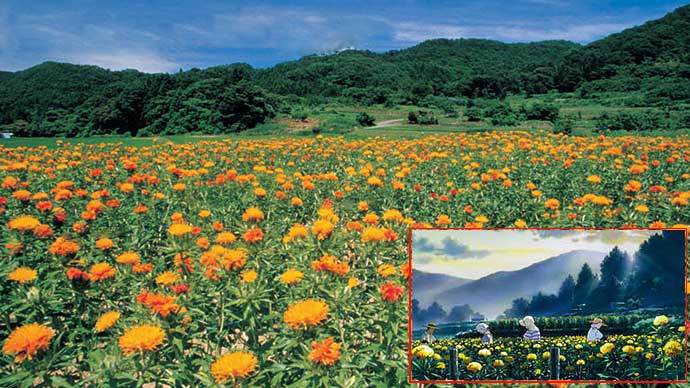 Only Yesterday is an anime movie about an office worker from Tokyo who spends her holidays in the countryside of Yamagata City in Yamagata Prefecture, featuring the agricultural lifestyle of the folks there.
It's a rural place at the northern end of the Japanese mainland that was used as the main setting in Isao Takahata's movie (Studio Ghibli).
The movie shows Takahata's appreciation for the simple and solemn beauty of life on the farm, including the safflower fields. The Yamagata Safflower Festival is a must-see event in Japan.
9. Dogo Onsen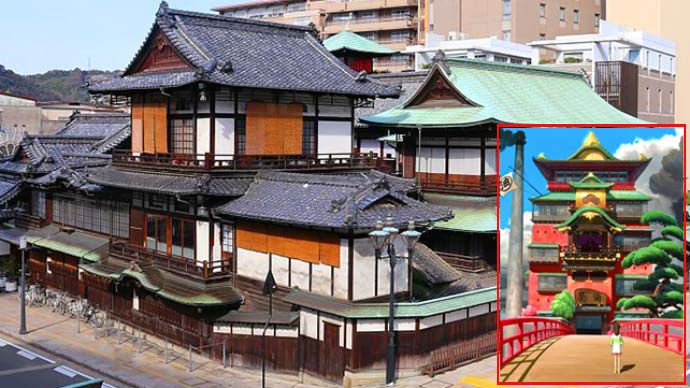 According to one tale, one thousand years ago there was a heron who had an injured leg—and immersed it into the hot spring coming from a rock in a place that's now widely known as Dogo Onsen. It's said to be a healing spring, one that allegedly restored that heron's leg.
This place is the inspiration for the spectacular bathhouse of Yubaba, which is the most important location in Spirited Away. Whenever it's featured, its designs closely resemble the real-life bathhouse.
Dogo Onsen is the oldest hot spring resort, located to the east of central Matsuyama and is the main attraction of that place. It's a public bathhouse made of wood, with two indoor baths (the larger bath is the Kami no Yu while the Tama no Yu is the smaller one).
8. Arashiyama Bamboo Forest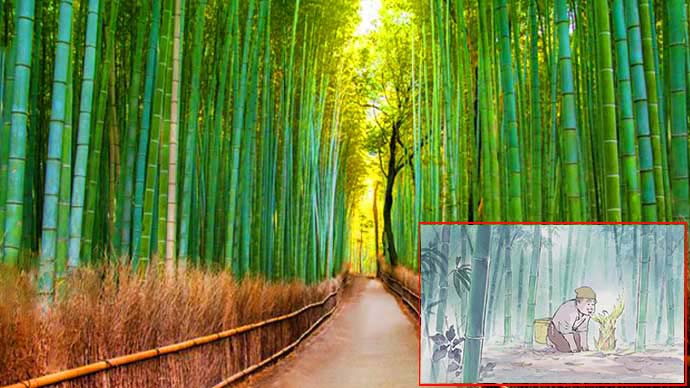 Kyoto is the center of traditional Japanese culture, and is thus surrounded by hundreds of Buddhist and Shinto temples and shrines.
One of the main tourist spots located outside the center is a forest of bamboo plants known as the Arashiyama Bamboo Forest. One of Isao Takahata's films, The Tale of Princess Kaguya, was inspired by the historical and spiritual settings of the forest.
Arashiyama Bamboo Forest is located in the Arashiyama District in Kyoto, about 500 meters out (approximately one-hour walk at normal speed). But it's quite a sight, so you should take your time and be engulfed by the enthralling grove of towering bamboo grass.
7. Sayama Hills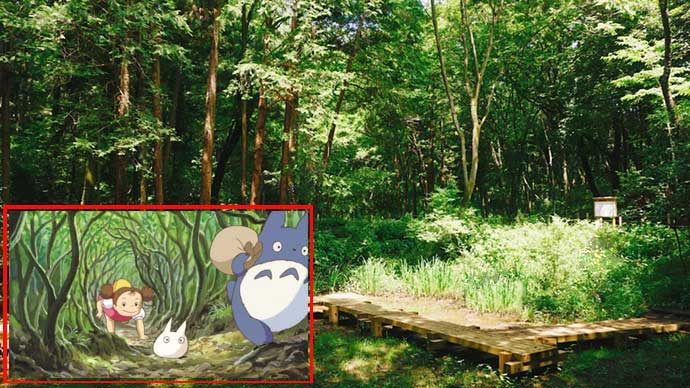 In the anime film My Neighbor Totoro, Mei and Satsuki met the yokai who lives in the forest (named Totoro) after moving to an old house near said forest. Totoro gave the two girls many adventures that were amazing, glamorous, and full of fun.
It's said that Sayama Hills was the inspiration for the green scenery in Hayao Miyazaki's film. Sayama Hills is located in northwestern Tokyo and southwestern Saitama prefecture.
It's a land that covers 3,500 hectares and is the habitat for more than 1,500 species of animals and plants. This peaceful forest is under the care of the local people and organizations.
6. Inokashira Park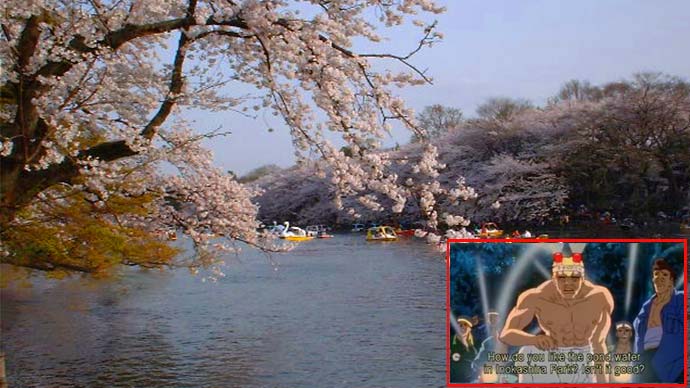 Inokashira Park was featured in the series Great Teacher Onizuka, in which Eikichi Onizuka submerged his delinquent students's heads in the water using his own unique delinquent style of teaching.
Inokashira Park was opened in 1917 under the name "Inokashira Imperial Grant Park (Inokashira Onshi Kōen)," stating that the land and its area were given to the public by the Emperor. It's a famous spot for anyone who wants a view of the iconic Sakura trees.
5. Fukue Island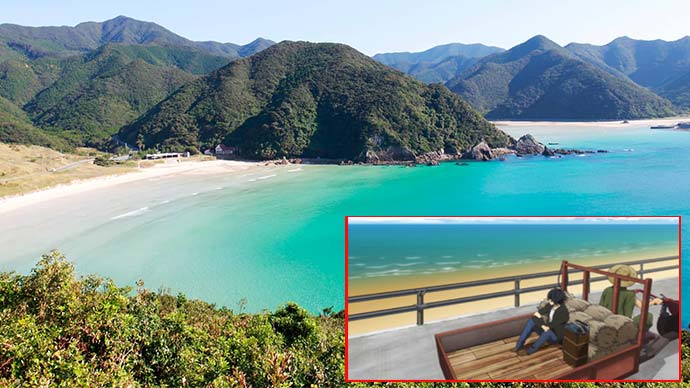 Barakamon is an anime that starts with a professional calligrapher, Seishu Handa, who punches an old man after he criticized him for his out-of-the-book style of calligraphy.
He's then sent to the countryside in Fukue Island. Fukue Island is one of the largest and most populated places in the Goto Islands.
Though it's not mentioned in the anime, the island is known for its natural beauty including white sand beaches, churches, and mountains that provide great views of the neighboring islands.
4. Jorin-ji Temple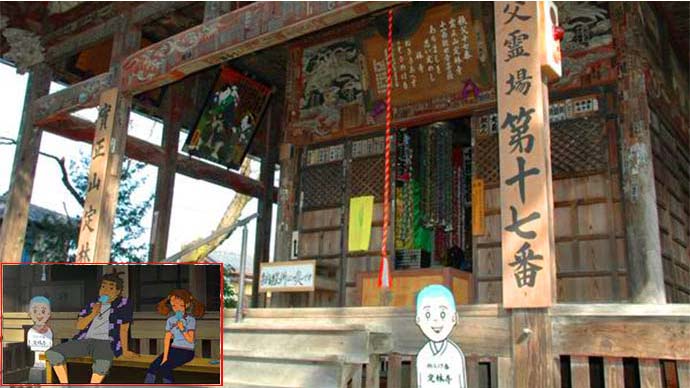 The main setting in the anime Ano Hana is a Jorin-ji Temple in Chichibu City. The main characters used to play there when they were kids, and it's also the place where they reunite as teenagers.
In real-life, Jorin-ji Temple is a small temple and not a playground for children, though there is a nearby park just a few houses away. It has some history to it, along with its religious significance in the locality.
3. Suga Shrine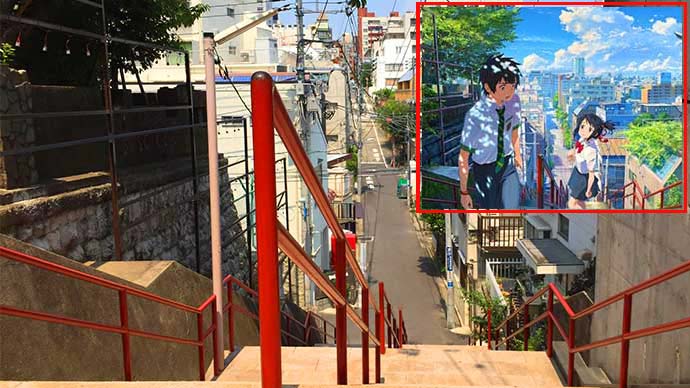 Suga Shrine is one of the Shinto shrines located in Shibuku, Tokyo. There used to be two different shrines during the Edo period, namely the Gozutennou Shrine and the Inari Shrine.
The two became Suga Shrine after the Meiji Restoration and became a spot for picture-taking groups of people—especially the staircase—unlike most Shinto shrines that are solely for religious rituals.
In the anime film Your Name, it was an epic final moment for Mitsuha and Taki, the two people who lived and communicated with each other across two different timelines.
2. Akihabara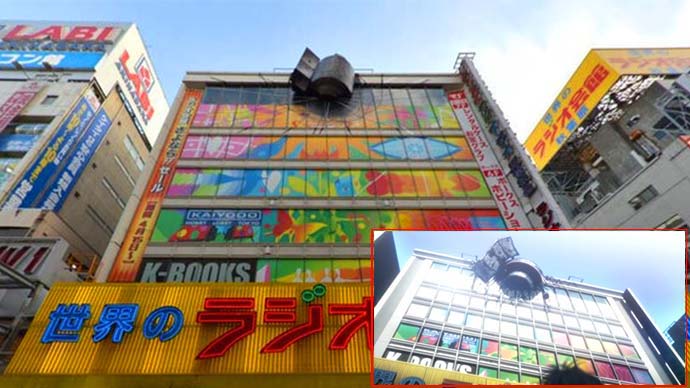 Steins;Gate is an anime series set in Akihabara, Tokyo. You may notice the tower where the time machine crashes into. Well, that tower exists in real life, which is the Radio Kaikan of Akihabara.
It's not just cool because it was featured in an anime—Akihabara is also a paradise for otakus and anime fans, filled with otaku shops and anime merchandise sellers. The building clearly distinguishes itself among other structures with its anime-inspired atmosphere.
1. Tokyo Tower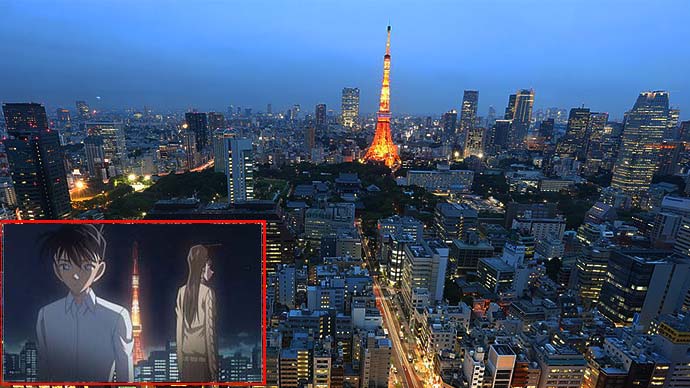 Tokyo Tower has been featured in many movies, including Godzilla and King Kong, along with tons of anime series and anime films that feature Tokyo Tower because it's such an iconic image.
Examples of anime that feature Tokyo Tower include Case Closed, Sailor Moon, Tokyo Magnitude 8.0, Cardcaptor Sakura, and Death Note.
Though Tokyo Tower was primarily a communications tower, its observatories became a main attraction for tourists. Those who want to witness an aerial view of the area will enjoy the scenery here.
Aside from the observatory decks situated above, it also has a museum and food shops for refreshment at its base, the FootTown.