Who doesn't love a great love story? And for those of us who enjoy a good anime on top of that, the combination can often make for an electric, mesmerizing cinematic experience.
Anime movies have a tendency to incorporate fantastic elements, and those elements are so good at making romance plots feel more dynamic, more engaging, and more unique.
But there are also romance anime movies that opt for a subtler tone, depicting the real-life qualities of regular people falling in love.
As we'll see, romantic anime movies come in all shapes and flavors. Whether they include time-bending and space-altering plot devices or not, we're treated to compelling relationships that help us to understand who we are and why we love.
Here are the best romance anime movies of all time and why you absolutely need to watch them if you haven't yet!
10. The Cat Returns (2002)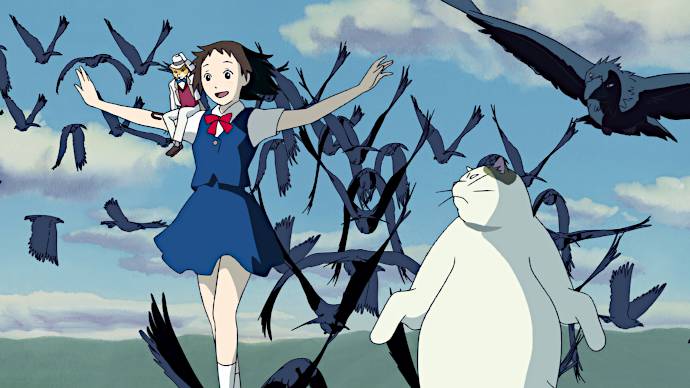 The Cat Returns is one of the most fantastical and bizarre depictions of teenage attraction and young love.
After Haru Yoshioka is given the Cat Prince's hand in marriage by a mysterious creature, she accepts (even if she's a tad confused). She finds herself transported to another magical world—where she's transformed into a cat.
Over the course of the film, there's peril, danger, and love as she finds her cat-self beginning to have feelings for Baron the Cat.
The Cat Returns is effectively a spin-off movie, with Baron the Cat being a minor character from another movie on this list!
9. Ocean Waves (1993)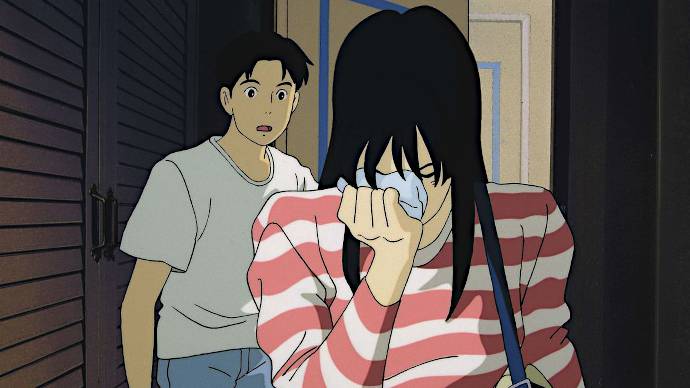 Though Ocean Waves went over budget and over schedule, it was still a success for audiences (even if Studio Ghibli regretted the decision to let the interns make a movie).
Ocean Waves follows Taku Morisaki, a boy who's returning to his high school for a reunion. However, memories of the girl he fell in love with bubble up to the surface—and we get to see (in flashback) the tumultuous romance that they shared.
It's a classic will-they-won't-they story in anime form. While it may not hold a candle to Studio Ghibli's most classic romances, it's certainly a film that reminds you of what it felt like to be young and in love.
8. The Wind Rises (2013)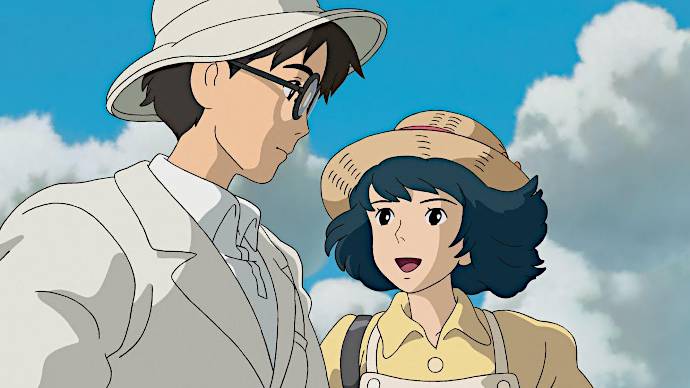 The Wind Rises is a fictionalized account of Jiro Korikoshi, a famous Japanese aviator who was responsible for the designs of Japanese fighter planes during World War II.
More than that, The Wind Rises is also one of the most raw love stories you'll ever find in cinema, filled with pain, loss, and grief.
This was supposed to be Hayao Miyazaki's retirement piece, but it seems he still has one more film left in him, which he plans on releasing later this year (which we're definitely thankful for).
7. Spirited Away (2001)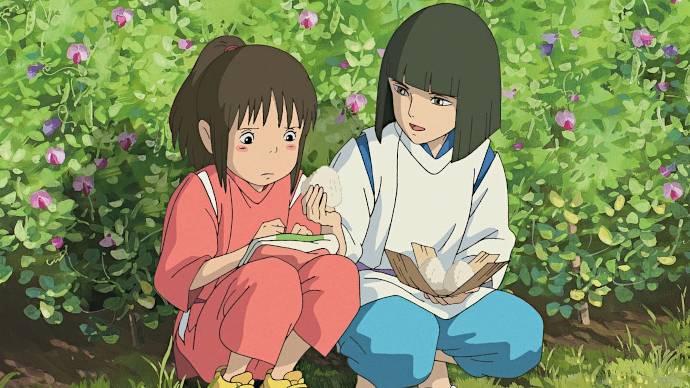 Spirited Away was such a compelling story that it became the highest-grossing movie in Japanese history and remained so until 2020.
This beautifully animated film follows Chihiro, who's accidentally cast into a distant spiritual land when her parents fail to see all of the signs that they should just turn around and go home.
However, even though she's trapped in this unwelcoming foreign world, she does find one friend: Haku.
Over the course of the film, we're unsure whether we can trust him or not, yet Chihiro finds herself attracted to him anyway. Despite what everyone says about him, she knows there's good in his heart.
And by the end of the movie, it's clear that Chihiro was right about him. As they fall through the sky, hand in hand, they know they've found freedom—both on their own and with each other.
6. Kiki's Delivery Service (1989)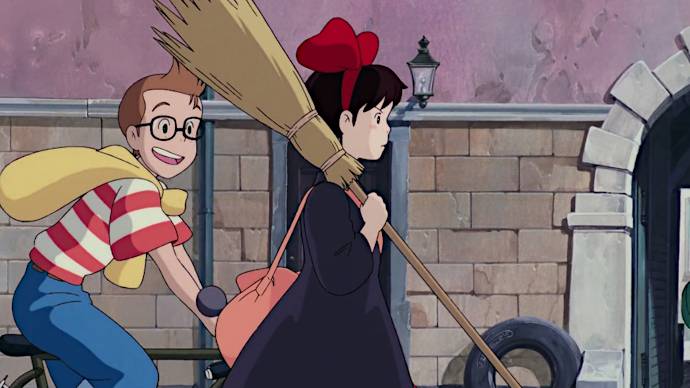 Kiki is a trainee witch, but that doesn't mean she doesn't have feelings. She meets Tombo, a boy who's an aviation fan and admires her ability to fly on her broomstick. Thus, a romance blooms.
As a pair of 13-year-olds, they're both clumsy and naive but express their feelings for each other earnestly and with great affection. It's adorable to watch—over and over again, I might add.
Kiki's Delivery Service remains one of the best anime movies by Studio Ghibli with its memorable characters and exquisite animation.
5. From Up on Poppy Hill (2011)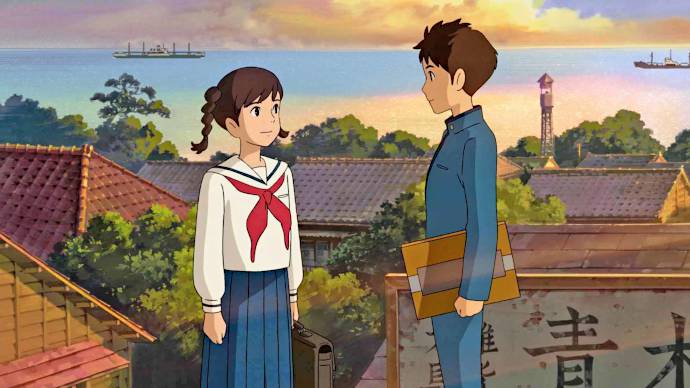 From Up on Poppy Hill is a lovely romantic anime movie that looks at the heartbreaking implications of forbidden love.
Umi Matsuzaki is a 16-year-old high school student who develops feelings for Shun Kazama, who also falls for her.
However, as secrets from the past—from before their births—are revealed to show an increasingly intertwined family history, it seems as though their romance can never be. How could fate be so cruel? Will they need to repress their love forever?
From Up on Poppy Hill is a mature look at the issues and difficulties that are always present with young love.
4. Only Yesterday (1991)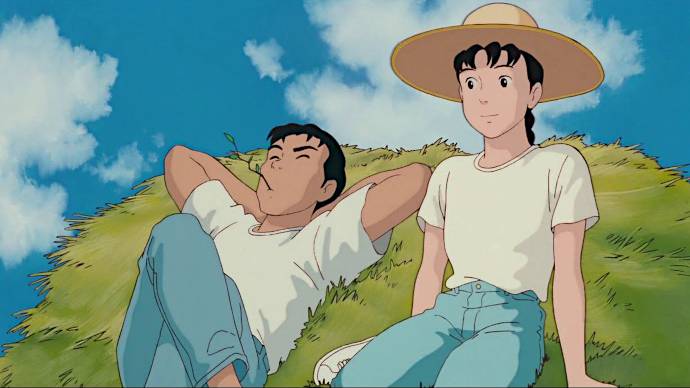 Only Yesterday is a classic example of how so much can be done with so little—something that Studio Ghibli is great at doing.
It's a breathtaking story that follows Taeko Okajima, a woman who decides she needs to get out of Tokyo so she goes on holiday to an area of rural Japan. While there, she meets Toshio.
Over the course of the film, we see her memories as she recollects all of the boys she had crushes on and all the major trials and tribulations of her life, which force her to wonder where it's all going.
Only Yesterday is a particularly great anime movie for adults, as it will certainly make you think of all the past loves you might've had and all the potential loves you will meet (if you haven't already).
3. Your Name (2016)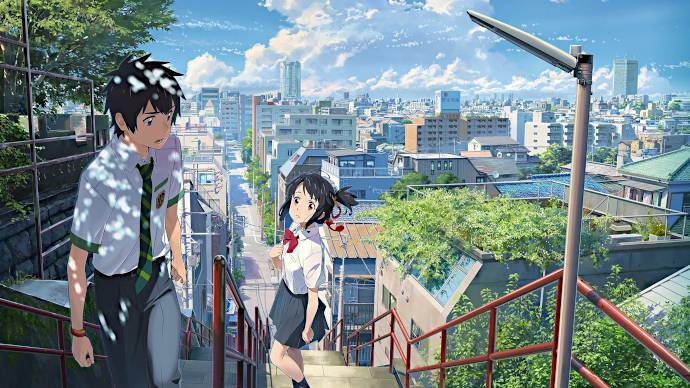 Your Name takes the premise of body-swapping and elevates it by infusing it with a heartfelt romance unlike any other. It's also one of the rare world-class anime movies that isn't by Studio Ghibli!
Mitsuha Miyamizu is a girl living a boring life in boring rural Japan, who wakes up one morning to find herself in the body of Taki Tachibana, a boy from a different school in urban Tokyo.
Of course, she has no one to blame but herself... because she literally wished she could be a Tokyo boy in her next life.
As it turns out, Taki also wakes up in Mitsuha's body and they continue to swap bodies—but not every day. It only happens every so often. They start leaving notes for each other about their lives, which leads to them falling in love with each other.
And so, eventually, Mitsuha and Taki go to great lengths to try and find each other. They know there's true love between them brought on by this cosmic supernatural phenomenon.
But the true nature of their relationship will punch you in the gut and leave you with tears streaming down your face.
As the third highest-grossing Japanese movie of all time, it's obvious that people were spellbound and enamored by Your Name. It's truly one of the greatest romance anime movies ever made.
2. Howl's Moving Castle (2004)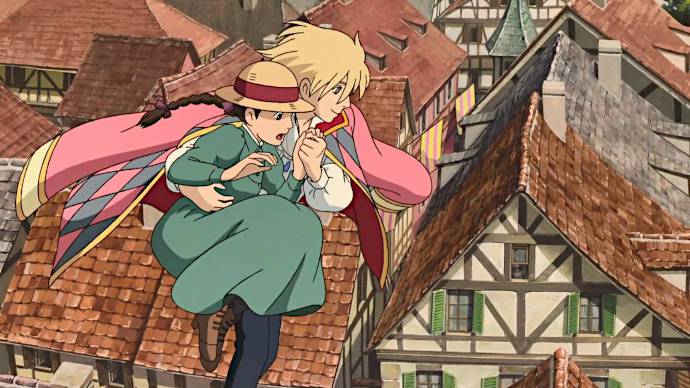 Sophie is a young and humble seller of hats who becomes spellbound when she meets Howl, an infamous wizard with extraordinary charm.
However, she's then cursed by a witch and transmogrified into a 90-year-old woman. In trying to break the curse, she ends up at the doorstep of Howl's abode—which happens to be a moving castle.
Over the course of the film, we see Howl's flaws, his failings, and his deep-seated troubles. And yet, the romance between the two of them offers a glimmer of hope that things always happen for the best.
1. Whisper of the Heart (1995)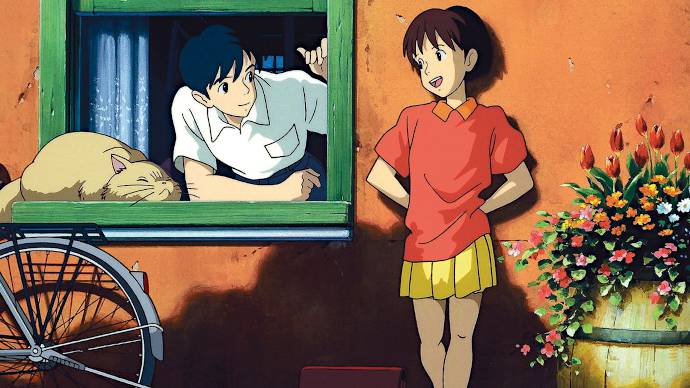 Whisper of the Heart isn't just a romance movie about two people. It's a romance movie about everything.
The story follows two young teenagers in Shizuku Tsukishima and Seiji Amasawa. At first, they engage in a bit of ritual teasing of each other, but that's eventually followed by deep interest in each other's lives.
As Shizuku discovers Seiji's passion for the violin and his impressive talent, she longs to discover something that she herself can be so passionate about—and that happens to be writing.
Whisper of the Heart breathes romance and heart through the screen. It has everything you think of when you think of young love: angst, passion, fear, triumph, and so much more.
It's a resounding film that will absolutely charm you, which is why it's my top pick of all the best romance anime movies ever made.