We often recommend products we like. If you buy anything via links on our site, we may earn a small commission.
Amazon is the biggest book catalogue in the world, especially when it comes to geeky or nerdy topics. From being a warehouse where you can purchase physical copies to hosting ebooks that are only available in digital format, you can find pretty much everything you need with a press of a button.
Because Amazon's book vaults are so huge, even niche topics can become overwhelming to navigate. Fortunately, there's a couple different ways that you can make this hunt easier. Here's how to search through Amazon for the best geeky books to buy.
How to Search Amazon via Web Browser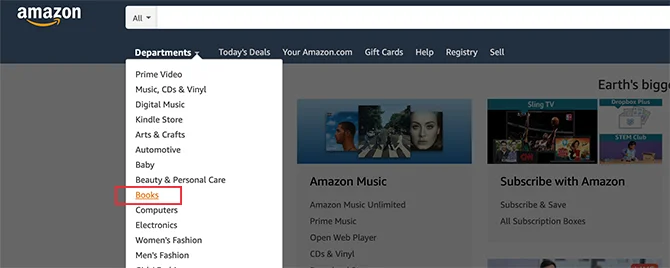 When you're searching through a web browser, you're usually buying physical book copies or gifts for friends and families.
To search via web browser:
Log into your Amazon account. You can search for books if you're logged out, but you'll need an account to have the best experience.
Next, click on Departments and navigate to the Books section. From there you can begin your search.

There's a couple different paths that you can take to find the book that you need. If you know the name of the book you're searching for, type it into the search bar. Amazon will autofill it and pull up the book's name.
If you're searching for books on a particular topic—and you don't have the specific title on hand—this is where searching will take a few more steps.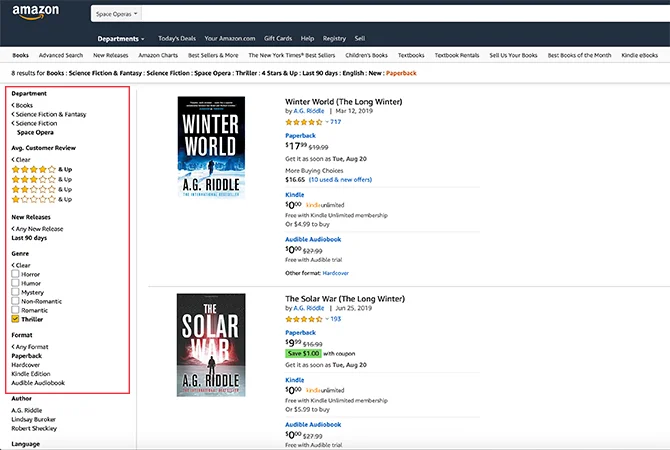 To search a topic:
Go to Departments > Books, then click on the subcategory you want to search. In this case, I chose Science Fiction & Fantasy.
Next, go to the options menu on the left-hand side of your screen. Tick off the subcategories that you want, in this case "Science Fiction" only. After that, choose your subgenre (space opera), followed by the format, the rating, the condition of the book, and the release date. By taking these steps for this article, I've narrowed down my options from 90,000+ titles to just eight. That's huge.
Alternatively, you can type the genre of books you're looking for into the search bar, i.e. "space opera books". You can whittle down your options from there.
Note: Once you start buying books through Amazon, they'll recommend you titles based upon your previous purchases and what you've searched for. This makes the search even easier.
How to Search Amazon via Your Kindle
Even easier than buying physical books through a web browser is buying ebooks directly through your Kindle. Both your Amazon and Goodreads accounts are directly attached to it, so finding (and buying) something late at night has never been faster.
When you get into Amazon's ebook options, the selection of geeky books is even more massive. Some books only come out in ebook form, or they're only available through Kindle Unlimited—a "book streaming" service that allows you to read unlimited books within that package for a set fee per month.
This massive selection can be difficult to parse, but once again you can finesse it.
To find the perfect geeky book for you:
Go to the Store option at the top of your Kindle.
Click on a category: Books, Kindle Daily Deals, Kindle Unlimited, or Kindle Exclusives.
Click on the subcategory you want to search. For me, that's Science Fiction & Fantasy.
Click on the second subcategory—once again, Science Fiction—then click on the subgenre. This time I'll choose Cyberpunk.
After you choose your subgenre, you'll be taken to a large list of titles. To narrow this selection, click Refine.
Once you click Refine:
Choose another category to sort the titles. In my opinion the best way to sort this list is through Customer Rating and Release Date.
For this article, I've set Customer Rating to "4 Stars & Up". For Release Date I set it to "Last 90 days." By doing this I've narrowed my options from 7,000+ titles to sixty.
Alternatively, you can go to the Search bar at the top of your Kindle and type in "cyberpunk novels". Kindle will pull up a pre-refined list, and from there you can click Refine and narrow your options further. You can also search for Goodreads recommendations through your Kindle.
More Geeky Ways to Take Advantage of Amazon
Amazon is a great place to find books. If you know what you're looking for and how to search for it, you'll be able to deal with the absolute deluge of content on the platform.
The only other thing to keep in mind? You'll need an internet connection to shop through Kindle. Once your books are purchased and downloaded, however, you can read them offline.
Looking for more things you can find through Amazon? Here's some nerdy and geeky shows to watch on Amazon Prime Video.