Zombies are meant to be terrifying. The very idea of undead hordes seeking to eat you should be more than enough to trigger your fight-or-flight response and get your heart going.
But that doesn't mean zombies can't be funny, too! If you add in the right characters and sprinkle them with good humor, you can turn any horrifying idea into something hilarious.
There have been several great zombie comedy movies that play with the usual tropes and spin them in funny directions. Sick of the same old zombie flicks? Want something different? You have options!
Here are the best zombie comedy movies that are seriously funny. Despite the blood and gore, they deliver endless hilarity.
15. Scouts Guide to the Zombie Apocalypse (2015)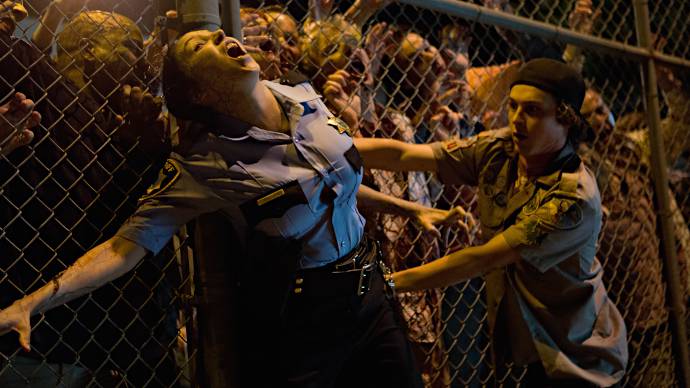 Have you ever thought of becoming a Scout? It's pretty great! You spend a lot of time in nature and learn how to survive in multiple situations. It's generally a safe hobby—until you find yourself in the middle of a zombie apocalypse.
That's what happens to Ben, Carter, and Augie in Scouts Guide to the Zombie Apocalypse. With the help of the waitress Denise, they must use everything they've learned from the Scouts to save their town.
This is a great watch where a small town is disrupted by dark forces, and no one but a group of youths can save it. Scouts, unite!
14. The Return of the Living Dead (1985)
When flesh-eating corpses are accidentally reanimated, everything turns to chaos. Frank (played by James Karen) and Freddy (played by Thom Mathews), responsible for the accident, have to fight for their survival.
This might be a difficult challenge for them, though, as they aren't quite the "hero" types. Actually, they're quite clumsy and probably not the brightest kids in town. The opposite of heroes. In the meantime, the zombies spread throughout the whole town of Louisville.
The Return of the Living Dead is often named as one of the best zombie movies ever with how it merges humor with gore and suspense. If you're into zombie comedy movies, this is a must-watch.
13. One Cut of the Dead (2017)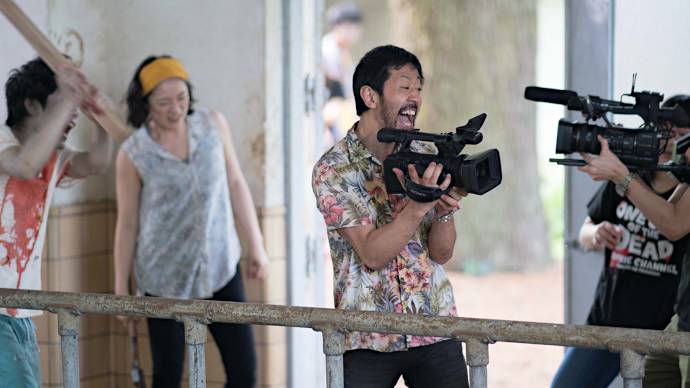 Amusing zombie movies come from all over the globe, and one of the best examples is the Japanese movie One Cut of the Dead.
This film follows the cast of a low-budget zombie film production, which makes the whole story absolutely meta. A real zombie attacks the set—and the director just keeps filming.
If you're into weird films, you're in for a treat! Shaky POV, unexpected jump scares, and much more await you.
12. Night of the Living Deb (2015)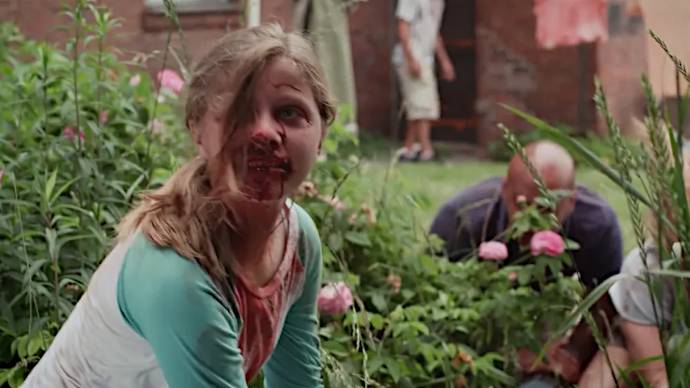 In Night of the Living Deb, Deb (played by Maria Thayer) has just spent the night with one of the most handsome guys in town. Now, sadly, it's time to go home and they're unsure whether they'll see each other again.
Deb starts walking home... only to realize something's wrong. Like, really wrong. There are zombies everywhere!
On the plus side, that means Deb and her date have to spend more time together in order to save themselves from the flesh-eating creatures. If ever there was a silver lining to the zombie apocalypse, this is it!
11. Juan of the Dead (2011)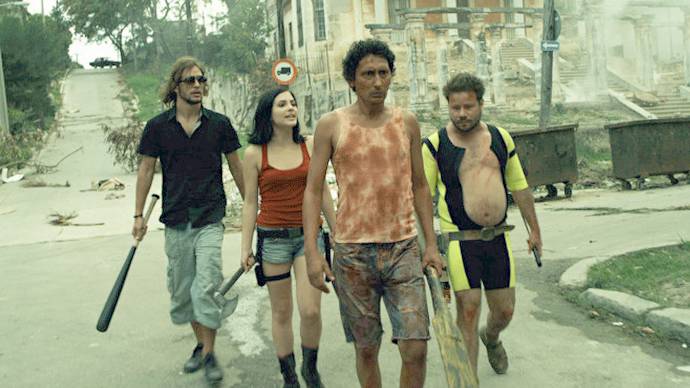 American cinema is famous for its zombie movies, but there are many other zombie stories worth watching from around the globe. Juan of the Dead, for example, is a Spanish-Cuban zombie comedy movie.
Juan (played by Alexis Díaz de Villegas) isn't especially productive or goal-driven. He lives day to day in Cuba, not doing much with his life. His best friend Lázaro (played by Jorge Molina) isn't very different either, so they get along just swell.
One day, while fishing, they catch a corpse—and it's alive! After they're attacked by it, they figure out that a zombie apocalypse is here.
10. Eat Brains Love (2019)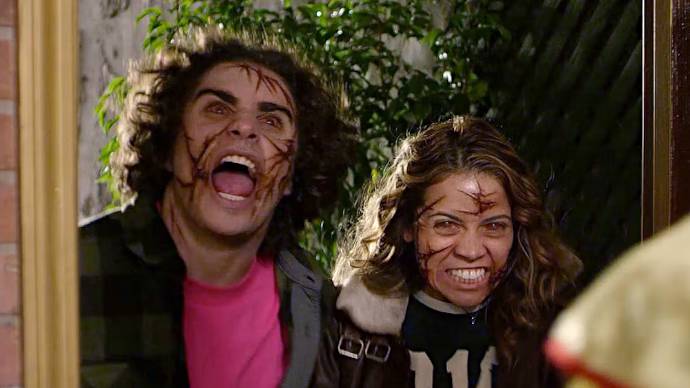 Jake (played by Jake Cannavale) and Amanda (played by Angelique Rivera) have contracted a mysterious zombie virus that's transmitted through sexual intercourse rather than bites. This virus truly is a nightmare.
In Eat Brains Love, zombies retain their senses and personalities but change their ways when they're hungry for human flesh. And while the government is trying to find a cure for this virus, they need to catch a few zombies first to do that.
Even if Eat Brains Love got bad reviews, it's a chill watch that develops the concept of zombies in a different way from the usual brain-dead, flesh-eating zombie trope. Keep your expectations low and you'll be able to enjoy this low-maintenance zombie film!
9. Warm Bodies (2013)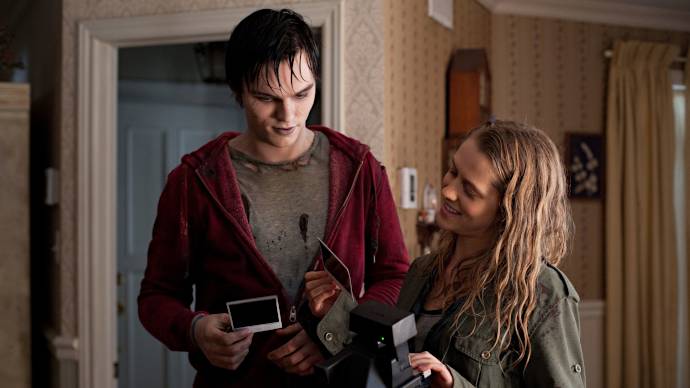 The protagonist of Warm Bodies is a zombie named R (played by Nicholas Hoult), whose narrations give us insight into his life as a zombie at a stage when it seems like humanity is lost forever.
When a group of survivors appears, one of them—a girl named Julie (played by Teresa Palmer)—provokes a weird reaction in R. His heart, which was dead for a long time, starts beating again. From that moment on, everything changes.
Warm Bodies is not only funny, but it's also heartwarming and uplifting. Mixing interior monologue with satire, Warm Bodies received solid reviews and high praise when it first released.
8. Night of the Comet (1984)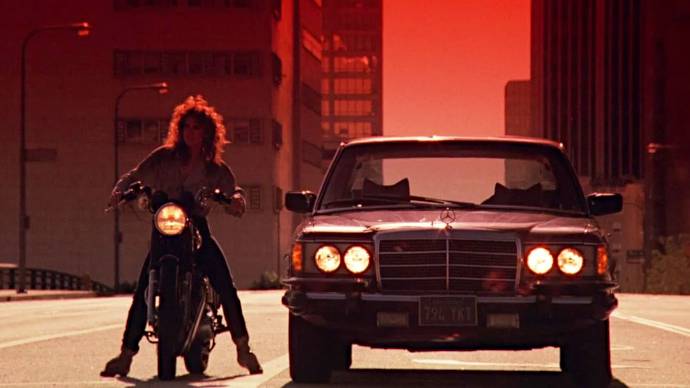 When a mysterious comet appears in the sky, teen sisters Regina (played by Catherine Mary Stewart) and Samantha (played by Kelli Maroney) find out that they're among the very few survivors of a zombie attack.
After they meet up with a few other survivors, they think they've been saved by some scientists. Unfortunately, those scientists only want to experiment on their bodies to find an antidote to the zombie crisis.
Night of the Comet is a great teen zombie movie that incorporates all the charm of the 1980s. Definitely worth a watch!
7. Anna and the Apocalypse (2017)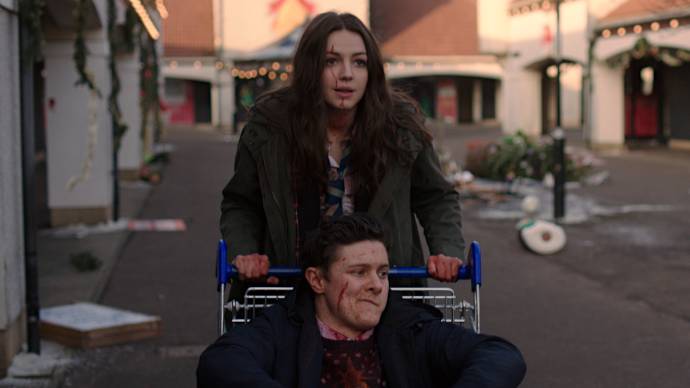 If you're looking for a good Christmas movie with zombies, check out Anna and the Apocalypse.
In this movie, the quiet town of Little Haven is about the celebrate Christmas, but the holidays are about to be ruined by flesh-eating monsters. Anna (played by Ella Hunt) and her friends must fight for their survival while trying to find their families.
Unfortunately, they soon find out that the only people they can rely on are themselves. The Christmas spirit is challenged by zombies here, but true friendship can face any challenge.
6. Cooties (2014)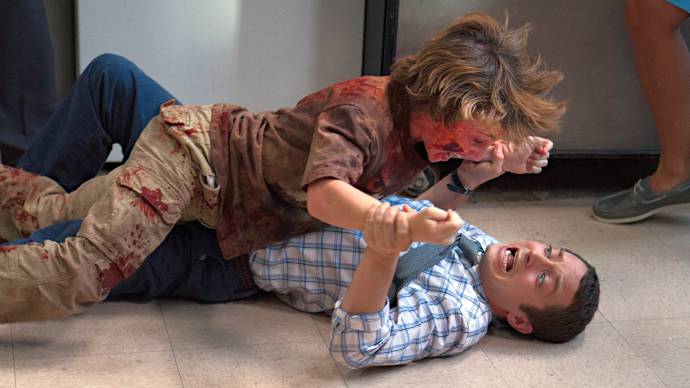 In Cooties, Fort Chicken Elementary School of Illinois receives a shipment of chicken nuggets for lunch. While kids love the stuff, something doesn't feel right.
As it turns out, the chicken nuggets are contaminated and start turning the children into zombies. Substitute teacher Clint (played by Elijah Wood) has to re-establish order while the entire school falls into chaos.
Also starring Rainn Wilson and Alison Pill, Cooties is a fantastic zombie comedy movie that's guaranteed to make you laugh.
5. Zombieland: Double Tap (2019)
The long-awaited sequel to Zombieland is titled around one of Columbus's many rules: Double Tap. And while Zombieland: Double Tap isn't nearly as good as the original, it still offers a funny zombie-killing ride that fans of the genre will most certainly enjoy.
The biggest reason why this isn't higher on our list is that it's just not as funny as it could've been. But, to be fair, sequels are rarely as good as their originals, let alone better!
Overall, Zombieland: Double Tap is a solid experience with zombie-driven thrills and laughs. It just happens to have a few flaws.
4. Life After Beth (2014)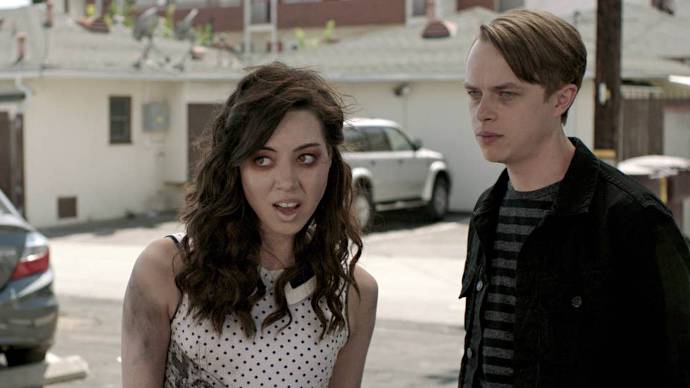 Life After Beth is anything but your typical zombie movie. Rather than having characters slaying hordes of zombies in ridiculous ways, this movie shifts its focus to one particular zombie.
The titular Beth (played by Aubrey Plaza) dies tragically, leaving her boyfriend (played by Dane DeHaan) depressed and lonely. She isn't gone long before she miraculously comes back, but she's a bit different now.
That premise alone should be enough to make you want to see this! If not, know that it also features hilarious actors—like John C. Reilly and Anna Kendrick—who are well-versed in comedy and elevate the film.
3. Fido (2006)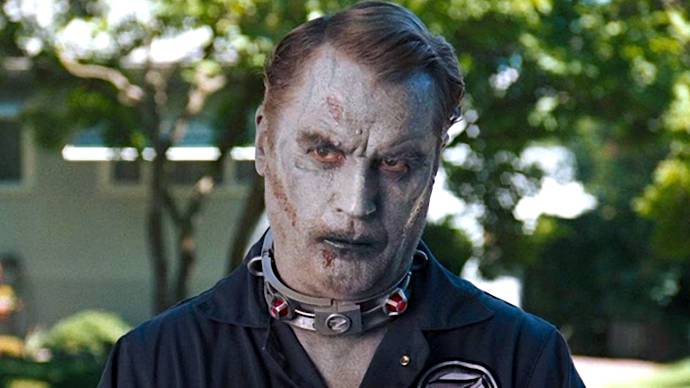 What would happen if, rather than fighting the zombies for survival, the living managed to domesticate them? That's exactly what happens in Fido. That's a rare premise when it comes to the zombie genre!
In this world where families own zombies as pets and workers, one family gets a zombie named Fido (played by Billy Connolly). When Fido's control collar stops working, he ends up killing the next-door neighbor.
Fido manages to hit on a wide range of emotions. Obviously, it'll make you laugh, but it'll also make you feel sympathy for both Timmy (the main character) and even Fido.
Who would have thought that a zombie comedy could actually make you feel some emotional attachment to the living dead?
2. Shaun of the Dead (2004)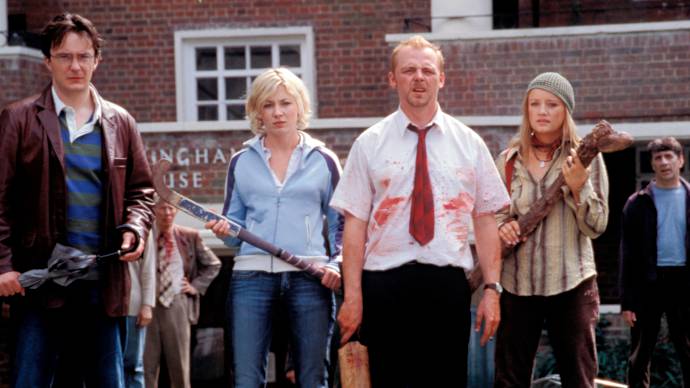 Shaun of the Dead is an absolute classic and one of the best zombie comedy movies ever made. You could even argue that this is one of the movies that started the whole "zombie comedy" genre.
Edgar Wright and Simon Pegg drew up one of the funniest zombie scripts you'll ever see. Once it gets going, the jokes never let up and your sides will legitimately hurt by the end of the movie.
This is what made us realize that Simon Pegg is a comedic genius, even as he followed up with gems like Hot Fuzz and The World's End. If you've never seen Shaun of the Dead, you owe it to yourself to check it out.
1. Zombieland (2009)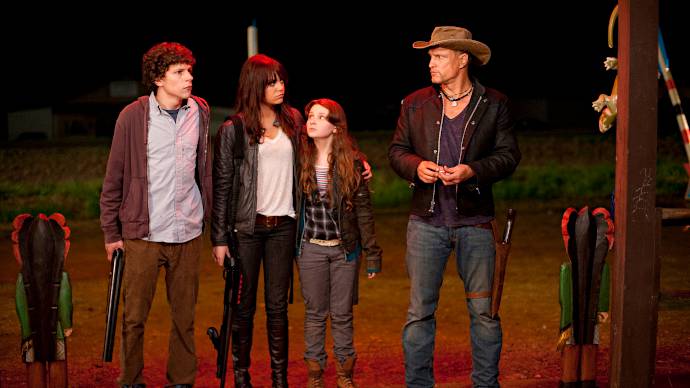 Zombieland is a true classic. There's a quirkiness to it that can't quite be explained, and it's an absolute must-watch that aged well enough to be at the top of our list. Plus, it features some of the most ridiculously over-the-top zombie kills you'll find in any movie.
What makes Zombieland stand out is its incredible cast—with the four main characters played by Woody Harrelson, Jesse Eisenberg, Emma Stone, and Abigail Breslin—who all have great on-screen chemistry.
Add in the cameo from Bill Murray and you have a movie that'll keep you entertained the whole way through. Zombieland is one of the funniest zombie comedy movies and the best of its class.