Post-apocalyptic movies are uniquely bleak, but they can also be hopeful. No matter how bad society gets, these movies can inspire us and make us feel like it's never too late to recover and turn around.
Then again, some of the best post-apocalyptic films don't have happy endings at all. They show us the worst-case scenarios of the future and act as warnings against wasting what we currently have.
Whatever the case, I love end-of-the-world movies and I love imagining what I would do—as a nerd with no extraordinary physical capabilities whatsoever—in such scenarios.
Here are my picks for the best post-apocalyptic movies about the end of the world that are seriously worth watching.
Note: There's a lot of overlap between movies that are post-apocalyptic, disaster, and dystopian. For this article, I'm strictly focusing on movies that take place AFTER an apocalypse has devastated the world. That's the only criteria!
15. Retreat (2011)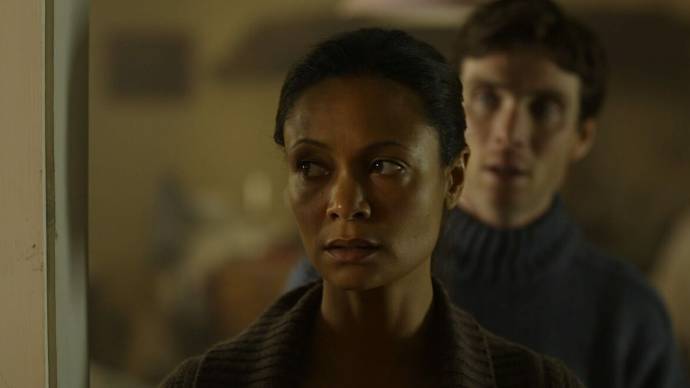 Imagine if society collapsed and you didn't even know about it. Carl Tibbetts ponders this question in his gloomy thriller Retreat, starring Cillian Murphy, Thandie Newton, and Jamie Bell.
Tibbetts' directorial debut takes place on a small and uninhabited island off the coast of Scotland, where an unhappy couple go to try and rekindle their marriage.
Then a bloody, half-conscious man washes ashore and informs the couple of an airborne disease that has broken out all over the world.
Argromoto Flu has a 100% fatality rate, but with the stranger's behavior becoming increasingly erratic, the couple begin to question its authenticity. Retreat is focused into a claustrophobic setting, made to broil in suspense under a dramatic score.
14. This Is the End (2013)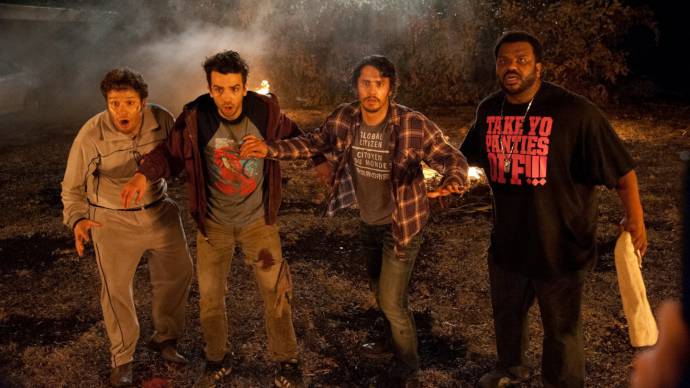 Seth Rogen and Evan Goldberg provide another knee-slapping comedy, this time taking place at the end of the world. This Is The End is particularly funny because all the actors play a not-quite-true-to-reality version of themselves.
A huge gathering of celebrities come together for a party at James Franco's house in Hollywood. Suddenly, an apocalypse of Biblical proportions erupts and traps a bunch of the guests in Franco's house, where cabin fever begins to brew.
James Franco, Jay Baruchel, Danny McBride, Jonah Hill, and Michael Cera team up along with star cameos from Emma Watson, Rihanna, Paul Rudd, Kevin Hart.... the list is endless.
This Is The End gets more and more insane as the movie goes on. Rogen clearly ran free with this story, and in turn, the audience have fun with it. A truly bonkers movie, devoid of any rules.
13. 9 (2009)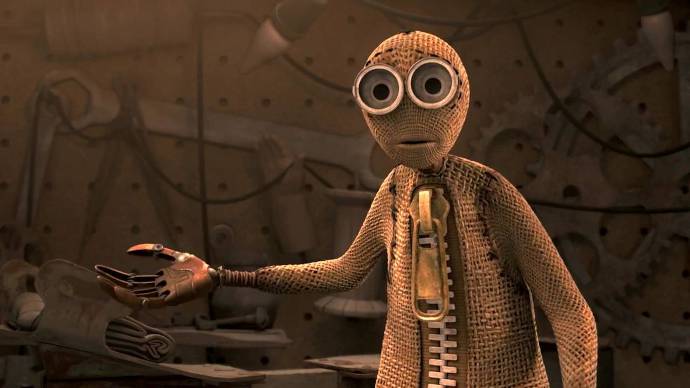 Here we have a seriously underrated animated film directed by Shane Acker and produced by Tim Burton—and as you'd expect from a Tim Burton production, this one can get pretty creepy at times.
In 9, a scientist accidentally creates intelligent robots that become corrupted, which leads to the extermination of humans. That same scientist then sacrifices himself to create nine Stitchpunk dolls—each imbued with a portion of his soul—to stop the robots.
Voiced by the likes of Elijah Wood, Jennifer Connelly, John C. Reilly, and Christopher Plummer, 9 is a surprisingly dark and emotional journey that's visually fun and worth the ride.
12. I Am Legend (2007)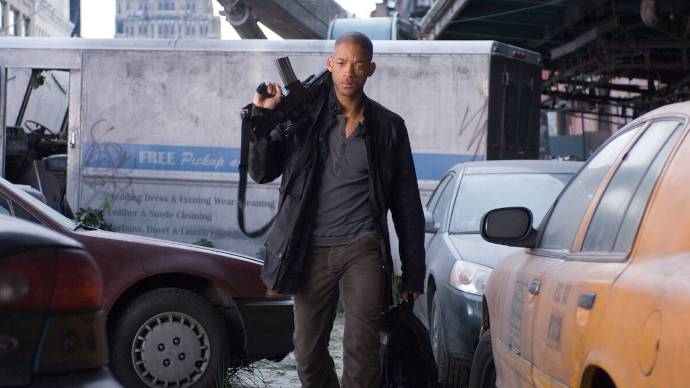 In I Am Legend, Will Smith stars as the leading man... or should we say, the only man. A virus that was meant to cure cancer has wiped out the globe, making Robert Neville the last man standing in New York City. Well, him and some cannibalistic mutants.
Since Neville is immune to the virus, he spends his days hiding out with his dog, experimenting for cures and monitoring the radio for any signs of other survivors, all while avoiding the zombie-like "Darkseekers."
Francis Lawrence's sci-fi drama-thriller was a hit with action fans, immersing viewers enough to overlook the questionable special effects. Smith brilliantly carries the movie on his shoulders, making us long to reach out and end his incessant loneliness.
11. The Book of Eli (2010)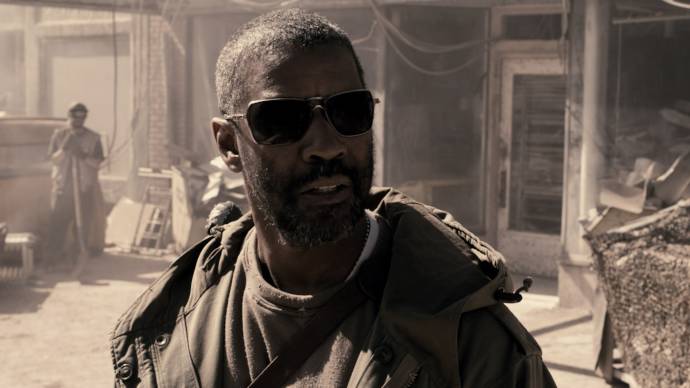 Decades after a nuclear apocalypse, a mysterious man is tasked with delivering a book to a location he receives in a vision.
Say what you will about the subject matter, The Book of Eli holds a special place in my heart for its themes of perseverence and holding fast to one's convictions in the face of opposition.
Is it a subtle film? No. But it's exciting! And Denzel Washington puts on a heck of a performance as Eli.
10. WALL-E (2008)
WALL-E centers on WALL-E, one of many trash-compacting robots that were created to help clean up a world turned wasteland. But even though humans gave up on Earth long ago and took to the skies, WALL-E continues to roam the planet and clean.
Unlike most post-apocalyptic movies, WALL-E manages to be a rebuke against reprehensible human behavior—namely excessive consumerism and corporate greed—yet also wholesome and uplifting.
After EVE arrives to assess the planet for human habitability, we're taken on a lovely ride as EVE and WALL-E form a bond that ends up being one of the best love stories in cinema. This is peak Pixar, for sure.
9. Zombieland (2009)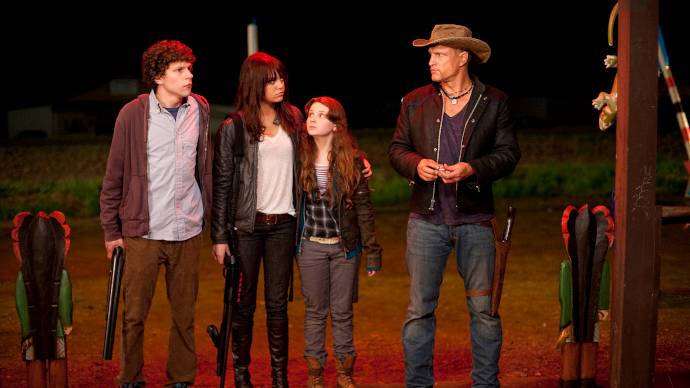 After the world is taken over by a zombie outbreak, four strangers—named after the cities Tallahassee, Columbus, Wichita, and Little Rock—band together to take a road trip across America in search of refuge.
It sounds serious, but Zombieland is one of the greatest comedy zombie movies ever made. On top of being funny, it has a lot of heart shared between the characters as they work together.
Plus, there's a legendary cameo by Bill Murray. What more could you ask for? Zombieland is one of the most rewatchable movies, and it's a wonder that this all takes place in a world ruined.
8. 28 Days Later (2002)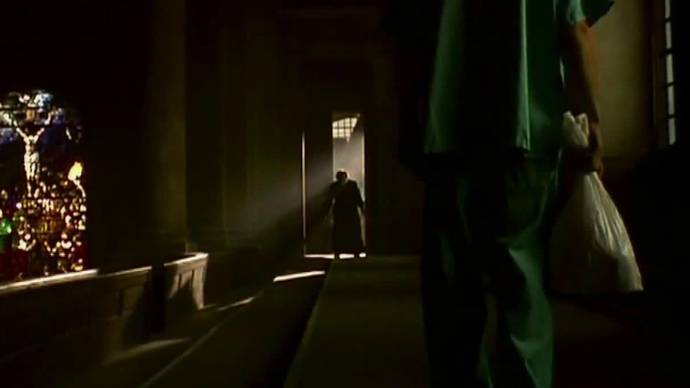 A man wakes up 28 days after a contagious virus has devastated his country, turning people into raging monsters.
While 28 Days Later is full-blown horror, one thing sets it apart from other zombie films: its insistence on exploring the different facets of humanity in the face of catastrophe and despair.
There are some real human moments here, which heighten the thrills that much more and elevate 28 Days Later from just another zombie movie to one that's deep, insightful, and chilling.
7. Snowpiercer (2013)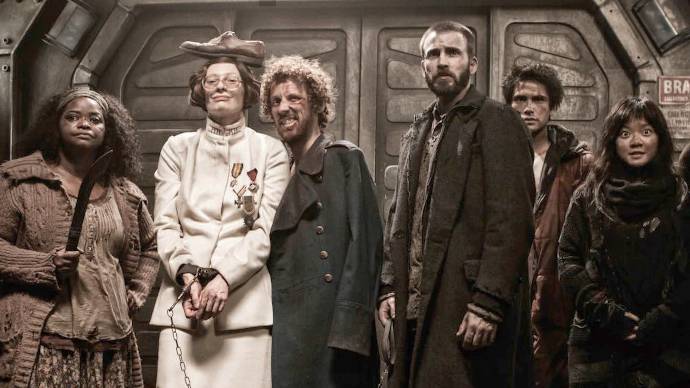 After a man-made catastrophe covers the entire planet in snow, the last surviving remnants of humanity are stuck aboard the Snowpiercer, a train that endlessly circles the globe.
Snowpiercer is stylish, packed with action, but more than that, philosophical. Using its unique setting, the film explores class warfare and inequality in a way that's both subtle and a gut-punch.
6. Mad Max: Fury Road (2015)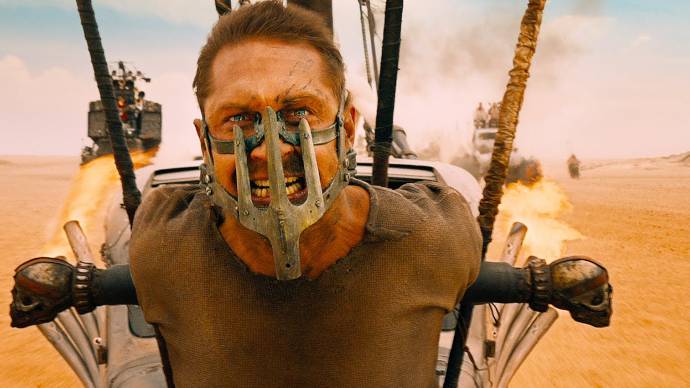 It's hard to think of a post-apocalyptic movie that's more stylish than Mad Max: Fury Road. The character designs, insane vehicles, creative worldbuilding, and high-octane action sequences make for a film that's unmatched in terms of sheer entertainment value.
Directed by George Miller, Mad Max: Fury Road is essentially one long car chase across a desert wasteland as Max Rockatansky allies with Furiosa to escape—and later fight—Immortan Joe and his army.
Post-apocalyptic popcorn flicks are surprisingly uncommon, which makes this film all the more impressive.
5. 10 Cloverfield Lane (2016)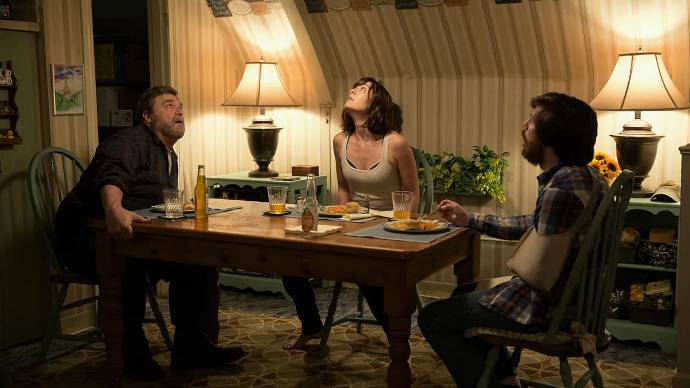 If you're a fan of suspense films that take place in one setting, 10 Cloverfield Lane should be high up on your watchlist.
A woman, after crashing in a car accident, wakes up in an underground bunker with two men who won't allow her to leave. Why? Well, they claim that the Earth is now uninhabitable to humans.
It's an edge-of-your-seat kind of film through and through, with a tremendously terrifying performance from John Goodman. He's the last person you want to be stuck with after an apocalypse.
4. A Quiet Place (2018)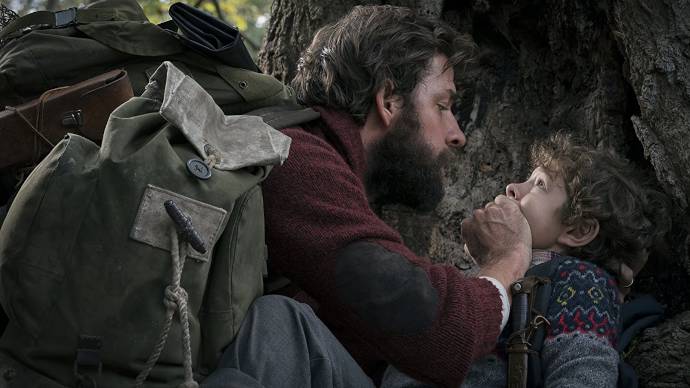 In the near future, the world is overtaken by bloodthirsty alien creatures who are blind but have ultra-sensitive hearing—to the point where they can hear the slightest noise from miles away.
A Quiet Place is a horror film with near-zero dialogue and maximum tension, forcing its characters to live in silence and use sign language for communication as they try to survive in this new world.
3. Children of Men (2006)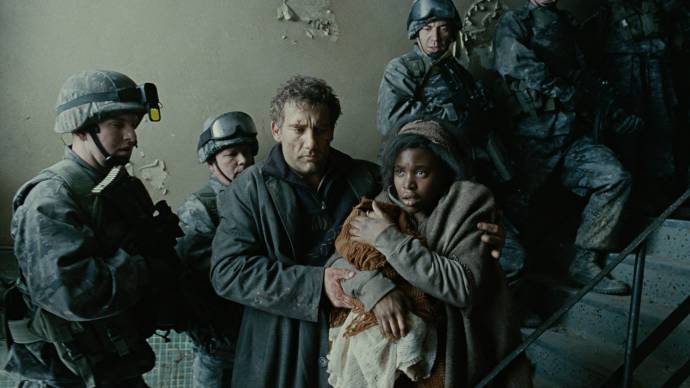 Imagine a future where women can no longer get pregnant. A bleak future that'd be, wouldn't it?
Children of Men poses that premise with a twist: after 18 years of global strife, a refugee woman secretly gives birth to a son, and one man must protect her as he escorts her to a scientific facility.
With impeccable direction from Alfonso Cuarón and a strong lead performance by Clive Owen, Children of Men is a must-watch for anyone who wants a philosophical movie about humanity wrestling with its flaws in a hopeless world.
2. The Matrix (1999)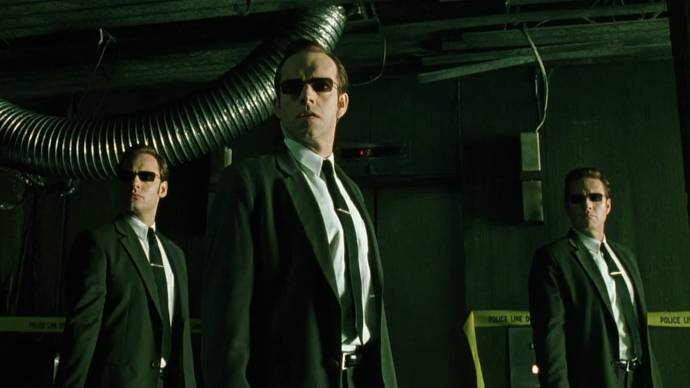 If you identify as a geek, you've probably already seen The Matrix—but if you haven't, that's okay. All that means is you still have the privilege of watching this brilliant film with fresh eyes.
The Matrix is a shining example of a dystopian cyberpunk future founded on the aftermath of an apocalypse, and there's a lot of symbolism and thematic depth to dig through if you're into that sort of thing.
Watching it now may not be as impressive as catching it when it released in theaters, and it probably won't blow your mind because so many movies have copied it since. Even so, The Matrix remains one of the best of its kind and still holds up well.
1. The Road (2009)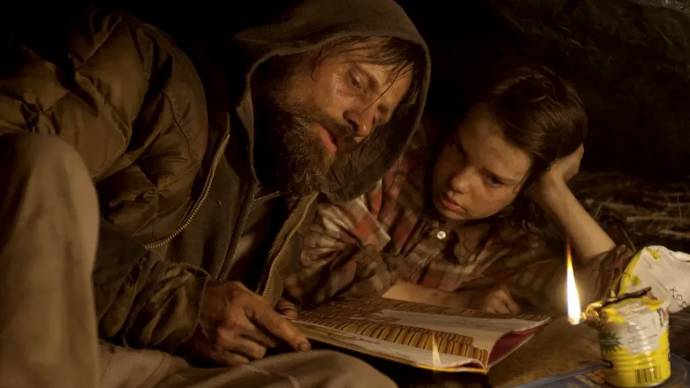 Be warned: The Road is a downer. The overall atmosphere, the subject matter, the themes explored, the character moments—it's all very mature, dark, heavy, and even hopeless.
Based on the book by Cormac McCarthy, The Road centers on a father and his young son as they trek across a post-apocalyptic wasteland.
They need to make it across the country to find safety along the coast, but their journey is impeded by roving bandits, rapists, cannibals, and all manner of others who have long lost their humanity.
The Road is a thoughtfully haunting film—one you'll be thinking about long after the credits—that's crafted for a deep impact. The horrific reality of it all is what makes The Road the best of the best post-apocalyptic movies of all time.