We've all seen those films that feature childhood "gangs" that we longed to be part of when we were growing up.
These childhood friendship groups—whether comprised of teenagers or younger—are often full of quirky characters who end up hunting for treasure, defeating evil wizards, running from clowns, or maybe just stuck in detention for a day.
Get your bikes out and join us as we take a ride down memory lane with our picks for the best friend groups in movies.
11. It (2017)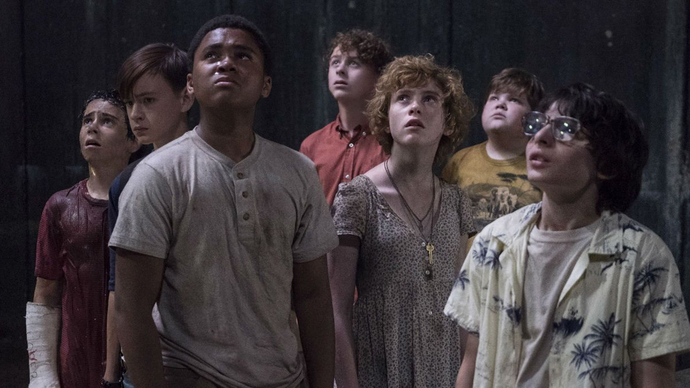 Okay, so we wouldn't literally want to be a part of this particular gang, but that's more due to the situation than the members themselves. The existence of an evil, trans-dimensional clown entity will do that.
Pennywise the Clown (played by Bill Skarsgård) is undoubtedly the creepiest clown around, first conceptualized by Stephen King in 1986 and brought to life in 2017 by director Andy Muschietti.
If it wasn't for him, this band of seven kids would probably have had a pretty great childhood, cycling from street to street through a glittering 1980s summer. Instead, the "Loser's Club" is forced to battle their greatest nightmare in the sewers... and again in the 2019 sequel.
10. Peter Pan (2003)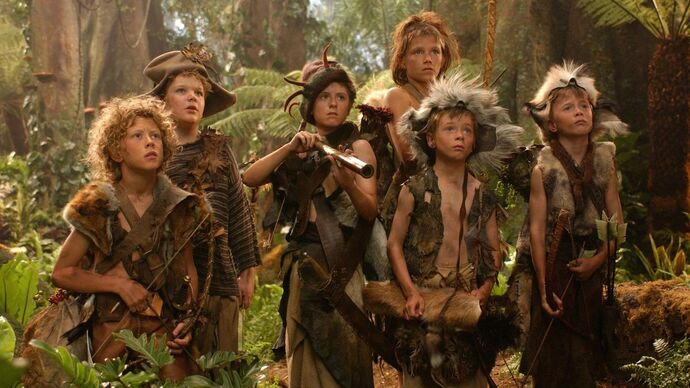 Every kid wishes that they were an adult sometimes, just so they can do what they want without any rules from parents or teachers. Peter Pan advocates doing what you want and staying young (until he grows up in Steven Spielberg's sequel Hook).
Rewinding back to the original fairy tale, Peter Pan's "never grow up" fantasy is made possible in Neverland, where the Lost Boys run wild in enchanted forests while fighting off pirates and arguing with fairies.
Yet, there's a lesson of love and appreciation here, as what the Lost Boys truly yearn for is their own family.
P. J. Hogan's live-action remake of the Disney cartoon shows that, in the end, they'd exchange all the freedom of the stars just for a mother.
9. The Little Rascals (1994)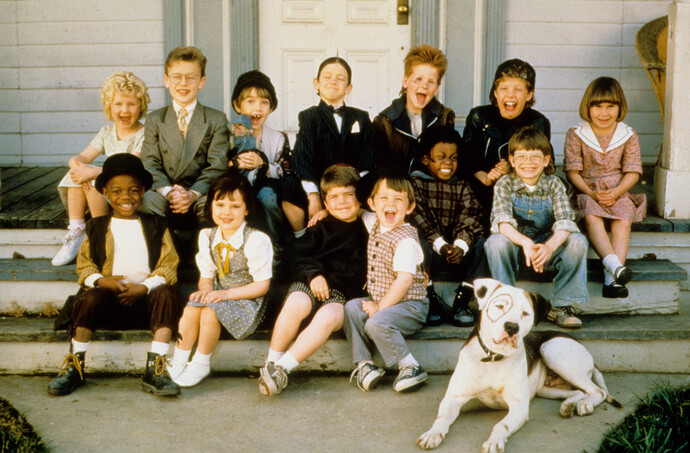 The Our Gang shorts from the 1920s were the pinnacle comedy franchise of the silent film era. Seven decades later, Penelope Spheeris infused them with color in the 1990s family favorite The Little Rascals.
This mischievous bunch of kids—far too many to name them all here—get up to all sorts of adventures in their little town of Greenpoint.
Most of the neighborhood boys are part of the "He-Man Woman Haters Club," but the president's best friend is caught hanging out with a girl. Uh-oh! Dive into old-school all-American nostalgia with this classic adaptation, featuring love letters and Soap Box Derby racing.
8. The Sandlot (1993)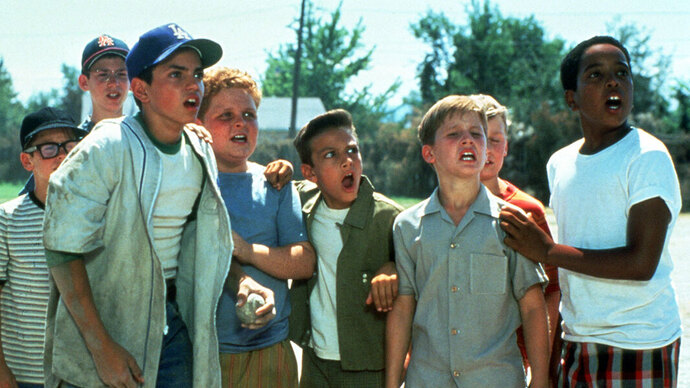 Many of the films on this list take place in the mid-20th century, as that's when kids were shooed out of their homes to go outside and play. It was a time without mobile phones or social media, when parents could leave their doors unlocked and their kids unsupervised all day.
With nothing to do, neighborhood children were forced to band together and use their imagination. In The Sandlot, that means retrieving a signed baseball from the scarily huge English Mastiff next door.
Tom Guiry stars as new-kid-on-the-block Scotty, who joins the local baseball team to make friends. The Sandlot is a sentimental, wholesome throwback to 1960s summers, directed by David Mickey Evans.
7. Toy Story (1995)
Strictly speaking, the Toy Story gang isn't made up of kids. Indeed, Andy's crew is comprised of ageless plastic toys, voiced by famous actors like Tom Hanks, Tim Allen, and Kelsey Grammer.
That said, being a family movie about a bunch of loyal, adventurous toys, no kid would turn down the chance to join Woody and Buzz at Pizza Planet. Most younger viewers can't help but wonder if their own toys come to life when they're not looking...
Cowboys, spacemen, potato heads, piggy banks, plushies, dinosaurs, soldiers, slinky dogs, and claw machine aliens make up the bulk of Andy's childhood friends until he leaves for college—a scene that has parents crying more than their own kids do.
6. The Outsiders (1983)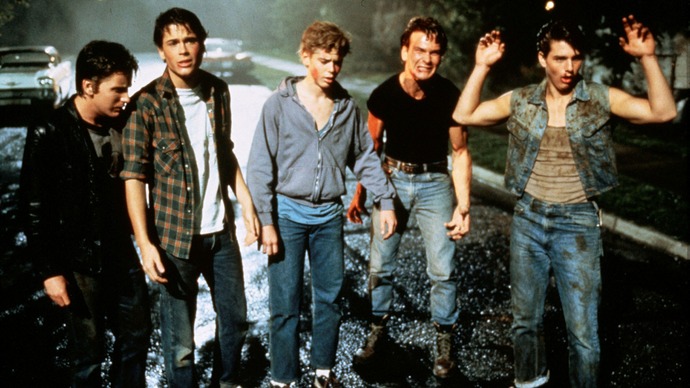 "Capturing all the intensity, all the excitement, all the emotions of youth," according to the original trailer, director Francis Ford Coppola brought S. E. Hinton's 1967 coming-of-age novel to the big screen.
Prepare for some Hollywood melodrama with this vulnerable teen flick that raises questions around the dangers of toxic masculinity.
Set in rural Oklahoma, The Outsiders follows two rival gangs—the "Greasers" vs. the "Socials"—whose bickering ends in tragedy.
If nothing else, watch The Outsiders for its ensemble cast of 1980s A-listers that include Matt Dillon, Ralph Macchio, Patrick Swayze, Rob Lowe, Diane Lane, Emilio Estevez, and Tom Cruise.
5. The Breakfast Club (1985)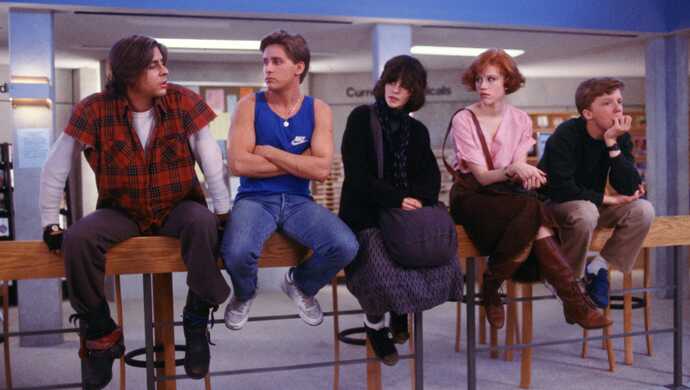 The 80s was an awesome time for teen movies, gifting us the likes of Ferris Bueller's Day Off and Pretty in Pink. We could have chosen a bunch of different examples to go on this list, but we settled on the most iconic one of the decade: The Breakfast Club.
In this classic John Hughes high school drama, The Breakfast Club takes place on one lousy Saturday where five kids are stuck in detention. They don't exactly start off seeing eye to eye, but being confined together for so long eventually makes them look past their cliques.
Each member is completely different, yet they all have one thing in common: being a teenager sucks. And in each of them can be found "a brain, an athlete, a basket case, a princess, and a criminal."
4. The Perks of Being a Wallflower (2012)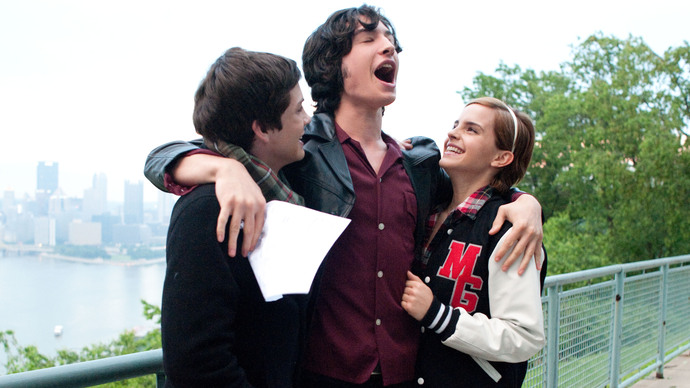 The Perks of Being a Wallflower is a match for the original novel, mainly because it was directed by the very same author: Stephen Chbosky. The acting helped, too, starring Logan Lerman as an introverted 15-year-old who we'd do anything to keep from eating alone at lunchtime.
Luckily, Charlie finds some friends who honor his shyness, nurture his creativity, and bring him out of his shell.
Emma Watson, Ezra Miller, Mae Whitman, Erin Wilhelmi, and Adam Hagenbuch all come together as the "misfit toy" group of seniors who exchange Secret Santas and perform The Rocky Horror Picture Show live.
The Perks of Being a Wallflower is a dreamily sentimental coming-of-age film that incorporates David Bowie's "Heroes," fairy-lit rooms, typewriters instead of laptops, and open-roof car rides.
3. Harry Potter and the Sorcerer's Stone (2001)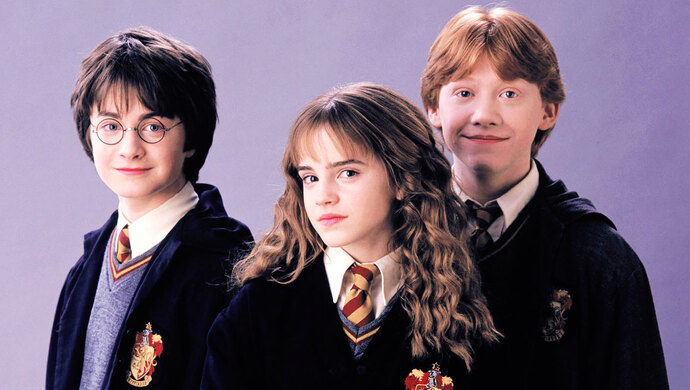 Can three people count as a friendship gang? Well, we're going to say YES and include them anyway, because who wouldn't want to be part of this golden trio?
Harry Potter wouldn't stand a chance at fighting off dementors, trolls, and three-headed dogs—oh yeah, and that one guy... Voldemort something?—if he didn't have Ron and Hermione by his side.
Daniel Radcliffe, Rupert Grint, and Emma Watson brought J. K. Rowling's beloved friendship group from book to screen, adapted from her world-famous series of young adult fantasy novels.
Flaming with chemistry, the three youngsters navigate the wizarding world together—and it's been every child's dream to visit Hogwarts ever since!
2. The Goonies (1985)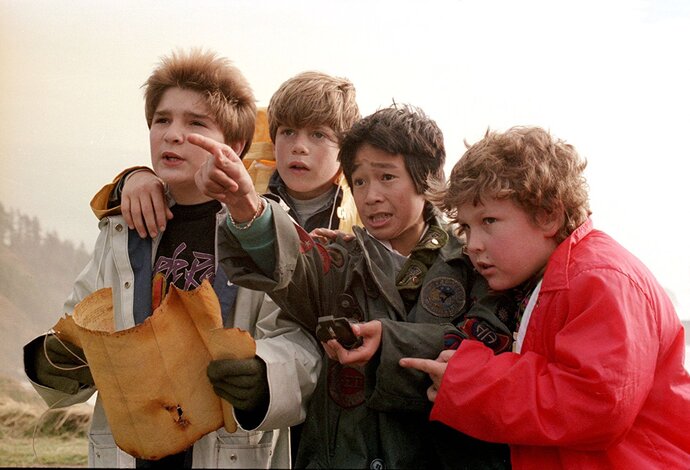 Mikey, Chunk, Mouth, and Data make up "The Goonies," who are best pals of the soon-to-be-foreclosed Goon Docks on the West Coast.
Deciding to embark on one final adventure, the gang follows an old map to the legendary treasure of One-Eyed Willy—which takes them straight to the Fratelli crime family.
Along with Mikey's brother, his crush, and her best friend, The Goonies have to maneuver their way past Indiana Jones-style booby traps.
Richard Donner's cult comedy reminds us what it is to be a kid again: sassy, innocent, and full of energy. A (baby-faced) Sean Astin, Josh Brolin, Jeff Cohen, Corey Feldman, and Jonathan Ke Quan star.
1. Stand By Me (1986)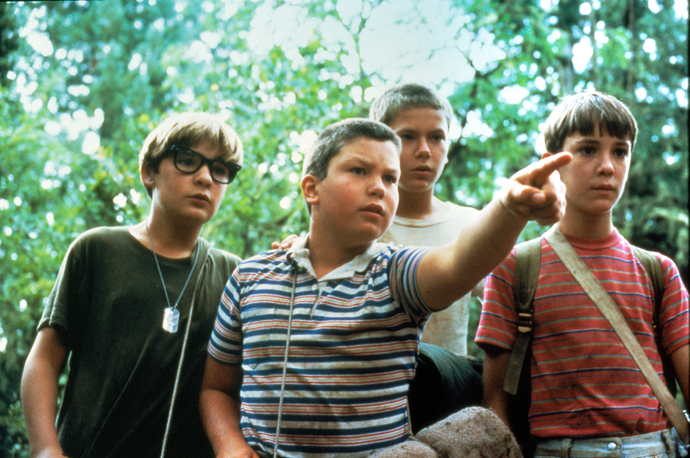 Stand By Me is the culmination of every coming-of-age story ever told, influencing the genre for decades to come.
Based on Steven King's novella The Body, the film follows four boys on their hike through the Oregon outback. Set in the late 50s, Stand By Me is a tender melodrama that marks the end of childhood innocence.
The closer the boys come to finding a rumored missing body—naively hoping to be considered heroes—the closer they become to each other.
Played by Wil Wheaton, River Phoenix, Corey Feldman, and Jerry O'Connell, the squad certainly wasn't expecting such a radical journey of self-discovery at just 12 years old!