We've all seen those films and TV shows that have childhood "gangs" we longed to be a part of when we were growing up. The Lost Boys? The Sandlot? Yes, count us in!
These childhood friendship groups—whether comprised of teenagers or younger—are often full of quirky characters who end up going on grand adventures, like hunting for treasure or defeating Lord Voldemort.
Get your bikes out and join us as we take a ride down memory lane with our take on the best childhood friendship groups in cinema.
10. IT (2017)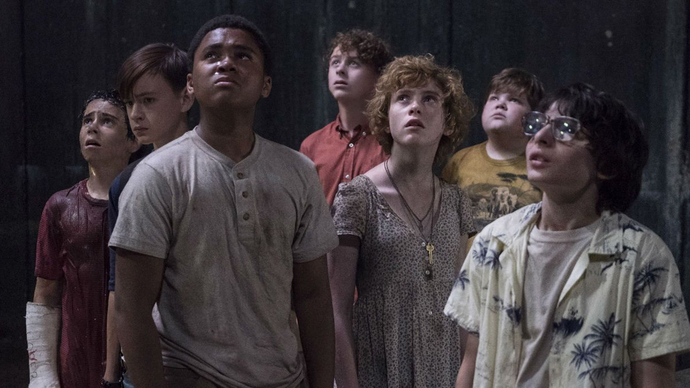 Okay, so we wouldn't literally want to be a part of this particular gang, but that's more due to the situation than the members themselves. The existence of an evil, trans-dimensional clown entity will do that.
Pennywise the Clown (played by Bill Skarsgård) is undoubtedly the creepiest clown around, first conceptualized by Stephen King in 1986 and brought to life in 2017 by director Andy Muschietti.
If it wasn't for him, this band of seven kids would probably have had a pretty great childhood, cycling from street to street through a glittering 1980s summer. Instead, the "Loser's Club" is forced to battle their greatest nightmare in the sewers... and again in the 2019 sequel.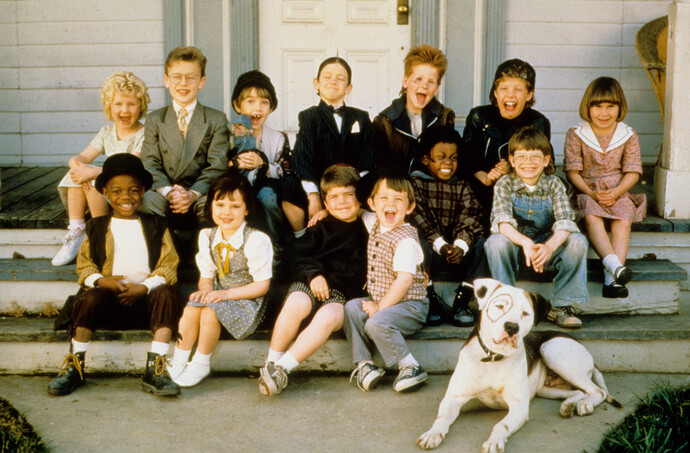 The Our Gang shorts from the 1920s were the pinnacle comedy franchise of the silent film era. Seven decades later, Penelope Spheeris gave them some color with the 1990s family favorite The Little Rascals.
A mischievous bunch of kids—far too many to name them all here—gets up to all sorts of adventures in their little town of Greenpoint.
Most of the neighborhood boys are part of the "He-Man Womun Haters Club," but the president's best friend is caught hanging out with a girl. Uh-oh! Dive into old-school all-American nostalgia with this classic adaptation, featuring love letters and Soap Box Durby racing.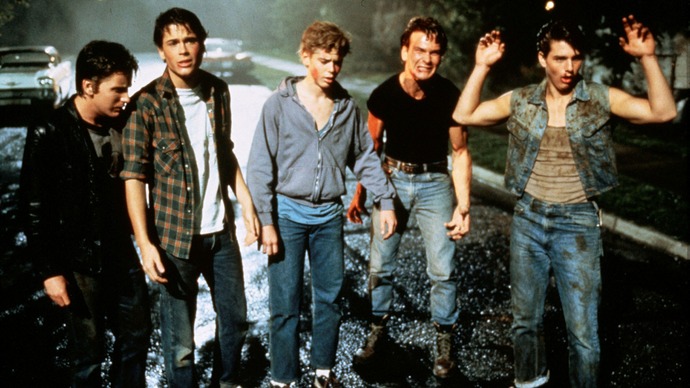 "Capturing all the intensity, all the excitement, all the emotions of youth," according to the original trailer, director Francis Ford Coppola brought S. E. Hinton's 1967 coming-of-age novel to life.
Prepare for some Hollywood melodrama with this vulnerable teen drama that raises questions around the dangers of toxic masculinity. Set in rural Oklahoma, The Outsiders follows two rival gangs—the "Greasers" vs. the "Socials"—whose bickering ends in tragedy.
If anything, watch it for the cast that stars an ensemble of 1980s A-listers: Matt Dillon, Ralph Macchio, Patrick Swayze, Rob Lowe, Diane Lane, Emilio Estevez, and Tom Cruise.
7. Skins (2007–2013)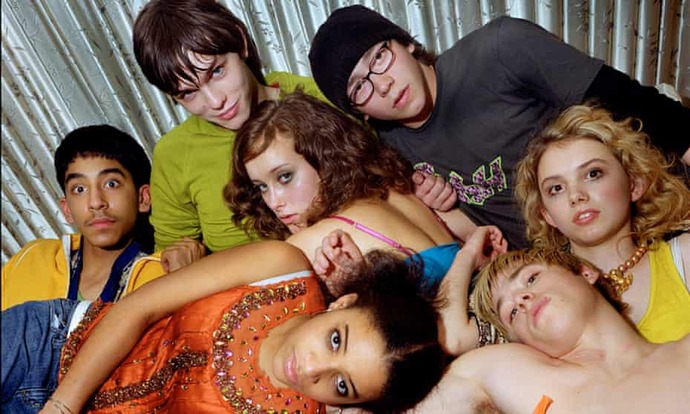 If you liked the recent season of HBO's Euphoria, this one might be for you—except this is the British version. You can practically wipe the grime off this TV show with your finger, as a bunch of college teens drink, party, and argue their way through seven seasons of drama.
Set in Bristol, Skins features three "generations" of friendship groups that launched the careers of many famous British actors, like Jack O'Connell, Dev Patel, Nicholas Hoult, Joe Cole, and Kaya Scodelario.
The somewhat controversial plotlines explore timely issues of mental health and drug culture, but no matter how messy things get, you can't help but love them!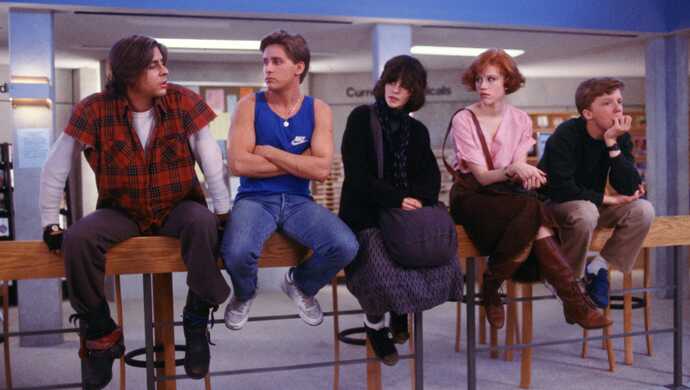 The 80s were an awesome time for teen movies, gifting us with the likes of Ferris Bueller and Duckie Dale. We could have chosen a bunch of different ones to go on this list, but we settled on the most iconic one of the decade: The Breakfast Club.
In this classic John Hughes high school drama, The Breakfast Club takes place on one lousy Saturday when five kids are stuck in detention. They don't exactly start off seeing eye to eye, but being confined together for so long eventually makes them look past their cliques.
Each member is completely different, yet they all have one thing in common: being a teenager sucks. And in each of them can be found "a brain, an athlete, a basket case, a princess, and a criminal."
5. Misfits (2009–2013)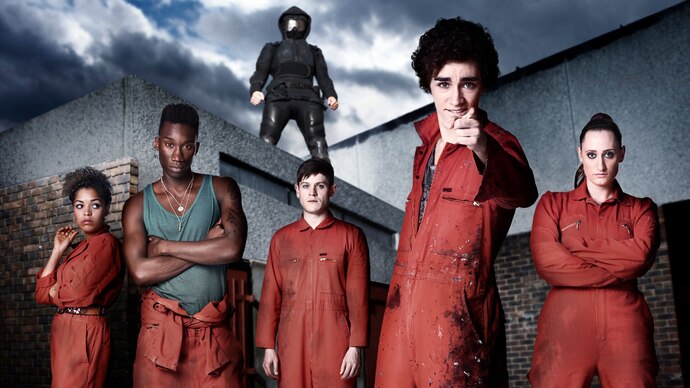 What would happen if you put a superhero in the midst of British teen culture? Misfits attempts to answer this question by zapping its angsty South East London young offenders with supernatural powers. Invisibility, immortality, telepathy... all while carrying out community service.
Howard Overman's punk-infused sci-fi TV show is bursting with sarcasm and humor. When the five delinquents accidently kill their probation officer (and another one... and another one...), they must learn to keep their crimes and their powers under wraps.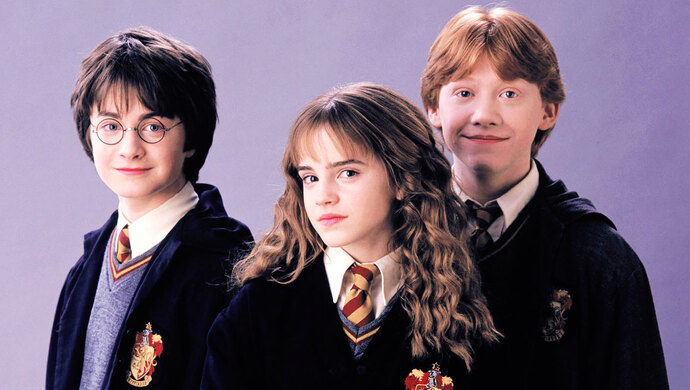 Can three people count as a friendship gang? Well, we're going to say YES and include them anyway, because who wouldn't want to be part of this golden trio?
Harry Potter wouldn't stand a chance at fighting off dementors, trolls, and three-headed dogs—oh yeah, and that one guy... Voldemort something?—if he didn't have Ron and Hermione by his side.
Daniel Radcliffe, Rupert Grint, and Emma Watson brought J.K. Rowling's beloved friendship group to life, adapted from her world-famous series of young adult fantasy novels.
Flaming with chemistry, the three youngsters navigate the wizarding world together—and its been every child's dream to visit Hogwarts since!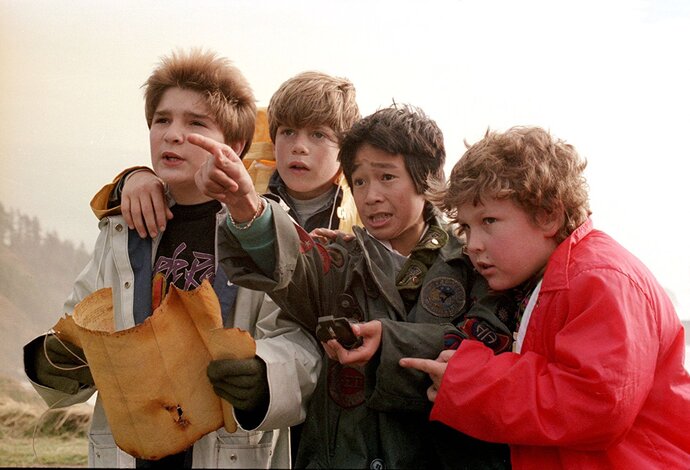 Mikey, Chunk, Mouth, and Data make up "The Goonies," who are best pals of the soon-to-be-foreclosed Goon Docks on the West Coast.
Deciding to embark on one final adventure, the gang follow an old map to the legendary treasure of One-Eyed Willy—which takes them straight to the Fratelli crime family.
Along with Mikey's brother, his crush, and her best friend, The Goonies have to maneuver their way past Indiana Jones-style booby traps.
Richard Donner's cult comedy reminds us what it is to be a kid again: sassy, innocent, and full of energy. A (baby-faced) Sean Astin, Josh Brolin, Jeff Cohen, Corey Feldman, and Jonathan Ke Quan star.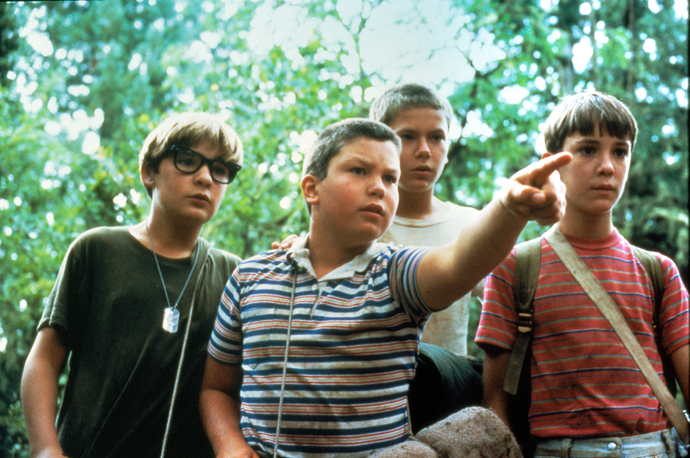 Stand By Me is the culmination of every coming-of-age story ever told, influencing the genre for decades to come.
Based on Steven King's novella The Body, the film follows four boys on their hike through the Oregon outback. Set in the late 50s, Stand By Me is a tender melodrama that marks the end of childhood innocence.
The closer the boys come to finding a rumored missing body—naively hoping to be considered heroes—the closer they become to each other.
Played by Wil Wheaton, River Phoenix, Corey Feldman, and Jerry O'Connell, the squad certainly wasn't expecting such a radical journey of self-discovery at just 12 years old!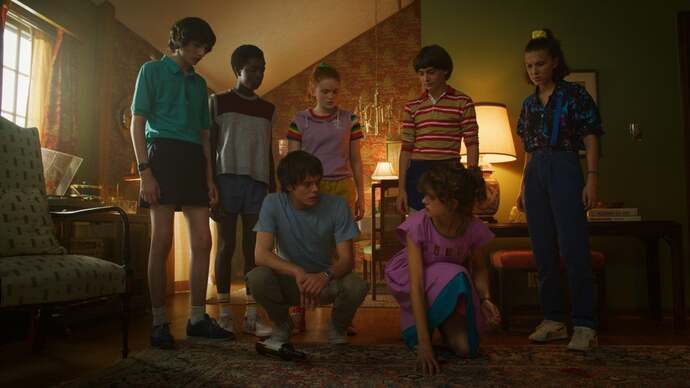 Although we wouldn't want to be fighting off evil demogorgons in the Upside Down, we'd love to play Dungeons and Dragons with "The Party"!
Released amid the revival of the 1980s aesthetic, Netflix's Stranger Things was an immediate success that wrapped us up in its paranormal forces, spooky mysteries, and retro mise-en-scène.
Finn Wolfhard, Millie Bobby Brown, Gaten Matarazzo, Caleb McLaughlin, and Noah Schnapp make up the group of friends, who go from fighting imaginary basement monsters to real ones in a parallel dimension.
Created by the Duffer brothers, this is one fantasy-horror story we honestly wouldn't mind being a part of. Season 4 released on Netflix in July 2022 and a fifth (final) season is coming next year. Hooray!