What comes to mind when you think of butlers? A top hat, a bow tie, and a posh British accent, probably.
And you wouldn't necessarily be wrong. After all, most of the characters we've seen as butlers—both in movies and on TV—fit that exact description, serving their masters with charm and a sniff of snobbery.
Although butlers generally sit on the sidelines of life, they still manage to win a quiet spot in our hearts. Here are our picks for the best butler characters we've seen in movies and TV.
10. Chessy and Martin in The Parent Trap (1998)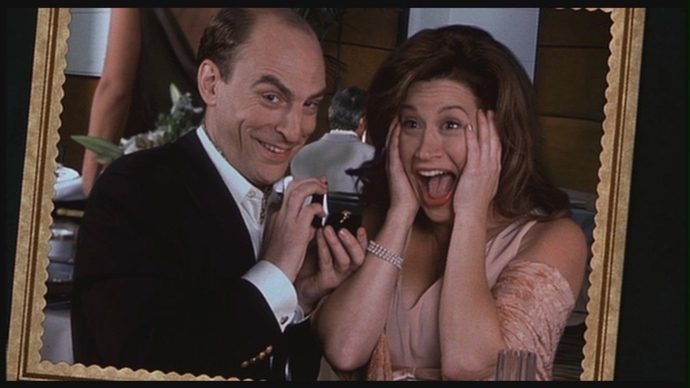 Here we have not one but two butlers in the same movie. A remake of David Swift's 1961 adaptation of Lisa and Lottie, The Parent Trap is a family classic. Lindsay Lohan stars as two separated-at-birth twins who accidentally meet at summer camp and decide to switch lives.
And being the ones who cater to the girls' tastes, hobbies, and lifestyles, it's actually the butlers who first notice the switch.
Despite all their prep, Chessy (Lisa Ann Walter) notices that Hallie isn't quite the same as when she left California, who eventually divulges that she's really Annie from London. By the middle of the film, it seems the parents are the only ones who aren't in on the "trap."
Annie's real butler is Martin (Simon Kunz), a lovable English gentleman and semi-father figure, who agrees to help Chessy and the twins trick both parents to going to the same hotel in hopes that the couple will fall in love again. The ending is just lovely.
9. Lurch in The Addams Family (1991)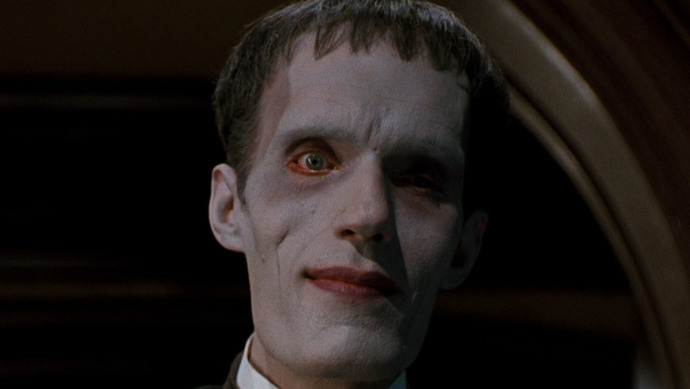 The Addams Family has come in many forms, beginning life as a cartoon strip in 1938, then later developed into TV shows, films, and even video games. The Family is a staple Halloween watch.
The entire premise is a satire of 20th century nuclear families, this time comprised of macabre, oddball characters. And while Lurch isn't genetically an Addam, he's still an integral part of the family as the moody seven-foot-tall manservant of very few words.
Barry Sonnenfeld adapted Charles Addams's cartoon into a popular supernatural comedy flick in the 90s. Here, Lurch is played by Dutch actor Carel Struycken. His Gothic image is similar to that of Frankenstein's monster, if he were a servant rather than an evil creation.
You can think of Lurch as Frankenstein mixed with Riff Raff from the similarly ghoulish The Rocky Horror Picture Show, a type of Igor stock character that appears in many Frankenstein adaptations.
8. Sir Cedric Willingham in King Ralph (1991)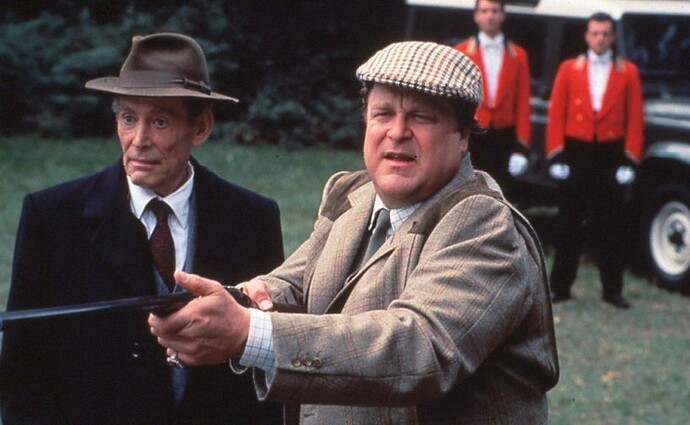 Most butlers don't walk around with the word "Sir" in front of their names. Indeed, they're usually the ones serving a Sir! But who ranks even above that? A king, of course!
John Goodman singing in Las Vegas casinos isn't exactly the prototype for royalty, but that's exactly what makes King Ralph so funny!
When the entire British Royal Family is wiped out, it's up to Sir Cedric Willingham (Peter O'Toole) to mold Ralph into a tweet-wearing King of England... even though he's a recently unemployed, rowdy American.
There's more than just serving tea and welcoming guests in store for Cedric—he's an adviser, a teacher, and a cover man.
Ralph and Cedric's relationship is at the heart of David S. Ward's feelgood comedy. After O'Toole's prestigious career from riding through the deserts of Arabia, we reckon it was pretty fun to film the much chiller King Ralph, loosely based on the 1980 novel Headlong by Emlyn Williams.
7. Herbert Cadbury in Richie Rich (1994)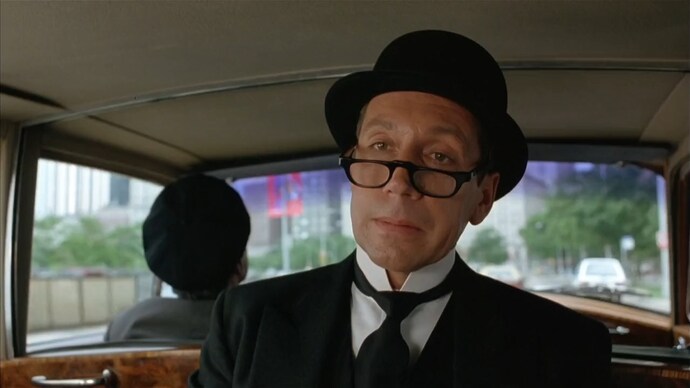 Herbert is another well-to-do type gentleman, but despite being "richie rich," he's not quite on the level of a Sir.
Herbert Cadbury originated as a cartoon in the Richie Rich series. Alfred Harvey and Warren Kremer created the wealthy little cartoon boy (whose middle name is a dollar sign...) back in 1950, and he appeared in over 50 titles alongside his loyal butler until 1982.
Donald Petrie made the comics into a fun family film starring Macaulay Culkin as the son of a billionaire.
For all his money, Richie is still lacking in friends and spends most of his time in the company of Cadbury (Jonathan Hyde). Cadbury helps Richie assume leadership of his father's company to bring down his enemies—and make friends with the sandlot kids.
Cadbury's hyperbolically posh British accent makes a hilarious contrast to the rough prison he finds himself in. Luckily, his finicky toothpaste preferences generate an anger enough to knockout a hitman. We'd say everyone could do with a friend like Cadbury while growing up!
6. Geoffrey Butler in The Fresh Prince of Bel Air (1990–1996)
Americans seem to have a thing for stereotypical British butlers, and Geoffrey Butler (fitting surname) is one of our favorites!
Played by actor and comedian Joseph Marcell, Geoffrey is a cook, cleaner, and friend to the wealthy Banks family. Will Smith, playing a fictionalized version of himself, moves in with the Bankses—and his street lifestyle clashes with their upper-class values.
The NBC sitcom ran for a successful six seasons between 1990 and 1996, and Geoffrey remained at the heart of it as the pentagonist you might not immediately think of when recalling The Fresh Prince of Bel Air.
Geoffrey gave us a cynical, deadpan humor that most other American sitcoms of the time lacked. But for all his nagging and insults, Geoffrey would do anything for the Banks—and Will Smith.
5. Mrs. Doubtfire in Mrs. Doubtfire (1993)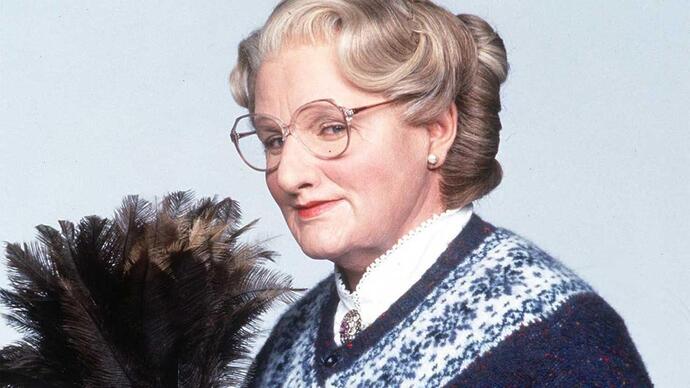 Mrs. Doubtfire is more of a maid/nanny than a butler, but she's so cool that we're including her anyway.
Only the legendary Robin Williams would've been able to pull off a role like this. He was a master comic and voice actor, so it's only right that he should play the freelance voice actor Daniel Hillard.
When Daniel's wife files for divorce, he uses his acting skills to niggle his way back into the family. With the help of his makeup artist brother, Daniel turns himself into a strict-but-fair housemaid who ends up being like a Scottish version of Mary Poppins.
Miranda (Sally Field) immediately hires her as the new housekeeper, but the double identity proves harder to carry out than he realized.
As well as being a great actor, Williams was loved for his ability to blend humor with pathos, much like a modern-day Charlie Chaplin. Mrs. Doubtfire shows us how divorce can hurt all members of the family, but also how laughter can help heal the wounds.
4. Mr. Carson in Downton Abbey (2010–2022)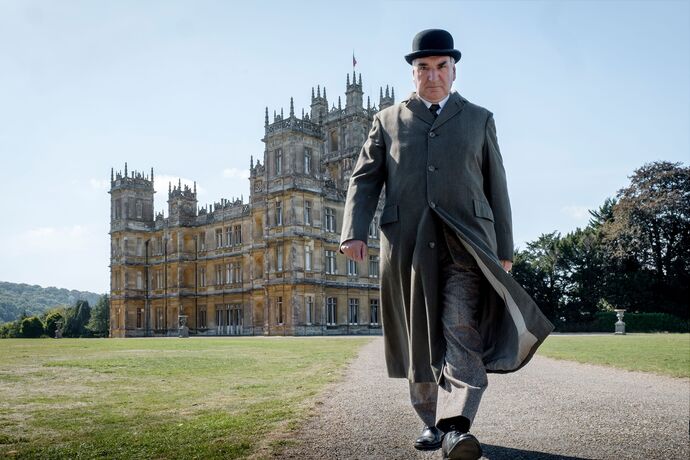 Downton Abbey is an English treasure with myriad characters and subplots to keep up with, all of which would crumble without their committed butler Mr. Carson (Jim Carter).
Even for the 1920s, Carson is an old-fashioned kind of guy—a reserved perfectionist who runs a tight ship. In spite of his militaristic, stiff-upper-lip approach to life, Carter remains a fan favorite for his kind ways that anyone can confide in.
It takes a while for Mr. Carson to muster the courage to profess his love to Mrs. Hughes (Phyllis Logan), head of the female servants. He also has a soft spot for Lady Mary (Michelle Dockery), the eldest daughter of Downton Abbey who most people don't warm to.
It's this gentle and understanding nature beneath Carson's serious exterior that makes him so lovable, along with him devoting his whole life to caring for the "upstairs world."
3. Wadsworth in Clue (1985)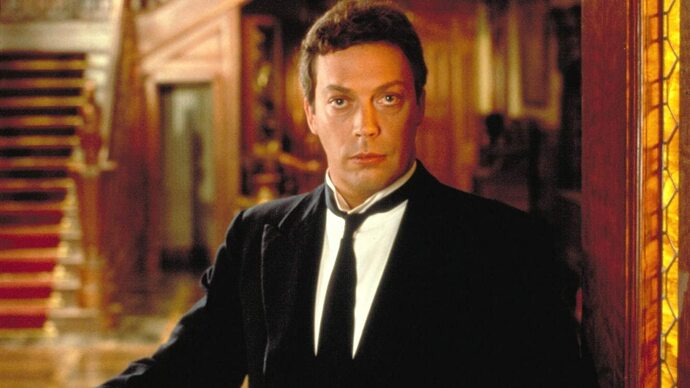 Clue is the ultimate whodunnit murder mystery, based on the classic board game we've all no doubt played. Was it the butler? The professor? The colonel? In the library? With the rope?
Jonathan Lynn brought the game to life in his hilarious black comedy, in which the butler Wadsworth (Tim Curry) keeps six strangers busy as they await an ominous host.
After it's revealed that all the guests are being blackmailed, their host hands each stranger a different weapon. Why? Because they have 45 minutes until the police arrive, and someone is going to die before then.
Unfortunately for him, he's right. He ends up dead within five minutes of the lights going out!
Clue is truly a one-of-a-kind movie, staying true to the spirit of the board game as we try to work out the culprit amongst the characters.
As the butler, it's Curry's job to orchestrate the whole thing—to keep calm and lead everyone in the hunt. But who's to say it wasn't him? Curry practically carries the entire chaotic narrative on his shoulders, to which Lynn gave us three alternate endings.
2. Cecil Gaines in The Butler (2013)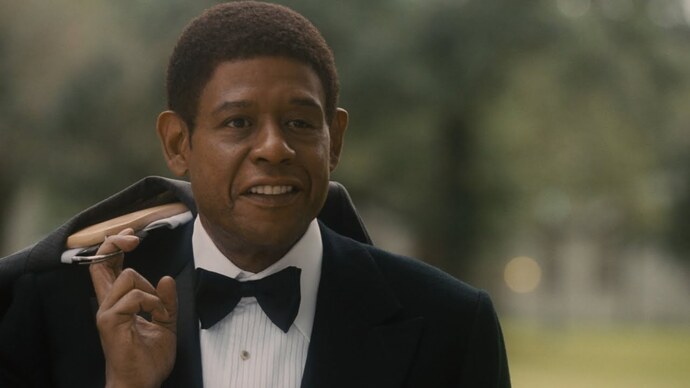 Obviously a film called The Butler was going to find a place on this list! And this butler is played by Forest Whitaker, no less.
Loosely based on real-life butler Eugene Allen, Cecil Gaines is eighteen years old, poor, and desperate—so he breaks into a hotel, where an elderly butler takes pity on him and teaches him the tricks of the trade.
Cecil gradually works his way up the ladder to Washington, where he marries (Oprah Winfrey), has two kids, and serves the US President. One of his boys grows up to join the Black Panthers, which clashes with Cecil's career of serving the white man.
Director Lee Daniels takes us through the 1960s, in which the Civil Rights Movement gives turbulent context to Cecil's journey to the White House, demanding that the black staff receive equal pay.
The role of butler/servant is inextricably linked to the history of racism, where carrying a silver tray goes from plantation dream to reality, to restriction, to insult. By the time retirement begins to rear its head, Cecil walks down the hallway and meets his final master: President Obama.
1. Alfred Pennyworth in The Dark Knight Trilogy (2005–2012)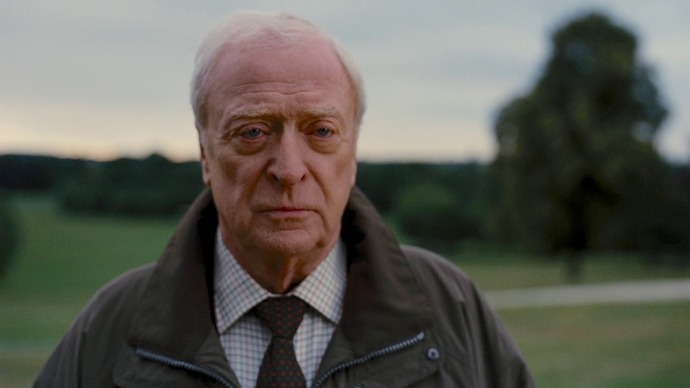 Due to the fact Batman doesn't actually have any powers, he relies on his staff to help keep the streets of Gotham clean. Namely, his chemist, his engineer and his butler: Alfred Pennyworth.
Bruce Wayne would be nothing without his loyal, trusted advisor—a sort of stand-in for Bruce's father after he was orphaned as a boy.
Although Andy Serkis did a cracking job as Alfred in Matt Reeves's recent hit The Batman, our favorite will always be Michael Caine's doe-eyed Cockney grandpa. Alfred mentors Bruce more than he serves him, handing out hard truths he'd rather ignore.
Director Christopher Nolan even described Alfred as a godfather figure when hand-delivering the script to Caine's country home.
And for all the astounding cinematography, car chases, and iconic villains, the most touching scene of the trilogy is actually its final one.
After Batman (Christian Bale) sacrifices himself to save Gotham, Alfred spots him having coffee with his girlfriend in Italy. They don't exchange any words—they simply nod to the life that Alfred always wished for Bruce, the life he could never have while Batman existed.