For some people, there's nothing in the world more horrifying than clowns. Even friendly clowns can be nightmare-inducing.
Which is why horror movies that feature clowns are some of the scariest in the entire genre. They can crank things up to new levels.
When you combine the overall creepiness of clowns with psychopathic behaviors and murderous mindsets, you get a terrifying mix that'll make even the most hardened horror veterans cower in fear.
There have been lots of clowns in horror movies, but too many of them are just weak or forgettable. Here are our picks for the best horror movies with clowns!
10. Terrifier (2016)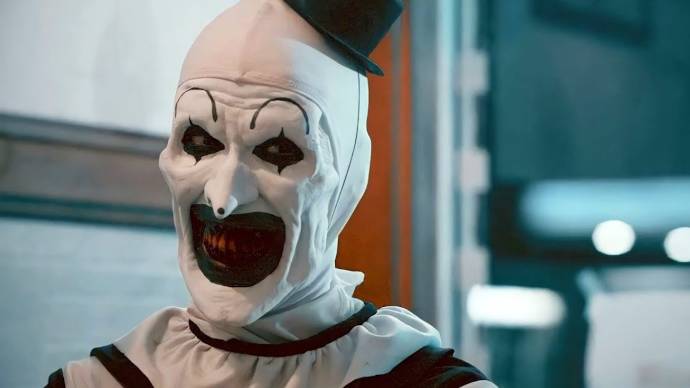 If you "love" the blood and gore of slasher films like Friday the 13th and The Texas Chain Saw Massacre, then you might want to check Terrifier.
It offers the same bloody atmosphere of other slasher films, but with a creepy killer clown thrown in for added terror.
Terrifier centers on the gruesome murders of several characters during one Halloween night, with Art the Clown as the main killer. With lots of flesh cutting, this one's a good watch for fans of body horror.
Its sequel, Terrifier 2 (2022), again features the creepy killer clown but offers a more violent and bloody premise.
9. All Hallows' Eve (2013)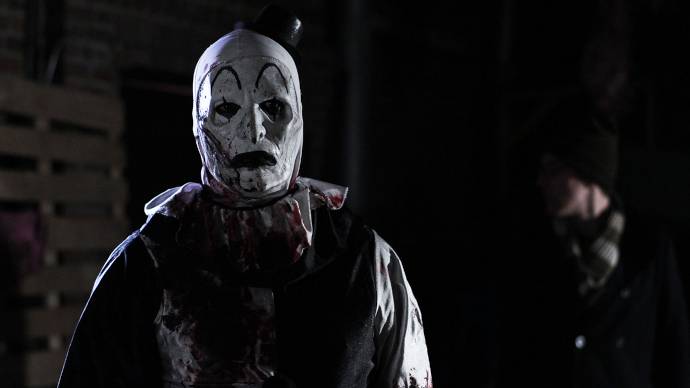 All Hallows' Eve is an anthology movie featuring three different stories. However, they're all tied together by one homicidal clown: Art. That's right, All Hallows' Eve is a prequel to the aforementioned Terrifier.
It follows a babysitter with two kids, who later finds a VHS tape with recordings of cults, aliens, and murders.
But the main horror of the film is when the killer clown on the TV screen appears right before their eyes.
8. Haunt (2019)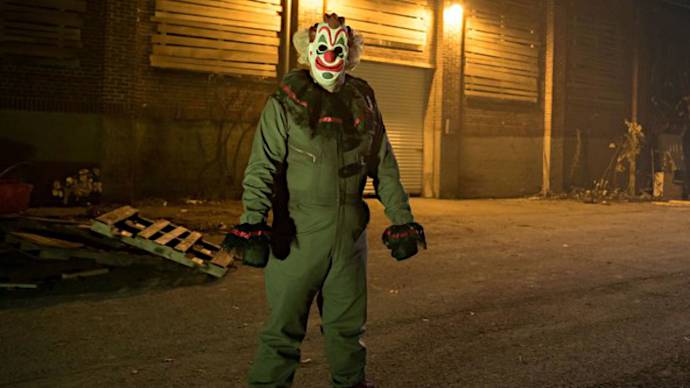 Haunt is a slasher movie set in a haunted house-themed attraction, so expect lots of costumed and masked characters—including clowns.
The film follows the story of a group of friends who enters a haunted house attraction, in which they find themselves in grave danger.
The masked performers aren't there for safe thrills; they're there to deliver pain, suffering, and death.
The visitors all sign a waiver before they enter, not knowing that it will eventually cost them their lives.
7. 31 (2016)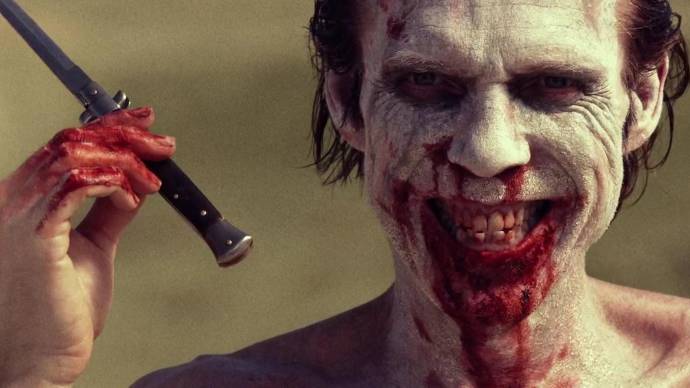 Rob Zombie's 31 features a survival game, involving a group of carnies who are kidnapped by clowns and gathered into a large building, where they're forced to play a game called "31."
It's a death game that runs for 12 hours, and the carnies must survive through the maze of the building to the end. If they're captured, they'll be tortured and killed.
Every death game needs stakes, and in 31, it's simply to get away from these maniacal and bloodthirsty clowns who will slash their way through, preventing the carnies from winning the game.
6. Clown (2014)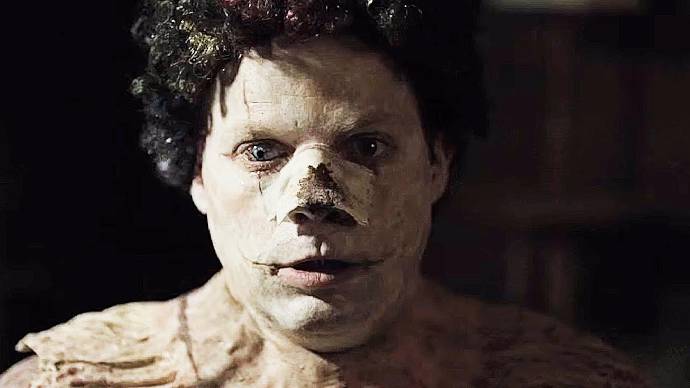 When a hired clown fails to appear at his son's birthday party, that son's father decides to become a clown himself.
Complete with the iconic red nose, colorful hair, and fancy makeup, he successfully makes the party fun and puts a smile on his son's face.
However, the clown costume he wore hides an evil secret: it's actually the skin and hair of an ancient demon. And because he wore it, he turns into an evil clown—one who starts to feed on children.
Clown cleverly incorporates elements of clowns, demons, folklore, and the supernatural, which are all interesting topics for horror films.
5. Poltergeist (2015)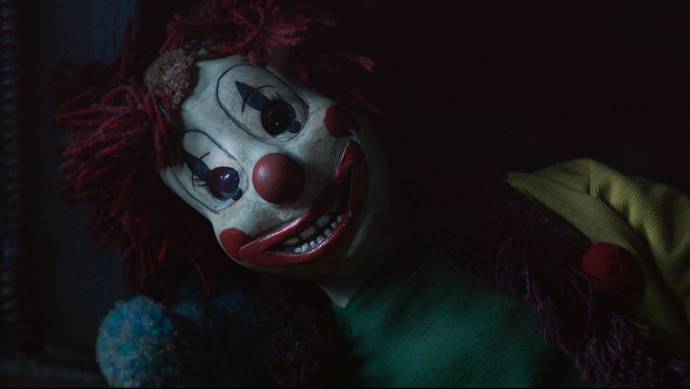 Poltergeist is a remake of the 1982 film of the same name. It follows the story of a family who moves into a new home of their own, but end up being disturbed by spirits and entities who were there first.
While Poltergeist is primarily a ghost movie, there's a prominent clown toy that's insanely creepy and plays an important role in the story. It's a combination of two great horror elements: dolls and clowns.
4. Hell House LLC (2015)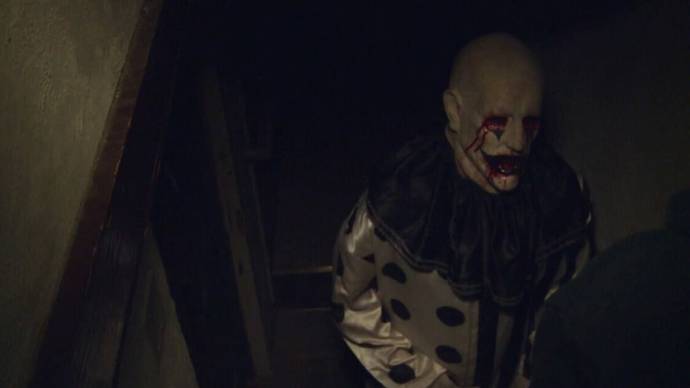 Like several horror movies, Hell House LLC takes place in a haunted house-themed attraction. This one's a bit different, though, because it isn't just a slasher flick—it features supernatural elements.
Hell House LLC is a found footage movie about a documentary team who wants to uncover the truth behind the events of a haunted house attraction's failed opening night, which resulted in the deaths of both visitors and staff members.
The film brilliantly builds up its premise and plot, giving us glimpses of the characters and every corner of the setting, which all play a crucial part in establishing the horror—especially the clown props.
3. It Chapter Two (2019)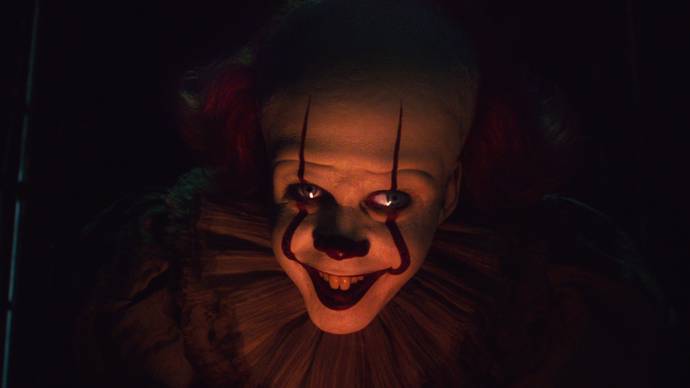 For most viewers, It Chapter Two failed to keep up with the hype of its predecessor. However, it deeply explored the story and highlighted the characters' developments, making it pretty interesting.
The film is set 27 years after the events of the first film, following the recent appearances of Pennywise.
The "Losers," who are now all grown-ups, will again band together to defeat their enemy once and for all.
And while it has some flaws, the performance of the cast makes the film worth seeing, especially Bill Skarsgård's Pennywise.
2. It (2017)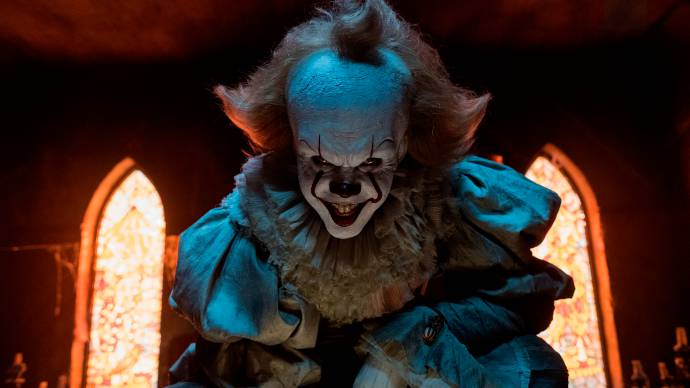 It's true that the original 1990 miniseries It is a masterpiece of horror, but the 2017 remake made it more horrifying with a more modern feel.
Moreover, Bill Skarsgård's performance and looks made the monster clown's character that much more terrifying.
The story features Pennywise the Dancing Clown (played by Bill Skarsgård), an out-of-this-world entity who can shapeshift into his victims' worst fears. He then feeds on their fear, growing stronger as they become more scared.
The story revolves around a group of youngsters terrorized by Pennywise, showing their worst fears, from one's traumatic past to an abusive father. But his most iconic form? Children's fear of clowns.
1. Behind the Sightings (2021)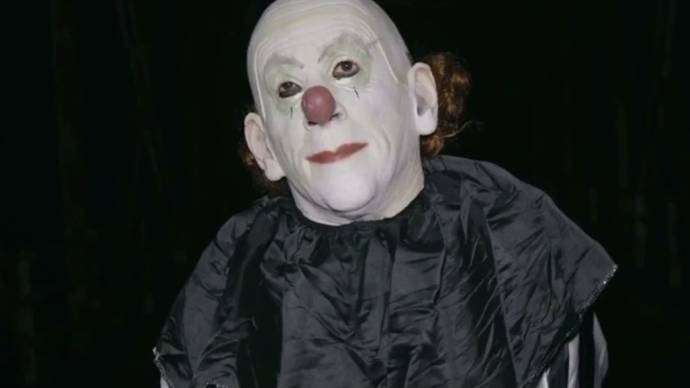 What would you do if there was really an evil clown? I'm not talking about the likes of Pennywise and Art, but a person who poses as a real-life clown but hides murderous intent.
The found footage film Behind the Sightings was inspired by the clown sightings of 2016 that stirred up the internet, with reports of injuries and arrests involving clown-masked perpetrators and suspects.
This psychological horror film isn't as outright scary as some other horror movies of clown, but it's chilling and thrilling in how it plays on the idea that there are real scary clowns out there—not in circuses and theme parks, but in the woods or even your backyard.