Horror movies need to be creative if they want to keep scaring and thrilling an audience that has seen it all. Blood and gore aren't enough these days—we need something more haunting.
One way is to involve a haunted item. Whether it's inherited by an unlucky descendant or just stumbled upon by happenstance, few things are creepier than toys, dolls, and puppets that show up at night, in the mirror, or in the attic without reason.
Here are some of the best horror movies with toys, dolls, and puppets that prove how effective these haunted objects can be.
11. Sabrina (2018)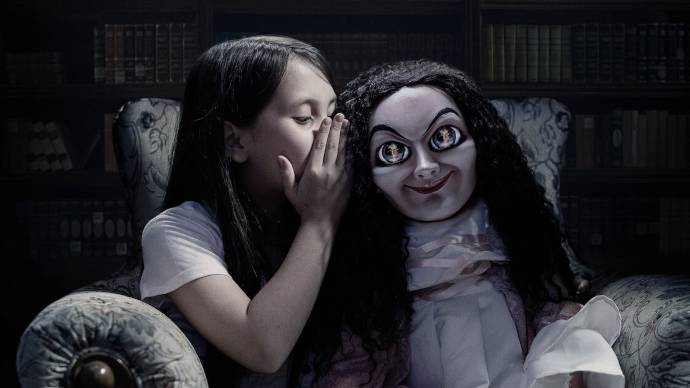 The Indonesian film Sabrina is a great watch because of its well-executed horror tropes, from jump scares to character designs.
The film follows the story of a girl named Vanya (played by Richelle Georgette Skornicki) who plays "Charlie, Charlie" (a divination game similar to Ouija) and calls forth her dead mother's spirit.
While most dolls are creepy just looking at them, the Sabrina doll in this film is way creepier thanks to its uncanny design. The image of it alone is enough for this film to earn a spot on this list.
There are some similar vibes between Sabrina and the Conjuring films. Yet even if it isn't as good as the best of the Conjuring franchise, it still has some fun twists that make it a worthwhile one to watch.
10. The Boy (2016)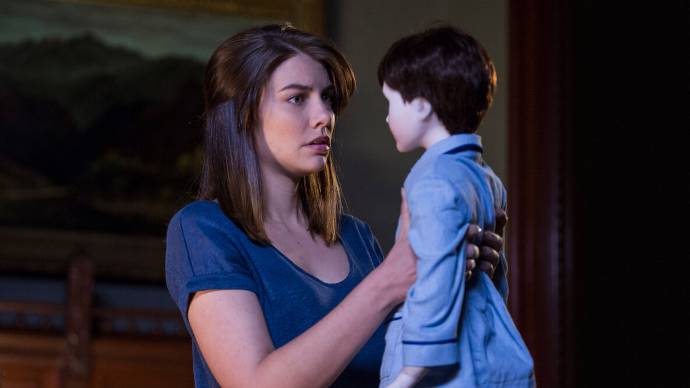 The Boy follows the story of Greta Evans (played by Lauren Cohan), who's hired to babysit an old couple's son. However, this "son" whom she'll be attending to is actually a life-size porcelain doll named Brahms.
Believing that it's just a regular doll and that the Heelshire couple is under some kind of shared delusion, she neglects her duties toward the boy-doll and ignores the rules they laid out for her.
Of course, all of that results in some creepy occurrences that make her wonder whether the doll is truly more than meets the eye.
While The Boy creatively instills fear in its viewers using the creepy porcelain doll, the narrative shifts in a way that gives the whole story a breathtaking ending.
9. Brahms: The Boy II (2020)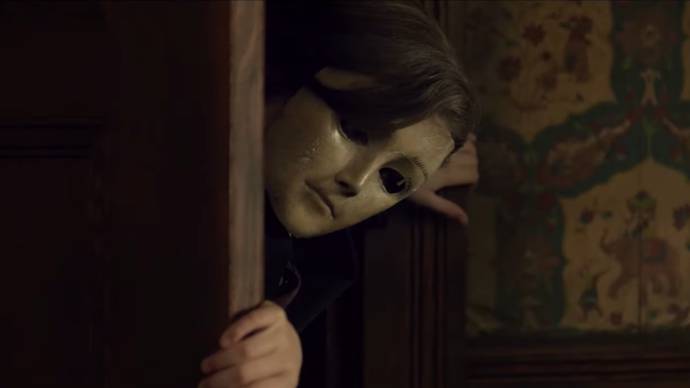 Brahms: The Boy II is the sequel to The Boy, but this time the plot is entirely supernatural and goes in a new direction that makes it feel like a completely new film rather than a continuation.
The movie follows the story of a family who moves to the countryside and into a house that's near the Heelshire's property.
This family's son (played by Christopher Convery) eventually stumbles upon the porcelain doll Brahms and takes a liking to it—and that's where their story begins going awry.
8. Poltergeist (2015)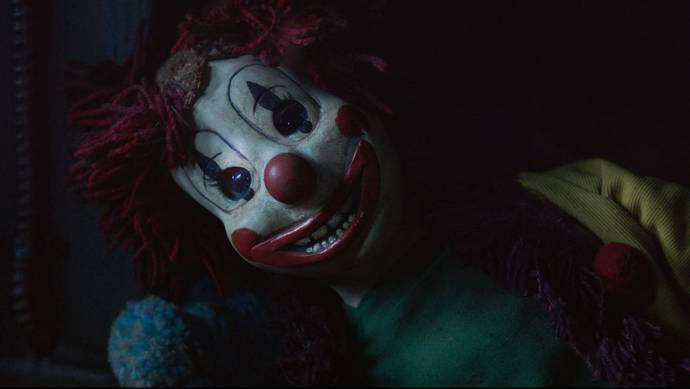 The 2015 movie Poltergeist—a remake of the 1982 film of the same name—follows the story of a family who moves into a new home that's hiding a sinister secret within its walls.
While Poltergeist is primarily about evil spirits that haunt the house, there's a creepy scene that features a toy clown that attacks the family's son. It's one of the scariest toy clown scenes in horror.
7. Child's Play (1988)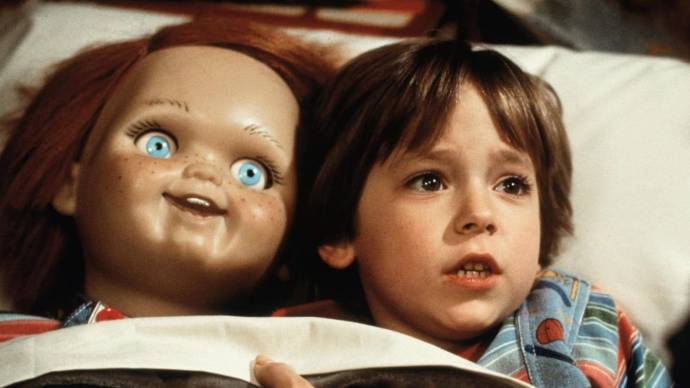 Child's Play is the classic horror movie that made many adults averse to having dolls in their beds—because they saw this movie when they were kids and believed that it really was "child's play."
This supernatural slasher film follows the story of Andy Barclay (played by Alex Vincent) and his encounter with Chucky, a doll with a human soul sealed inside. However, the soul isn't just that of an ordinary man but of a murderer.
On top of its interesting premise, Child's Play is heavy on blood and gore. With each film in the series, more characters are introduced whose fates are linked together through this sinister killer doll.
6. Child's Play (2019)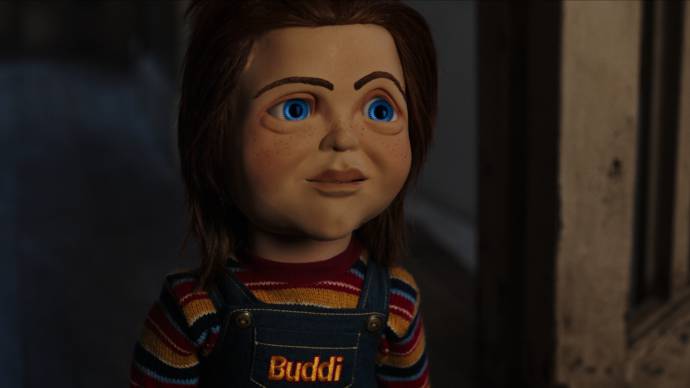 The 2019 version of Child's Play is a reboot that shifts the premise away from its supernatural roots and more into the realm of sci-fi.
Rather than being possessed by the soul of a killer, the Chucky doll in 2019's Child's Play is powered by artificial intelligence.
This high-tech doll is supposed to be friendly, but after a bit of tinkering disables its safety protocols, the doll becomes sentient and murderous before it's released on the market.
Despite its change in theme, the new Child's Play is still full of blood and gore and thrills that are as interesting and gruesome as the original.
5. M3GAN (2022)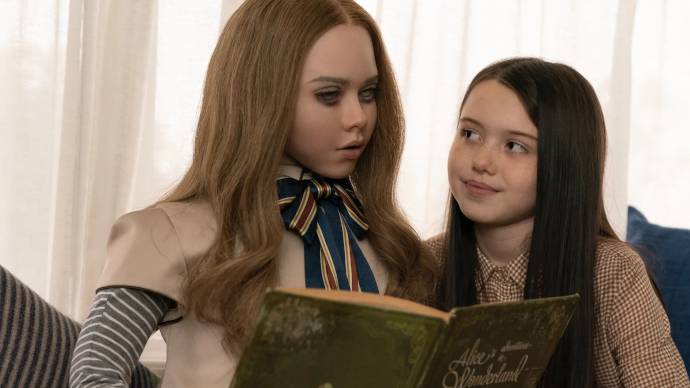 M3GAN is about an AI-powered robot that's meant to be a friendly companion. Sounds a bit like the remade Child's Play, right?
But while Child's Play features a misconfigured system that goes awry, M3GAN features an AI system that takes its job seriously.
It centers on Cady (played by Violet McGraw), who receives a prototype of M3GAN, a child-size robot with child-like features. After being paired, M3GAN assumes the roles of Cady's parent, guardian, and best friend.
However, the AI grows increasingly overprotective to the point that she would kill others for the sake of Cady. What's worse is that she can turn herself on even after she's been powered off.
Of all the horror movies with toys, M3GAN is one of the more imaginative and better-executed ones in recent years.
4. Saw (2004)
The Saw films are not for the weak-hearted. They feature way too much body horror, blood, gore, and murder.
But if you can stomach the gruesomeness, the Saw franchise has some great stories in it, which have made these films so memorable.
The killings in the Saw movies aren't your usual murderer-victim scenarios. Instead, they feature deadly survival games where "players" are abducted and brought somewhere full of lethal traps and puzzles.
And the Saw franchise has one of the most iconic toys in horror movie history: the ventriloquist dummy named Billy, used by the Jigsaw Killer when delivering messages to his victims through video recordings.
3. The Doll Master (2004)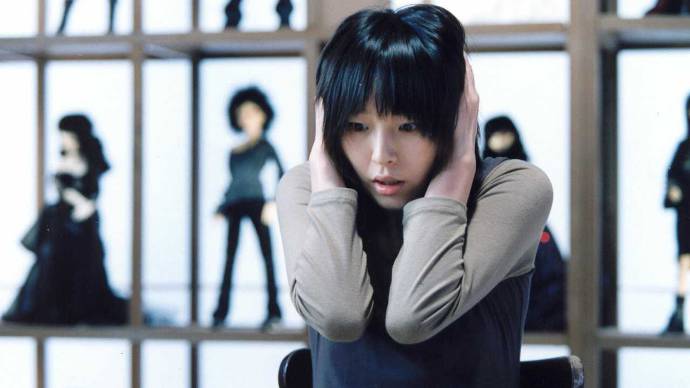 The South Korean film The Doll Master is a fine horror film that features a dollmaker and her many dolls.
While most of them aren't too creepy, some of them are truly nightmare-inducing, especially the life-size one that's holding a mirror (introduced early in the film).
The Doll Master centers on a group of people—strangers to one another—who are invited to pose as models for the ball-jointed dolls that their host will be making. However, it turns out to be a revenge plot against these people who have wronged someone from the past.
Murder and revenge aside, it's the unsettling images created by these dolls modeled after humans that makes this movie so horrifying.
2. Annabelle (2014)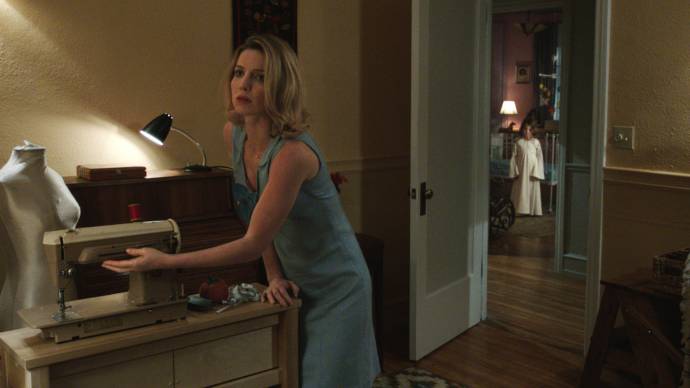 Are there any horror fans who don't know about the iconic doll named Annabelle who has brought countless nightmares to weak-hearted viewers? Well, if you haven't seen it, you need to!
Annabelle is a horror film that features the creepy doll from the Conjuring film franchise. But it's not a spirit-possessed doll as the exorcist in the movie claims—it's a doll used by the devil to make contact with the living, so that he can take possession of them.
What's even creepier about Annabelle is that this doll is said to be based on real-life demonic possession incidents and paranormal cases. The real Annabelle doll is currently locked away in a safe place.
1. Dead Silence (2007)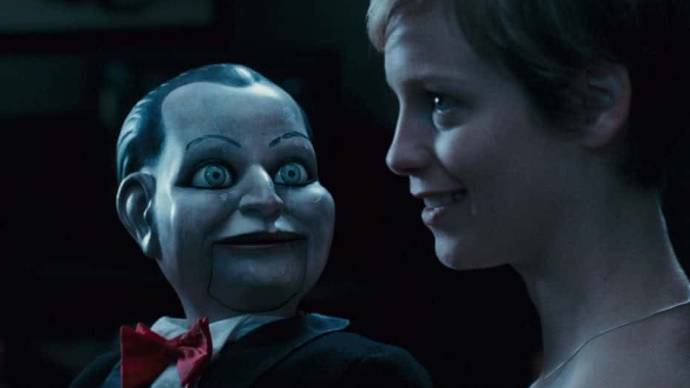 Remember Benson from Toy Story 4, the creepy-looking dummy used in ventriloquism acts? Imagine what would happen if a vengeful spirit possessed him and he started killing people? Terrifying thought.
Dead Silence is a horror movie directed by James Wan, featuring a ventriloquist dummy named Billy that's possessed by the spirit of a dead ventriloquist who was humiliated.
Ryan Kwanten plays James Ashen, a man who investigates the death of his wife after he received Billy the dummy as an anonymous "gift" by mail. His investigation leads him down haunted and bloody roads.