As a kid, I had a love-hate relationship with cheerleader movies. They seemed so relatable for me who spent so much time in a school environment, but they also seemed so unrealistic.
Now, as a grown-up, I still have a love-hate relationship with cheerleader movies—but for different reasons. I love the sense of community they often cultivate, but I hate the outdated gender norms. I love the dance choreographies, but I hate the reductive plots and characters.
That said, there's plenty to like if you're willing to put up with the flaws. Here are my picks for the best movies with cheerleaders!
15. Bring It On (2000)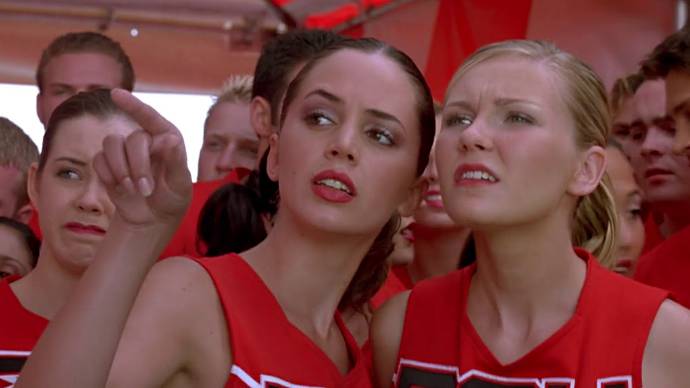 Starring Kirsten Dunst and Gabrielle Union as cheerleader archenemies, Bring It On tells the story of a national cheerleading competition.
Who said being a cheerleader was all smiles and cartwheels? Full of iconic dance scenes and perfect for satisfying your 2000s nostalgia, Bring It On is the first pick for easy-to-watch cheerleading movie.
It started a whole saga of direct-to-video sequels with a total of seven films in the series, so if you like it, there's plenty more to watch!
14. Fired Up! (2009)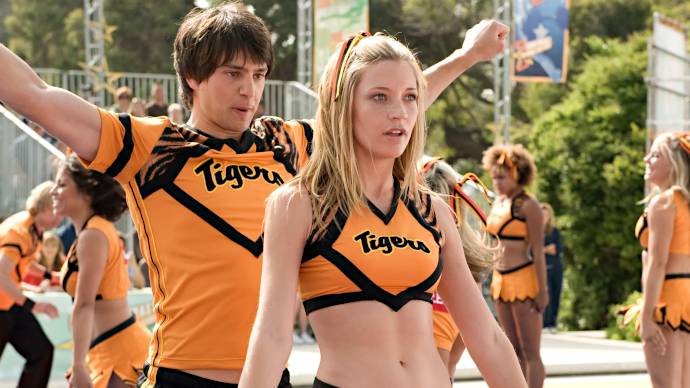 High school football or high school cheerleading? For most guys, the choice is easy. But for Shawn and Nick in Fired Up!, the choice is cheerleading—and it has nothing to do with the sport itself.
They do it for the girls! But their plan doesn't quite go as they hope.
As we know, cheerleaders are often essentialized into stereotypes, many of which involve the sexualization or ditzification of them. Fired Up! surprisingly shows us a (slightly) more complete depiction.
13. Man of the House (2005)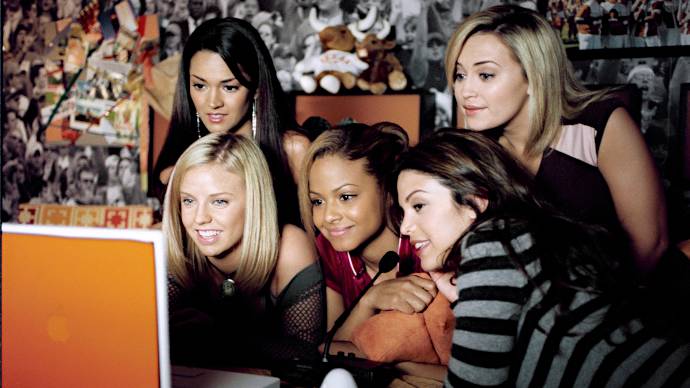 Starring Tommy Lee Jones in the role of a Texas Ranger, Man of the House is a cheerleader story that's perfect for an easy summer watch.
In Man of the House, Roland Sharp (played by Tommy Lee Jones) is tasked with going undercover to protect a group of cheerleaders who have witnessed a crime and are now in danger.
Jones's character was originally supposed to be an FBI agent working in Virginia. However, the actor advised the production team to shoot in Texas because it's a more perfect location for the story.
12. She's the Man (2006)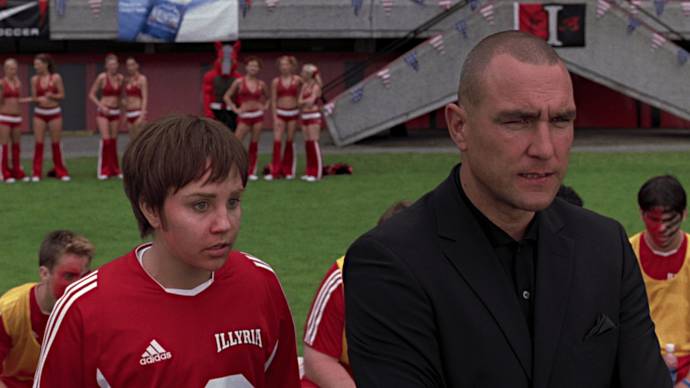 She's the Man is an interesting pick because its plot takes inspiration from William Shakespeare's Twelfth Night.
Viola (played by Amanda Bynes) is a teenager who loves soccer. One day, her soccer team is dissolved and she can't play anymore—and not only that, she's not allowed to join the boys! So she disguises herself as her twin brother, joins the team, and keeps playing in secret.
Despite being a soccer movie, She's the Man prominently features cheerleaders as well. In the face of all that, can Viola manage to keep her secret? You'll have to watch to find out.
11. Fab Five: The Texas Cheerleader Scandal (2008)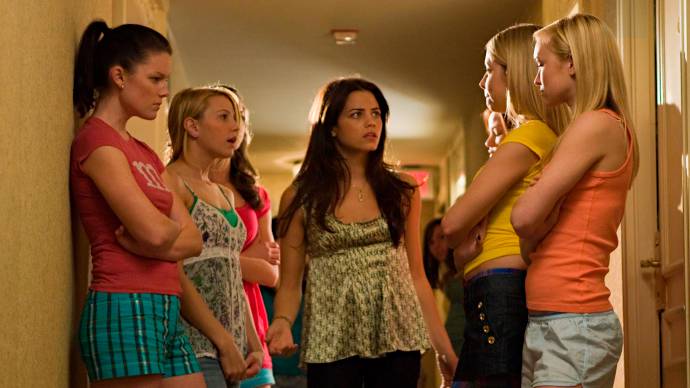 In Texas, five high school cheerleaders test their community and its values through scandal and controversy.
Fab Five: The Texas Cheerleader Scandal is inspired by a true story and certainly one of the most unique and divisive cheerleader movies you'll ever see—many loved it, many hated it.
The film focuses on the competitiveness in the cheerleading world—which is often dismissed or sugarcoated—and addresses issues of peer pressure, power dynamics, and more.
Fab Five: The Texas Cheerleader Scandal offers a different, realistic, and refreshing depiction of this specific slice of American society.
10. Not Another Teen Movie (2001)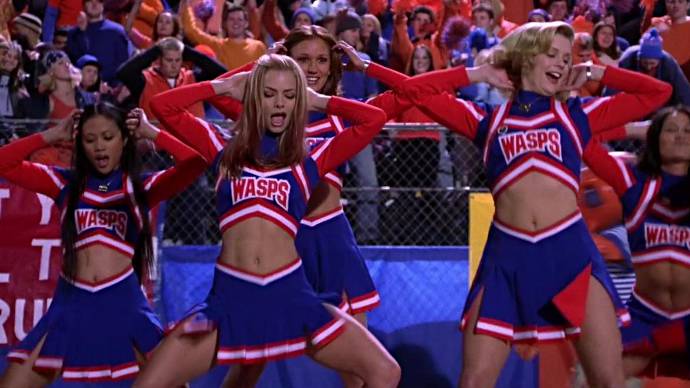 Not Another Teen Movie really isn't your typical teen movie—it's a satirical deconstruction of the teen genre. After watching many of the movies on this list, it makes for a perfect palate cleanser.
Making fun of iconic teen movies like the aforementioned Bring It On, this film is exactly what you need when you want to detox from the formulaic developments in most movies about cheerleaders.
9. The Secret Lives of Cheerleaders (2019)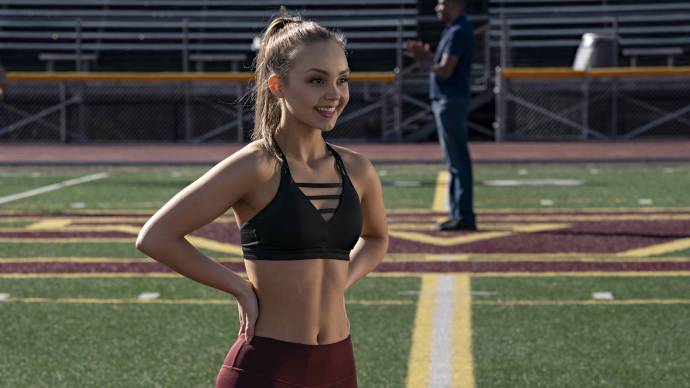 The Secret Lives of Cheerleaders follows the story of Ava (played by Savannah Lee May), a talented athlete up against a manipulative head cheerleader who wants Ava out of the way. So, she must defend herself.
While joining forces with some new allies and friends, she tries her best to stop this bully from ruining her life—but life isn't as simple as that, not even for cheerleaders.
The Secret Lives of Cheerleaders may have been a made-for-TV Lifetime movie, but don't let that turn you away. If you want cheerleading drama, there's tons of it here!
8. Buffy the Vampire Slayer (1992)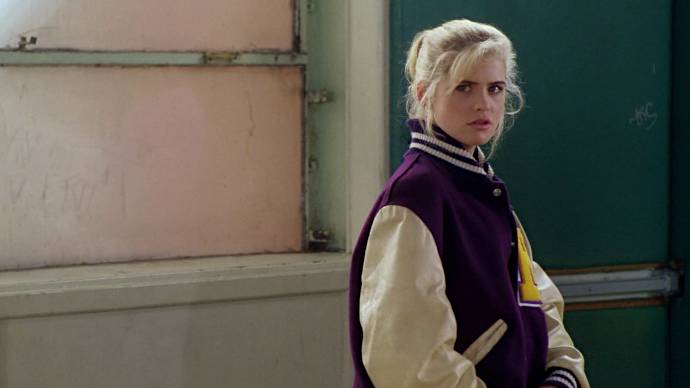 You've probably seen the iconic TV series Buffy the Vampire Slayer—and if you haven't, you've at least heard of it. But did you know the series was based on a film from five years prior?
The central plot is relatively straightforward: Buffy is a cheerleader who leads a normal life, but she's also called to her destiny in which she must slay vampires to help save the world.
Unfortunately, the cast of the film wasn't the same, so don't go into this expecting that. But as long as you temper your expectations, the Buffy the Vampire Slayer film is absolutely worth watching.
7. Death of a Cheerleader (1994)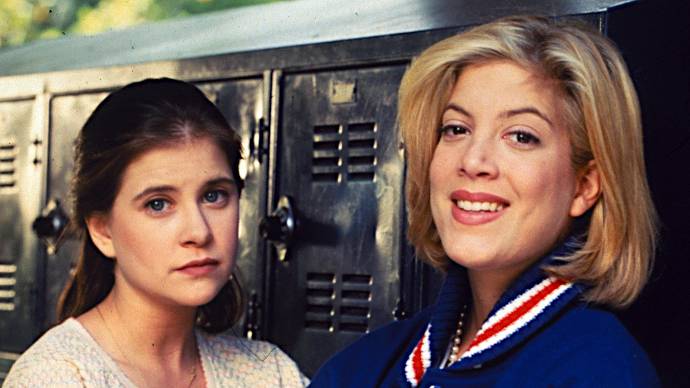 In Death of a Cheerleader (originally titled A Friend to Die For), Angela Delvecchio (played by Kellie Martin) is quite shy and struggles with social interactions—but her dream is to fit in and become popular.
Despite trying multiple times, life isn't so kind to her... and when her idol rejects her, it's the last straw that makes her lose it.
Inspired by the true story of the murder of Kristen Costas in 1984, Angela gives up on her dreams of school popularity and takes a different route that certainly makes her famous.
6. All Cheerleaders Die (2013)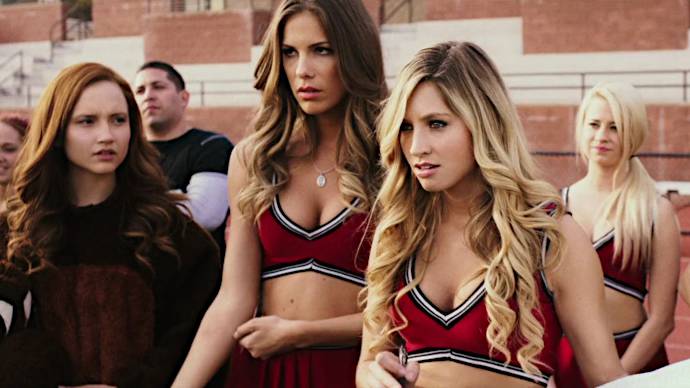 All Cheerleaders Die is a low-budget horror movie that's a fun watch if you're into the subgenre of horror B-movies.
The premise is pretty silly: a group of cheerleaders turn into zombies and seek revenge against their ex-boyfriend who murdered them. Hah! I do love me a good cheerleader-zombie revenge flick.
All Cheerleaders Die is a remake of a direct-to-video film from 2001. You can always binge them both and decide which one you prefer!
5. The Hot Chick (2002)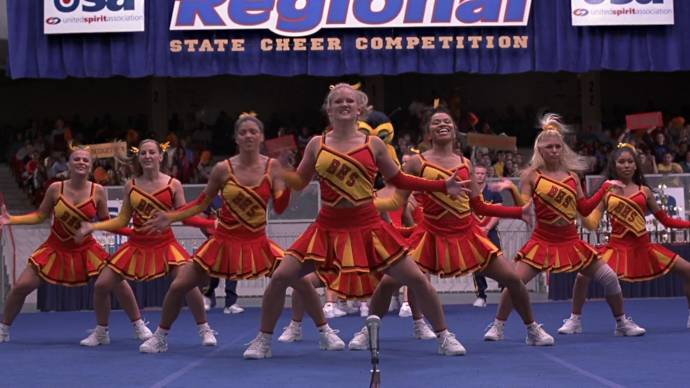 As a woman, I cringe at this movie—but you have to remember that it was a product of its time. If you understand that the cheerleader movie genre is full of problems from the get-go, consider overlooking those issues and taking it all with a grain of salt.
At its core, The Hot Chick is a body swap adventure movie: the popular but mean-spirited high school cheerleader Jessica (played by Rachel McAdams) switches bodies with an older man (played by Rob Schneider).
While trying to figure out how to get back into her own body, Jessica learns about the value of teamwork and the power of friendship. The Hot Chick isn't a world-class film, but it does challenge the genre.
4. Jennifer's Body (2009)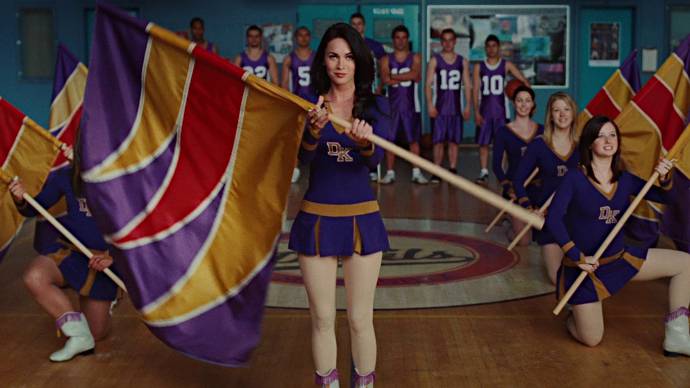 What happens when a cheerleader turns into a bloodthirsty demon? Well, you can watch Jennifer's Body to find out!
This horror-comedy classic blends horror, satire, and social commentary into a brilliantly charming and gory mix.
Jennifer's Body explores the struggles of friendship and romance through its supernatural premise. If you want a cheerleader comedy that's unlike any other, this is a great option.
3. Don't Talk to Irene (2017)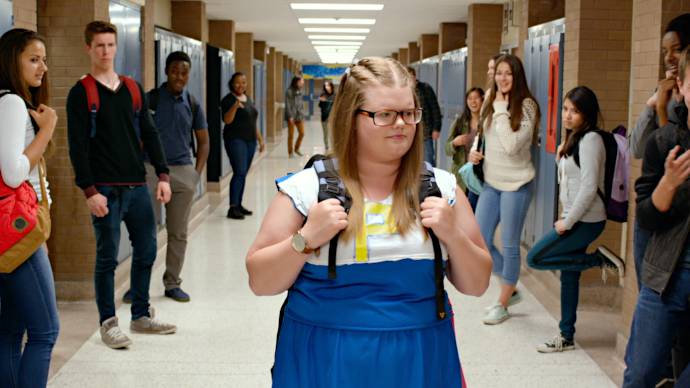 In Don't Talk to Irene, the eponymous Irene (played by Michelle McLeod) is overweight—and in the world of cheerleaders, that isn't exactly an admired characteristic.
After she's unjustly suspended from school, Irene is forced into doing some community service at a retirement home. While there, she signs up the residents for a dance-themed reality show.
Finally, an indie film about cheerleading! And one with a positive message: you don't need to be perfect to express yourself and follow your dreams. Perfection has nothing to do with cheerleading.
2. Senior Year (2022)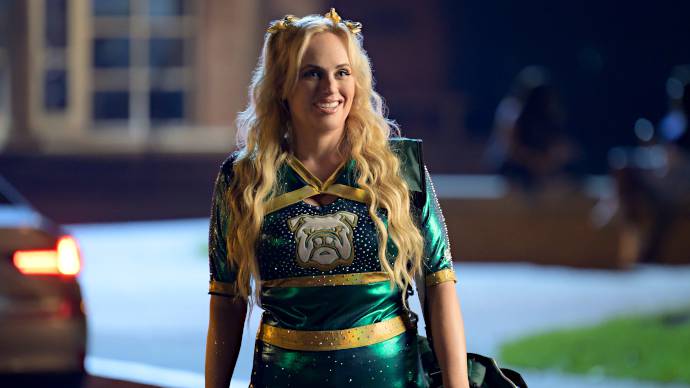 In Netflix's Senior Year, a high school cheerleader falls into a coma right before prom. What awful timing!
Twenty years later, she wakes up and wants to continue living her life as if nothing happened—and that means reclaiming her status as prom queen and completing her high school diploma.
Starring Rebel Wilson, Senior Year is a fun movie despite its sad premise. And don't be turned away by the mixed criticism it received! This film engages with the genre in a nostalgic way, making it one of the best modern movies about cheerleaders.
1. Poms (2019)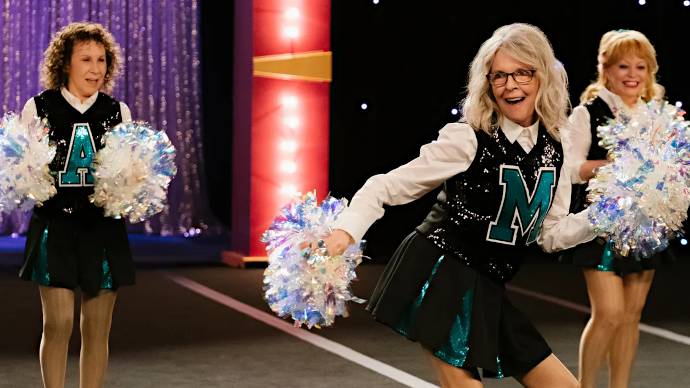 One of the biggest stereotypes about cheerleaders is that they must be teenagers—or, if not teenagers, then still pretty young.
That's what makes Poms so unique: this film features a cheerleading squad of senior citizens who cheer for their retirement community. Plus, Diane Keaton stars in this film, making it that much better!
Poms is a great watch when you feel like you're too old to embark on new adventures because this film is about never giving up on your dreams. If a group of retired folks can cheerlead, you can certainly do whatever it is you're scared of pursuing!