Have you seen that viral video of Dean Norris (who played Hank Schrader on Breaking Bad) edited in place of Jesse Pinkman during a verbal showdown with Walter White, reading out lines that are inspired by Among Us memes?
If you haven't, you can watch it here:
Now, you might be wondering: Where the heck did this footage come from, where Dean Norris is clearly saying stuff that he's never said on any TV show or movie? Is it deepfaked? Is it the work of a master video editor with a lot of time on their hands?
Nope!
Actually, Dean Norris actually read those lines—which were given to him by an unknown Average Joe—into his own camera, and then sent the recorded video to the one who sent him those lines. Why would he do that? Well, because he got paid to do it!
Using a new service called Cameo, anyone can get personalized celebrity messages and personalized videos from celebrities.
What Is Cameo?
Cameo launched in 2016 as a video-sharing site with a very unique twist: only celebrities can submit videos, and those videos are created on-demand at the request of fans.
These videos are way more valuable than simple selfies because they can be truly personalized. And unlike an autograph, you're actually seeing the celebrity in their most natural state—their voice, their smile, their inflections, their mannerisms.
Which Celebrities Are on Cameo?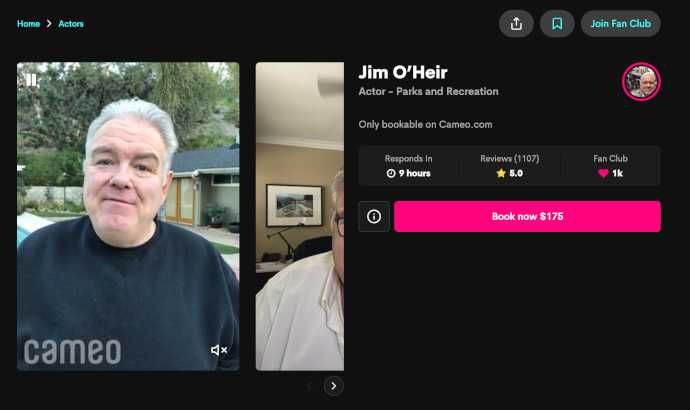 As of this writing, there are over 40,000 celebrities active on Cameo. These celebrities come from all different areas of the entertainment industry—and we aren't just talking about "internet celebrities" or bottom-barrel no-name actors.
Notable actors on Cameo:
Brian Baumgartner (Kevin Malone on The Office)
Jewel Staite (Kaylee Frye on Firefly)
Jim O'Heir (Garry Gergich on Parks and Recreation)
Katee Sackhoff (Kara Thrace on Battlestar Galactica)
Sean Astin (Samwise Gamgee in The Lord of the Rings)
Notable musicians on Cameo:
Deadmau5 (Electronic DJ/producer)
Lance Bass (Pop singer)
LeAnn Rimes (Country singer/songwriter)
Paula Abdul (Pop singer/songwriter)
Yngwie Malmsteen (Heavy metal guitarist)
Notable athletes on Cameo:
Floyd Mayweather (Boxer world champion)
Kareem Abdul-Jabbar (Retired NBA player)
Matt Hardy (AEW pro wrestler)
Mia Hamm (Retired soccer player)
Ray Lewis (Retired NFL player)
This is just scratching the surface. Of course, there are lots of no-name celebrities on Cameo who you won't care about—but you'd be surprised how many well-known celebrities are on there, and how enthusiastic they are about interacting with fans.
There are so many other categories, too. Voice actors? Sports reporters? Stand up comedians? Podcasters? Entrepreneurs? Magicians? Drummers? Reality TV stars? All that and plenty more.
How Does Cameo Work?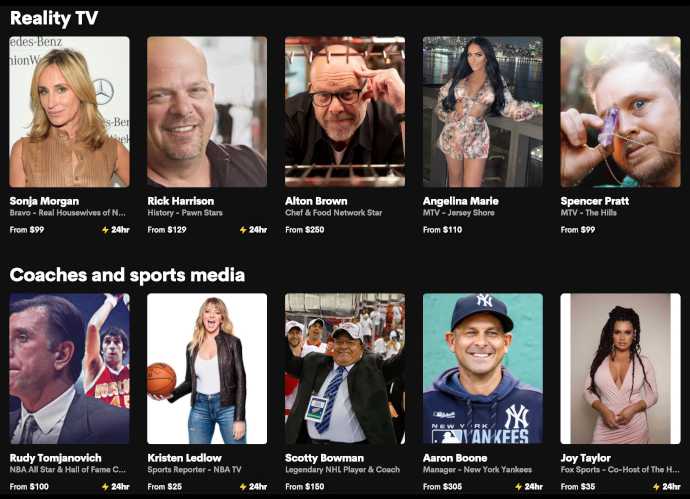 Aside from browsing the marketplace of celebrities, there are actually several different services on Cameo. Not every celebrity offers every service—it's completely up to each celebrity to decide.
The different Cameo services include:
Cameo Video: The main attraction! Book a video request with the celebrity, fill out the request form, and they'll create the video within 7 days. You can include anything in your request, but they have the right to refuse or adjust at their discretion. Cameo Videos can be for yourself or sent to someone else.
Cameo Direct: For a small fee, you can send a direct message to the celebrity, which they're guaranteed to see. They may or may not respond, but most celebrities do. While there's no limit to how many direct messages you can send, each one will cost you.
Cameo Live: Book a live video chat with the celebrity over Zoom. You can talk about anything during the video chat, but you aren't allowed to pitch, interview, audition, etc. You can also invite up to 4 guests during the video chat.
Cameo Call: When a celebrity goes live with a Cameo Call session, you can join the queue for a fee. When your turn comes, you can chat with them 1-on-1. At the end of your Cameo Call, you can take a photo that includes both you and the celebrity.
How Much Does Cameo Cost?
There's no set price for Cameo. Every celebrity gets to dictate their own price for each of the Cameo services they offer. And you'd be surprised by the prices—some popular celebrities are available for cheap while no-name wannabes charge exorbitant rates.
As of this writing:
You can book a celebrity for as little as $50 per Cameo Video. There are some who go even cheaper, but you probably don't know who they are. On the other side, Richard Dreyfuss charges $999 and Floyd Mayweather charges $10,000 per Cameo Video.
For those who participate in direct messages, it can cost anywhere from $0.99 to $19.99 per Cameo Direct. Most celebrities charge between $2.99 and $4.99; prices over $9.99 are uncommon. Rarely, you might see one who doesn't charge at all—for example, Austin Carlile of the band Of Mice & Men allows DMs for free.
For those who participate in live 1-on-1 calls, celebrities seem to like charging $50 per Cameo Call spot. However, I've seen some celebrities charge $25, $20, or even as low as $5 per spot.
Getting a Personalized Celebrity Video
To start, you'll need to install the Cameo app.
The best part about Cameo is how simple they've made the entire process. You might be nervous about reaching out and meeting your favorite celebrities—even if you choose a non-live offering—but you can complete the whole process in a few minutes.
For Cameo Videos and Cameo Live, just go to the celebrity you want to book and tap the pink "Request" button. Choose whether it's for yourself or for a friend, then fill out the five fields (only one of them is actually required, but it's best to fill them all out).
Once booked, an authorized hold will be placed on your credit card until the celebrity delivers, at which point you'll be charged. If they fail to deliver, you won't be charged.
For Cameo Directs and Cameo Calls, it's even simpler: tap the appropriate buttons and send your message or confirm joining the Call queue, respectively.
It's that easy! Whether you're dying to meet your favorite celebrities or want to surprise a friend or family member with a truly unique gift, Cameo is definitely a worthwhile service to keep in mind.