You can realistically play PC games on just about any flat surface. As long as it has a place for your monitor, keyboard, and mouse, then you can technically get your game on. Technically.
However, if you want to take your PC gaming to the next level, you might want to look at a desk that's built especially for PC gaming. These desks have features that are designed with gaming in mind, while most desks are designed for work.
Will they make you better at your favorite games? Probably not, but you'll be much more comfortable and look quite a bit cooler while you play!
For PC Gamers
With Humble Choice, you get 5–10 PC games every month that you can keep forever, plus unlimited access to the Humble Games Collection (70+ games) that you can play whenever you want.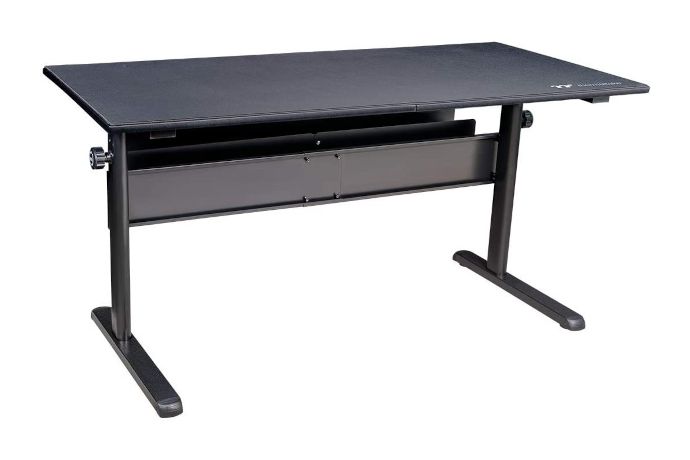 This desk is minimalistic yet absolutely gorgeous, and it has so many performance features that it's quite impressive.
The entire surface of the desk is a mouse mat, so you have an absurd amount of room to move around. It's height-adjustable, so it can be used standing or sitting. There's even cable management channels to keep things looking fresh.
It really does seem like Thermaltake has thought of everything!
This gaming desk by RESPAWN is compact at just under 42 inches wide, so it'll fit pretty much anywhere it needs to go. The profile is unassuming enough to be great as an office desk during the day.
The built-in monitor shelf is wide enough to support two monitors, which is great for any serious gamer-and-office-worker. And it's decked out in helpful holders for cups, speakers, and headphones.
Note that some of the accessories may increase the desk's dimensions, up to a maximum of 53 inches wide with everything.
This gaming desk by EUREKA is slightly less compact than the RESPAWN with its 45-inch length. But unlike the RESPAWN, this EUREKA gaming desk is intensely gamerific.
The carbon fiber texture starts things off, the sleek Z-shaped design is uber modern, and the RGB lights completes the aesthetic (just plug the built-in USB into your PC to get the lights going).
Other nice perks include a headphone hook, a cup holder, a controller stand, and storage for games.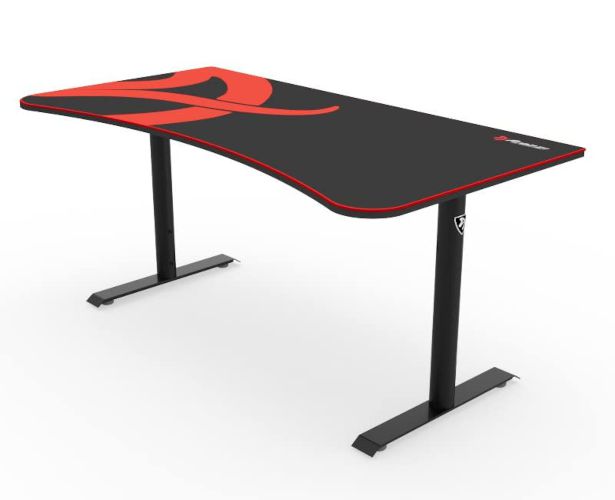 This gaming desk by Arozzi brings simplicity along with its massive surface area. It's a whopping 63 inches wide, which is large enough to fit three gaming monitors easily.
Despite the minimal tabletop design, there's an interesting cable management system tucked under the desk that helps keep everything looking nice. It even comes in a few different colors, so you can pick one that matches your room.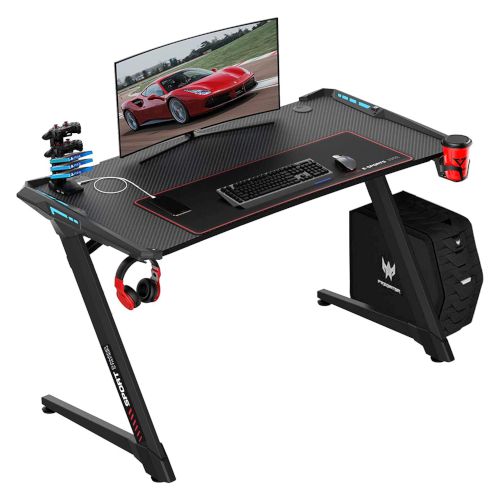 This gaming desk by Vitesse is a budget-friendly option that strikes a good balance between usable space versus table size. It doesn't have a giant surface area, but it's big enough for a large monitor, a mouse mat, and a keyboard.
It comes with a cool USB charging station that'll let you keep your phone and controller juiced up while you play, which is a pretty unexpected feature for such an affordable desk.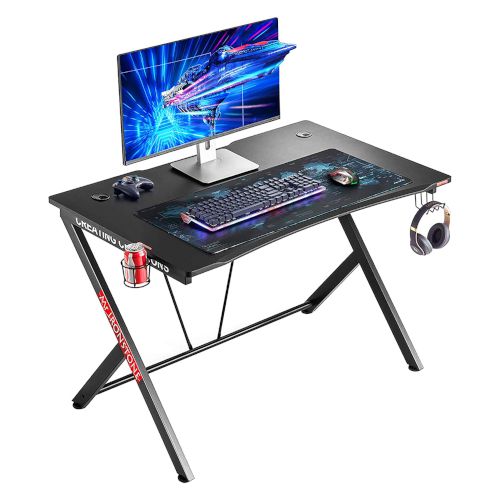 The Mr. IRONSTONE gaming desk is perfect for the PC gamer on a budget. It has a lot of features that the more expensive desks have (such as a headphones hook and a drink holder), but it leaves out frills like height adjustments, LED lights, and carbon fiber texture.
It's also fairly small—just over 45 inches wide—so it'll work well for gamers in an apartment without lots of space. This desk has an impressive 4.8 rating on Amazon, so buyers seem quite happy with their purchase.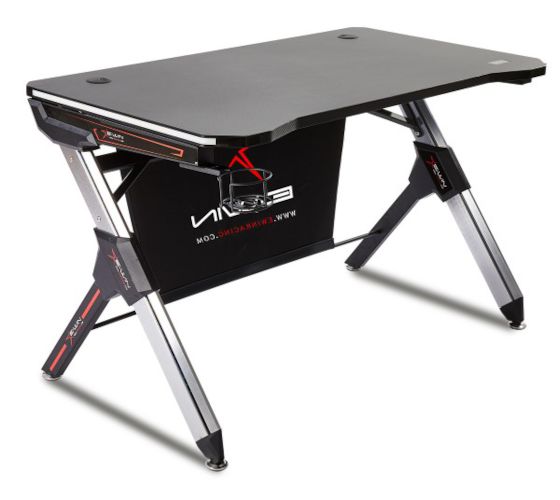 The E-WIN 2.0 is another desk that has a ton of features that are specifically targeted at gamers.
It has a beautiful carbon fiber surface, a slight downward slope, RPG lighting, and sturdy metal legs that handle everything your most epic gaming sessions can throw at it. It also has a drink holder so you can stay hydrated while you dominate.
While it has gotten good reviews by sites like IGN and PC Invasion, orders are backed up and it may take several weeks before yours ships if you order one.