The Super Smash Bros series is one of the most innovative in the fighting genre. It stands out from traditional, button-mashing fighting games, as there aren't any complex combos or a way to actually "kill" the opponent.
Instead, you win by flinging your opponent off of the platform.
Although you can't beat the excitement that comes along with the original Super Smash Bros games, some indie games come close.
The following fighting games are just like Super Smash Bros, making them a perfect substitute for those days you don't feel like duking it out with Nintendo characters.
8. Super Smash Flash 2
Super Smash Flash 2 is the Super Smash Bros that never happened. It includes a ton of playable characters that Nintendo hasn't bothered to add, such as Tails, Goku, Bomberman, Chibi-Robo, and none other than Waluigi. Not to mention that it has amazingly detailed 2D maps!
To play this game, you'll have to download Adobe Flash Player. It goes to show that games are far from obsolete—Super Smash Flash 2 still gets frequent updates!
7. Stick Fight: The Game
If you don't care about character customization or a huge character roster, try Stick Fight: The Game. You'll play as a stick figure fighting against two to four other players.
Keep in mind that this game doesn't have a single-player mode, so be prepared to play online or with a friend.
As you face off against your foe(s), you'll encounter tons of different environments that are also trying to kill you. With over 23,000 maps made by the community, you won't run out of variety.
6. Gang Beasts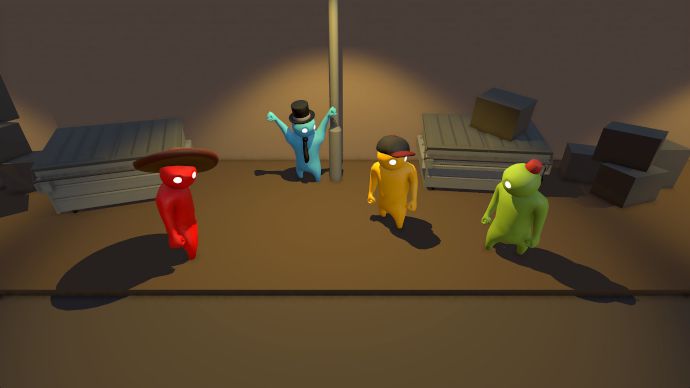 To get a good laugh, play Gang Beasts with a group of friends. It's one of the funniest video games out there, thanks to its quirky physics. You play as a goo-like human, while you attempt to throw punches and kicks at your opponents.
Your competitors aren't the only dangers you'll face—some of the wacky environments can quickly eliminate you. That said, don't play this game if you're looking for a serious fight.
5. Nidhogg 2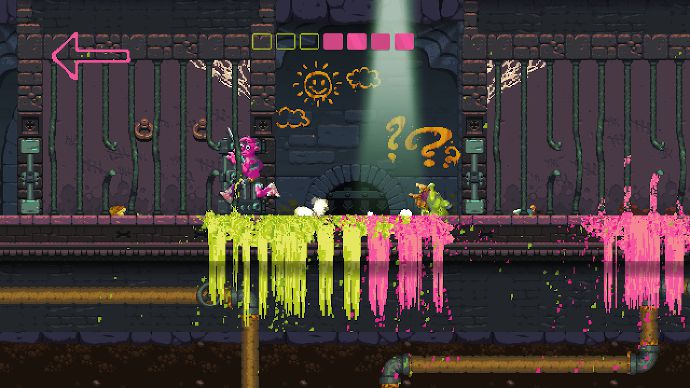 Of all the games on this list, Nidhogg 2 is probably the least like Super Smash Bros—but that doesn't make it any less of a great game. In Nidhogg 2, you're tasked with fighting your way across a map, while defeating the enemy in your way.
The goal is to reach your side of the arena to get sacrificed to the Nidhogg, a giant "wurm." Nidhogg 2 has ten different stages, four unique weapons, and gives you the option to play against an AI or a friend.
4. Brawlout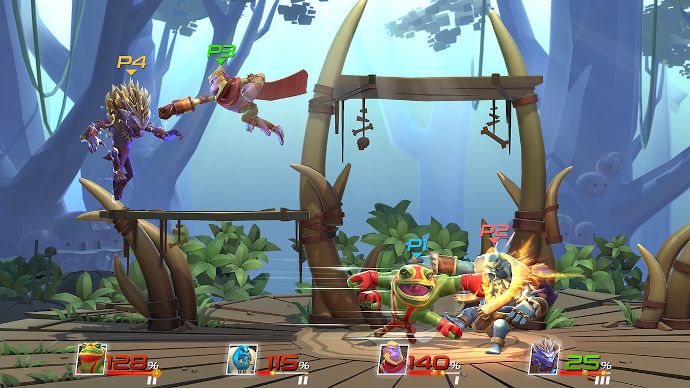 In Brawlout, you can play against two to four local or online opponents, with the goal of knocking each other off the stage.
You have the choice of ten characters that all have three Variants. These Variants have different stats, moves, and looks.
Brawlout comes with new and old game mechanics. You'll find wavedashing and airdodging, along with a Rage Meter that lets you unleash powerful attacks.
3. Slap City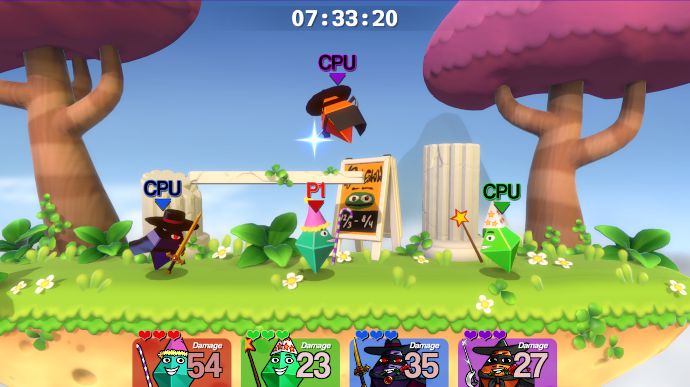 Slap City is another platform-based fighting game with plenty of unique characters and maps.
Many of the game's mechanics are modeled after Super Smash Bros. Every character can use a special attack, grab, shield, and can even wavedash. Using a GameCube controller for this game is encouraged.
You'll notice that Slap City is an early access game, but it's still worth the play. With eight characters, several game modes, and the chance to play with friends locally and online, you're bound to have fun.
2. Rivals of Aether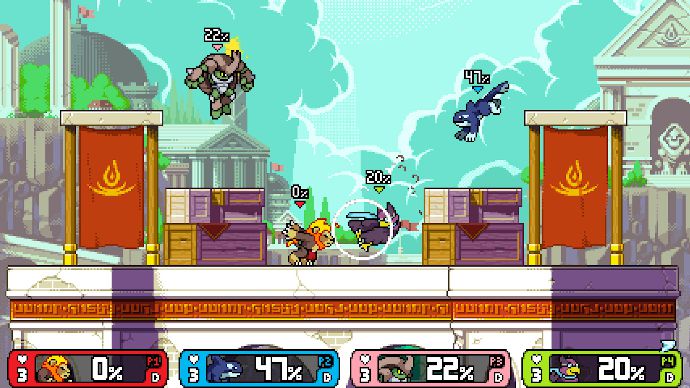 Like Brawlhalla, Rivals of Aether is also a 2D fighting game. The developer, Dan Fornace, created Rivals of Aether as a "spiritual sequel" to his own Smash Bros-inspired game, Super Smash Land.
In other words, if you've played Super Smash Land, you can expect the same game mechanics, but with different characters and environments.
Rivals of Aether features a variety of characters with element-based attacks. While Orcane, the whale-like creature, uses water, Etalus, the polar bear warrior, uses ice.
The game also has several DLC characters from other games including Ori and Sein, as well as Shovel Knight.
1. Brawlhalla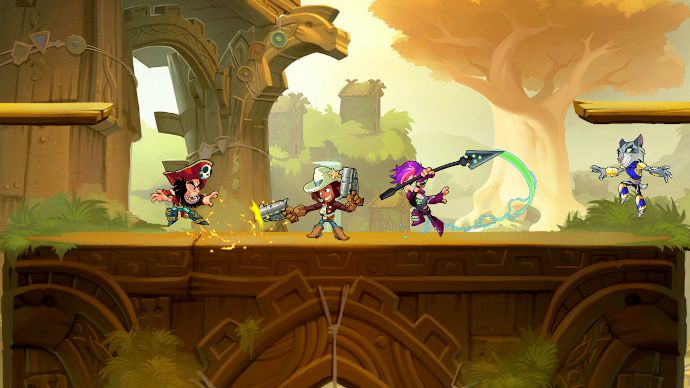 Brawlhalla is a fantastic alternative to Super Smash Bros. This 2D fighting game will keep you entertained for hours.
You can play with up to eight other people, as you use your character's abilities to send your opponents flying. Different weapons drop throughout each match—pick them up to get an advantage.
The game is completely free to play, however, the free version limits your character choices. You'll get eight Legends (a.k.a characters) for free, but you'll have to pay to access the full roster.
On the upside, the free Legends rotate weekly, allowing you to experience different abilities.
Or Get Better at Smash Bros!
As much as you might adore Super Smash Bros, it's a good idea to take a break once in a while. With the above games, you can still enjoy some of the same game mechanics, but with different characters, abilities and environments.
When you finally go back to playing Super Smash Bros, you might need a refresher course. If that's the case, check out our article full of tips on getting better: