We often recommend products we like. If you buy anything via links on our site, we may earn a small commission.
Nintendo always seems to come out with a "Lite" version of its consoles, and the Switch is no longer an exception. The Nintendo Switch Lite comes at a cheaper price, along with some changes in features and capabilities.
At this point, you might be wondering whether to buy the Switch or the Switch Lite—or if you already own the Switch, whether the Switch Lite is also worth adding to your collection. Here are the differences between the two models, and you can decide for yourself.
Switch vs. Switch Lite: Design
Right away, you'll notice that something doesn't look quite right with the Switch Lite. Unlike the original Switch, the Switch Lite doesn't have detachable controllers. This affects some of the gameplay, which I'll get into later.
Unlike the original Switch, the Switch Lite comes in an array of funky colors. Choose from yellow, turquoise, gray, as well as a limited edition Pokémon design.
Switch vs. Switch Lite: Display
The Switch Lite has a slightly smaller screen. While the Switch has a 6.2-inch LCD screen, the Switch Lite has a 5.5-inch LCD screen. There's no change in the 720p resolution, but its lighter weight and smaller size make the Switch Lite a bit easier to tote around.
Switch vs. Switch Lite: Battery Life
If you like to play games on the go, you'll be happy to hear that the Switch Lite has received a small boost in battery life. While the original Switch has a life of 6.5 hours, the Switch Lite will last you seven hours. Just keep in mind that the more recent edition of the regular Switch (mid-2019 model) actually has an even longer life of up to nine hours.
With the previous Switch, you can place it in its dock, detach the Joy-Cons, and play on the TV while it charges. You can't play the Switch Lite on your TV, nor can you charge it with the dock. In fact, it doesn't even come with one.
Switch vs. Switch Lite: Games Compatibility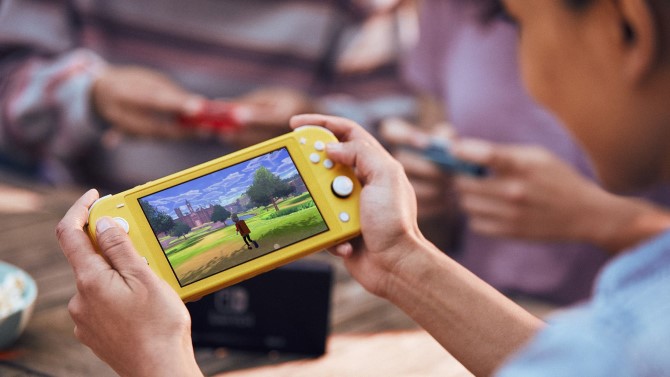 Since you can't remove the Joy-Cons on the Switch Lite, this prevents you from playing specific games (unless you buy additional accessories).
Don't worry, you can still enjoy most games like Super Mario Odessey and Breath of the Wild. Unfortunately, you won't be able to play other games that aren't compatible with handheld mode, including Super Mario Party, Fitness Boxing, Just Dance, or 1-2 Switch. These games require heavy use of the controllers, so it's impossible to play them on the Switch Lite by itself.
Switch vs. Switch Lite: Controllers and Accessories
Like I previously mentioned, the Switch Lite doesn't have detachable Joy-Cons. This means that Nintendo Labo is out of the question—Nintendo's VR kit has been made with the original Switch in mind, so you can't use it with the Switch Lite's new design.
If you want to play every Switch game with the Switch Lite, you'll need to purchase extra accessories. As you probably already know, the original Nintendo Switch lets you remove each Joy-Con. You can give one Joy-Con to a friend, allowing you to play games together.
The built-in Joy-Cons on the Switch Lite make it impossible to play two-player games. To play with a friend, you'll need to buy one or more Joy-Cons. You can't use the Switch Lite with the dock either, so you also have to purchase a stand. This could be a deal-breaker for those buying the Switch specifically to play with others.
You also can't connect controllers via USB with the Switch Lite, but you can still use Bluetooth controllers instead.
Switch vs. Switch Lite: Price
As for price, the Switch Lite is the clear winner. You can get the Switch Lite for only $199.99, while the Nintendo Switch is priced at $299.99. With the Switch Lite, you'll get fewer features for a lower price.
The Verdict…
When deciding between the Switch and the Switch Lite, it all comes down to whether you want to spend most of your time playing on your TV or away from home. The Switch Lite is a great choice if you're interested in a portable console and don't want to play local co-op. On the other hand, the original Switch is fantastic for two-player games that you can play on TV.
Buy Nintendo Switch on Amazon
Buy Nintendo Switch Lite on Amazon
Regardless of which Nintendo Switch device you get, check out the free Nintendo Switch games that are worth playing!