ChargePlay Clutch (Nintendo Switch)
ChargePlay Clutch (Nintendo Switch)
The ChargePlay Clutch solves two major issues when playing the Nintendo Switch in handheld mode and it does it for only $60. It's an absolute must-buy for anyone who plays in handheld mode, either regularly or for long periods of time.
The ChargePlay Clutch solves two major issues when playing the Nintendo Switch in handheld mode and it does it for only $60. It's an absolute must-buy for anyone who plays in handheld mode, either regularly or for long periods of time.
The Good
Built-in battery provides up to 5 extra hours of handheld gaming
Comfortable rubber grips
Wide and robust kickstand
Stylish design and secure for peace of mind
The Bad
Heavy due to the battery size
If you own a Nintendo Switch (an original, not the Switch Lite), then you've probably dealt with two major issues while playing in handheld mode: short battery life and hand cramps during longer sessions.
HyperX, a company known for its high-quality gaming accessories, has set out to solve both of these issues with the ChargePlay Clutch.
This Switch accessory clips onto both the console and Joy-Con controllers and promises to greatly extend the battery life while making the console more comfortable to hold.
That's a lot of value from an accessory, especially one that retails for only $60. It's not without drawbacks, but the big question is: do the pros outweigh the cons?
The Good
There's so much that's good about the ChargePlay Clutch. HyperX absolutely knocked it out of the park with this one!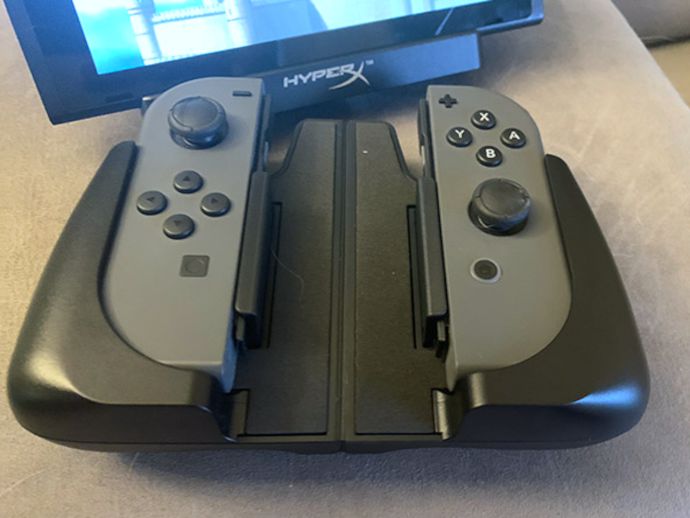 First, there's the battery life. The company managed to squeeze a 6000mAh battery into the Clutch, which will give you up to five hours of additional gameplay, depending on how you're using it (console brightness, internet connectivity, and so on).
I managed to get a little more than four extra hours in my test, which is more than double what I normally get out of my Switch.
If you're the kind of person who finds themselves using the Switch for long flights, this device is an absolute game-changer. No longer will you need to worry about making sure your seat has an outlet because you'll actually be able to make it through the flight.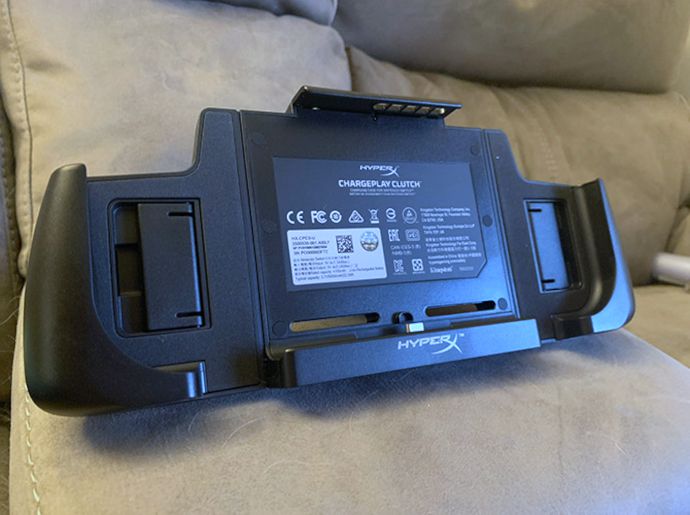 As if solving the Switch's battery woes wasn't enough, HyperX changed the feel of the console with some incredibly comfortable rubber grips that replace the blocky feel of the Joy-Con controllers. It's amazing how much better playing the Switch feels with the ChargePlay Clutch.
I used to get some pretty bad hand cramps with the Switch (I have large hands), and even after many multiple-hour sessions, I didn't have a single hand problem with the Clutch attached to my console. That alone is worth buying the accessory.
The kickstand is a big upgrade from the one that comes with the Switch. Rather than a flimsy, skinny kickstand, the Clutch has a wide Kickstand that's actually able to hold the console up, even on softer surfaces like a couch.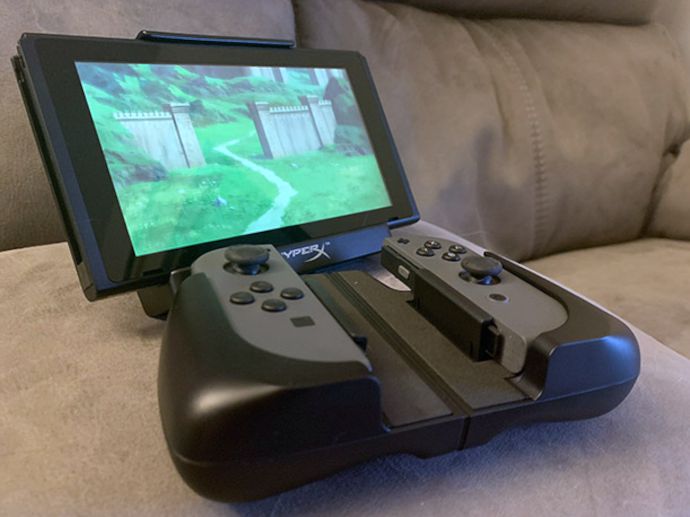 While in kickstand mode, you can actually put both handles together, slide open a little trap door, and place the Joy-Con controllers inside to make a controller with the same comfort benefits that you get in handheld mode.
This means you don't have to carry around the Joy-Con holder than comes with your console or hold the two Joy-Con controller separately, which is never enjoyable.
The Switch feels very secure inside the Clutch, as it locks into the device in multiple places. You're carrying around a fairly expensive console in it, and the last thing you'd want is to have your Switch fall out.
Another nice little bonus with the ChargePlay Clutch is that it's quite a good-looking piece of tech. If you're going to take it everywhere you go, you want it to look nice, and it definitely does.
It has a tasteful HyperX logo on the back and a small one of the front. It's available in a subdued neutral black color, which means it'll match your Switch regardless of which color you went with.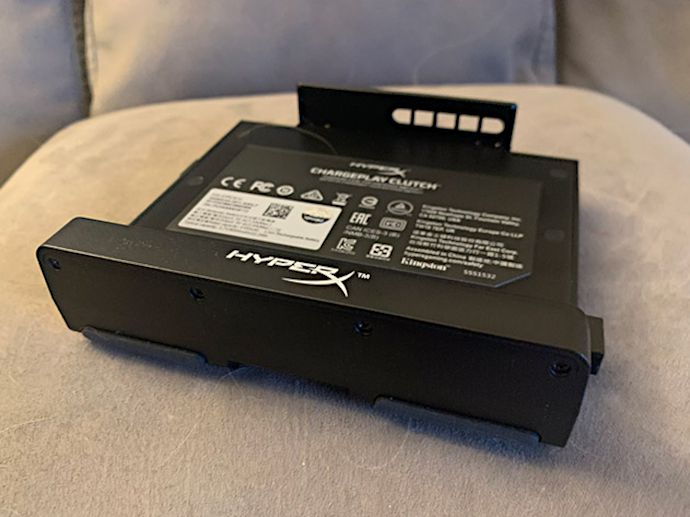 Almost everything about the ChargePlay Clutch is awesome. Generally, an accessory is considered something optional for your device, but in this case, it's almost mandatory to buy one of these if you use your Switch on the go. I can't recommend it enough.
The Bad
There are not a lot of negatives about the ChargePlay Clutch, as it's an incredibly well-made device that improves the performance of the Nintendo Switch dramatically.
The only thing that holds it back from being absolutely perfect (and there's really nothing HyperX could have done to fix this) is the weight. It weighs in a whopping 400g.
To put that into perspective, the Switch and both Joy-Con controllers weigh approximately 398 grams. That means the Clutch doubles the weight of the console.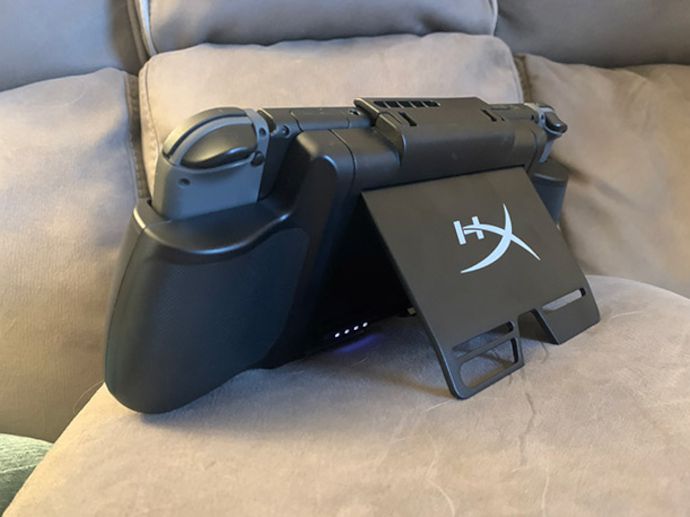 Still, while that's definitely a drawback of the device, the weight is distributed well, so it doesn't feel as bad as it sounds. HyperX seems to have put a lot of thought into the way playing with it would feel, and that's extremely important.
A very minor drawback that's also related to the size of the device is that you need to remove it in order to dock it to your TV. This is purely an issue of laziness on my part, and it's an issue that's present with almost all Nintendo Switch cases.
Thankfully, to counter that problem, HyperX made putting the Switch into the ChargePlay Clutch and removing it incredibly easy.
The Verdict
I first experienced the ChargePlay Clutch at CES 2020 and I was blown away in that brief demo. Now that I've had substantial time with the device, all of my initial impressions were confirmed. This thing is awesome!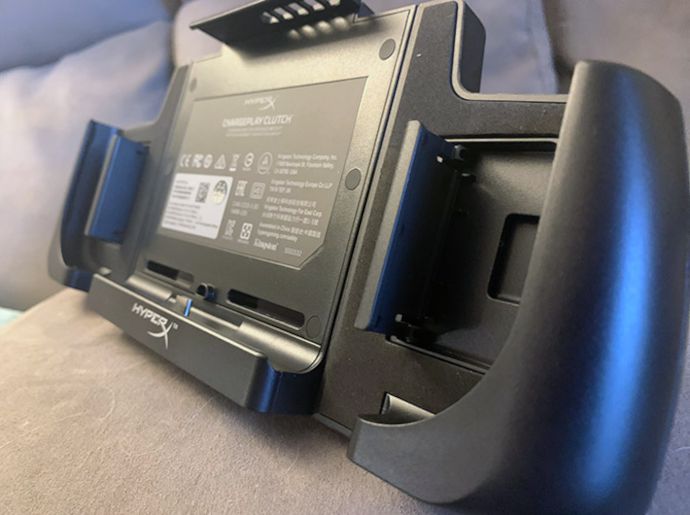 An important thing to note about the Clutch is that it's not designed to work with the newly-released Switch Lite, so if you have one of those, you'll need to look at alternate devices until HyperX decides to release a similar accessory for the new console.
ChargePlay Clutch (Nintendo Switch)
ChargePlay Clutch (Nintendo Switch)
If you liked this review, consider checking out the complete whatNerd Reviews Index!