It's rare that I feel this good about myself after I play a game—or still playing, as I'm currently working my way through My Oasis.
A free-to-play mobile app available through Google Play and the iTunes App Store, this stylistic, gorgeously animated clicker sets you up with a simple task: cultivate a floating island by watering it, seeding it with plants, and filling it with animals.
I used to be big on gaming before university torpedoed the habit, and since then I've severely cut back on my immersive habits in order to cope with a busy, high-stress career.
That doesn't mean I've given up on games entirely, however, or that I don't seek them out.
So imagine my surprise and relief when My Oasis showed itself to be the perfect sort of game for the busy professional: beautiful and anxiety-free, but not aged down for children.
The Good
This game is perfect if you work a 9-to-5 and you're looking for something you can play for five minutes before bed.
If I was going to describe My Oasis as anything, I would call it "ASMR for gaming."
From the beautiful graphics and retro feel, to the downtempo music and the adorable creatures that you can collect, My Oasis makes it clear that there will be no conflict here, no competition, and no stress.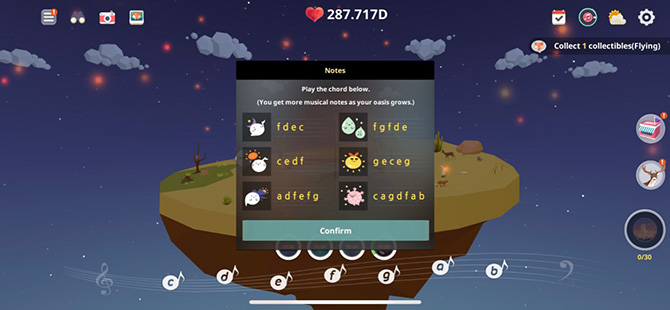 The island that you're creating is just a pocket of sunshine away from the world where you can make lovely things grow.
A lot of mobile games can feel repetitive in that you're constantly button mashing in order to level up. My Oasis manages to avoid this repetition by constantly introducing new animals for you to collect.
The ads in this game are minimal, and only appear if you want to collect additional points.
In keeping with its anxiety-free goal, you can mute these ads while they're playing and listen to the music from the game instead. This ensures that your soothing experience with this little pocket universe never ends.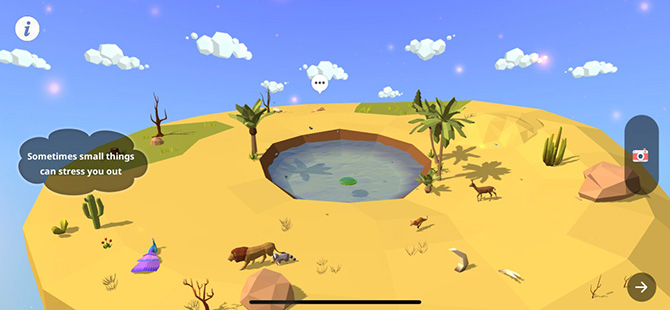 Most importantly—and what's interesting for me—is how the game seems to be specifically catering to the busy professional who just needs some downtime and a few self-affirming messages. It works your busy schedule into the structure of the game itself.
One of my favorite features in the game—beyond the music—is how the animals on the island talk to you. When you click on the speech bubbles above their heads, they often spout out messages like "Don't worry, you'll get there eventually," and "Sometimes small things can stress you out."
The game clearly posits that acknowledging this stress is okay, and it's a great way to end your day on a high note. You're validated in your feelings and accepted.
The Bad
It's hard to critique this game because it's such a beautiful, cohesive work of art, but if you're looking for specifics I would say that it's a bit of an acquired taste.
If you don't like slow-moving mobile games where there's zero conflict—if you're more of an action-oriented gamer, or you like rpgs—they you'll probably get bored with My Oasis real quick.
It's also not the best sort of game for anyone who gets upset by ads in their mobile experience. While My Oasis does their best to make sure these ads are as unobtrusive as possible, they're still there.
The Verdict
As mentioned, this game is free-to-play with optional in-app purchases, so if you want to try it out for a night or two we recommend it. You really don't have anything to loose.
Build an island full of animals who say they love you.
Build an island full of animals who say they love you.