Idle Food Truck Tycoon
Idle Food Truck Tycoon
Build up a fast-food empire in a parking lot.
Build up a fast-food empire in a parking lot.
Mobile games are a soothing balm after a long day of work. My day-to-day schedule has been particularly choppy as of late, so in order to set my brain to "chill" I went scrolling through the App Store to see if there was anything that caught my eye.
To my delight, Idle Food Truck Tycoon was being advertised in the new games section. A free-to-play mobile app for iOS and Android with in-game purchases, Idle Food Truck Tycoon presents its players with a very simple premise: build a food truck empire by upgrading, adding, and moving your trucks to new locations.
The sole aim of this game seems to be mindlessly amassing as many coins as possible. Honestly it was the perfect thing that I needed to play for a relaxing night at home.
The Good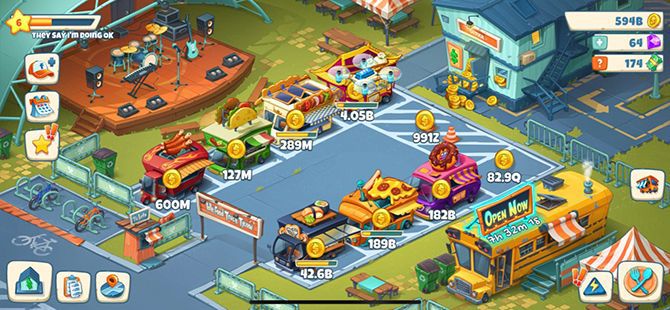 Idle Food Truck Tycoon is a fun and mildly addictive app that's honestly good for all ages, just like Tap Tap Fish. It doesn't dip into serious subject matter, nor does it encourage actual "gambling" like some of the other games that are decidedly adult. It's also very easy to learn.
Idle Food Truck Tycoon's simple reward system is almost impossible to fail, and to start building your empire you must collect coins from your first starter truck. From there, you can earn additional profits through gems, participation prizes, and mindlessly tapping. When you accumulate enough coins, you can then upgrade your trucks to increase their productivity.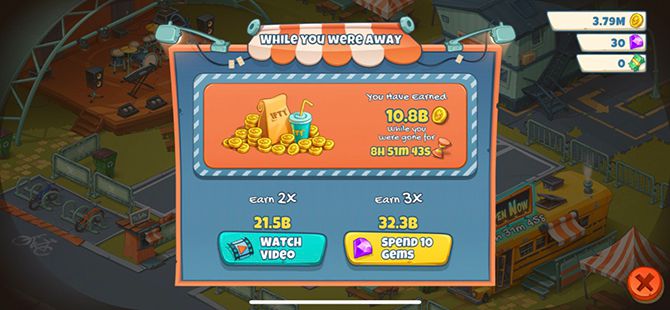 There are eight other empty spots on your food court when you first start out. In order to fill these spots you need to have enough coins to buy new vehicles. One way that you can increase your profits is by setting up an "always open" sign through watching ads, or by having a live band play behind your food court. After you collect the coins, they can then be "cashed in" to receive paper dollars, which will allow you to buy more advanced items.
Warning: By cashing in these coins, it wipes the slate clean on your food court and gets rid of your trucks. You'll need to buy them back, so it's best to have as many coins saved up as possible in order to receive the largest payout.
Beyond this simple—and fun—game mechanic, it's worth pointing out just how lovely Idle Food Truck Tycoon is. It's really gorgeous to look at and beautifully animated, and its distinct animation style plays into the game's overall thematic elements. I mean, I know that "thematic elements" sounds too deep for a food truck game, but I'm an illustrator so these little touches warm my heart!
The Bad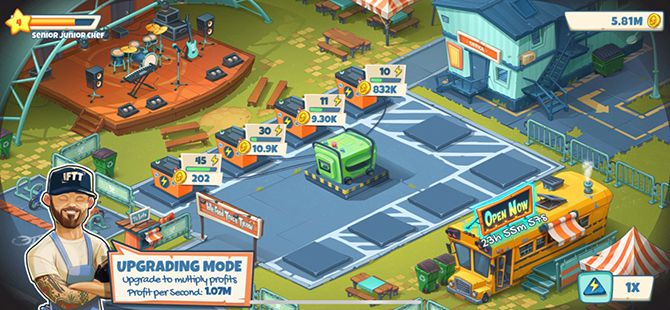 If I was going to critique this game for anything, it would be that Idle Food Truck Tycoon is a little too simple. The simplicity of the game is a big part of why I enjoy it, but is there long-term playability to that simplicity itself? Probably not.
There's also a repetitive edge to levelling up within Idle Food Truck Tycoon that can get very boring very quickly. Without a narrative to drive the story, the game definitely falls flat. I don't know if I can say that I would play this game long-term, which is what you need for any app that derives its profits from ads and in-app purchases. It's what the whole mobile platform runs on, to be honest: this idea that you'll keep on coming back for more.
The Verdict
The game company that created Idle Food Truck Tycoon is Metamoki, and they build mobile tapping games with a distinct, food-oriented edge.
Idle Food Truck Tycoon is also very similar to other food-related games out there, so if you're looking for additional games that are fun to play—but not necessarily from the same company—Bakery Story and Restaurant Story are a good place to start.
Both games are available for iOS and Android, and free-to-play with in-app purchases.
Idle Food Truck Tycoon
Idle Food Truck Tycoon