Looking to buy a current generation gaming console but unsure which one is right for you? You have six viable options:
Xbox One S
Xbox One X
PlayStation 4 Slim
PlayStation 4 Pro
Nintendo Switch
Nintendo Switch Lite
Knowing which one is right for you comes down to your situation, your budget, and your gaming intentions. We don't believe in console fanboyism; they all have their pros and cons, and most of us here at WhatNerd own multiple gaming consoles.
If you don't want to spend hours researching each individual gaming console, check out our gaming consoles comparison sheet below. It lists all of the important specs for each system, plus any other details you might want to know, such as the cost for online multiplayer, backwards compatibility, mobile streaming options, and more.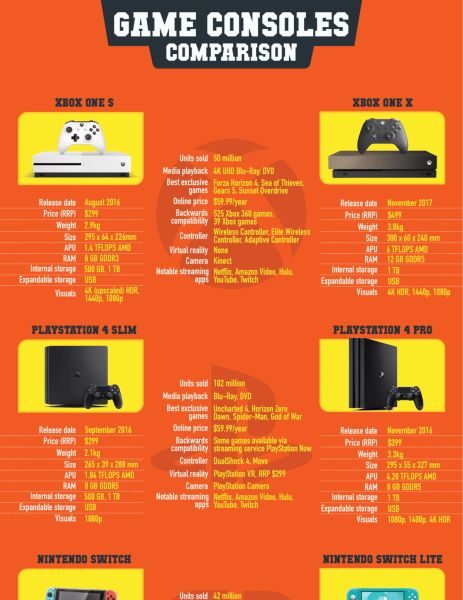 FREE DOWNLOAD: This cheat sheet is available as a downloadable PDF from our distribution partner, TradePub. You will have to complete a one-time short form to access it: The Xbox vs. PlayStation vs. Nintendo Switch Comparison Sheet
Our cheat sheets are the perfect resources for you to print out for easy reference, or to share with your colleagues and friends. What are you waiting for?