Nintendo is a video game company, but it has long been trying to break into the fitness space with products like Wii Fit and the maligned Vitality Sensor. The company has been hit and miss with its attempts, and Nintendo is back at it again with Ring Fit Adventure.
Ring Fit Adventure is an $80 package that includes the game, a leg strap accessory, and the Ring Fit device. The three pieces are designed to be the only thing you need to get a complete workout, which sounds quite crazy when you think about the wide range of equipment people typically use to get their bodies in shape.
I've decided to jump in and give Ring Fit Adventure a run for its money. I'm going to keep track of my progress every week, and we'll see if it can actually up my fitness level.
As of this writing, I weigh 235 lbs and I'm 5' 11" tall, which makes me a bit overweight. In spite of my stats, however, I'm in better shape than you'd think—I play competitive hockey a few times per week at a fairly high level.
What are my goals? I'd like to lose some weight and increase stamina for hockey, and I'm quite interested to see if adding Ring Fit to my routine can help me achieve that. I'm also going to cut my daily caloric intake to support the new exercise routine.
The Ring Fit Hardware
Everything you need comes in a nice little box, all ready to go. Well, the Switch and JoyCon controllers aren't included, but everything else you need is ready to go.
The ring itself is a nifty little piece of hardware that features two padded grips and a port for the right Con to slide into. You can push and pull it, and the resistance is fairly strong as you get closer to pushed all the way in or pulled out.
It's not a heavy device, so the workouts most certainly won't come from actually lifting the ring up. The fact that the ring so light is great for portability.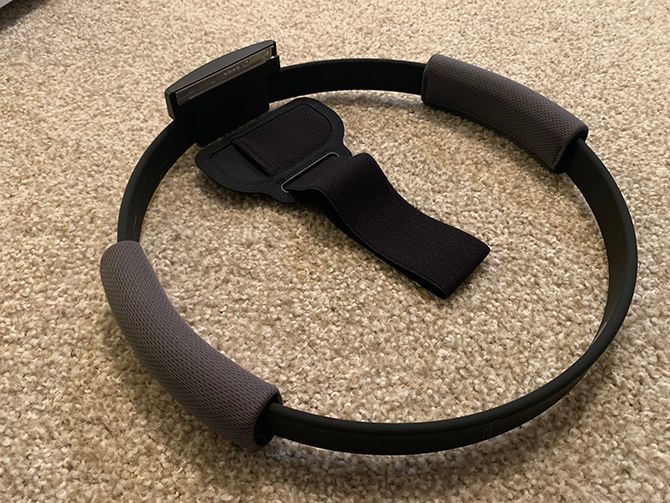 The leg strap is nothing fancy, but it serves is purpose well enough. I have very large thighs, and it's able to wrap around my leg and stay in place without issue. There's plenty of room to go the other way, so if you have particularly thin legs, it'll fit well.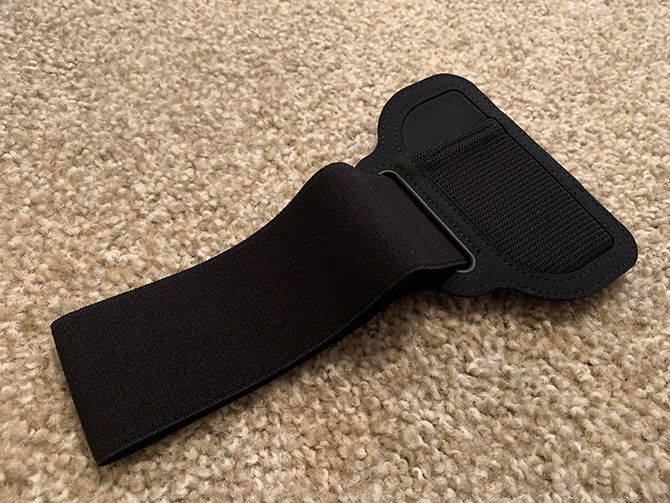 Overall, first impressions of the hardware are solid. Everything feels sturdy. Though it's a little hard to see how you'd get a workout based on the hardware, we'll have to dive into the game to see how it actually feels to get in there and get to grinding.
My First Ring Fit Workout
Hardware aside, Ring Fit Adventure really makes a strong first impression when you actually launch the game and get to grinding.
When you first launch the game, you're greeted with a brief assessment that asks for key facts about you like your age, level of fitness, weight, and so on. This helps the game determine the correct difficulty so you can workout without injuring yourself.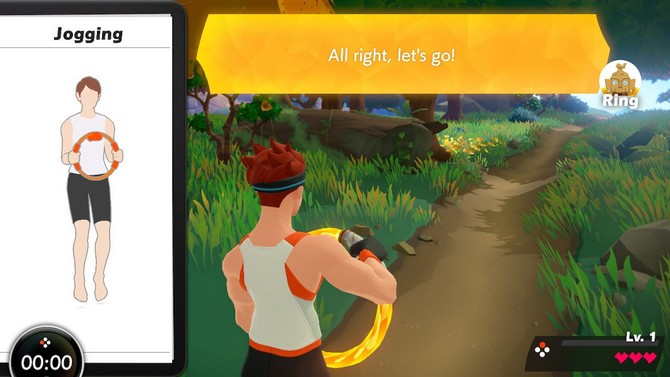 Once you get through that, you get a nice, simple interface that lets you choose between playing through the adventure, trying out the various mini-games, and doing exercises without worrying about the story.
Obviously, what makes the workouts fun is going through the adventure, so for the first workout, I started there.
The first level sees you running in place (or squatting if you're playing on quiet mode) as the game teaches you about squeezing the ring to shoot, pulling the ring to collect, and doing knee lifts to climb stairs. It's a perfect way to introduce you to the core mechanics of navigating the game world, but the fun really starts in the second level when you meet the first enemy.
Combat is pretty simple in the early part of the game, but it's actually quite rewarding and fun. You choose an exercise and do damage to the enemy based on how well you pull off the move. If you choose to do squats, going deeper will do more damage to the enemy.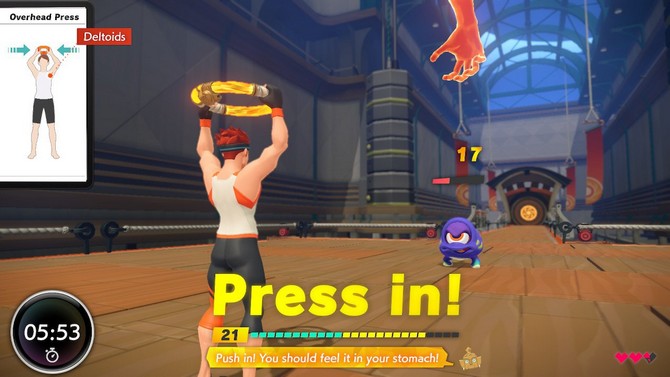 Your difficulty will change how much health the enemies have, and thus, how many sets it'll take to kill them. It's a lot of fun, and it's quite intuitive.
After going through the first two levels, the game suggested I call it a day, and I must say I was quite tired. I did squats, leg lifts, overhead presses, and chair pose (which are all the moves it offers in the early levels), and I was feeling it. I could have done one more level, but I decided to heed the game's advice and stop.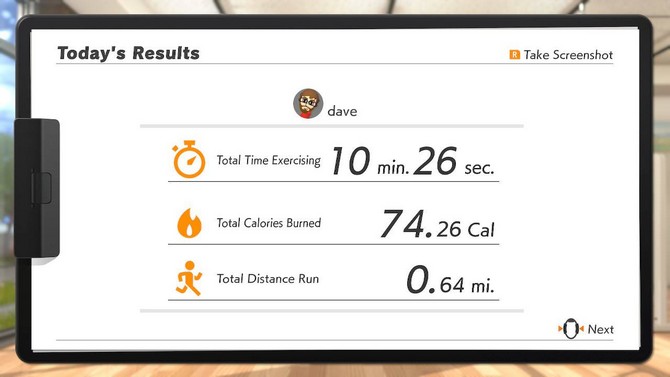 I managed to pull off the cooldown stretch at the end, which is guided by the game to help you settle down and chill after a hard workout.
Overall First Impressions of Ring Fit
After working out for a day with Ring Fit Adventure, I couldn't be more excited to keep grinding away on the journey to better fitness. I really feel like I could drop a few pounds with the workouts offered in the game, and while it is tiring, it's fun enough to make it not feel too much like exercising.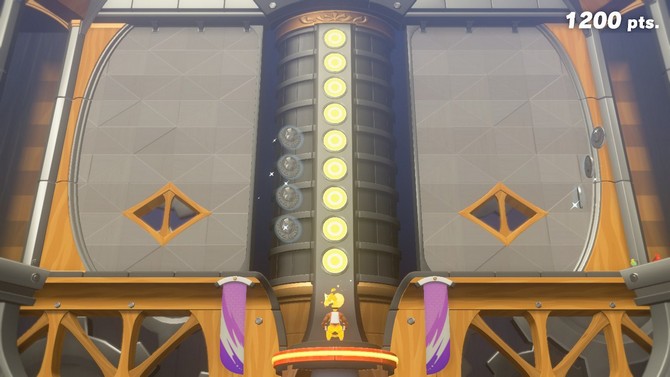 We'll see how it works a month down the road, but after day one, I couldn't be happier with what Ring Fit Adventure brings to the table.