With every year I grow older, I more greatly appreciate the adage: "Always spend more money on the things that separate you from the ground." That means shoes, tires, mattresses... and office chairs.
Whether you're a PC gamer or an office worker (or both), you spend way too many hours sitting in front of your computer. That's going to wreak havoc on your back muscles, spine, hips, and more. Haven't felt that pain yet? Count yourself lucky and take preventative measures early!
But not everyone can shell out over $1,000 for a top-of-the-line Herman Miller or Steelcase. What if you only have $200? Is there hope for you?
If that's your budget, you may find yourself quite happy with an EwinRacing Knight Gaming Chair, a heavy duty gaming chair for up to 400 lbs. I was skeptical, but here's my experience when I got to try one out.
My review unit was provided for free, but my opinions are my own and haven't been influenced in any way.
The Good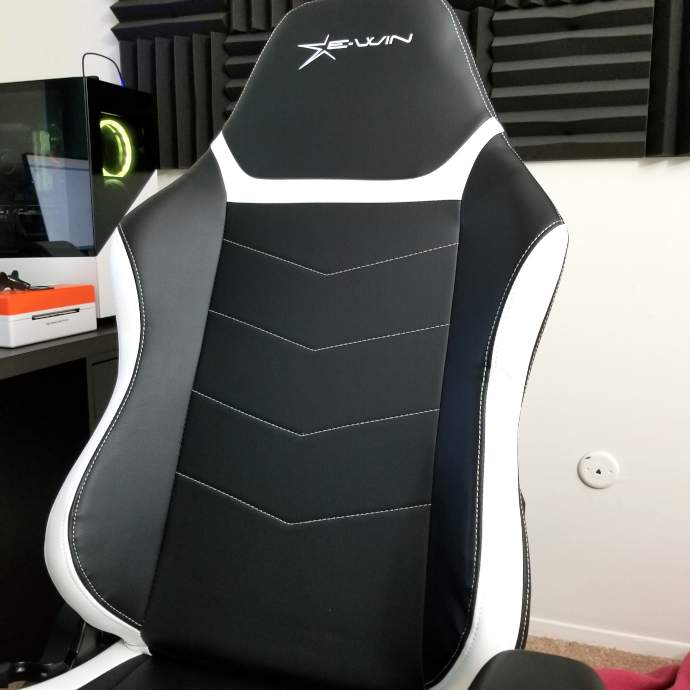 The first thing I noticed when I sat down in my newly assembled chair is the firm seat and backrest. This surprised me, as most of the budget-level office chairs I've used have always been a bit squishy right from the get-go. And don't get me started on mesh-seat or mesh-back chairs!
Don't get me wrong: it isn't hard. There's still a bit of give, especially toward the front area of the seat, but it's firm. It provides something you can really lean into without losing shape or posture.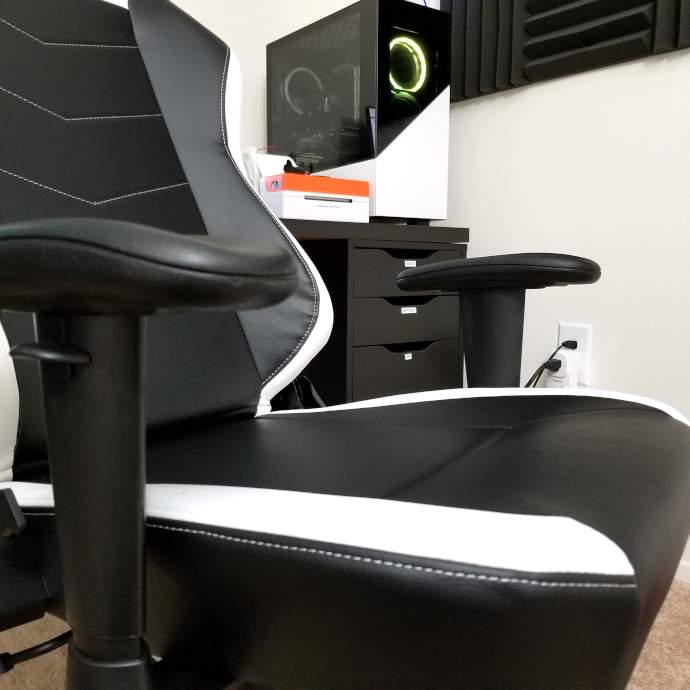 And speaking of the seat, I love the subtle "bucket" that happens because the seat is sloped with the rear slightly lower than the front. This small angle on the seat prevents my butt from sliding forward—a huge issue I've always had with most office chairs.
Of course, I've tried to rectify the issue in other ways, like using a footrest or changing backrest angles. Now, for the first time, I feel like I don't need anything beyond the chair itself. My butt stays planted and doesn't creep forward while I'm working or playing games, and that's a big win for me.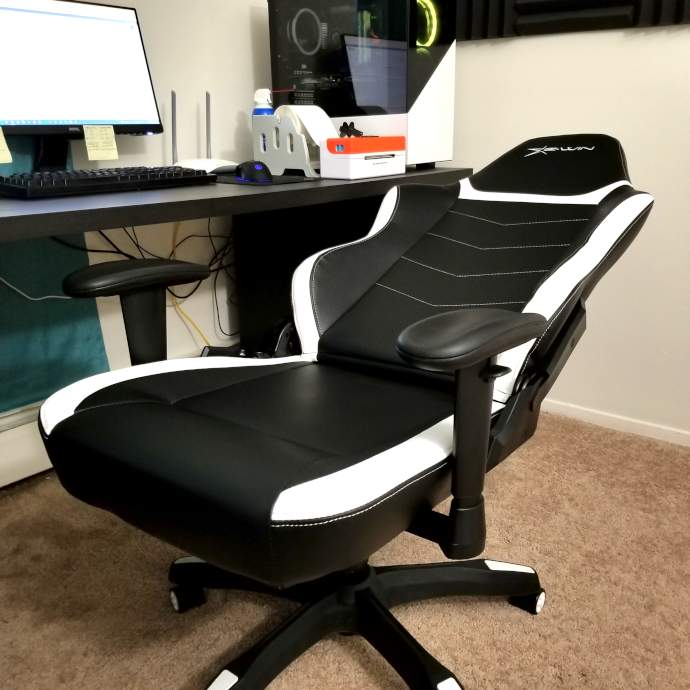 The bucket seat combines well with the locking backrest angles. I've tried too many office chairs—particularly ones from IKEA—where the backrest lean angle is completely pneumatic (i.e. when you stop leaning, or if you aren't leaning hard enough, the backrest comes back up).
The EwinRacing Knight gaming chair has a lever on the side that lets you set and lock the backrest angle to one of several preset angles. The downside, of course, is that you can't fine-tune it in case you want a very specific angle between two presets. But for me? This is perfect.
And as you can see in the photo above, the seat can recline ALL the way down. If you want to take a nap, you definitely can.
This chair also comes with optional head pillow and lumbar cushion. The head pillow has a strap that keeps it in place while the lumbar cushion simply sits along the bottom of the backrest.
I personally don't use the head pillow because I find that it causes my neck to jut out uncomfortably, but I do use the lumbar cushion. With the way I have my backrest angled, the lumbar cushion puts my spine in a good position that's comfortable for long sessions.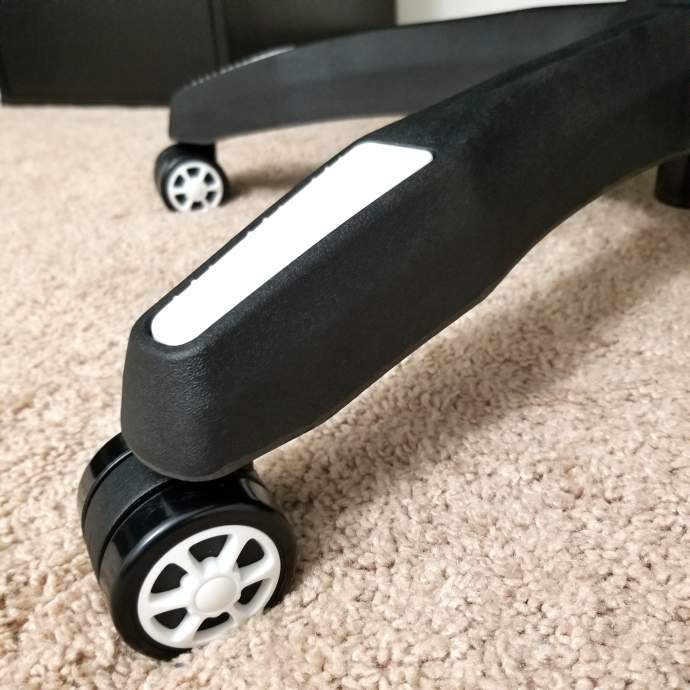 Lastly, the wheels are great on carpet. I have medium pile carpeting in my home office and this chair glides right over it, making it easy to slid in and out from under my desk. Other budget-level office chairs either get stuck or require too much force to comfortably move around.
Promo Code Alert
Get 25% OFF your purchase at the EwinRacing store when you enter this code at checkout:
WHATNERD
Take advantage of this offer here.
The Bad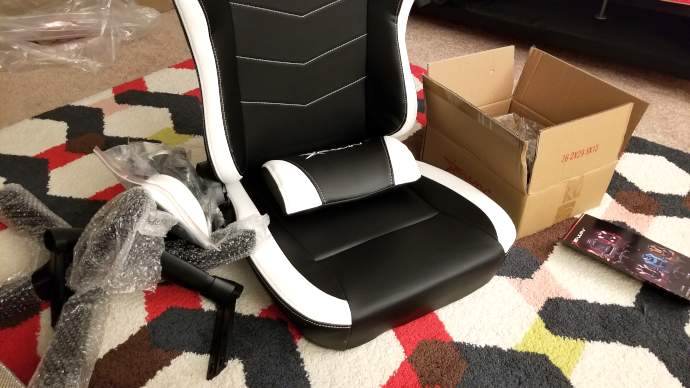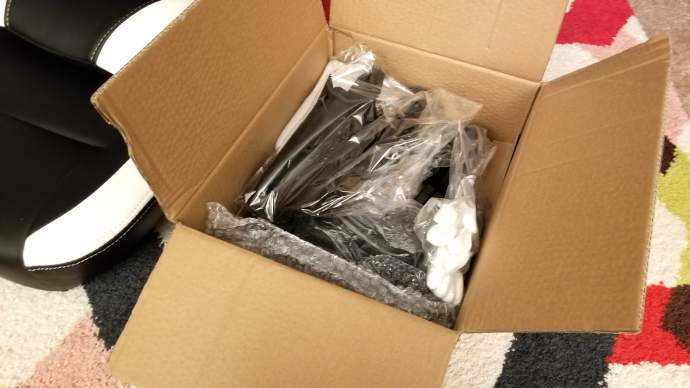 While I wouldn't say assembling the chair was difficult, it definitely involved a lot more pieces than I was expecting. That alone wouldn't be too bad, but the instruction slip was in Spanish only so I had to use Google Lens for real-time translation to put the thing together.
Overall, it took me 35 minutes to assemble (another 5 minutes to attach the optional armrests). Again, not difficult, but not IKEA-level ingenuity in its construction.
And speaking of the armrests, I like that they are height-adjustable... but even at maximum height, they're still too low for me. With my arms resting at my sides, they barely graze—and it's not like I have short arms (as far as I know). I'll probably take them off and go without.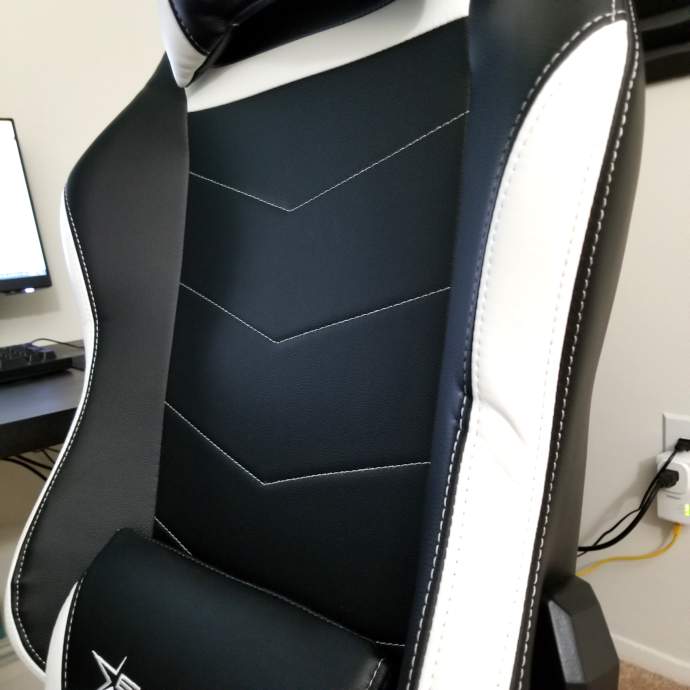 There's also one design quirk for which my opinion is split: the backrest has "wings" that come forward. I'm not 100% sure what the wings are meant to do, but if I had to guess, I suppose it's to keep me from leaning one way or the other and encourage me to sit up straight?
If so, I can respect that—but I'm not sure I like it. The wings push my arms forward a bit, forcing my shoulders to hunch inward. Not ideal for me since my shoulders already hunch forward too much, and I'm sure most office workers and PC gamers suffer from that as well.
Lastly, there's the issue of heat and sweatiness. I can't exactly test this right now because we're on the verge of winter as I write this, but I suspect the faux leather will get hot and uncomfortable. We'll see.
The Verdict
One final disclaimer: I can't compare any EwinRacing gaming chair against high-end chairs like Herman Miller or Steelcase. I don't have experience with them. But I do have experience with many $200 office chairs, including the IKEA Markus and ones from Costco and Staples.
When it comes to office chairs in the $200 range, I've been happiest with this EwinRacing Knight. It feels the most robust, it has the best adjustability, it has the least annoying wheels, and it keeps my posture in check.
EwinRacing Knight Gaming/Office Chair
EwinRacing Knight Gaming/Office Chair
It has a few minor flaws, but this budget-friendly gaming/office chair by EwinRacing is one of the better options in its price range.
It has a few minor flaws, but this budget-friendly gaming/office chair by EwinRacing is one of the better options in its price range.
The Good
Firm seat and backrest provide solid support
Bucket seat design prevents butt sliding forward over time
Locking backrest angles for comfort, can recline all the way down
Optional head pillow and lumbar cushion for posture and comfort
Wheels roll smoothly on up to medium pile carpet
The Bad
Not the easiest to assemble alone, but not impossible
Height-adjustable armrests don't go high enough
Backrest "wings" can uncomfortably push your arms/shoulders forward