Since the debut of The Office in 2001, Ricky Gervais has had a string of career hits. The comedian—so often paired with his former writing and creative partner, Stephen Merchant—has had a sizable impact on popular culture through his work.
Gervais doesn't ever seem to have suffered through a lull in his television epoch. His ability to find humor in the strangest of situations, all while being genuinely affecting at times as well, is one of Gervais' great strengths as a creative.
His and Merchant's most famous work with The Office has garnered both critical acclaim and millions of dollars after selling the concept off worldwide, so other countries could put their own spin on it.
His work in film has been somewhat more varied, with Gervais having less of an impact on cinema than he had on TV. However, that doesn't mean his cinematic output has been expressly bad.
Join us as we remember the best of Ricky Gervais' works across both TV and movie formats to this day.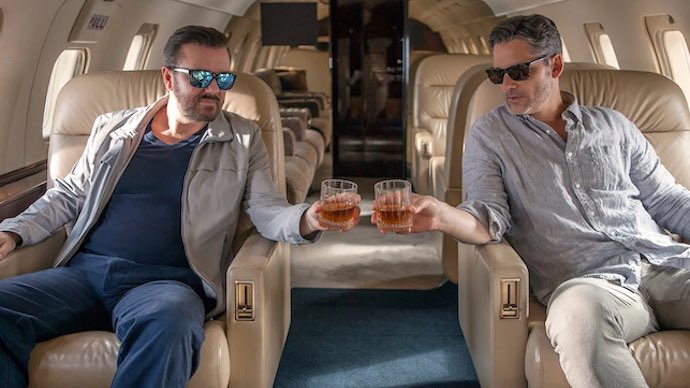 The one notably disappointing splotch on Gervais' record is Special Correspondents. In this remake of a French picture, Ricky Gervais and Eric Bana play radio correspondents who fake attendance at an Ecuadorian uprising by hiding in the spare room of a café.
The film, set in New York, didn't have Gervais' usual sense of bite. It felt too loose and pandering to a broad audience, whereas Gervais has always been at his best when he's doing what he personally wants to do.
That lost touch results in a film that doesn't hold up, and even amongst Gervais' biggest fans, it remains forgotten.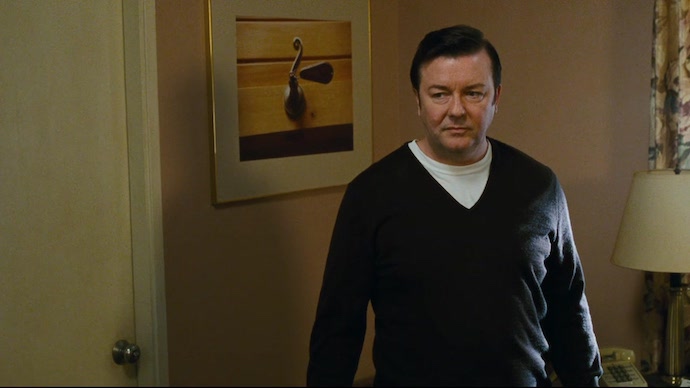 The Invention of Lying isn't a bad film by any means, and it follows an interesting concept in which Ricky Gervais' character is the only person in the world who can lie.
Of course, the film uses this concept to put Gervais in many funny circumstances, ones in which he easily fools people into doing his bidding. Although the movie relies on the usual romantic comedy platitudes, it does have moments of pure Gervais-style delight.
Another strength of the movie is the cast, which features the likes of Philip Seymour-Hoffman, Edward Norton, Jonah Hill, Tina Fey, and Rob Lowe, all alongside Gervais.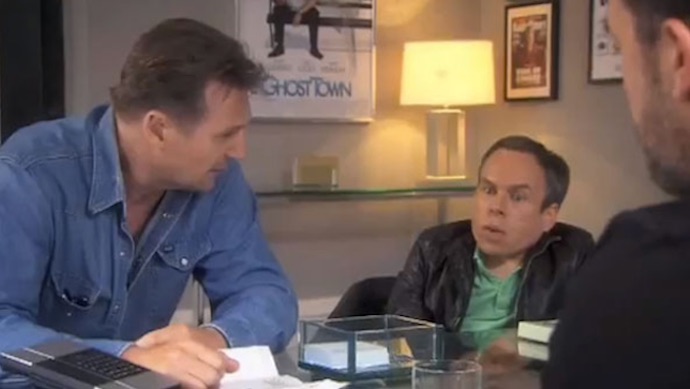 Following the antics of a fictionalized version of Warwick Davis, Life's Too Short became the tail-end of Ricky Gervais' partnership with Stephen Merchant. Even though it wasn't a comedy classic, they made sure the series hit with several unforgettable moments.
The sequence where Liam Neeson meets with Gervais, Merchant, and Davis is one of the funniest moments in TV history as a mirthlessly serious Neeson attempts to do improvisational comedy, using subjects likes AIDS and bowel cancer to joke about.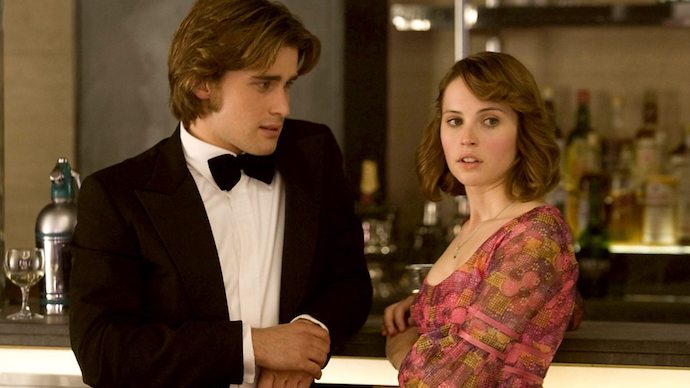 At the height of Gervais' partnership with Merchant, the pair wrote and directed Cemetery Junction, a film based around Reading in the 1970s and featuring young adults who want to leave for a better life.
The film is a well-balanced tale of escapism and folly, with lots of fun performances from Ralph Fiennes, Felicity Jones, Ricky Gervais, and Emily Watson along the way.
The only downside to it is that it does lean on the tired old clichés of a coming-of-age comedy, but due to the caliber of its writing, it's still a fun tale all the same.
6. Extras (2005–2007)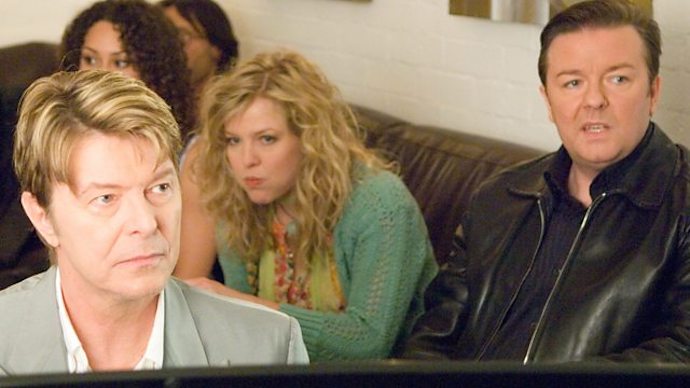 Ricky Gervais and Stephen Merchant's follow-up to The Office was a series about the extras on a film set, featuring some of the most jaw-dropping guest stars in TV history.
As Gervais' Andy Millman navigated a path to stardom in the show, he encountered stars like Samuel L. Jackson, Vinnie Jones, Patrick Stewart, Ian McKellen, Ben Stiller, Robert de Niro, and the late David Bowie. All of whom left their marks in hilarious ways.
Extras has grown in reputation since it finished, as it got unfairly compared to The Office during its initial run.
5. Derek (2012–2014)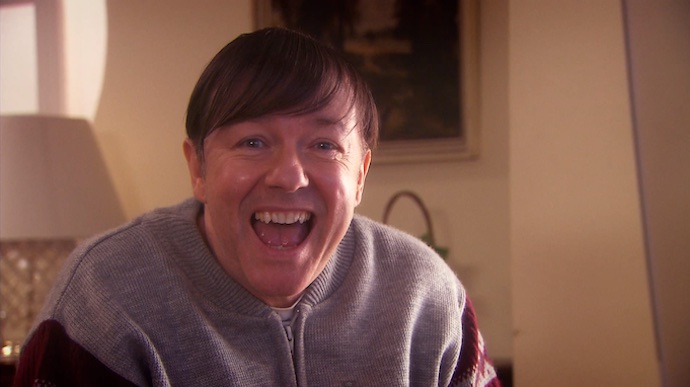 A kind and sweet series that focuses on the elderly who live in a retirement home, Derek was the first show that Gervais made himself without the help of Stephen Merchant. And though it lacks Merchant's flair for timing, it has Gervais' penchant for wholesomeness.
It tells the story of the eponymous Derek, who works at a retirement home with several madcap people, all of whom are trying to care for their residents.
Gervais injects the story with some very poignant moments and demonstrates an ability to hold the audience without constant use of hardcore comedy for the first time.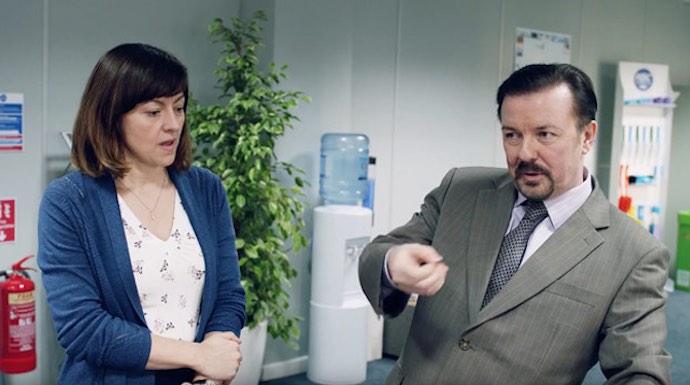 This was a film destined to become a British comedy classic in future years. When it first arrived, David Brent: Life on the Road was well-received but missed out on a box office draw, possibly due to the perceived nature of Gervais' outlandish character, David Brent.
However, the film turned out to be a hilarious ode to the eternal underdog, as we realize that he isn't as self-deluded as we might've thought. Plus, the film features some of the funniest songs ever performed in film history.
The film follows Brent as he cashes in several pensions to take his professional band on tour, all with the aim of getting signed. Though Brent fails in his search for a record contract, it does give Gervais' character a send-off that's heartwarming and sweet.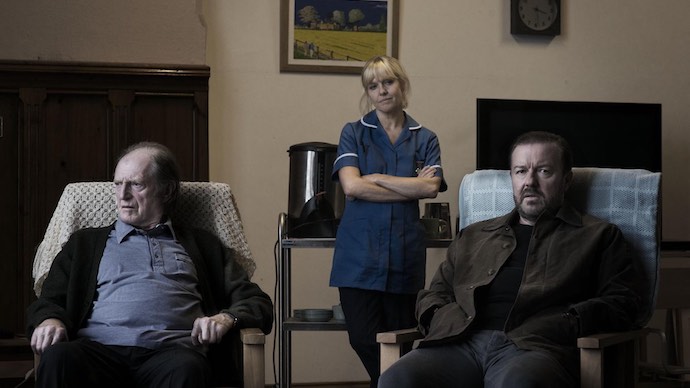 Gervais' most recent project is also one that has become his most serious, even though there are many funny comedic elements. After Life follows widower Tony Johnson, who has recently lost his beloved wife and wishes to kill himself because of the grief.
Following Derek, After Life continues Gervais' streak of darker comedy that's mixed with a hefty amount of drama. The show is a wonderfully written piece that speaks to the true nature of grieving a lost loved one, and many have noted that as one of the series' great strengths.
2. The Golden Globes (As Host)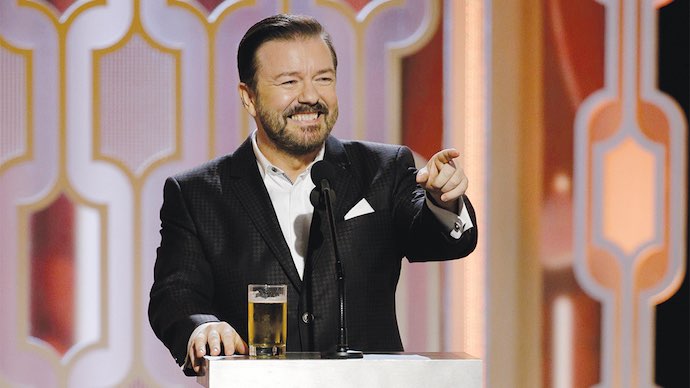 If there exists one group of people in the world who need regular mocking and reminding of their humanity, it'd be movie stars.
These usually pampered and prim stars annually gather at the Golden Globe Awards to celebrate one of Hollywood's grandest evenings. However, the mighty Ricky Gervais had other ideas when he first hosted the event in 2010.
Indeed, he's hosted the show on five occasions, taking aim at Hollywood's elite without mercy every time. His jokes have made many physically ache from laughing, all the while turning several attendees angry with his comments and quips.
But for us watching at home, it has always been gold to see these people roasted by one of the finest comics of the 21st century.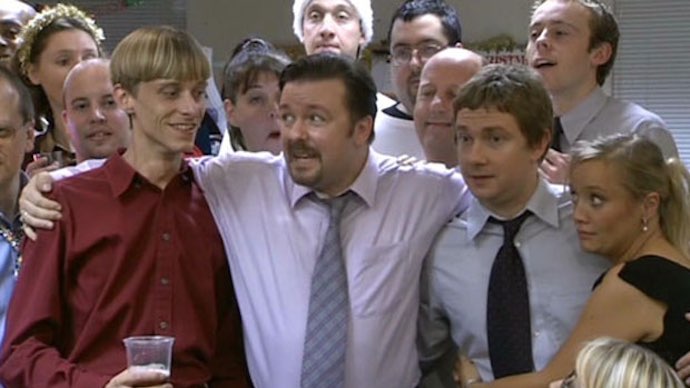 Free Trial Offer
Did you know you can try Hulu for FREE for 30 days? Cancel at any time if you're unimpressed!
Of course, The Office is still his best show. The Office didn't just change comedy in the UK—it changed comedy everywhere. Gervais and Merchant brought back the mockumentary style with a series that was so close to realistic, yet so far away at the same time.
The iconic characters of David Brent, Tim Canterbury, Gareth Keenan, and Dawn Tinsley came out of this tiny BBC sitcom and influenced the TV world with their archetypal roles within a tale of real office life.
If Merchant and Gervais had never made anything else of note in their lives, they would still be icons for their work on this show—a telling testament to how great the series is.