After Seinfeld's seventh season ended, Larry David announced that he wouldn't be returning to the show for the next.
His loss was certainly felt in the series' eighth and ninth seasons as Seinfeld lost some of its sparkling wit. He may not have had an on-screen presence, but David's contribution to the show was evident in the decline of its final outings.
However, just two years after Seinfeld finished, Larry David returned to TV with a new show: Curb Your Enthusiasm, in which Larry plays a fictionalized version of himself.
The show has been praised as one of the finest comedy TV series ever made, and that reputation has attracted several major names as guest stars in the 20+ years it's been on the air.
Let's take a look at some of the best guest stars to ever appear on Curb Your Enthusiasm and why their appearances were so great.
9. Elizabeth Banks (Season 9, Episode 3)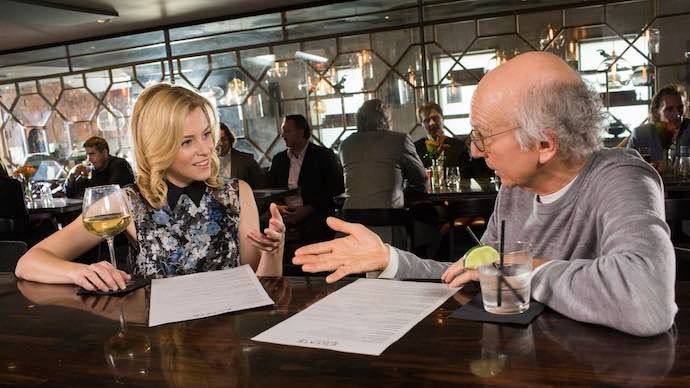 The forever-charming Elizabeth Banks popped up as herself in season nine's "A Disturbance in the Kitchen." While Larry is trying to live his life under the Fatwa, he meets and begins to flirt with Banks. 
The pair are hilariously responsible for damaging the car of a police officer, and seeing Banks try to make up a story on the spot to get away with the crime is comedy gold.
She may not have appeared for long in the episode, but Elizabeth Banks and Larry David's flirtatious sequences are some of the best-written scenes in the whole series.
8. John McEnroe (Season 6, Episode 5)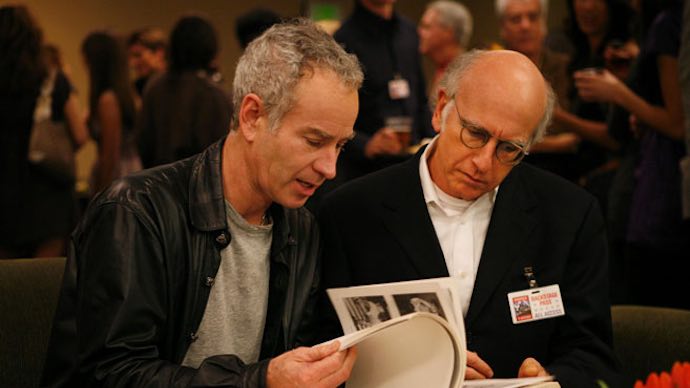 The bad boy of tennis' cameo in Curb Your Enthusiasm is one of the most overtly comedic scenes in the show.
When Larry's chauffeur is unable to go to work, Larry takes his place and ends up having to drive John McEnroe around. The thing is, Larry keeps stopping at his own destinations with McEnroe in tow. 
Annoying John McEnroe is a well-known bad idea, but he and Larry end up having a hilarious journey together. McEnroe even invites Larry to attend a Paul McCartney concert, from which they're both ejected after they offend Heather Mills-McCartney.
Seeing McEnroe's anger mix with Larry's annoying personality is one of the highlights of the series, and the pair's car ride together descends into raucous comedy.
7. Steve Coogan (Season 6, Episode 9)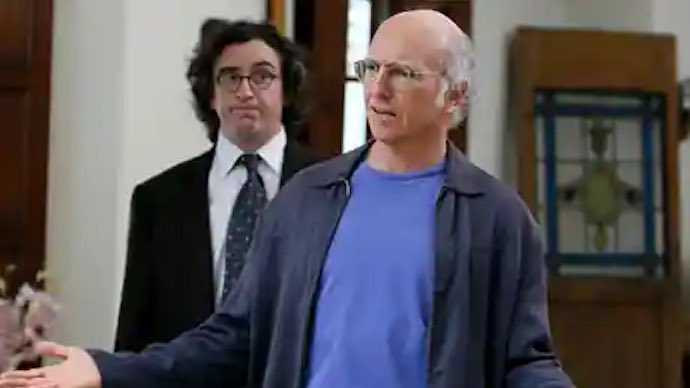 When Cheryl leaves Larry because of his, well, Larry-ness, he realizes that she's religiously following the advice of her therapist. So, Larry goes to see a therapist of his own, Dr. Bright (Steve Coogan).
After Dr. Bright gives Larry bad advice, which causes Cheryl to push him back again, Larry ropes in the Doctor to help him stage a mugging so that Larry can stop it and look like a hero. The mugging goes very wrong, and Dr. Bright ends up being caught by the police.
Coogan is one of the few big guest stars not to play themselves in the show, but his appearance as Dr. Bright is brilliant—especially the scene where he describes what jail is like to Larry.
6. Ricky Gervais (Season 8, Episode 6)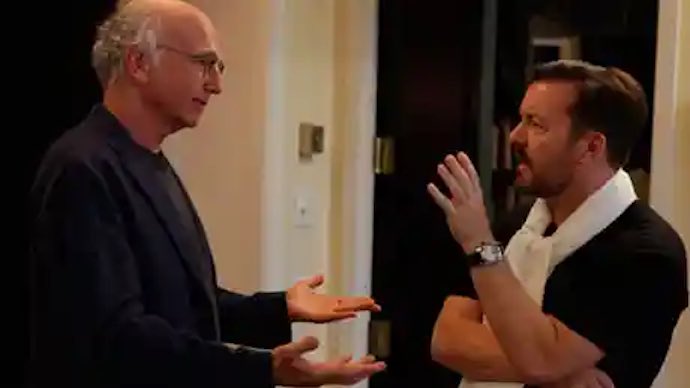 From one sitcom master to another, Ricky Gervais shows up in Curb Your Enthusiasm's eighth season when Larry is living in New York. The pair spar over social etiquette and generally dislike each other.
Gervais portrays an over-the-top version of himself that tries to take Larry's budding girlfriend Donna—until they get mugged on the subway and Larry comes to their rescue, thereby making Gervais look cowardly by comparison.
Ricky's part in Curb Your Enthusiasm was his chance to play the kind of role he's often given to other actors in his series, so it's no wonder his and Larry David's comedic chemistry is so entertaining.
5. Lin-Manuel Miranda (Season 9, Episodes 9/10)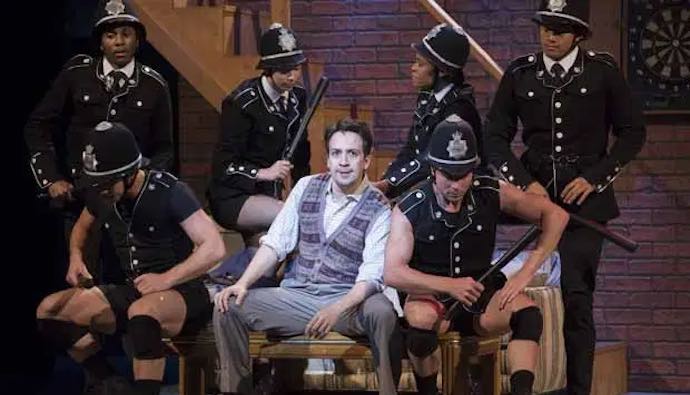 The Hamilton hitmaker himself arrived at the tail end of season nine to great aplomb. As Larry adjusts to life with his Fatwa, the musical he wrote about the Fatwa is now in production.
Lin-Manuel Miranda and Larry begin developing the songs for the play together; however, Larry grows frustrated over Lin's creative decisions. The pair end up having to engage in a paintball duel together, in which Larry accidentally hits Lin in the mouth.
Curb Your Enthusiasm once again showed how fun it could be with its guest stars, and it made Lin out to be a power-hungry, manipulative theater mogul. 
4. Mel Brooks (Season 4, Episodes 1/3/7/10)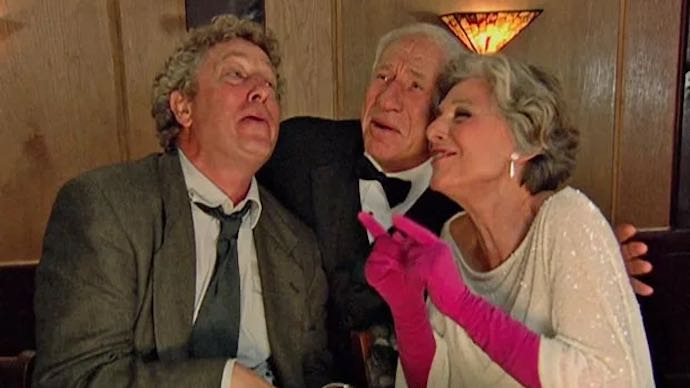 In the first episode of season four, Mel Brooks casts Larry as Max Bialystock in The Producers alongside David Schwimmer. Larry is unsure why Brooks is casting him, although Brooks convinces him with his apparent belief in his ability to act as Bialystock.
Brooks' appearances in season four are very entertaining, especially when his true motivation for casting Larry is revealed—as, much like in the play, Brooks wants the show to fail.
When Larry nails the part of Max Bialystock, Mel Brooks is devastated and, along with his wife Anne Bancroft, is furious with Larry.
3. Salman Rushdie (Season 9, Episode 3)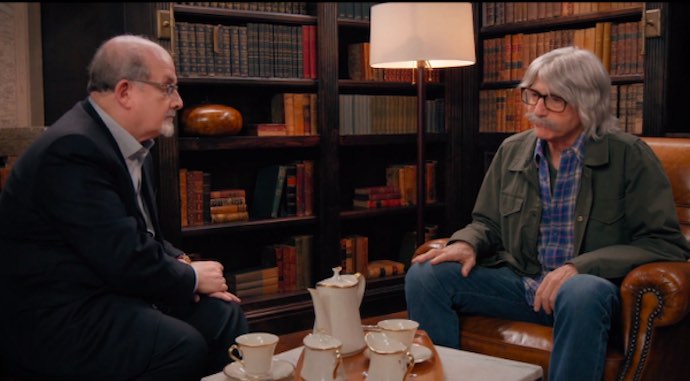 Appearing in the same season nine episode as Elizabeth Banks, Salman Rushdie's brief appearance in Curb Your Enthusiasm is surprising and hilarious.
Larry needs advice on how to live with his Fatwa situation, so he heads out to meet the one man who can help him. 
Salman Rushdie's cameo is downright genius, as he gives David advice on how to keep living and how he can manipulate situations to his advantage because of the Fatwa—like telling David how attractive he will become to women for being brave enough to be seen in public.
Rushdie's part was unexpected yet fantastic. As a man with a genuine Fatwa hanging over his head, he provided the laughs as only a man who has spent years in danger could.
2. Michael J. Fox (Season 8, Episode 10)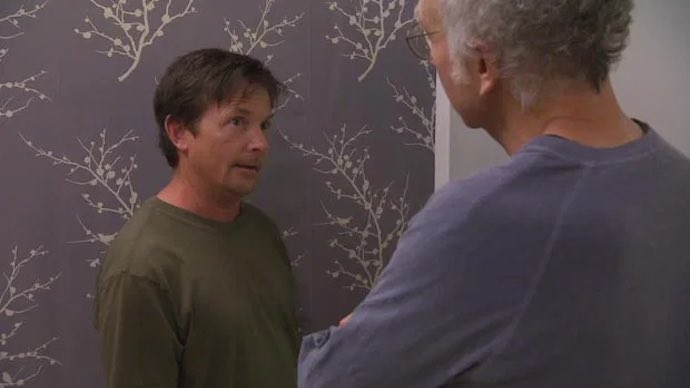 Michael J. Fox's role in Curb Your Enthusiasm is unquestioningly the most entertaining singular guest spot in the whole series.
Michael J. Fox plays Larry David's upstairs neighbor in Larry's rented New York apartment. The pair get off to a bad start that only gets worse through the episode as David accuses Fox of using his Parkinson's Disease to mess with Larry.
Fox comes across as a cunning foe to Larry, as he often makes Larry look like a terrible person in front of everybody—including then-New York Mayor, Michael Bloomberg.
Fox's willingness to play such a devilish version of himself is what makes the episode brilliant, as Fox uses his illness to win the battle of public opinion against Larry.
1. The Cast of Seinfeld (Season 7, Episodes 3/6/8/9/10)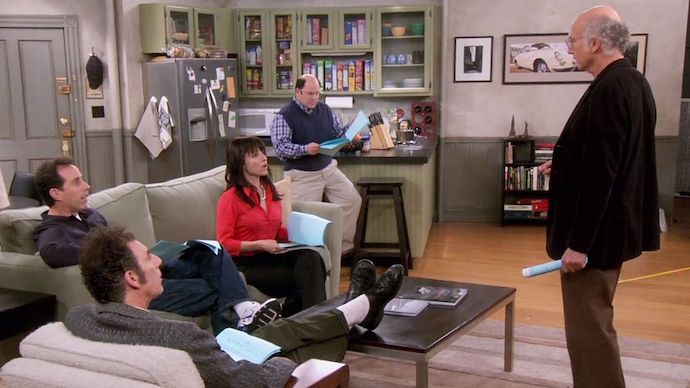 The genius move of bringing back Seinfeld for a reunion show was inspired. As Larry tries to prove to Cheryl that he's worthy of her love again, he accepts NBC's offer to revive the series. 
The reunion takes place from the perspective of behind-the-scenes Seinfeld, as well as the audience perspective of watching the show. Jerry Seinfeld, Julia Louis-Dreyfus, Michael Richards, and Jason Alexander all featured throughout the seventh season.
Fans had waited for years to see Jerry, George, Elaine and Kramer back together again, and in Curb Your Enthusiasm, they got it.