It's not uncommon for multiple actors and actresses to play a single character, especially when there are flashbacks, multiple timelines, or shapeshifters involved. It's much rarer for a single actor or actress to play multiple characters in a single film.
Often times, you may not even realize that multiple characters are played by the same person, particularly if they're buried under layers of makeup and prosthetics. Other times, you don't know that multiple characters are being portrayed, which is later revealed as a plot twist.
Whatever the case may be, it takes a truly talented actor to convincingly play multiple characters so well that you forget that they're all one person. It's best exemplified in Tatiana Maslany's performances in Orphan Black as she plays more than five unique characters.
But what about in cinema? Which actors and actresses have played multiple roles in a single film to great success? Here are our picks for the best movies where actors play multiple characters.
The Parent Trap may not be a legendary film, but it's still remarkable given that Lindsay Lohan was only 10 years old when she took up the roles of both Annie and her estranged twin sister Hallie. Not only that, but it was her first movie ever. Not bad!
Annie was raised in an upper-class London townhouse by her mother (played by Natasha Richardson) while Hallie was raised by her father (played by Dennis Quaid) on a vineyard in California. The couple divorced just after the twins were born, resulting in the twins being separated.
When the two accidently meet at summer camp, it becomes a game of nature versus nurture as the sisters decide to swap places and experience what life is like on the other side.
Based on the German book Lottie and Lisa by Erich Kästner, The Parent Trap first took to the big screen back in 1961, but we actually prefer the more modern adaptation by Nancy Meyers!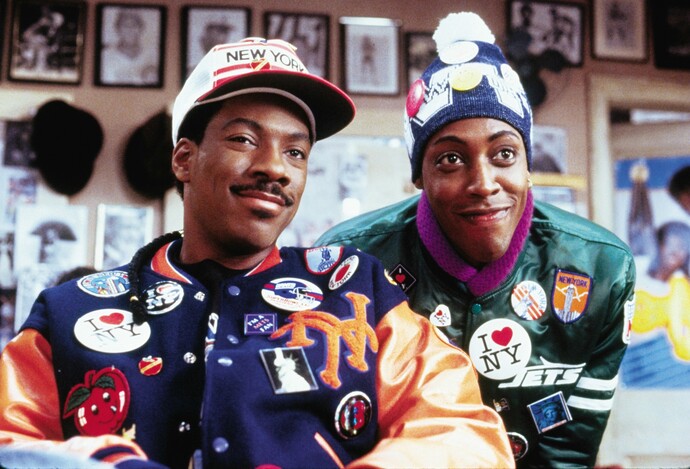 This 1980s rom-com has now garnered a bit of a cult following, plus several remakes across the globe (replacing "America" with whatever country is producing it). Nothing will ever beat the original though, in which comedy legend Eddie Murphy takes up four roles!
John Landis directs Murphy as: the prince of Zamunda (who "comes to America" to escape an arranged marriage), a soul singer, a Jewish barbershop customer, and the barbershop's owner.
In 2021, Eddie Murphy reprised all these roles in the sequel film, Coming 2 America, which was directed by Craig Brewer.
Fun fact: These two films aren't the only time Murphy has put his eggs into multiple baskets. Almost two decades after Coming to America, he played three different characters in the 2007 comedy Norbit.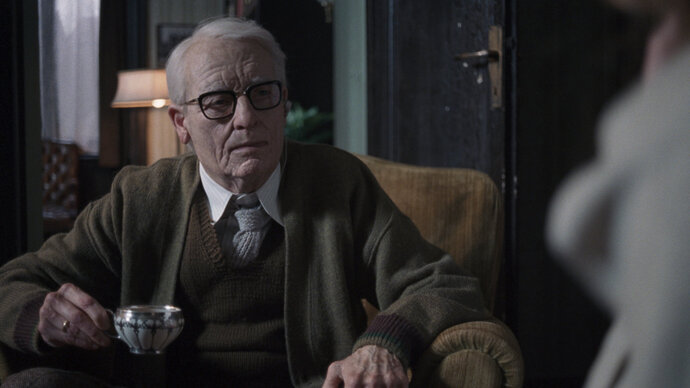 Sometimes, a movie goes out of its way to highlight that an actor is playing more than one role, whether for comedic value (as in Coming to America), for uncanny horror, or whatever else. Other times, though, a movie does the opposite: cover it up as much as possible.
That's usually done for shock value (like when we saw the credits roll in Matt Reeves' The Batman and gasped at Colin Farrell's name). It's also done to aid in plot points (like Martin Freeman in Ghost Stories). And then there's Tilda Swinton in the supernatural horror film Suspiria.
A remake of the 1977 Italian film by Dario Argento, Suspiria had us all fooled—some crew included—by Swinton's heavy prosthetics. She looks herself as the protégée Madame Blanc, but as Mother Markos and Dr. Josef Klemperer, she's unrecognizable!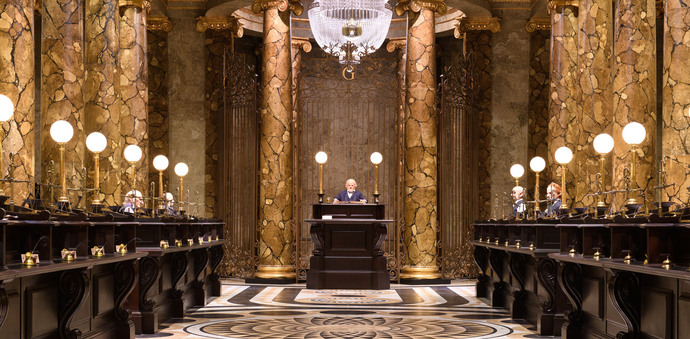 There are lots of different creatures, wizards, and beings in J.K. Rowling's magical universe—including dwarves and goblins.
When it came time to put pages to screen, British actor Warwick Davis took up several of the roles for characters who were small in stature but not in overall significance.
Many hours were spent in the makeup chair to transform Davis. He first appeared as the sweet-but-doting Charms teacher Filius Flitwick, who was then revamped with a new image in the third film.
Warwick Davis also took on the role of Griphook, the infamous goblin bank teller at Gringotts Wizarding Bank, in Parts 1 and 2 of Harry Potter and the Deathly Hallows. (Griphook's appearance in Harry Potter and the Philosopher's Stone was played by the late Verne Troyer.)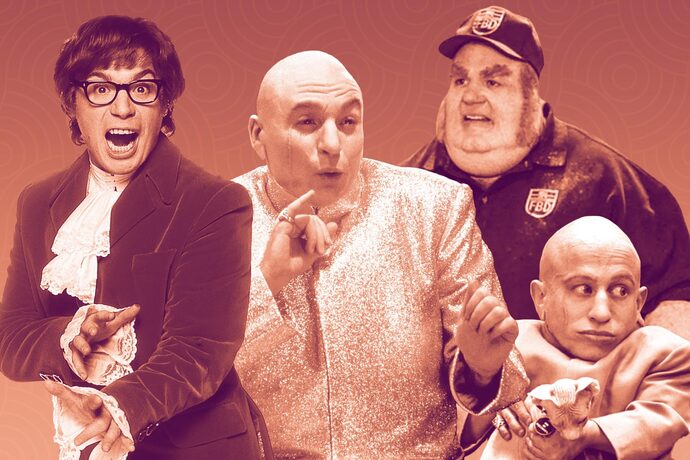 Mike Myers is the antagonist to his own protagonist in this eccentric movie franchise. An obviously hyperbolic satire of the spy genre (namely James Bond) with a healthy dose of "Swinging Sixties" culture, Austin Powers is an American comedy that pokes fun at Britain.
Across the three movies, each directed by Jay Roach, we see Myers as both the flamboyant and womanizing British spy Austin as well as his arch nemesis Dr. Evil—who also happens to be Austin's secret twin brother, which would explain the resemblance.
The character of Fat Bastard is also played by Myers in Austin Powers: The Spy Who Shagged Me, though he's of no blood relation. The Austin Powers movies are unlike anything you'll ever see, being a bizarre one-of-a-kind parody that caters to a very specific taste.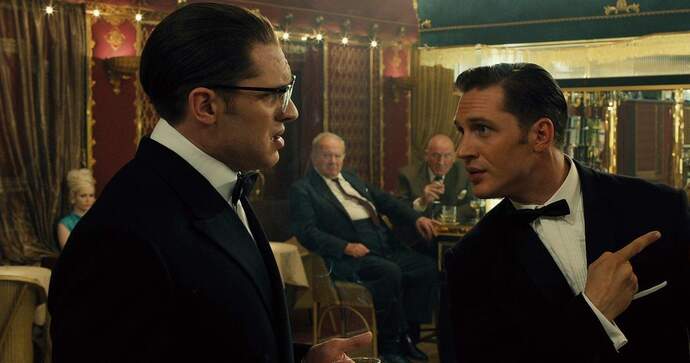 The Kray Twins were once real-life legends (as the title suggests) of the British gangster scene. Ronnie and Reggie Kray practically ran the whole East End of London back in the 1950s and 1960s, which Tom Hardy brilliantly brings to life in Brian Helgeland's crime biopic.
Reggie is an ex-boxer. Ronnie is fresh out of a psychiatric hospital for paranoid schizophrenia. Reggie is the cool businessman while Ronnie is the unstable madman. Together, they murder, rob, and racketeer their way to glory(ish) and rise through the ranks of London street crime.
As one of the most infamous twins in history, it only made sense to let the master of "hardy" acting carry out both roles. Tom Hardy pulls off both characters eloquently, balancing their wildly different personalities with a genetic common ground.
6. The Cast of Monty Python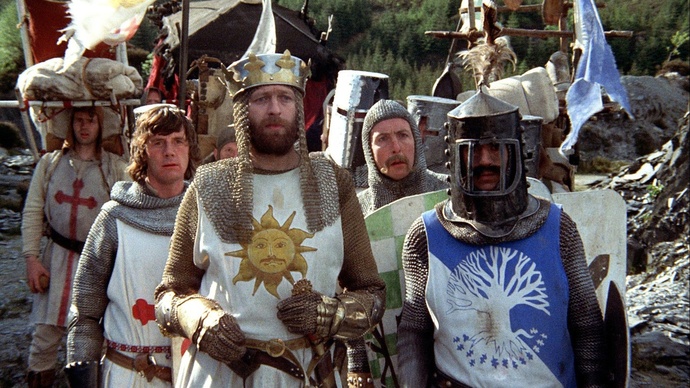 Monty Python was a comedy troupe made up of Graham Chapman, John Cleese, Terry Gilliam, Eric Idle, Michael Palin, and Terry Jones. Monty Python's Flying Circus was a four-season-long TV series of surreal comedy sketches that were the peak of British humor back in 60s.
After that, the group dipped their toes in the waters of cinema with a successful trilogy of movies. The feature films followed a similar premise of comedy sketches, this time united by a common storyline (but still using the same actors across different scenes).
1975's Monty Python and the Holy Grail unfolds during the grisly Middle Ages. 1979's Monty Python's Life of Brian takes place during the Roman occupation of Judea at the time of Jesus Christ. 1983's Monty Python's The Meaning of Life returned to the format of unrelated vignettes.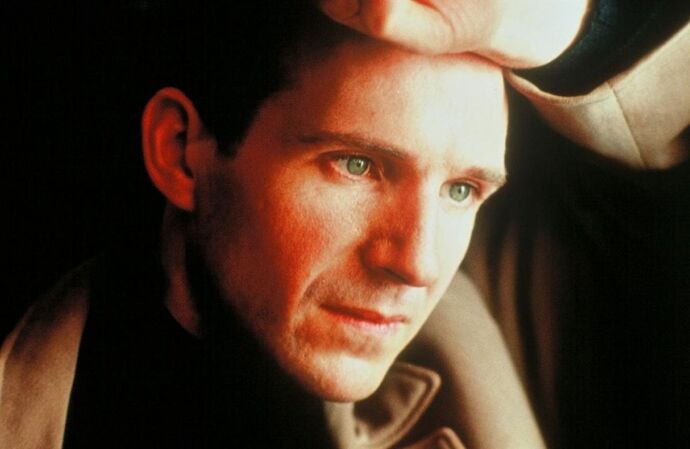 The Sonnenscheins—a fictional Hungarian-Jewish family—are victim to three generations of national unrest and trauma in Sunshine. Ralph Fiennes stars as the troubled protagonist of each era, beginning with Austria-Hungary in the mid-19th century.
After changing their family name to "Sors" to survive Nazi occupation, Adam (the son of Fiennes' first character, Ignatz) has his Jewish heritage traced and is sent to labor camp.
Then, Adam's son Ivan becomes embroiled with Stalin's communist regime, working as a state policeman and arresting Jews (in an ironic but heartbreaking kind of way).
It's pretty heavy stuff, directed and co-written by Hungarian filmmaker István Szabó, but Fiennes delivers a taut performance across it all. Also, real-life mother/daughter duo Jennifer Ehle and Rosemary Harris play the same character across the six-decade storyline.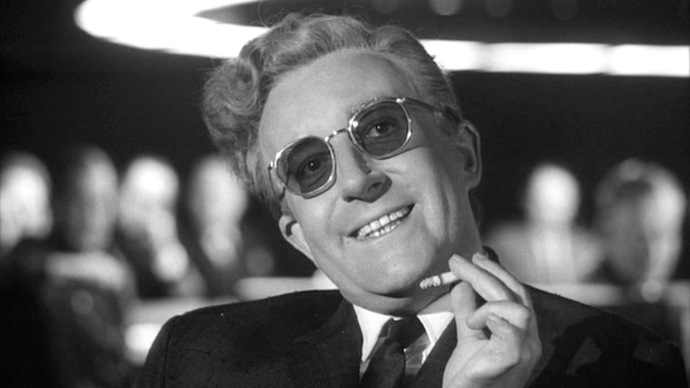 Peter Sellers rose to fame with his rendition of the clumsy Parisian inspector Jacques Clouseau in The Pink Panther series. And only a year after that first installment, Sellers was already receiving Oscar nominations for his collaboration with Stanley Kubrick!
Kubrick's landmark black-comedy—commonly shortened to just Dr. Strangelove—had Peter Sellers nominated for not just one role, but three!
Originally, he was contracted to play four major parts because the studio believed the success of Kubrick's previous film Lolita stemmed from Sellers' performance of Clare Quilty (who assumed multiple identities).
Of course, nothing is carved in stone in Hollywood. The final cut gives us Sellers as: Group Captain Lionel Mandrake, President Merkin Muffley, and Dr. Strangelove himself as an unstable ex-Nazi weapons strategist.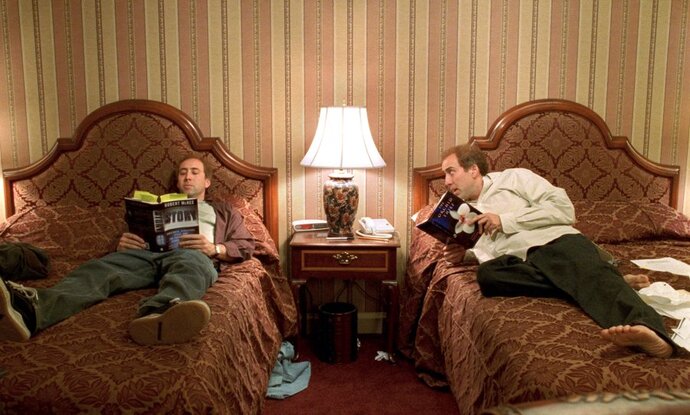 In Spike Jonze's meta-comedy Adaptation, Nicolas Cage comes through and plays a set of twins: the writer of Adaptation's script, Charlie Kaufman, as well as his imaginary freeloading brother, Donald.
The self-aware comedy-drama depicts Kaufman's struggles in adapting Susan Orlean's 1998 book The Orchid Thief for the big screen.
Although the first half of the movie is grounded in reality—with Cage at the center as a hyperbolic version of Kaufman, battling anxiety and writer's block—the ending continues on into complete fiction.
Shootouts, psychedelic drugs, and and imprisonment make Adaptation a unique blend of fact and fiction. Cage's dual role was also a reference point in his recent, similarly-meta comedy film The Unbearable Weight of Massive Talent.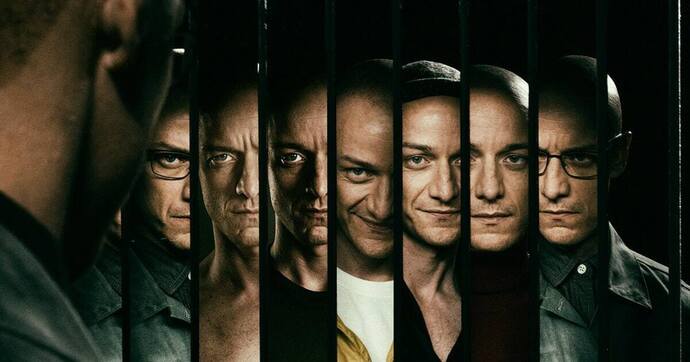 Technically, James McAvoy only plays one character in M. Night Shyamalan's psychological thriller Split: a guy named Kevin. However, Kevin suffers with dissociative identity disorder, meaning he embodies 24 different personas throughout the film.
The trope of multiple identities is common in cinema for how it paves ample room for plot twists and unpredictability. However, we've never seen it done to the same degree that McAvoy achieves here.
James McAvoy seamlessly switches between personalities in a snap, with each one's unique but subtle mannerisms, accents, and habits on clear display. His personas include: a kidnapper with OCD, a camp fashion designer, a posh old woman, a nine-year-old boy, and more.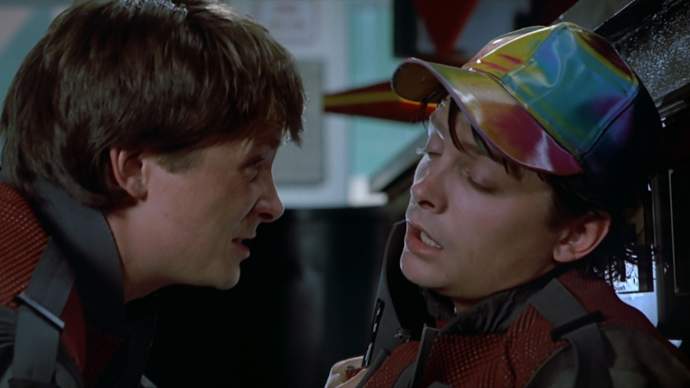 Depending on your age, observational skills, and prior knowledge of the Back to the Future film trilogy, you probably already noticed that Marty McFly's kids in Back to the Future Part II are all played by the same guy who plays Marty McFly himself: Michael J. Fox.
Director Robert Zemeckis liked having the same actors and actresses play different versions of themselves (and their ancestors) across timelines throughout this cult classic sci-fi franchise.
When Marty travels forward to the year 2015, he's warned to avoid bumping into himself and his family. But this proves difficult in a small town like Hill Valley, and Marty finds himself cosplaying as his future teenage son to fight off his bullies.
Fox only needed contacts and a change in mannerisms to embody the role of his son. But playing his daughter? That took a little more work. Luckily, it was done for comedic effect and not taken too seriously!