Technically, a pirate is just a criminal who robs boats. But we tend to think of them in more fantastical terms—you know, with eyepatches and wooden legs, brandishing their swords, while drunk off rum.
These awesome pirate movies will whisk you away to seas far away, to lands with treasure chests, to worlds of mermaids and princes. Or maybe a horrifying fight for survival in the real world...
14. Treasure Planet (2002)
Treasure Planet emerged towards the end of Disney's cartoon heyday, about half a century after the princess classics and competing with the start of Pixar's animation boom.
Treasure Planet has a distinct noughties feel about it—even though the protagonist was modeled after 1950s icon James Dean—infusing the famous 1883 novel Treasure Island with sci-fi elements.
These pirates are actually surfing the skies rather than the seas, led by a cool guy adventurer voiced by Joseph Gordon-Levitt. Sure, Treasure Planet might have bombed at the box office, but this animated cult classic eventually developed a retrospective cult following.
13. Project A (1983)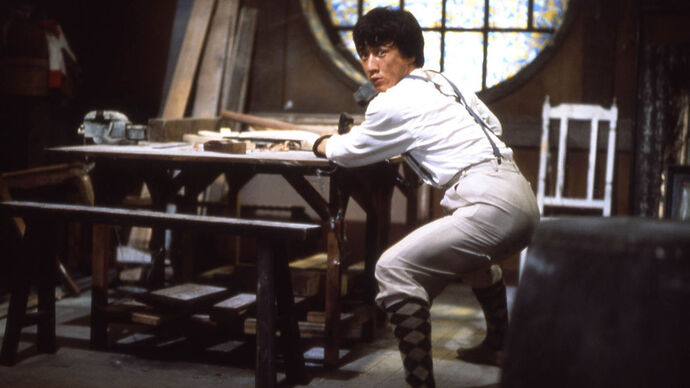 Pirates are generally associated with the West Indies, but Project A takes place in 19th century Hong Kong! Martial arts cinema isn't known for pirate themes, but Jackie Chan elegantly melded the two, starring in and directing this action-packed comedy.
Chan plays a young sergeant who takes it upon himself to battle pirates, wowing viewers with his trademark daring stunts (including falling off a clock tower). Although not widely known, there's also a Project A 2 that was released in 1987 if you enjoy this first one!
12. The Pirates! Band of Misfits (2012)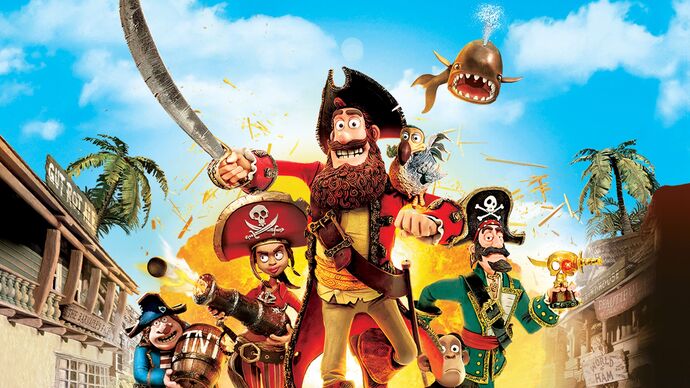 Released in the UK as The Pirates! In an Adventure With Scientists!, this "band of misfits" have exceedingly familiar faces. Oh, yes—they look like Wallace and Gromit, don't they?
Made by the same stop-motion studio who brought us that cheese-loving duo, The Pirates! Band of Misfits rewinds back to London in 1837. Although England believes they rule the oceans, a few pesky pirates get in their way... and in their own way.
The gang's voices are just as familiar as their features, all thanks to the voice cast of British favorites including Hugh Grant, David Tennant, Imelda Staunton, and Martin Freeman.
11. Treasure Island (1950)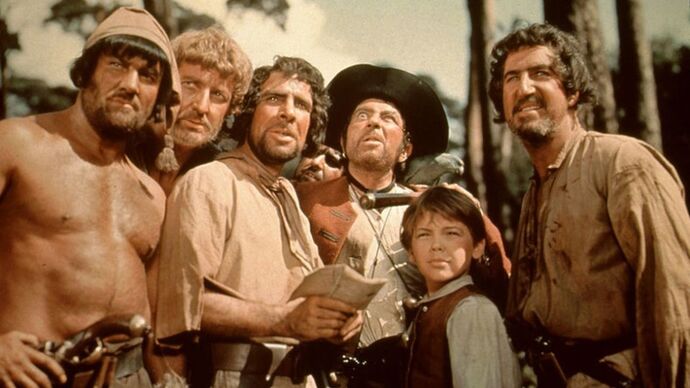 If there's one thing pirates love (other than rum), it's treasure hunting! The stereotypical tropes of a pirate—a perched parrot, a missing leg, tropical islands and a map marked with an X—originated in Robert Louis Stevenson's classic novel Treasure Island.
Even if you've never read the novel, you've no doubt heard of the children's story in which the lesson is that greed (i.e., treasure hunting) doesn't really bring fulfillment.
There have been all sorts of Treasure Island movie adaptations, but the most beloved is Byron Haskin's 1950 version. (If you're a cinephile, I'd also recommend Victor Fleming's 1934 version—the man behind The Wizard of Oz and Gone With the Wind.)
10. Swiss Family Robinson (1960)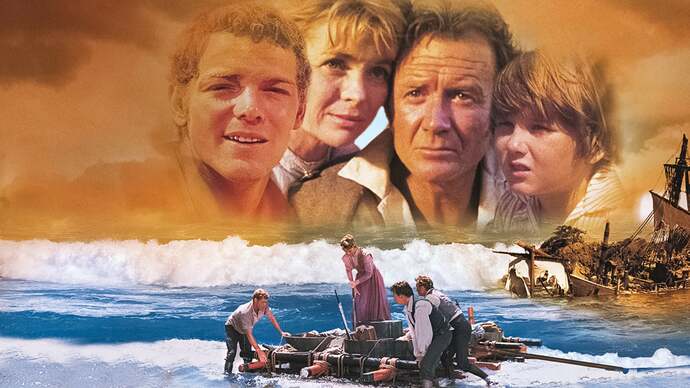 Reminiscent of Daniel Defoe's 1719 story Robinson Crusoe, The Swiss Family Robinson also originated as a 19th century children's book. Penned by Johann David Wyss in 1812, The Swiss Family Robinson centers on a family that's shipwrecked in the East Indies and must learn to survive.
It doesn't sound very family-friendly, but Disney perked it up in their live-action movie adaptation that maintains a solid fanbase despite controversy. Pirates aren't the only thing this Swiss family must overcome—there are also booby traps, tigers, and starvation.
9. Hook (1991)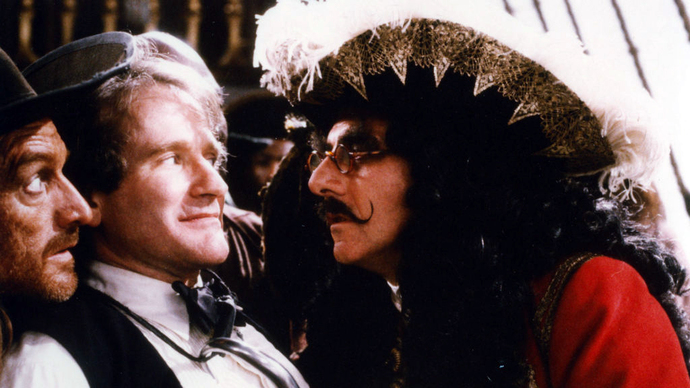 Hook may hold a terrible Rotten Tomatoes score, and Steven Spielberg might've admitted that he doesn't really like the movie despite being the one who directed it, but Hook remains a collective favorite.
The premise follows Peter Pan, the boy who doesn't grow up... except, he's actually a grown-up. This cozy, almost-Christmas classic is imbued with nostalgia, and who could hate Robin Williams's wholesome performance as Peter?
Having forgotten his magical childhood, Peter must remember his pre-lawyer identity to save his kids from Captain Hook (humorously played by Dustin Hoffman). It's a super-fun reimagining of an antique tale.
8. Captain Blood (1935)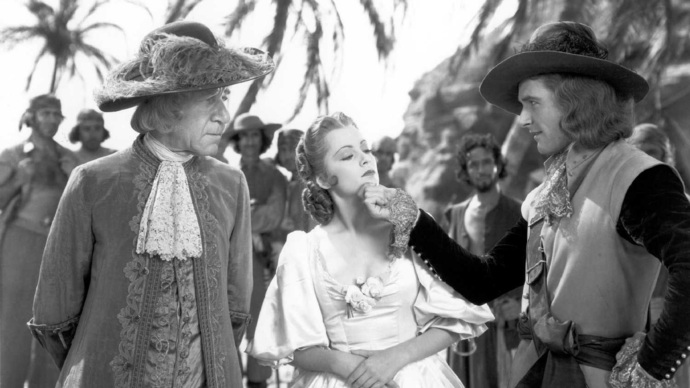 Peter Blood (played by Errol Flynn) is just performing his normal doctor duties when King James II sends him to be a slave in the West Indies. Unfortunately for the kingdom, all this does is light a fire in Peter's belly to rebel even harder.
Narrowly escaping his chains, Peter becomes the Robin Hood of the sea—a great symbol of triumph in the face of adversity for the film's 1935 audience, who were still slogging through the Great Depression.
With it being a 1930s flick, you should expect a healthy dose of romance and melodrama in Captain Blood.
7. A Hijacking (2012)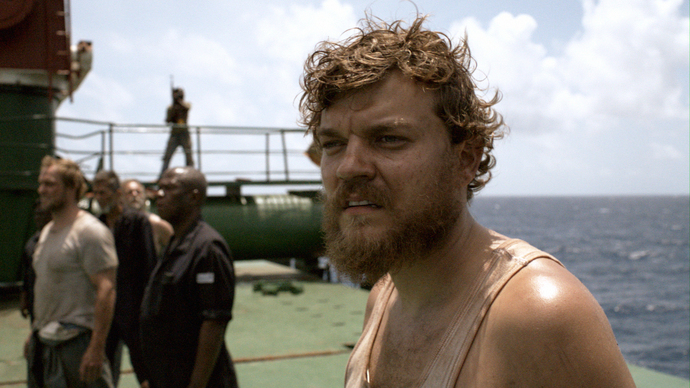 Somalia is a hotspot for modern piracy, famous for robbing hundreds of vessels and replacing fairy tale swordfights with real machine guns.
A Hijacking (or Kapringen in the original Danish) is a thriller that was released on the heels of the Somali pirate crisis of the early 2000s, inspired by news headlines of the time.
Tobias Lindholm's intense drama smacks with emotion, using realism to create genuine atmospheric dread instead of relying on tired action tropes. Pilou Asbæk plays the ship's cook at the center of the attack, held hostage with a wife and child at home.
6. The Crimson Pirate (1952)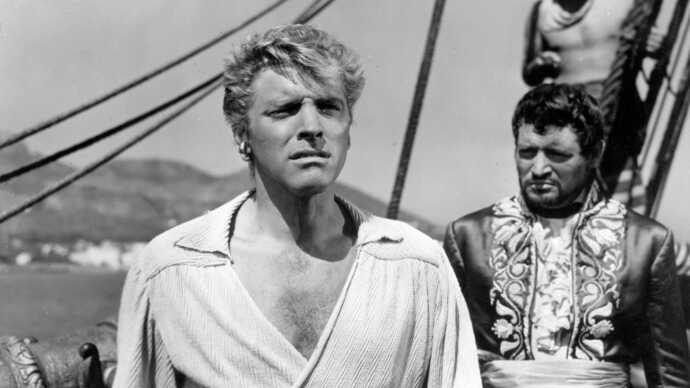 Before he was a big-shot actor during Hollywood's Golden Age, Burt Lancaster was part of the circus. Specifically, as an acrobat. Those rope-swinging skills came in handy during The Crimson Pirate as he sailed Tarzan-like "in a pirate ship, in pirate waters, in a pirate world."
Here, on the fictional island of Cobra, Captain Vallo gets tangled up in more than just the ship's masts but an entire revolution. Robert Siodmak's comedy-adventure is pumped with energy and splashed with Technicolor, all the while subtly making fun of its own genre.
5. The Princess Bride (1987)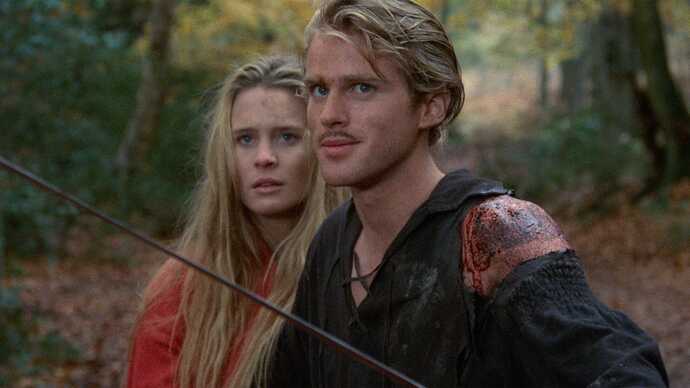 Pirate movies have a habit of being cheesy. It's just in their nature. Sometimes, though, the tackiness of the genre can earn a movie an ironic cult following year later in life.
Such is the case with The Princess Bride, an endlessly quotable comedy which, on reflection, actually has a great script. Great enough to be selected by the Writers Guild of America as 22nd on their list of 101 Funniest Screenplays!
This is likely because it was written by the same guy who penned the original novel in 1973. The princess-and-stable-boy romance is given a swashbuckling twist by William Goldman and Rob Reiner, as the stable boy ends up being ambushed by pirates.
4. The Goonies (1985)
Chris Columbus loves the sentimental—that warm, fuzzy feeling in your stomach when you settle in for retro entertainment. The Goonies is a prime example of this, written by Chris Columbus and directed by Richard Donner to become the perfect family film.
In the wake of their hometown foreclosing, a gang of kids discover a treasure map from 1632 and decide to hunt down the shipwrecked fortune of One-Eyed Willy.
Even with the deadly booby traps and the Fratelli crime family, we still wouldn't mind being part of this friendship group. (Sigh. They just don't make kids films like this anymore...)
3. Captain Phillips (2013)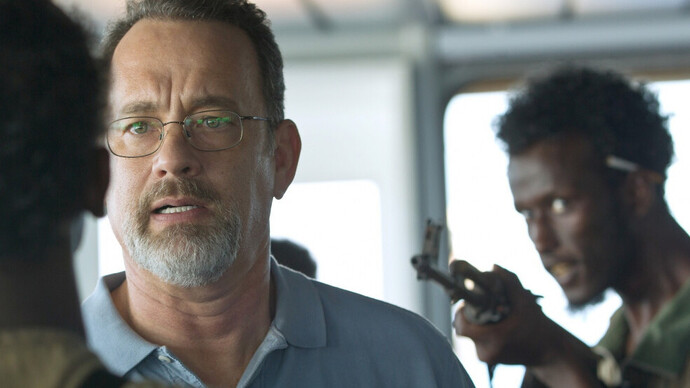 By the 2010s, Somali pirates had become a bit of a buzzword in Western media, hence A Hijacking (mentioned above) and Captain Phillips (mentioned now) being released just months apart in 2012 and 2013.
Nonetheless, Captain Phillips ticks every box for a competent Hollywood thriller while remaining impressively accurate to life. Richard Phillips really was the commander of an (unarmed) container vessel, who was held at gunpoint en route to Kenya.
Barkhad Abdi's acting debut is truly chilling as the Somali pirate leader, with whom Phillips (played by Tom Hanks) negotiates over a five-day period of captivity at sea.
2. Peter Pan (1953)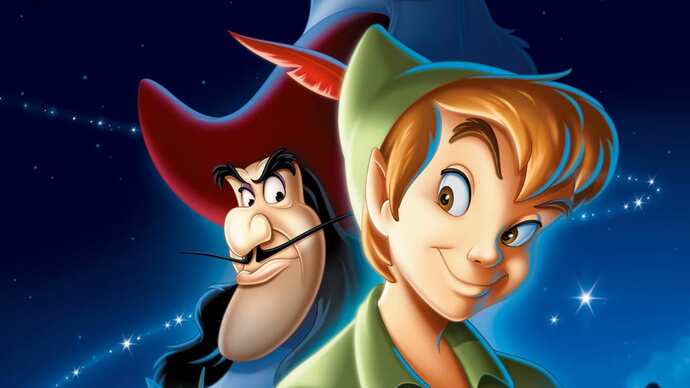 Peter Pan is the apotheosis of pirate culture, packaged in its most classic form. This world is a place where plank-walking and swordfighting are the norm, where fairies dot the sky.
Originally created by Scottish author J. M. Barrie in the early 20th century, Peter Pan is a figure of eternal youth and childhood wonder, spending his days battling Captain Hook in Neverland.
Peter Pan has come to the big screen in various forms throughout the years, but most famously as a Disney cartoon in 1953. (I also recommend P. J. Hogan's 2003 version, as well as Finding Neverland.)
1. Pirates of the Caribbean: The Curse of the Black Pearl (2003)
We say "Pirates," you say "of the Caribbean!" This film franchise is home to the most famous swashbuckler of them all.
Although the producers should've quit while they were ahead and left it as a glowing trilogy, Pirates of the Caribbean is still amongst the biggest film franchises (with more installments in development).
Johnny Depp plays the pirate in question, Captain Jack Sparrow, who's now the #1 Halloween costume and cinema's favorite drunkard. Decked out in eyeliner and beaded dreadlocks, Jack Sparrow is loyally selfish and seeks only two things: the Black Pearl and immortality. Easy, right?