True crime and murder mysteries aren't just popular on television or as podcasts—they're just a beloved in cinema.
Nine times out of ten, the perpetrator of such a crime is a single person, like a lunatic sociopath with a troubled past. Other times, it can be a large group of people, like the Manson Family.
Less commonly, the killers are a couple who work together. In movies, that could mean anything from cross-country slaughter sprees to Victorian-era barber shops.
Here are the best movies where homicidal romances and friendships lead to all kinds of killing, slaying, and slaughtering.
7. Mr. & Mrs. Smith (2005)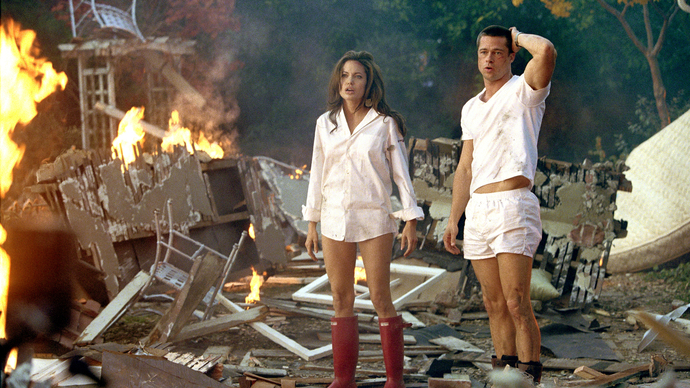 Mr. and Mrs. Smith are just about the prettiest killer couple around, played by Brad Pitt and Angelina Jolie almost a decade before they became the biggest celebrity husband and wife duo.
The sizzling chemistry between the two characters is completely real, and Mr. & Mrs. Smith marked the first of two movies that the actors would make together before their headline divorce.
Directed by Doug Liman, Mr. & Mrs. Smith is an easy-to-digest action flick that's perfect for a laid-back movie night with friends. A zingy, starry, showbiz feat of action that gives the typical romcom a new spin, Mr. & Mrs. Smith follows two assassins having marital problems.
When you're used to the lethal, adrenaline-pumping life of a trained killer, a marriage in the suburbs is bound to have its suffocating effects.
6. Sweeney Todd: The Demon Barber on Fleet Street (2007)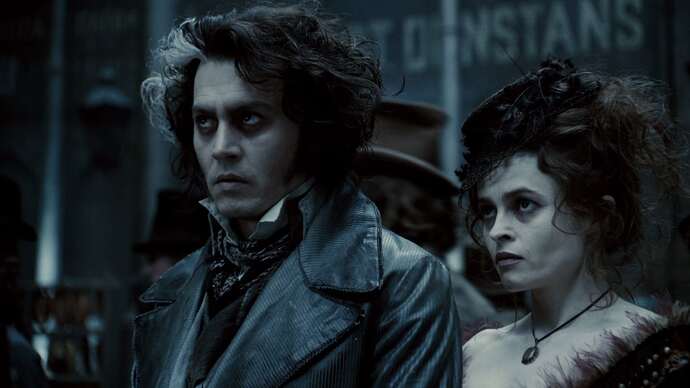 Sweeney Todd originated as a penny dreadful character in The String of Pearls, published by an unknown author back in 1846. He's a barber during the Victorian era who murders his clients with a straight razor—not the modern ideal of customer service.
But Sweeney would be nothing without his accomplice Mrs. Lovett, who bakes their corpses into pie. The couple's relationship has varied between platonic, romantic, and strictly business across various versions of the Cockney folktale, and so have their looks, backstories, and ends.
In Tim Burton's haunting adaptation, Sweeney (played by Johnny Depp) ends up shoving his platonic partner-in-crime (played by Helena Bonham Carter) in the oven.
Trouble in Gothic paradise? Sweeney Todd: The Demon Barber on Fleet Street is everything you could want or expect from a Tim Burton movie.
5. True Romance (1993)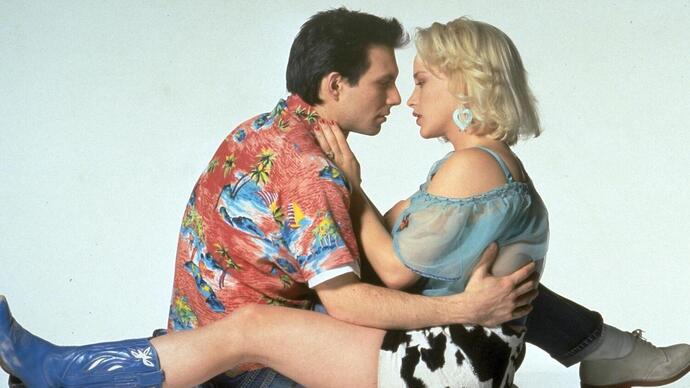 Clarence (played by Christian Slater) is a comic book geek who loves kung fu films and Elvis Presley—so much so that Elvis actually appears as an imaginary friend here.
These aren't the tropes of your usual murderer, chiefly because Clarence isn't one. Not intentionally, anyway.
Between him and his new girlfriend Alabama (played by Patricia Arquette), only three people are killed. But that's still more than most couples manage!
And by the end, the kill count towers a lot higher thanks to the unhinged drug dealer Drexl Spivey. The dreadlocked, face-tatted pimp is famously played by Gary Oldman in one of his many unrecognizable roles.
4. Heathers (1988)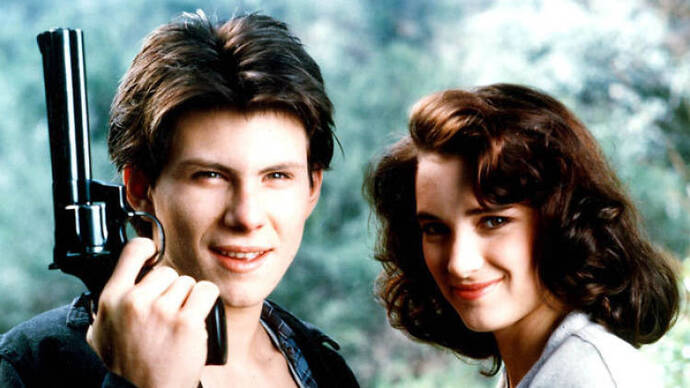 A cliquey American high school, championed by the jocks and rich girls, packed with typical teen problems (like staying skinny and avoiding eye contact with bullies), all candy-wrapped in the 1980s aesthetic.
From that combination, you'd assume Heathers to be yet another teen flick about fancying boys and arguing with friends—and that's exactly what director Michael Lehmann wants you think.
After all, that's what makes the poisonings, shootings, and suicide pacts that much more shocking.
Heathers isn't a teen drama—it's a satire of teen dramas, centering on Veronica Sawyer (played by Winona Ryder), who falls for the new kid J.D. (played by Christian Slater).
J.D. isn't a rebel-without-a-cause just to look cool. He really is an unstable criminal who, rather than shoplift from the dollar store like most youngsters, elects to kill people.
3. Badlands (1973)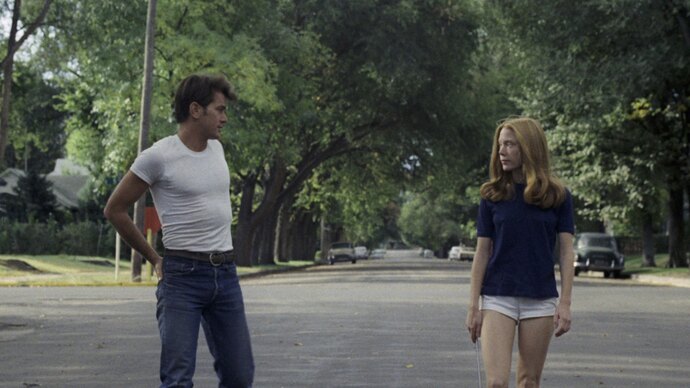 Badlands is shown from the point of view of Holly, who sees her dad as the antagonist of her desires, which imbues him with a villainous quality. But you can't really blame the guy!
After all, Holly is only 15 years old and her desire is to date a 25-year-old garbageman who thinks he's James Dean and wants to kill everybody.
Sissy Spacek plays the impressionable young girl in the dry dead-ends of South Dakota, alongside Martin Sheen as her homicidal boyfriend.
Together, they run away to the rocky badlands of Montana, where a lot of bad things go down—namely, Holly's greaser lover shooting down anyone he claps eyes on. While Holly does eventually come to her senses, it takes a lot of bullets to get there.
Terrence Malick doesn't shy away from cruelty or self-absorption in his lyrical debut, which he wrote, directed, and produced. Impressive for any movie, let alone a first try!
2. Natural Born Killers (1994)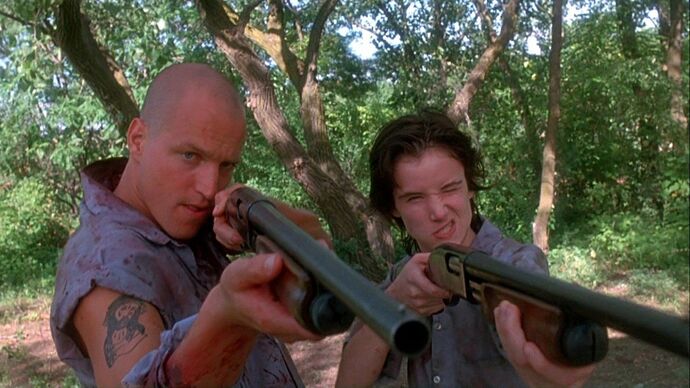 Some movies try way too hard to grab your attention, stuffing themselves full of empty spectacle so you don't have time to think about what's going on (or how the plot probably doesn't hold water).
Natural Born Killers is definitely stuffed with frenzied energy, but it doesn't fall into that vain category of emptiness. Its in-your-face approach—with inventive cinematography, fluorescent green lights, Dutch angles, montages—is done purposefully to make a point.
But what is director Oliver Stone's point? Well, behind the serial killer narrative (led by Woody Harrelson and Juliette Lewis as the mass-murdering young couple) is an allegory on media sensationalism, with Robert Downey Jr.'s TV host as a symbol of its dangers.
Funny enough, the film ironically caused several copycat crimes. Society is seemingly more crime-obsessed than ever, gripping firmly to the slogan: "If it bleeds, it leads."
1. Bonnie and Clyde (1967)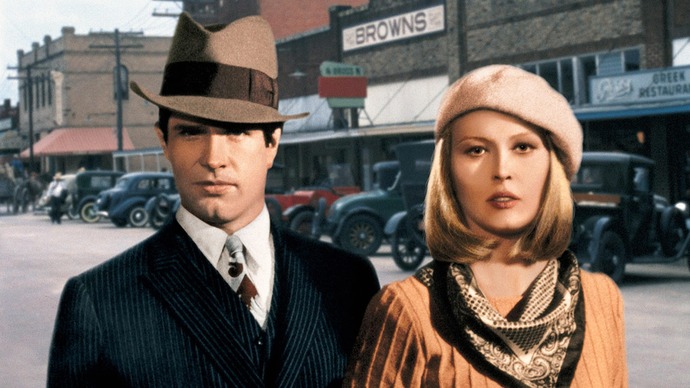 Bonnie and Clyde has a European feel to it, being one of the earliest movies in New Hollywood. Unlike the traditional studio system, this new authorial era of Hollywood—which ran right into the 1980s—championed the indie, the on-location, the artsy, and the daring.
Critics dubbed it the American New Wave for sharing qualities with the French New Wave, which Bonnie and Clyde has an aura of.
Any lover of Jean-Luc Godard will appreciate this killer couple classic, which tailgates the famous duo across the American South. Warren Beatty and Faye Dunaway play the titular gangster duo, robbing their way through the Great Depression until they meet their brutal end.
Audiences were initially horrified by the industry's newfound leniency for graphic violence, but Bonnie and Clyde's finale is fairly tame by today's standards. Arthur Penn directs this neo-noir, counterculture milestone.