Earlier this year, Brendan Fraser won the Academy Award for Best Actor for his performance in The Whale, in which he plays the morbidly obese English professor Charlie.
It's rare to see obese characters in movies, given how Hollywood tends to skew the other way, with so much emphasis on outer beauty.
However, eating disorders are a real and harrowing problem that many people face in our high-pressure society, whether it manifests as purging their guilt or eating their feelings.
Here are our picks for the best movies about eating disorders that look at characters who suffer bad relationships with food.
10. Men, Women & Children (2014)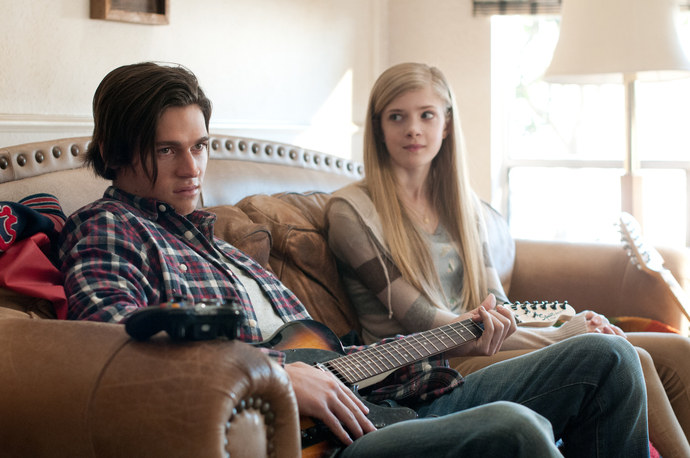 Men, Women & Children is practically one big critique about the pitfalls of modern society and its many vices: video games, social media, online dating, clout-chasing, infidelity, and diet culture.
The concept of "thinspo" is one of the worst things to come out of Tumblr, and Allison (played by Elena Kampouris) is just one of the many victims of thinspo culture.
Encouraged online by other anonymous anorexics, Allison scrolls through photos of thigh gaps to motivate her extreme dieting, opting for raw carrots over dinner.
This is partly to impress her high school friends as well as her soccer-playing crush, who takes Allison's virginity and gets her pregnant (but she miscarries from being so underweight).
Allison's story is just one in the film's web of intertwining narratives, but it's an important one. Teenage girls make up the highest rate of anorexia cases, egged on by dangerous "thinspiration" sites like the ones in Jason Reitman's depressingly honest drama.
9. Starving in Suburbia (2014)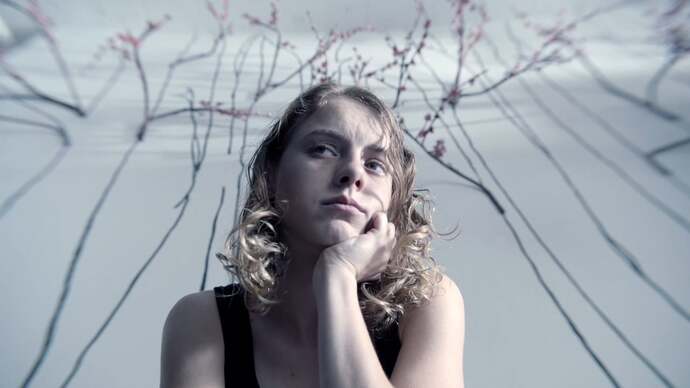 "Doesn't everyone want to be a little anorexic? Like, fashion-friendly anorexic." Sadly, some people genuinely have this mindset—one that's been warped by 21st century obsessions with skinny.
Stick-thin models like Kate Moss slather magazine covers, convincing impressionable young girls that they must be just as skinny to look good in their clothes.
In Starving in Surburbia (also known as Thinspiration), models like these cover Hannah's bedroom walls, forming a pro-ana shrine that has a cult-like presence online. Laura Wiggins plays the teenage dancer who develops a severe eating disorder.
Tara Miele's TV movie takes a deeper look at the phenomenon of "thinspiration," something that older generations might not be aware their children are exposed to.
Although the amateur editing and clichéd writing are a letdown, Starving in Suburbia is a brutal look at a tragic modern reality. It was also commended for exploring anorexia in boys, which is rarely spoken about.
8. Swallow (2019)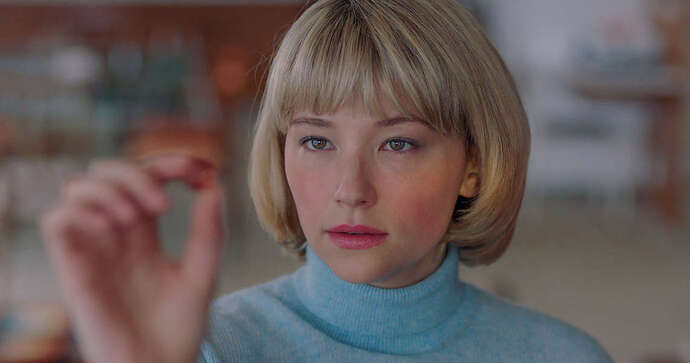 Hunter Conrad (played by Haley Bennett) has an odd diet, to say the least. Long story short, she likes to consume inanimate objects.
What starts off as enjoying the crunch of ice cubes spirals into the crunch of marbles. Eventually, a whole goody bag of screwdrivers and pins collects in Hunter's stomach.
In cinema, the bored housewife who goes mad after being ignored by her wealthy husband is a common archetype, but that mental break rarely—if ever—manifests in the form of eating metal. And this is a very real psychological phenomenon called "pica."
Carlo Mirabella-Davis writes and directs this compelling thriller about something you've probably never heard about before. Prepare to wince a few times at the sound, image, and idea of eating blades...
7. Heathers (1988)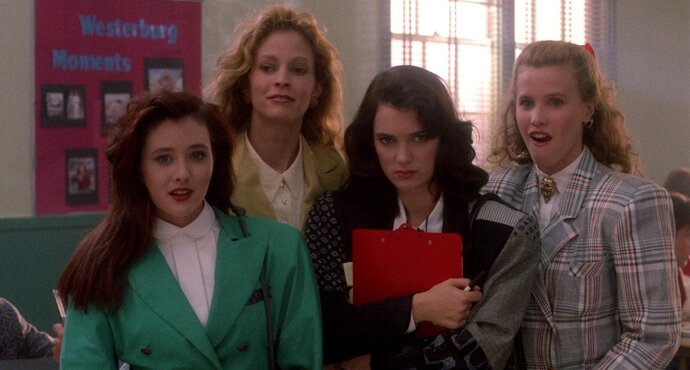 Heathers was the precursor to on-screen depictions of teenage girl troubles, paving the way for films like Mean Girls (2004) and Lady Bird (2017). Heathers has all the charm, humor, and style of an 80s classic, but looming underneath is a dark tale of death, murder, and eating disorders.
When Heather Duke (played by Shannen Doherty) calls for help while purging in the high school bathroom, her "friends" (who are also named Heather) are more than happy to help.
Here, purging is a social expectation if you want to keep your skinny spot in the school hierarchy. Different eating disorders are nonchalantly treated like fashion trends, moving in and out of popularity. ("Bulimia is so '87," one of them says.)
This precarious social pecking order rests solely on one's looks and weight, as exemplified by Martha "Dumptruck" Dunnstock (played by Carrie Lynn).
Although it's all very exaggerated in Michael Lehmann's overt black-comedy, it's done to shine a light on the ridiculously damaged world that normalises the "urge to purge."
6. Girl, Interrupted (1999)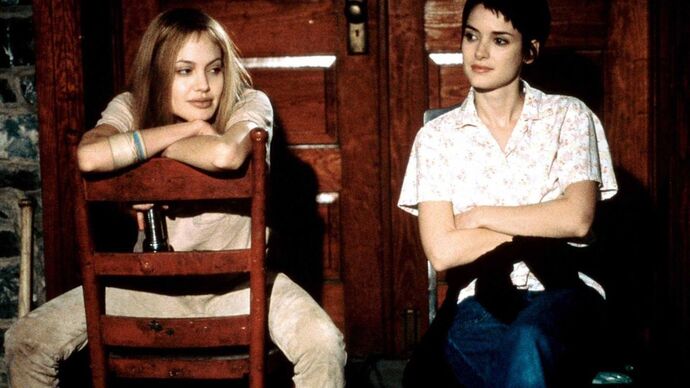 Girl, Interrupted stars Winona Ryder as Susanna, who's checked into a local psychiatric ward full of unstable women. Among them are a self-harming bulimic and a cynical anorexic.
Eating disorders are just one of the many psychological and psychosomatic illnesses present in Girl, Interrupted, which is set in the 1960s when psychiatry was still a little rocky and inhumane.
Angelina Jolie stars as the sociopathic Lisa Rowe, who encourages the other patients to resist therapy and medication. Occasionally, she does make a good point.
Everything about James Mangold's drama is intense and hot-headed, treading the line between self-indulgence and raw honesty. It's also based on a memoir by Susanna Kaysen, so the experiences portrayed are completely real.
5. What's Eating Gilbert Grape (1993)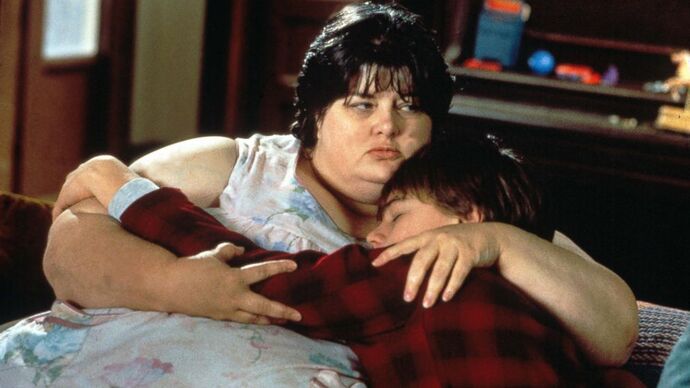 In What's Eating Gilbert Grape, Leonardo DiCaprio proved himself a talented rising star with his portrayal of an autistic (and possibly OCD) young boy named Arnie.
He's looked after by his older brother Gilbert (played by Johnny Depp) alongside his two sisters. Most of the Grape family struggles with mental illness and/or disabilities.
Their mother Bonnie suffers with severe depression, leading her to binge-eat into obesity, unable to even climb the stairs. In fact, she hasn't climbed the stairs since her husband committed suicide.
Bonnie's morbid size makes her the laughing stock of their Iowa town, and she's unable to care for her children properly.
Directed by Lasse Hallström, What's Eating Gilbert Grape explores the effects that grief can have on a person. Those in mourning typically tend to lose their appetite, but they can also dive in far too deeply.
For Bonnie, the latter is taken to the extreme, and actress Darlene Cates even spoke openly about her own battle with obesity.
4. To the Bone (2017)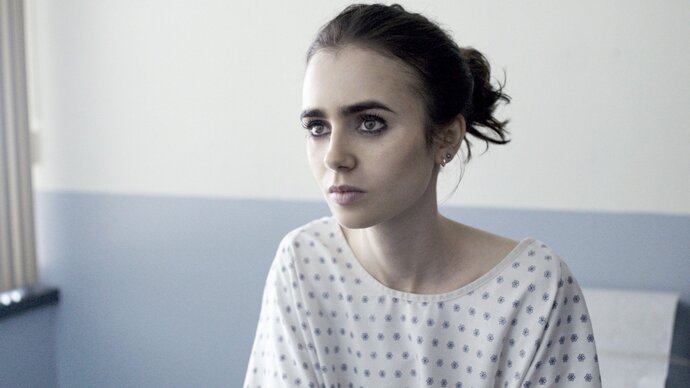 Lily Collins was unsure whether to take the leading role in To the Bone, in which she had to play a college dropout whose life is taken over by anorexia. Collins had her own battles with eating disorders as a teenager and was reluctant to put herself back in that headspace.
And yet, her personal experience is what made her performance in Marti Noxon's Netflix drama so believable. In the film, she knows exactly how many calories are in everything off the top of her head. She also bruises her exposed spine simply by doing crunches.
To the Bone is a hard, trigger-laden watch. It's certainly to be approached with caution for anyone who might struggle with anorexia.
Noxon doesn't shy away from the brutal truths of the condition, which go beyond just "being skinny." The physical and neurological side effects that come with starving land Ellen in an in-patient program.
3. Precious (2009)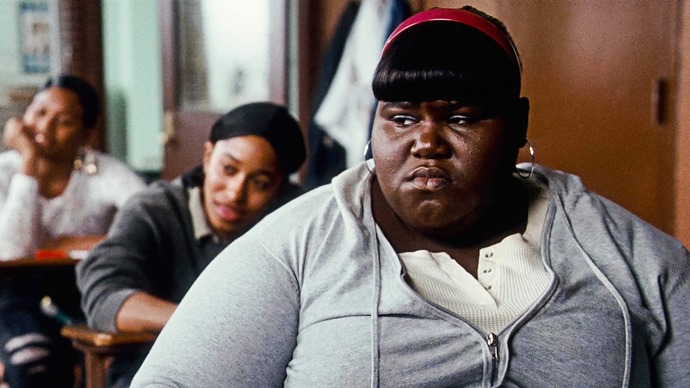 Gabourey Sidibe gave a shining acting debut in Precious, Lee Daniels's disarming adaptation of the 1996 novel Push. The award-winning indie drama is harrowing, to say the least, and it's not the coming-of-age movie to reach for when you need an uplifting teen romcom.
Precious take a hard look at urban poverty in America, where 16-year-old Claireece "Precious" Jones lives in a cramped, dingy apartment with her abusive mother. The story's dark nature is evident from the beginning, with Precious pregnant with her second child via rape by her father.
Living in a world of bullying, welfare, and childhood trauma leads Precious to find comfort in any narrow window—like food. Sexual abuse and pregnancy cause Precious to lose control of her own body, and when she eats, it doesn't always stay down.
Precious occasionally vocalizes her shameful feelings, both toward her eating and her handicapped child nicknamed "Mongo." Horrible as all this is, Precious is an important watch to raise social awareness.
2. The Machinist (2004)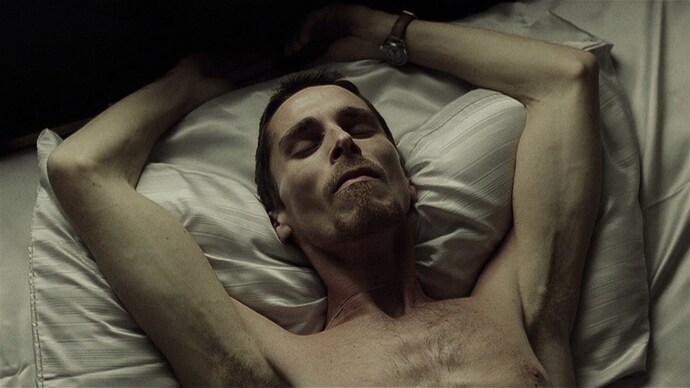 Christian Bale's weight loss for The Machinist is still talked about to this day, nearly two decades later. Viewers can't get over his physical transformation or how he still had enough energy leftover to make a movie (or simply stay alive).
Paranoia and insomnia have drastic effects on appetite and health, and Trevor Reznik of The Machinist is an extreme example of this.
Although we aren't quite sure what it is at first, something in his past causes Trevor to lie awake at night, starving and hallucinating. (Brad Anderson cleverly reveals the reason for this in a twist ending.)
Although it wasn't the first—or last—time that Christian Bale underwent an acute weight change for a role, no movie has ever seen him go quite as a low as 110 pounds again. To achieve this skeletal figure, Bale restricted himself to just an apple and cup of coffee a day.
1. The Whale (2022)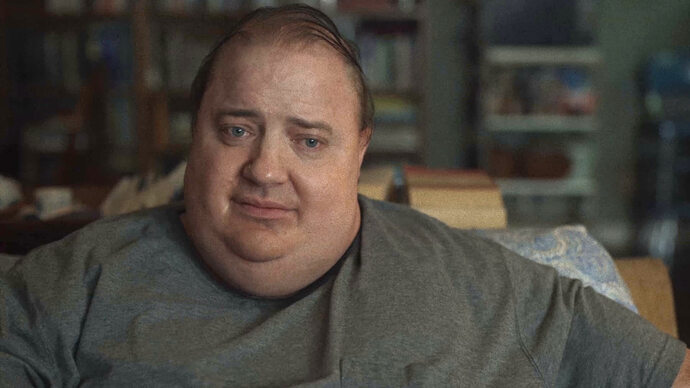 After sporting biceps in The Mummy (1999), it was a surprise to see Brendan Fraser make his comeback as a 600-pound recluse in The Whale. Nobody saw that coming.
Overcome with grief and guilt from the suicide of his partner Alan (over whom he lost his wife and daughter), Charlie has spent the past few years of his life binge-eating alone at home—and now he's stuck.
The entirety of Darren Aronofsky's poetic drama unfolds in Charlie's home, where the only people he interacts with are his nurse friend Liz (played by Hong Chau), a New Life Church missionary (played by Ty Simpkins), and his estranged daughter (played by Sadie Sink).
Two of them are trying to save his life while the other is only there for inheritance money.
The title of The Whale might seem obviously chosen, but it's also a reference to the 1851 novel by Herman Melville: whenever Charlie's heart threatens to give out, he makes whomever is nearby read out an essay on Moby Dick:
"I felt saddest of all when I read the boring chapters that were only descriptions of whales, because I knew that the author was just trying to save us from his own sad story."
Is Charlie the whale or the author in this sad story? We'll let you decide.