Xbox Game Pass Ultimate is a fantastic service that takes the core service of Xbox Game Pass and adds PC availability as well as a handful of other great features. One of the most useful features in Xbox Game Pass Ultimate that you might've overlooked is Xbox Cloud Gaming.
Long story short, Xbox Cloud Gaming gives you the ability to play numerous Xbox games on a variety of devices, including Xbox gaming consoles and non-Xbox gaming devices.
But is Xbox Cloud Gaming worth it? What do you need to start using Xbox Cloud Gaming? Here's everything you need to know about Xbox Cloud Gaming and how to start playing Xbox games anywhere.
For Xbox Gamers
Xbox Game Pass unlocks 100+ high-quality games playable on Xbox and PC, plus all the benefits of Xbox Live Gold and EA Play.
What Do You Need for Xbox Cloud Gaming?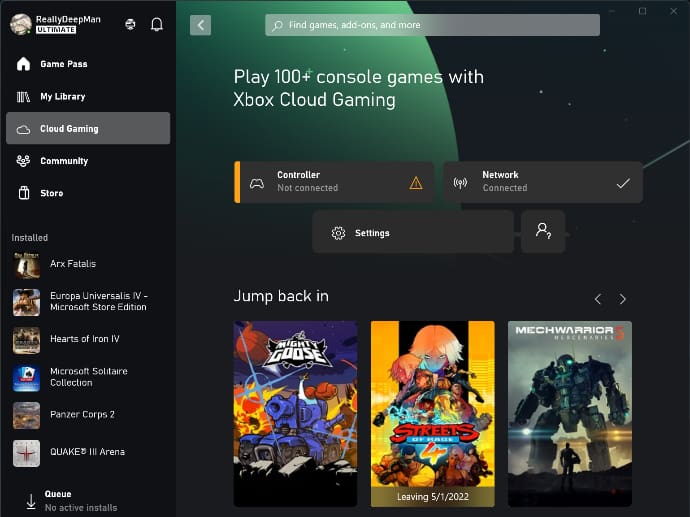 To access Xbox Cloud Gaming, the only option as of this writing is to subscribe to Xbox Game Pass Ultimate. Membership starts at $14.99 per month, but you can get a slight discount if you pay for multiple months at a time. Subscriptions also go on sale from time to time.
You'll also need a supported device. These include modern Xbox consoles (Xbox One and later), Windows PCs, tablets, and smartphones. Not every device is guaranteed to work perfectly, so check out this list of Xbox Cloud Gaming verified devices on Reddit.
Xbox Cloud Gaming is built into Xbox consoles and Windows 11 PCs. It's also available via the Xbox Game Pass app on Android. For Apple devices, you'll need to open Safari (or your web browser of choice) and head to xbox.com/play to start playing.
As the word "cloud" in the name implies, Xbox Cloud Gaming is an internet service—so you'll need a reliable internet connection.
As far as how much internet bandwidth and speed you need, that'll depend on the device you're using as well as what games you intend to play, but typically you'll need between 10 to 20 Mbps.
If you're gaming on an Xbox console, PC, or tablet—basically, any device with a larger screen—you'll need an internet connection that can reliably deliver toward the 20 Mbps end of the spectrum. If you're gaming on smaller screens like mobile phones, you can make do toward 10 Mbps.
An important note if you intend to use Xbox Cloud Gaming on mobile devices: you'll need either 4G mobile data or 5 GHz Wi-Fi.
How Does Xbox Cloud Gaming Work?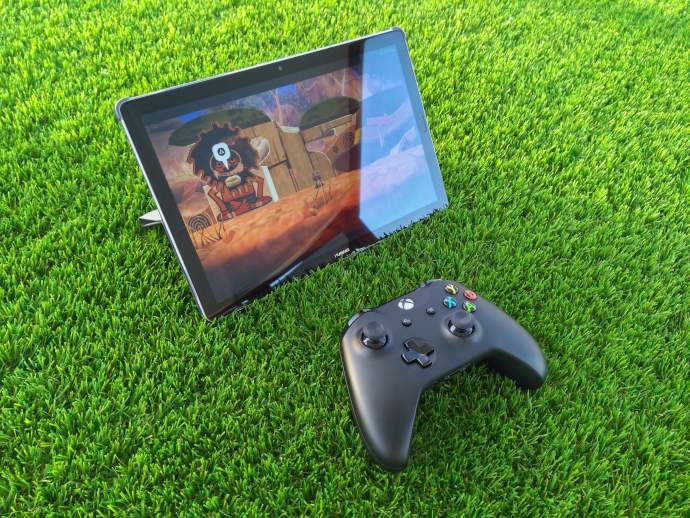 Unlike Xbox Remote Play, Xbox Cloud Gaming does not stream games from your own Xbox console to another device. Instead, Xbox Cloud Gaming streams games directly from Xbox servers.
The primary upside to Xbox Cloud Gaming is that you can play any of the cloud-enabled games in the Xbox Game Pass Games Library without owning a single Xbox device—and that includes Xbox Series X|S games. (As of this writing, there are over 350 cloud-enabled games.)
The other upside is that you can start playing those games right away. There are no downloads, no installations, no setup. Games are immediately accessible, and your save data is shared between any and all devices you use for Xbox Cloud Gaming.
The downside to Xbox Cloud Gaming is that it requires a stable internet connection with enough bandwidth to support all the data coming in, plus low latency to the servers so you don't experience input lag.
Xbox Cloud Gaming streams at 60 frames per second, so you don't need to worry about janky frame rates. However, to meet this goal, games only stream at 1080p (no option for higher resolutions like 1440p or 4K).
That might be a let-down if you're using Xbox Cloud Gaming on a 65-inch TV. It appears Microsoft expects most players to use Xbox Cloud Gaming on portable devices with smaller screens—laptops, tablets, and smartphones—where a lower resolution is less noticeable.
What Games Are on Xbox Cloud Gaming?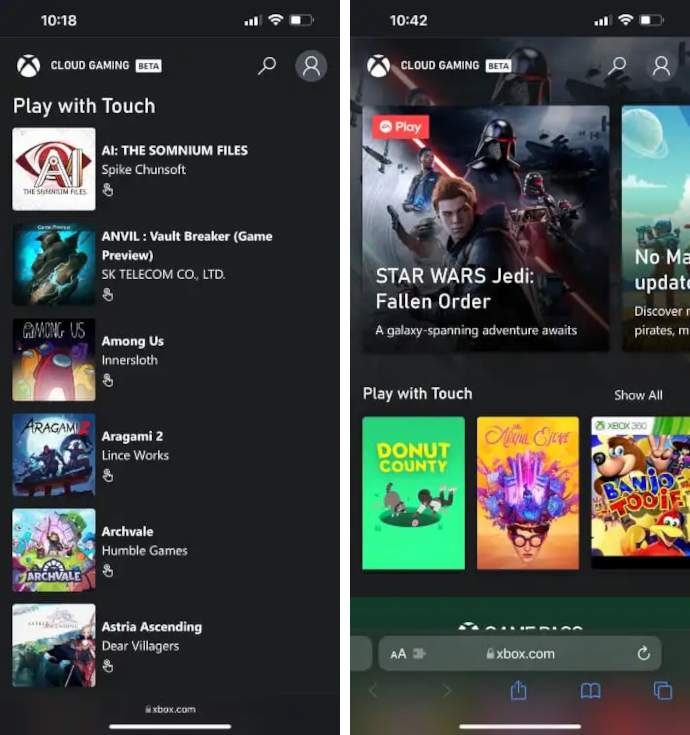 Whether you're using the Xbox Game Pass app on Android devices or using the web version on Apple devices, Xbox Cloud Gaming makes it easy to see which games you can play via cloud and which you can't. It doesn't stop there, though.
There's also a special "Play with Touch" indicator, which indicates games that can be played without a controller. For games without this indicator, you'll want to pair an Xbox controller or use some sort of smartphone game controller attachment.
Examples of touch-friendly games on Xbox Cloud Gaming include: the hit roguelite Hades, the sprawling RPG Dragon Quest XI S: Echoes of an Elusive Age, and the quirky platformer Psychonauts 2.
If you prefer to play with a controller, the library opens up with Halo: The Master Chief Collection, The Elder Scrolls V: Skyrim Special Edition, and Mass Effect: Legendary Edition, among other solid offerings.
Latency on Xbox Cloud Gaming is decent. It's certainly better than Sony's cloud gaming service PlayStation Now, though it remains to be seen if the revamped PlayStation Plus will improve on this aspect.
Every game Microsoft has made available on Xbox Cloud Gaming is perfectly playable, but a fast internet connection certainly helps.
Is Xbox Cloud Gaming Right for You?
If you've already got an Xbox Game Pass subscription, it's absolutely worth paying the extra few bucks for Xbox Game Pass Ultimate to at least try out Xbox Cloud Gaming.
If you don't have Xbox Game Pass at all but there are several games in the Xbox Game Pass Games Library that catch your eye, it's worth spending $15 to try all those games in one month. (If you wait for a sale, you might even be able to snag your first month for just $1.)
Whether Xbox Cloud Gaming is for you mostly comes down to where and how you play games. If you always play on the couch, it doesn't make sense; if you find yourself wishing you could jump into Halo Infinite on your lunch break, it's a great option.
It's doubly great if you prefer slower-paced games like turn-based strategy, RPG, or deckbuilders like Monster Train. Xbox Cloud Gaming is a great way to turn any of your devices into a portable gaming machine.