Listening to music is one of life's great joys, and it's something most people can appreciate. Creating music isn't always the same. Playing an instrument isn't for everyone, nor is singing. If you can't or don't want to sing or play an instrument, you might think you're left out in the cold when it comes to music.
There might have been a time when that was the case, but fortunately, it isn't any more. We have technology that can help you create all kinds of music, whether you know something about music but don't play an instrument or you don't know the first thing about music.
1. Drum Machines & Groove Boxes
If the most important think about music to you is the beat, you might want to look into a drum machine. These range from less than $100 to much more expensive, but they're all tools that let you easily create a beat and then sculpt the sounds. As you learn to use them more, you can even create the background to entire songs.
Groove boxes take things a step further. These incorporate drum machines at their core but then take that idea and run with it. A groove box lets you add more sounds and instruments, going from absolutely scratch to a fully finished song all within one device. Of course, buying a hardware groove box or drum machine isn't for everyone, which is where the next option comes in.
2. Music Creation Apps
Whether it's on your phone, your computer, or your tablet, music creation apps are available on any computing platform you can think out off. I'm not talking about digital audio workstations here, which are meant more for pros, but rather apps like Propellerhead's Reason or FL Studio.
Some of these apps may emulate a drum machine or groove box. In the case of Reason, it emulates a whole rack of synthesizers and drum machines ready for you to start playing with. Yes, musicians can use these too, but you can easily just start poking around and seeing what kind of sounds you make. Eventually, you'll learn how to make sounds you love.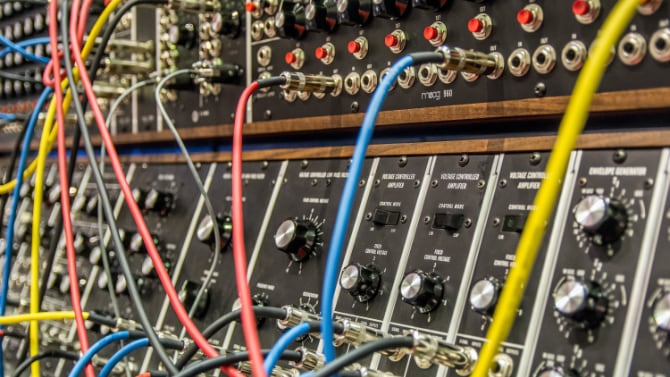 3. Video Games
If you're looking for some of the thrill of making or performing music but without the stress, there are plenty of video games that can help you here. From the "rhythm violence" game Thumper to game franchises like Let's Sing, there's plenty of fun to be had, but that's just the beginning.
Nintendo Switch owners have another option with the Korg Gadget. This is a fully-fledged music making tool, but in the form of a video game. Korg Gadget doesn't quite turn your switch into a portable music studio, but it's probably as quick as anything will come. It features 16 synthesizer and drum machine "gadgets", and you can even collaborate with other people via the software's multiplayer mode.
4. Remixes
Even if you don't think you have a creative bone in your body, you can still express yourself by remixing existing songs. Not satisfied with just one? Mix a few songs together to create a mashup. Your possibilities are practically endless, you just need some software to help you get started.
Which is going to be the right software for you depends on a lot of factors, but there is no shortage of it out there. Native Instruments Traktor Pro is a popular choice, as is Serato DJ Pro. Ableton Live is closer to a digital audio workstation, but has powerful tools for chopping and slicing existing audio into your own creation.
5. Blur the Lines
There's nothing that says you have to stick to any one of the options on this list. For example, you could create a beat with a drum machine, import that into your computer and combine it with a synth line from music creation software. Once you have them, chop and slice them with your favorite song to make it even more your style.
The more you do to make your music the own, the more you'll get from it, so don't be afraid to break the rules.