There are a million things to do at PAX East: you can go hands-on with all sorts of unreleased video games from AAA studios and indie developers; you can shop for geeky stuff until your bank account screams for mercy; if you really like spending money, you can spend way too much on convention center food.
Or, you can ignore all of these things and spend your time playing Dungeons & Dragons, like I did. If you decide to go this route (and you have my full support), you're probably wondering what to expect. After all, playing D&D at a convention is quite a bit different than going to your buddy's house or even hanging out at your local board game cafe.
Well, I spent most of my first day at PAX East playing Dungeons & Dragons, just so I can let you know what to expect when you show up. Obviously, there will be some differences every year, but the overall structure of PAX East's D&D play has remained fairly similar over the years, and that should continue going forward.
It's More Organized Than It Looks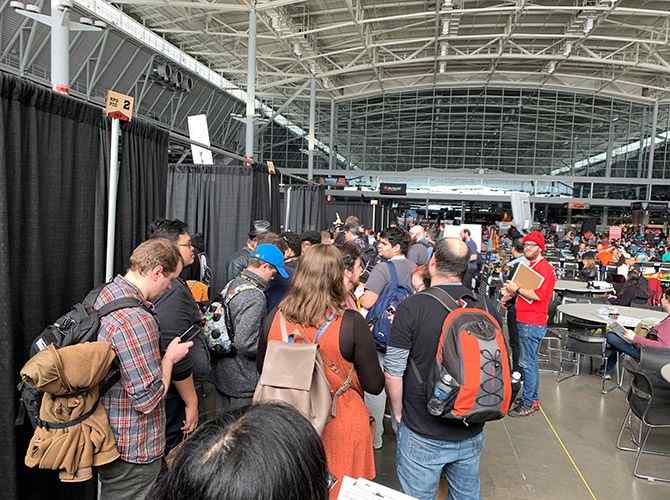 When you approach the D&D area, it might look a bit intimidating. There's a bunch of curtained off areas and lines of people waiting to play. It looks like a giant, disorganized mess, but it's actually quite a smooth system.
They run things a bit like a restaurant. They ask you how many are in your group, which makes it so you can play with your friends, and then they group you up with other players. When you get to the front of the line, they'll lead you and your group to your play area, introduce your DM, and send you on your way.
Here's When You Should Line Up
For my first session, I assumed I would need to get there early in order to get a spot—so I was right near the front of the line and I got a table quickly. As expected.
But for the next session, I showed up about five minutes before the games were scheduled to start. A host came down the line and asked how many were in my group, and then put me with a group of five other players. We moved to the front of the line, and then we were brought to a table to play. It was just as smooth as the time I showed up early.
This only really applied on Thursday and Sunday. Friday and Saturday are crazy busy. In fact, they start the lines about 45 minutes to an hour before the next session begins. I saw people getting turned away from the next session with 15 or 20 minutes to spare, so you will want to plan ahead and line up early on those days, especially if you're coming with a large group. If you're alone, they may be able to squeeze you in with another group, but there's no guarantee.
Split Into Two Games
At PAX East 2020, there were two different styles of games: The Adventures League and Acquisitions Incorporated. They both have different feels, but they're both a lot of fun.
This might vary depending on the PAX you attend, so you'll want to check the schedule once it comes out to see exactly which games are running. You can probably count on the official Adventures League running, but other games might change.
You Don't Need to Bring Anything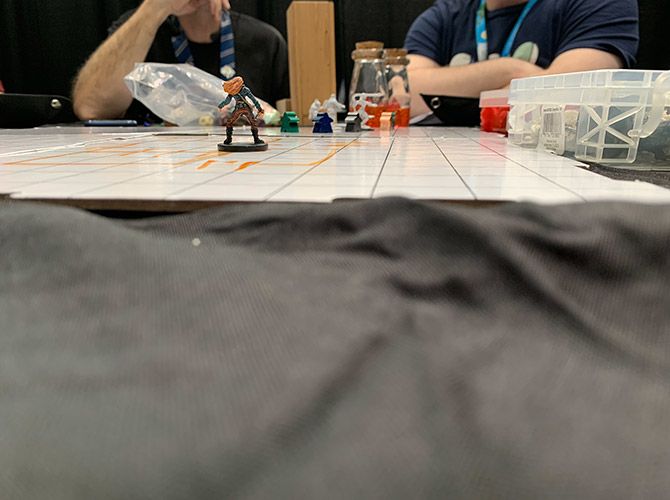 The dungeon masters had more than enough dice and pencils available for players, so you don't need to worry about carrying your entire D&D kit around PAX with you in order to play D&D. You absolutely can bring your own stuff, but you don't have to.
This also applies to characters. There are tons of preconstructed, level 1 characters to choose from. Whether you want to play a bard, wizard, fighter, or anything else from the Players Handbook, there will probably be a character there for you. And if what you normally play isn't available, the convention is the perfect time to experiment with something new.
DMs Vary in Skill and Style
The dungeon masters are volunteers, and the way they run their games will vary greatly. I had some DMs who were incredibly animated. I had some who were more lowkey. If you're used to a certain style from your home DM (or if you DM yourself), just be prepared that at a convention you're going to encounter different styles that may take some getting used to.
What I did find was that all of the DMs did a good job and genuinely seemed like they enjoyed being there. Even at a session late in the day, they were still energized and ready to make sure we had a good time.
Games Only Take 2 Hours
This can either be a pro or a con, but games are two hours long, and they don't run over. Sessions start every two hours, so they need to wrap yours up so the DM can move onto the next one.
This means that things might feel a little rushed towards the end. Keep this in mind if you're the kind of player who gets really into roleplaying, as your long actions might make it so the end of the adventure needs to be rushed. Try to keep things moving so you can finish the story.
On the plus side, this means you won't need to dedicate your whole day to Dungeons & Dragons if you don't want to. You can swing by for a two-hour session and then get on with your other convention plans.
And if you want to go long, just get back in line and get in the next session.
It Runs All Day, Every Day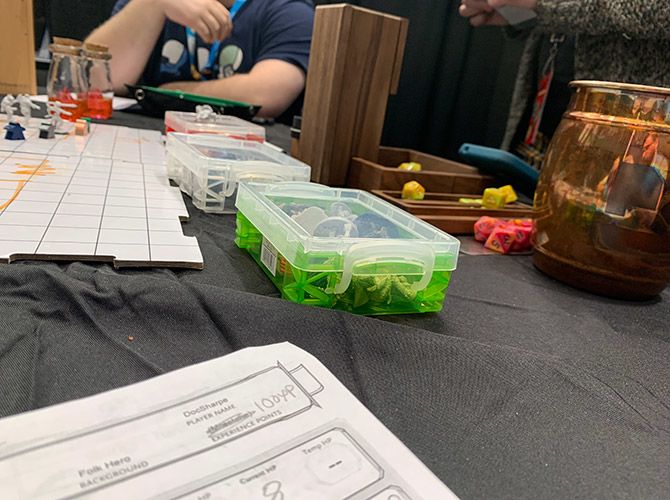 If you get stuck behind a crowd of people taking photos of cosplayer and you don't make it to a session in time, don't panic. As mentioned, the sessions run ever two hours, so you can just catch the next one. They literally run from the 10 AM to 10 PM, which means there are plenty of sessions for you to jump in on.