Who doesn't love a good inspirational quote? Whether they're plastering our Facebook feeds or hanging on our bedroom walls, quotes can give us that little nudge we often need as reminders to stop worrying so much and to start appreciating the gift of life!
Cinema history is chock-full of memorable quotes from "You talkin' to me?" (Taxi Driver) to "Frankly, my dear, I don't give a damn" (Gone With the Wind). Among them are hundreds that are truly inspiring.
Here are my picks for the most inspirational movie quotes on life, friendship, love, presence, and gratitude.
15. "Sometimes, it's the people who no one imagines anything of who do the things no one can imagine." (The Imitation Game)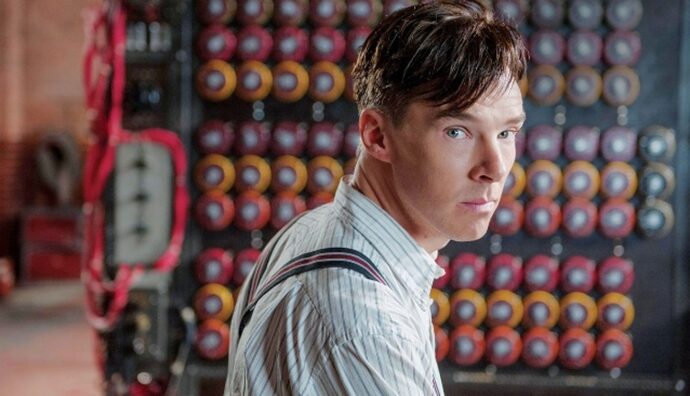 The Imitation Game is an extraordinary true story that's both happy and sad. Despite the fact Alan Turing saved thousands of lives with his Turing machine—the first "digital computer"—he committed suicide at the age of 41 after being convicted for homosexuality.
Director Morten Tyldum weaves this quote throughout his Oscar-winning biopic whenever characters are trying to motivate each other in the face of war and complications.
At the end of the movie, Turing's (Benedict Cumberbatch) long-time friend Joan Clarke (Keira Knightley) circles back to these very same words that Turing once gave her when she felt stuck.
14. "Help each other. Love everyone. Every leaf. Every ray of light. Forgive." (The Tree of Life)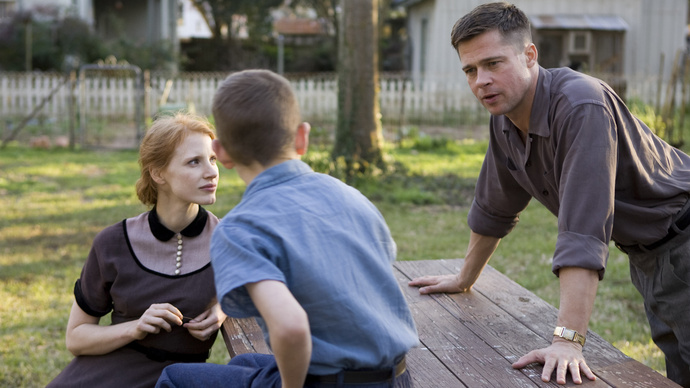 The Tree of Life is an artistic exploration of life itself that's rich with poetic words and imagery. This movie is omniscient, philosophical, and thought-provoking as director Terrence Malick aims to provoke feelings of understanding, grace, and forgiveness.
Various characters narrate over the sweeping visuals of nature and humanity, most beautifully done by Jessica Chastain. She plays a grieving mother and sensitive soul whose angelic presence stays firm despite the loss and violence around her.
Her advice is simple yet profound, a gentle reminder to be kind to each other no matter what, and it touches us like rays of light.
13. "Remember, no man is a failure who has friends." (It's a Wonderful Life)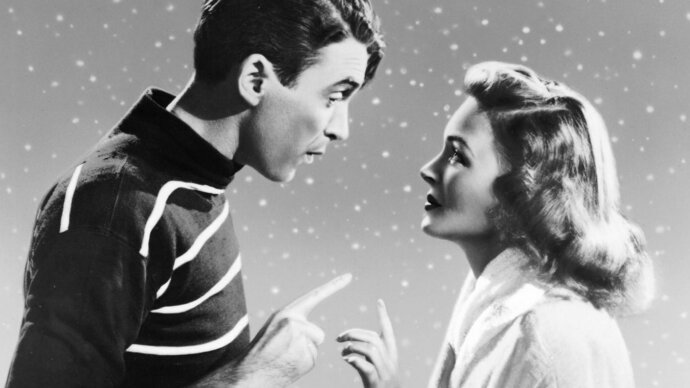 This quote from It's a Wonderful Life is actually written down rather than spoken aloud, but it hits us just the same.
When George Bailey (James Stewart) is pushed to the brink of suicide, an angel sweeps in to save him—not by hauling him out of the water, but by showing George what his town would be like without him.
Spoilers: His town is terrible without him. In doing this, director Frank Capra shows us how each life touches another, which means no man is ever truly alone or unimportant.
When George returns to normal life, he comes home to the entire village donating money to get him out of trouble. By this point, George doesn't even care if he goes to jail—he's grateful for every second of life and knows he was never really a failure.
12. "I love waking up in the morning not knowing what's gonna happen, or who I'm gonna meet, where I'm gonna wind up." (Titanic)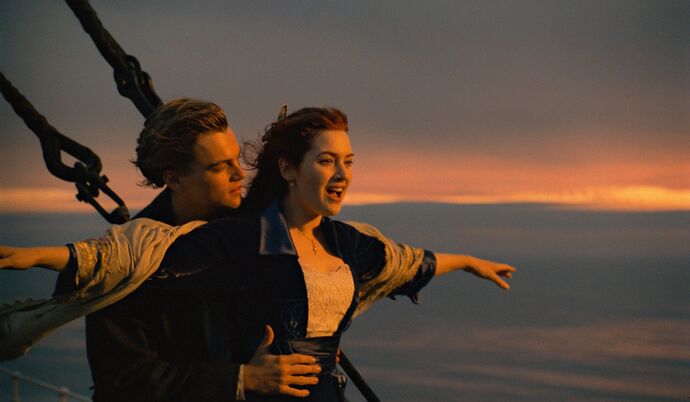 Jack Dawson (Leonardo DiCaprio) is one of those go-with-the-flow types who actually enjoys being homeless. As luxurious as the high-class life seems, Jack knows the fun and freedom that comes otherwise.
That's something that Rose (Kate Winslet) acutely feels, being a wealthy young fiancée who's trapped in the chains of societal expectations.
After meeting and falling in love with Rose, Jack tries to explain his way of life to her old-money family. "I figure life's a gift and I don't intend on wasting it," he says before dragging Rose to an underground party filled with booze, beats, and ballet.
James Cameron's boundary-pushing disaster epic is a potent reminder to seize the moment and embark on adventures while we can.
11. "You'll have bad times, but it'll always wake you up to the good stuff you weren't paying attention to." (Good Will Hunting)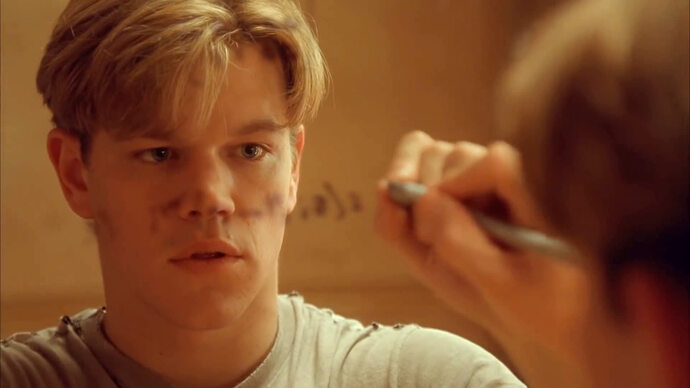 Played by Matt Damon, Will Hunting is a 20-year-old math prodigy who's hiding as an obnoxious, beer-drinking janitor. When his talents are discovered, he's forced into therapy to avoid jail time.
Good Will Hunting is a beloved classic full of wholesome words. Most of these words come from Will's therapist Sean (sweetly portrayed by Robin Williams), who likes talking about the "good stuff" in life and how you need the bad in order to see it.
"People call these things 'imperfections,' but they're not," he says. "That's the good stuff." And after all these years, Gus Van Sant's psychological drama remains firmly cemented as part of cinema's own good stuff.
10. "Sometimes all you need is twenty seconds of insane courage." (We Bought a Zoo)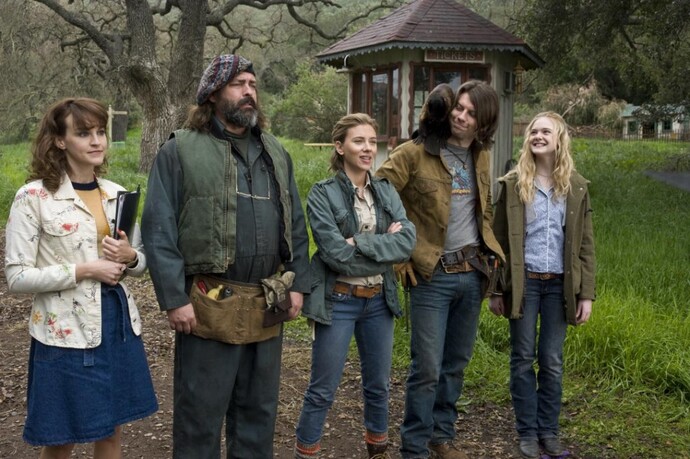 "You know, sometimes all you need is twenty seconds of insane courage—just literally twenty seconds of embarrassing bravery—and I promise you, something great will come of it."
This is the top tip that Benjamin Mee (Matt Damon) gives to his children when their nerves get the better of them.
This "twenty second" method can be applied to anything and everything, from big career changes to daunting pickup lines. In Benjamin's case, he gave himself twenty seconds of courage to approach a woman at a restaurant, who later became his wife.
The fact that Cameron Crowe based We Bought a Zoo on true events further encourages us to chase our dreams. It's proof that it works!
9. "Life moves pretty fast. If you don't stop and look around once in a while, you could miss it." (Ferris Bueller's Day Off)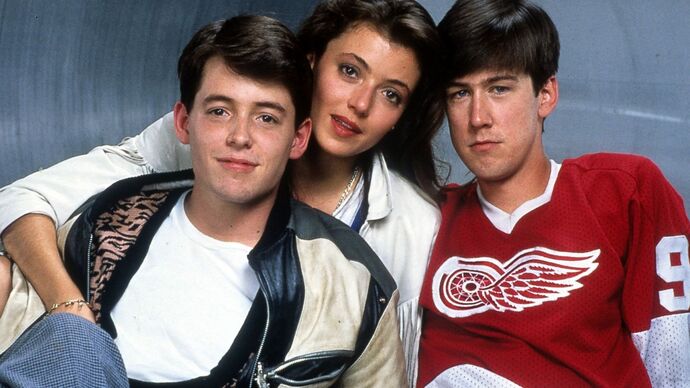 Ferris Bueller's idea of stopping to look around at life is to skip school for a day. Iconically played by Matthew Broderick, Ferris doesn't fake an illness just to sit around and watch TV though. Instead, he goes on a joyride through Chicago with his besties.
Together, they go around and show us just how much can be done in one day, from art galleries to fine dining establishments. Sure, a lot of things go wrong—and they're all hilarious to watch—but sometimes you just have to break rules and live a little.
John Hughes directed Ferris Bueller's Day Off with the intent of capturing the spirit of Chicago. Stick around after the credits for one of the best fourth-wall breaks in cinema!
8. "All we have to decide is what to do with the time that is given us." (The Lord of the Rings: The Fellowship of the Ring)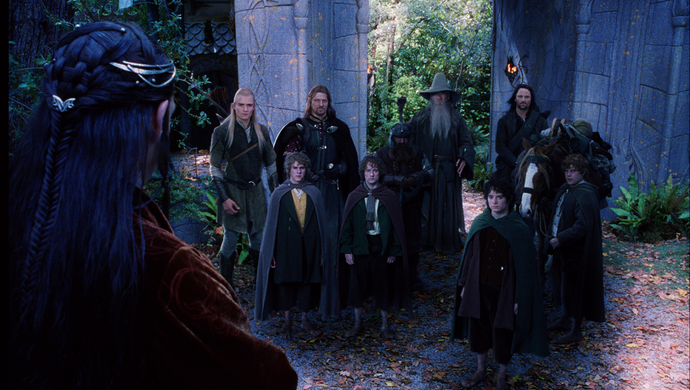 J. R. R. Tolkien was truly a master of storytelling, from his vivid language to intricate worldbuilding. Tolkien's Middle-Earth is one of literature's most beloved magical realms, full of elves and spells that Peter Jackson brought to the big screen in 2001.
When the evil One Ring falls into Frodo's lap, he accepts the near-impossible task of destroying it in the fires of Mount Doom. What he doesn't bank on is how dark that journey would be.
"I wish none of this had happened," laments Frodo (Elijah Wood) to his wise wizard friend Gandalf (Ian McKellen). Gandalf replies: "So do all who live to see such times, but that is not for them to decide. All we have to decide is what to do with the time that is given us."
If you're going to follow anyone's advice, best make it a wizard's.
7. "Do you ever get the feeling people are incapable of not caring? People are amazing." (The Whale)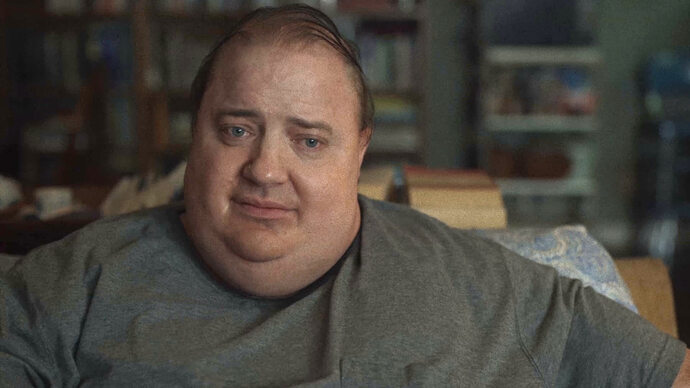 Brendan Fraser recently nabbed the Academy Award for Best Actor for his portrayal of the obese, grieving English teacher Charlie in The Whale. Even if nobody understands him, Charlie understands everyone.
Everybody sees Charlie's angsty teenage daughter Ellie (Sadie Sink) as an insufferable troublemaker, but Charlie sees only the good underneath the surface. Why? Because "people are incapable of not caring."
Every time Charlie thinks he's about to die—which is quite often due to his condition—he gets someone to read her essay aloud:
"I felt saddest of all when I read the boring chapters that were only descriptions of whales, because I knew that the author was just trying to save us from his own sad story."
6. "Sometimes when I'm going somewhere and I wait, somewhere comes to me." (Christopher Robin)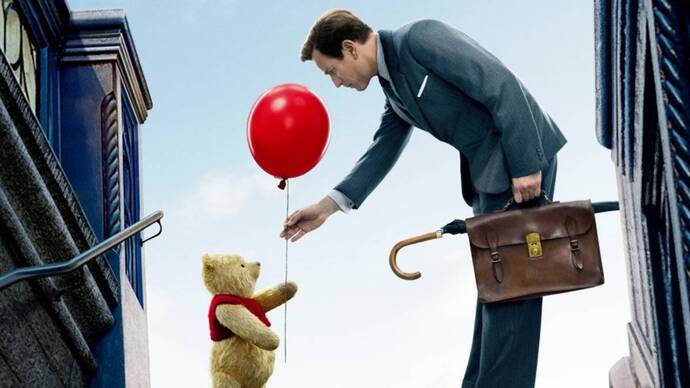 Winnie the Pooh is a British national treasure. This children's story can bring many adults to tears, even if it isn't sad per se. It's just so soft, comforting, nostalgic, and summons our inner child with every page.
Of course, the film industry jumped on the chance to rake in profits with a live-action movie in Christopher Robin. Fortunately, it turned out to be surprisingly faithful to A. A. Milne's original story. You might even go so far as to say it's philosophical.
As simpleminded as he might be, Winnie the Pooh is always offering poetic perspectives on life and promoting the simple way of doing things. It's a mindset he must re-teach to his grown-up friend Christopher Robin (played by Ewan McGregor).
His basic message is to surrender to the flow of life because "doing nothing often leads to the very best kind of something."
5. "Happiness can be found—even in the darkest of times—if one only remembers to turn on the light." (Harry Potter and the Prisoner of Azkaban)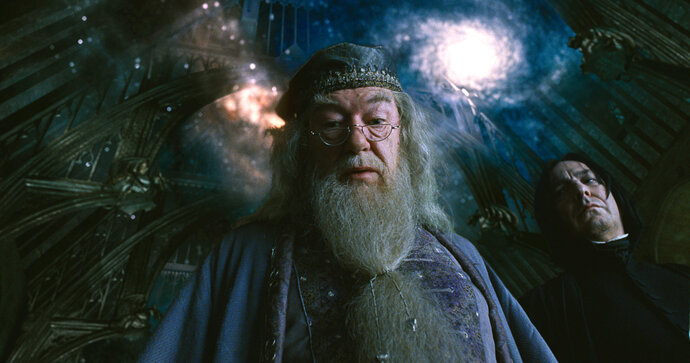 In J. K. Rowling's novels-turned-movies, both Richard Harris and Michael Gambon played the Gandalf-esque Professor Dumbledore, who delivered at least one knockout line per movie.
In The Philosopher's Stone, he gave us this gem: "It does not do to dwell on dreams and forget to live." In The Chamber of Secrets, it was: "It is our choices, Harry, that show what we truly are. Far more than our abilities."
But my favorite goes to this quote from Alfonso Cuarón's The Prisoner of Azkaban, which hits during the scene when Dumbledore is putting his students at ease in the face of dementors.
4. "Hope is a good thing, maybe the best of things, and no good thing ever dies." (The Shawshank Redemption)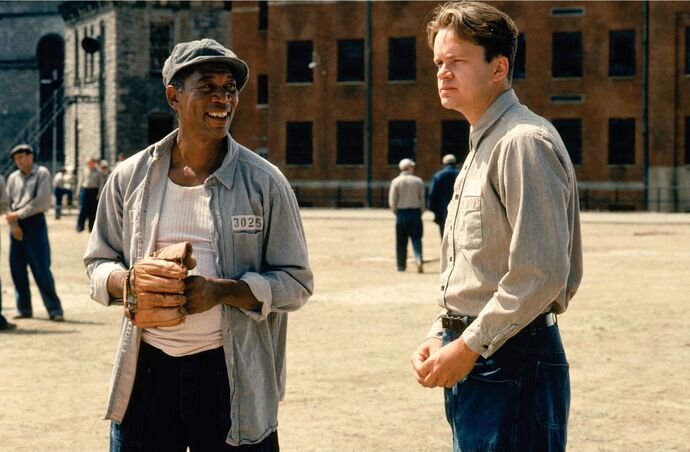 If any film is going to make us appreciate our freedom a little more, it's going to be The Shawshank Redemption.
Based on Stephen King's 1982 novella, this movie is no run-of-the-mill prison drama. Set in 1947, Andy Dufresne (Tim Robbins) is sent to serve two life sentences at Shawshank State Prison.
Andy is a quiet and shy man who "strolls like a man in a park," harboring an introspectiveness that would rival any wizard. During his time in prison, he befriends smuggler Red (Morgan Freeman) and learns all about the meaning of life, friendship, and freedom.
Andy also offers us the iconic line: "I guess it comes down to a simple choice: get busy living or get busy dying."
3. "Yesterday is history, tomorrow is a mystery, and today is a gift. That's why they call it present." (Kung Fu Panda)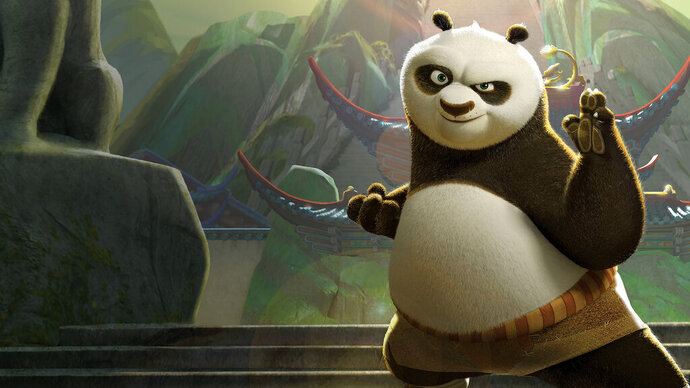 I know, the animated tortoise in Kung Fu Panda wasn't the first to utter this legendary quote. But that doesn't make it any less powerful!
The adage is often credited to American cartoonist Bil Keane, but here we hear it from Master Oogway, the former master of the Jade Palace in Ancient China.
Master Oogway is the perfect person—well, animal—to teach us about presence, whose gentle voice sways on the breeze before passing into the afterlife as peach blossoms.
Chinese culture is often associated with wisdom and simplicity, which paradoxically goes hand-in-hand with their affinity for martial arts.
As we saw in The Karate Kid (1984), in order to master kung fu, one must master the mind and turn within to find true inner peace. That means you "must believe," you must "let go of that stuff from the past," and you must "be the best you that you can be."
2. "Carpe diem. Seize the day, boys. Make your lives extraordinary." (Dead Poets Society)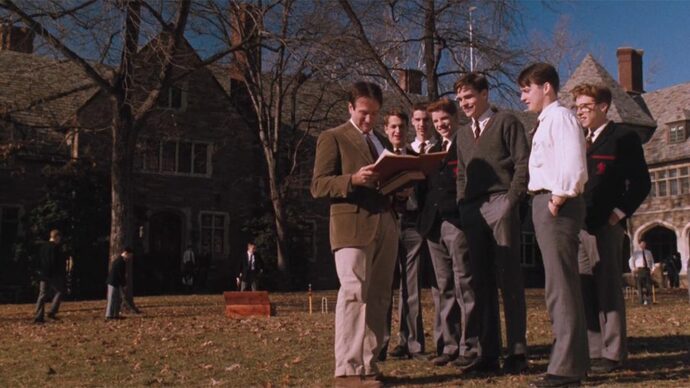 Many inspirational movie quotes come from teachers and mentors because they have the most power to influence us. That's literally their job! And if I could've had any teacher in school, it would've been John Keating (Robin Williams) from Dead Poets Society.
Although the other staff members at Welton Academy warn Keating that his unorthodox methods will get him fired, he continues to inject his English classes with passion and creativity.
Keating is so inspiring that the boys in his class end up standing on tables and shouting "O Captain! My Captain!" (from a Walt Whitman poem) in protest of his eventual dismissal.
His impassioned speeches will stay with us forever:
"We don't read and write poetry because it's cute. We read and write poetry because we are members of the human race. And the human race is filled with passion. And medicine, law, business, engineering, these are noble pursuits and necessary to sustain life. But poetry, beauty, romance, love—these are what we stay alive for."
1. "Just be a rock." (Everything Everywhere All at Once)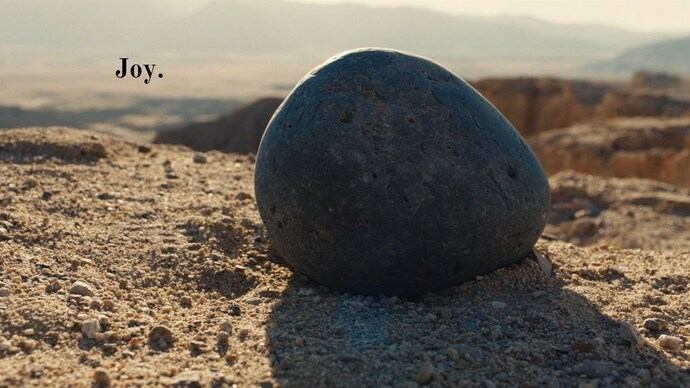 Everything Everywhere All at Once bagged seven Oscars this year for its psychedelic sci-fi depiction of the Universe itself. This movie by Daniel Kwan and Daniel Scheinert is so packed with philosophy, surrealism, metaphysics, and existentialism that it's kind of overwhelming.
However, the Daniels sum up the entire point of the film in one quiet and poignant scene in which Evelyn and her daughter embody two rocks. In doing so, they find the meaning of life in the simplicity of it.
I know "just be a rock" sounds like a terrible top pick for an inspirational movie quote, but it actually sums up many of the teachings found in philosophies like Buddhism, Taoism, Shintoism, and New Age ideas.
Just surrender. Just be present. Just be one with nature. Just be a rock. (That said, this movie also gave us another great quote: "In another life, I would have really liked just doing laundry and taxes with you.")