Most escape rooms have the exact same structure: you're locked (or "locked") in a room and you have to solve all of the puzzles within to get out before time expires. It's hard to innovate on this concept without turning it into something completely different, but Ukiyo's "The Crumbling Prince: Episode 1" in Melbourne, Australia may have pulled it off.
From a bird's eye view, it's the same as any other escape room: yes, you're stuck in a single location for its duration, and yes, you're tasked with solving a variety of puzzles to figure out what the heck is going on. But "The Crumbling Prince" reprioritizes which aspects of an escape room are most important: whereas most rooms exist to stump or challenge players, this one emphasizes story and atmosphere above all else—and it makes all the difference.
There's a lot to love about this escape room experience—which feels different enough from most escape rooms that Ukiyo won't even call it an "escape room"—but it's especially enjoyable for fans of games like The Legend of Zelda. Why? You'll see in a moment.
The Good
What makes "The Crumbling Prince" memorable is its immersive story and the character of the The Crumbling Prince himself, but the most striking elements hit you as soon as you first step into the experience: the art direction and the music.
I cannot praise the art and music enough. With the two combined, I actually felt like I was transported to a new, undiscovered world brimming with possibilities—a feeling that even virtual reality could never stir up within me. The artwork pays respect to The Legend of Zelda, which obviously inspired the experience, with a touch of something more modern and stylish like what you'd find in games like Dota 2 and Guild Wars 2. The music is soft yet dynamic, ebbing and flowing with the progression of the narrative, distinct without ever being distracting.
"Immersive" is understating it. When you first walk in, you're greeted by a masked man who won't say a word. He leads you over to a mysterious waiting room where you don hooded cloaks (awesome) and one of four different masks, each with its own special ability (more awesome). For example, the Mask of the Wild can hear special dialogue that the others can't, while the Mask of the Sun can shine a light, which comes in handy for some of the puzzles. I personally love how this adds to teamwork and replayability. Most escape rooms aren't worth running more than once, but this one can feel radically different depending on which Mask you choose, and you're forced to rely on each other, which is a huge plus in my book.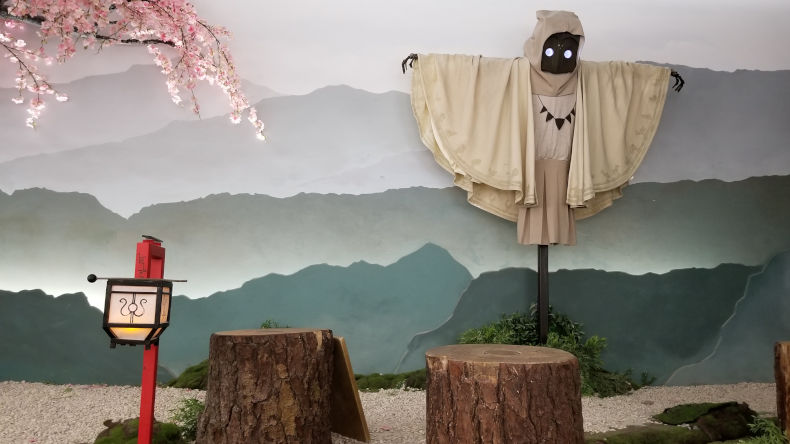 Once everyone is ready, the team is led to the actual room of the experience: the garden of the Crumbling Prince, who is essentially a glorified scarecrow powered by artificial intelligence. You can speak to him, and he'll speak back to you, and holding "real" conversations with him is the primary driver of the room's narrative progress. Every once in a while you'll reach edge cases in dialogue that break the immersive magic, but save for that, the AI is extremely well done. By the time our group finished, the game master told us that we'd only experienced about 30 percent of the Crumbling Prince's total dialogue possibilities. Impressive stuff!
And the story of the Crumbling Prince is pretty freakin' good. I'm not just speaking in relation to other escape room narratives, but even compared to the lore in many video games, books, and TV shows. The universe of the Crumbling Prince is unique, has its own identity, and feels like a breath of fresh air from most of the trite fantasy worlds we get in media these days.
The Bad
The Crumbling Prince surpassed my expectations and proved that there are still lots of unexplored possibilities as far as escape rooms are concerned, but few things are ever perfect and this one's no exception. Fortunately, the flaws are few and minor.
By selling itself as a "real-life Zelda-like adventure," The Crumbling Prince sets an insanely high bar that, for all intents and purposes, is impossible to reach. Hearing that kind of description instantly spurs one's imagination, and there's no way an escape room could ever deliver the same kind of magic and immersion offered by the best entries in the Zelda franchise. You come in expecting things like combat, room-to-room exploration, intricate dungeons and involved puzzles, and so much more—none of which is available in The Crumbling Prince for obvious reasons.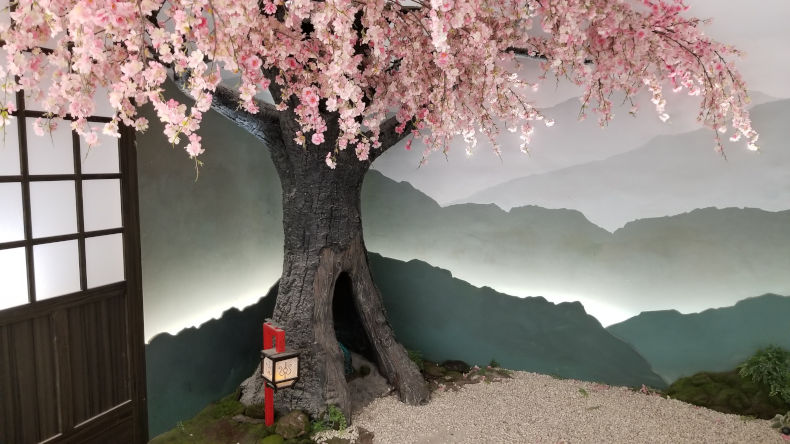 And the puzzles, while narratively fitting and inventive design-wise, weren't as intellectually stimulating as they could've been. The Crumbling Prince emphasizes story and interactivity over all else, and that's a GOOD thing, but that doesn't necessarily mean the puzzles need to be weak—or repetitive. Without spoiling anything, here's an example: the musical chime puzzle was interesting the first time around and it would've been perfect if that's all it was, but then it comes back again in the latter half of the experience, at which point it felt like unnecessary filler.
The Verdict
This review only covers Episode 1 of "The Crumbling Prince," which itself is an interesting aspect of this escape experience. As of this writing, there are two Episodes available to play through, with each one offering its own full 90-minute experience. The story continues in linear fashion from one to the next, and Ukiyo plans to have a total of 9 Episodes for telling the full tale of The Crumbling Prince and his fading world.
Interested in trying it for yourself? Book a session on the Ukiyo website the next time you're in Melbourne, Australia! It's absolutely worth the price, and there's a good reason why it's TripAdvisor's #1 "Fun Thing To Do" activity in Melbourne.