Grand Theft Auto V is one of the best video games of all time. As good as it is, though, there are ways to make it better. If you're playing GTA V on PC, you can get access to all kinds of incredible mods that will alter the gameplay, graphics, and just about anything else you could want to tweak.
Today, we're going to look at the best free Grand Theft Auto V mods that you can download right now. If you just got the game for free on the Epic Games Store and you want to tweak it, these are the mods you're going to want to install. Did we mention that they're all free?
How to Install Mods for GTA V
Before we get into the actual mods, here's a quick video that breaks down the process of installing GTA V mods:
If you're running the Epic Games version of GTA V, you might have some issues with installing some mods. You'll need to look in the Epic Games folder to get to the GTA folder, which is slightly different from the instructions in the above video. You'll have to test some mods, as they don't all work with the Epic Games version.
Additionally, each mod has its own quirks to install, which are generally listed in the mod's description on GTA5-Mods.com.
GTA V is already a fantastic-looking game for its age. As good as it looks, it doesn't exactly push modern PC graphic cards to their limit, which is where NaturalVision comes into play. This mod takes all of the visuals in the game and gives them an absolutely stunning overhaul.
Another mod that really cranks up the graphics in GTA V is VisualV. This mod overhauls the game's weather, lights, shadows, motion blur, and so much more. As mentioned, Grand Theft Auto V is already a solid-looking PC game, but this mod really makes it a game with looks that'll blow you away.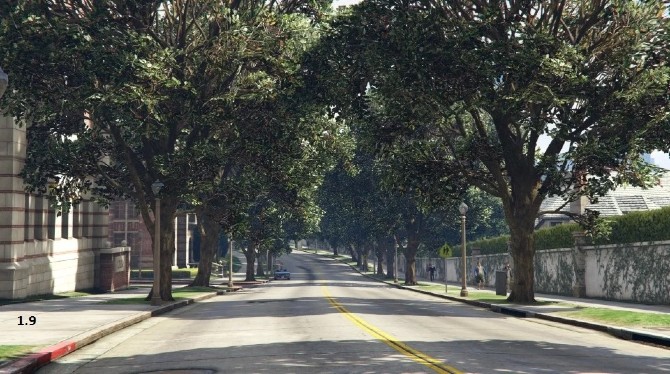 Rockstar did a fantastic job of building the world of Los Santos, but this mod makes it better. It takes all the spots that feel dead and lifeless in the game and fills them in. That means more trees and vegetation, more people, more police, and so much more.
Grand Theft Auto V has some rather interesting physics, but this game makes them far more realistic and enjoyable. Instead of dead or injured bodies behaving in unrealistic ways, this mod gives them a more lifelike feel.
One of the things missing from GTA V is the ability to break into random homes and rob the people in them. This mod adds that and then some. Just be ready for some resistance, because the homeowners aren't just going to let you walk in and rob them. Home Invasion adds another fun layer to the GTA V sandbox.
Do you remember Vice City? It's one of the best Grand Theft Auto games of all time, and you can relive its glory in GTA V with this mod. It's not some quickly thrown together version of the world of Vice City either. Instead, it's a meticulously crafted map with all the details you'd get if it was made by Rockstar.
Do you know what makes any world better? Zombies. This mod turns GTA V from a crime simulator to a post-apocalyptic hellscape. The zombies behave in a way that makes the game difficult and challenging. You'd never know it was a mod made by a small crew, as it feels like something that was created by Rockstar.
If you like games like American Truck Simulator, this mod is for you. It adds missions that see you trucking around Los Santos just like you would in those games.
Have you ever wished for a more realistic Grand Theft Auto? This is the mod for you. You can only carry so many guns, cops are smarter, and so much more. It even makes the visuals of the game more realistic. Just be warned, it makes the game way harder, so keep that in mind when you install it.
Do you want a gun that shoots vehicles? Install this mod and you'll be good to go. Seriously, it's not exactly the deepest mod out there, but it's fun and awesome.