Superpowers and special abilities can be great, whether it's traveling through time, unleashing immense strength, or shooting webs from your hands. But they can also be a curse.
Such great power can make you a superhero who fights for virtue and righteousness, or a supervillain who uses those powers to practice deception and sow destruction.
Netflix's library contains more than a handful of superhero movies that are quite different from the ones you know by Marvel and DC, plus a few that are more familiar in that way.
Here are our picks for the best superhero movies on Netflix that involve super-powered or super-geared heroes up against corruption, evil, villains, and impossible odds.
15. Bhavesh Joshi Superhero (2018)
Bhavesh Joshi Superhero may not explicitly have superpowers, but it features a protagonist who trains hard and rises above to become the vigilante superhero that his city needs.
This Indian action-crime film is packed with social commentary and themes around corruption and justice, and the cast puts in solid performances. It's enough to make the movie worth watching despite a script that takes a predictable route.
14. Gantz: O (2016)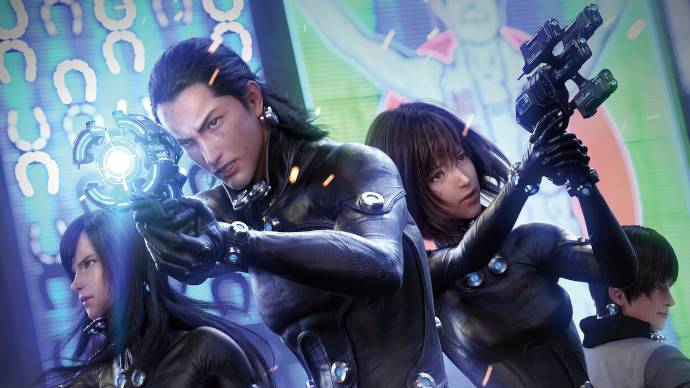 Gantz: O is a 3D CGI-animated sci-fi movie about a group of fighters who are repeatedly brought back to life when they die—which happens quite often, since they're tasked with killing all the monsters that have invaded the city of Osaka.
While this isn't your typical superhero movie, the characters of Gantz: O wear advanced tech-suits and wield super-tech weapons in their fight, and their repeated resurrections give it a fun twist.
The CGI animation takes a little time to get used to, but once you're over it, the story that unfolds is an interesting one.
13. The Adam Project (2022)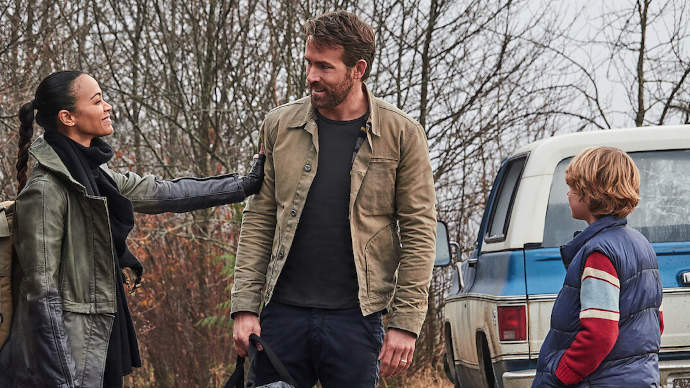 What boy didn't want to grow up to become a time-traveling fighter pilot? I know I did! Directed by Shawn Levy, The Adam Project capitalizes on exactly that boyhood dream.
Fortunately for Adam Reed (played by Ryan Reynolds), that's exactly what he turns out to be. However, in the year 2050, he resolves to go back in time to save his wife's life...
...except he gets the year wrong and arrives four years later than expected, in 2022. There, he inadvertently meets with his younger self (played by Walker Scobell).
While the character of Adam himself may not have superpowers, the technology he wields pretty much makes him a superhero who does superheroey things. So, he makes the cut.
Starring Ryan Reynolds, Jennifer Garner, Mark Ruffalo, and Zoe Saldana, the film boasts an all-star cast in this time-traveling romp.
12. Freaks: You're One of Us (2020)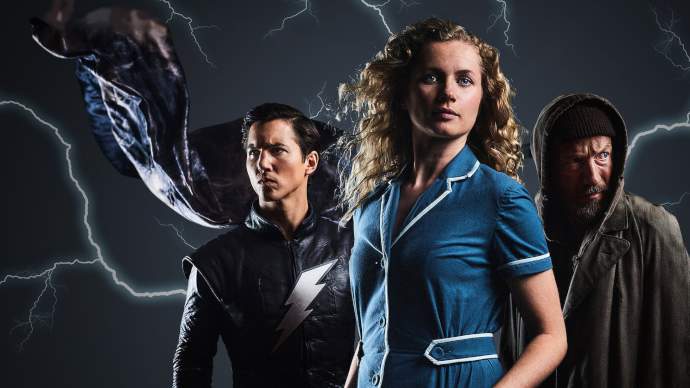 Directed by Felix Binder, Freaks: You're One of Us is an original Netflix superhero movie made in Germany.
The plot follows a young woman named Wendy (played by Cornelia Gröschel). Working as a fry cook, she considers her life rather humdrum and run-of-the-mill. A standard existence.
However, once she discovers she actually possesses superhuman powers, she decides she needs a change of pace—and so she sets out to find other people like herself.
Freaks: You're One of Us may have received a poor critical reception, but it's ultimately a wholesome movie about discovering your potential.
11. How I Became a Super Hero (2020)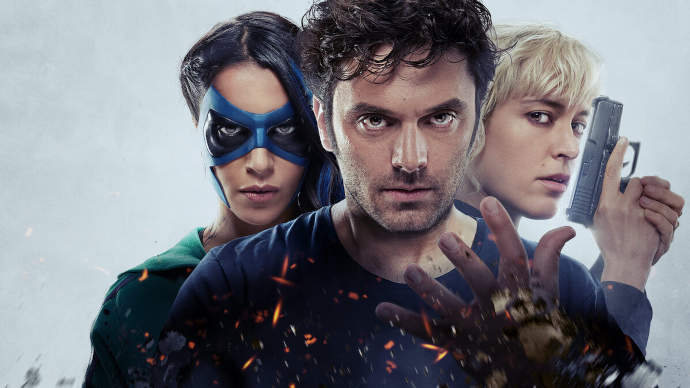 Directed by Douglas Attal, How I Became a Super Hero is a very fun and playful film that looks at the social implications that the presence of superheroes would have on modern civilization.
In this film's world, superheroes are now prevalent. In fact, they're like modern-day celebrities with fan followings.
But in Paris, a new drug is spreading throughout the city that can give anyone such wondrous superhuman abilities. Now, your average Joe can take a pill and become the next Superman.
With the advent of this new drug threatening to destabilize society, two cops attempt to slow the spread—by enlisting the help of two ex-superheroes. All in all, the French production How I Became a Super Hero is a surprisingly good film for what it is.
10. Psychokinesis (2018)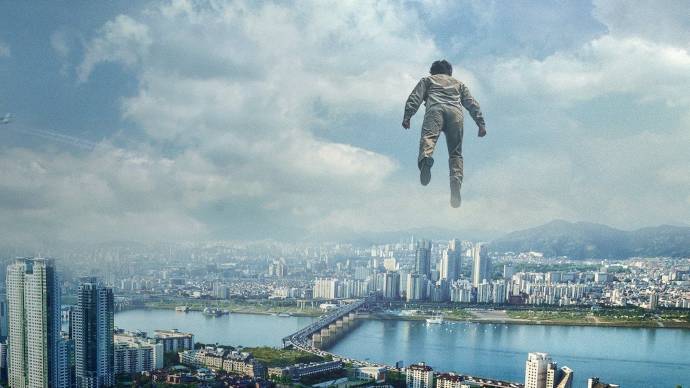 Psychokinesis is a South Korean superhero movie from the same director who gave us the refreshingly thrilling Train to Busan.
This one centers on a bank security guard (played by Ryu Seung-ryong) who gains psychokinetic powers after drinking meteor water, and uses those powers to fight against an evil construction company.
You'll find that South Korea's idea of a superhero feels a bit foreign compared to Hollywood's tropes, but that's what makes it great.
Overall, Psychokinesis may not have the world-shattering stakes that you'd expect in a Marvel or DC movie, but the character development and action sequences are top-notch.
9. Project Power (2020)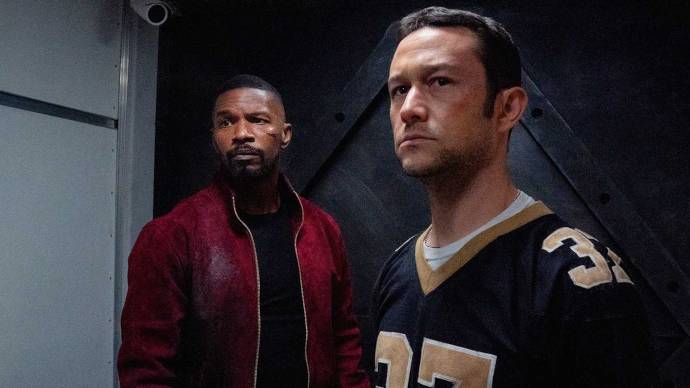 Project Power is what you get when you mash superhero elements into an otherwise gritty crime thriller.
The film stars Jamie Foxx as an ex-soldier who's trying to stop widespread distribution of an illicit pill that can grant five minutes of a superpower to anyone who takes it.
While Project Power is an entertaining movie, its main issue is that it doesn't fully explore its underlying premise and the consequences of pill-based superpowers.
Still, that doesn't make it a bad movie! And it's certainly worth a watch if you think the idea is cool, or if you just want to shut your brain off for some thrilling crime action.
8. Code 8 (2019)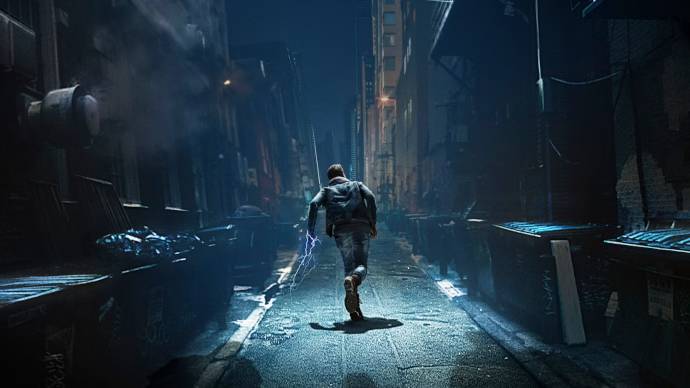 Code 8 is a sci-fi action movie that takes place in an alternate history, one where the existence of superhumans was discovered way back in the early 1900s.
But by modern times, superhumans have been marginalized by society. In fact, governments want to suppress and oppress the superhumans—and they do so using high-tech drones.
While there isn't much that makes Code 8 stand out from other sci-fi movies of its kind, it's a solid production that's built on an intriguing idea. Plus, it delivers a compelling enough viewing experience.
A little more craft could've pushed this from a good movie to a great movie, but Code 8 is worth a watch either way.
7. Underworld (2003)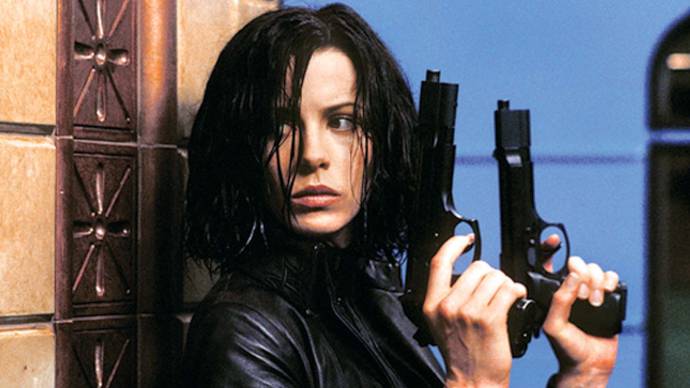 Underworld is the kind of movie that feels like it was obviously based on a comic book—and when you realize it actually wasn't, it somehow feels all the more impressive.
This action-paranormal-fantasy movie stars Kate Beckinsale as a vampire who hunts werewolves.
She falls in love with a human, but when that human is bitten by a werewolf, she faces a dilemma: either kill him (according to her clan's principles) or save him (and face the consequences).
Underworld demands that you shut off your brain and enjoy it for what it is—an action-packed ride that's extremely stylish, gothic, fun, and built on a commendable effort at worldbuilding.
6. Bleach (2018)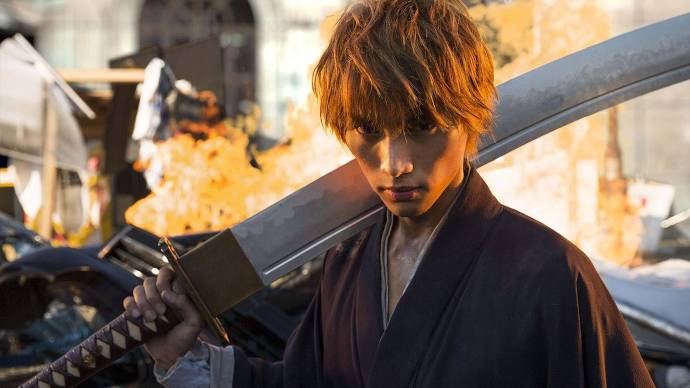 Live-action anime movies are often terrible, but every once in a while a director comes along who understands the source material and adapts it in a way that actually works. Bleach is one such example.
Ichigo Kurosaki (played by Sôta Fukushi) checks all the boxes that describe a typical hero: strong-willed, compassionate, empathetic, willing to sacrifice himself for those he cares about.
He also has the ability to see ghosts, which allows him to see the Soul Reaper named Rukia (played by Hana Sugisaki).
When Rukia is wounded by a monstrous being called a Hollow, she's forced to transfer her supernatural powers to Ichigo so he can defeat it and prevent it from going wild. But this comes with consequences.
Bleach isn't your typical superhero movie... but it also sort of is. The CGI is impressively good, the action sequences are compelling, and the character development is solid.
5. The Old Guard (2020)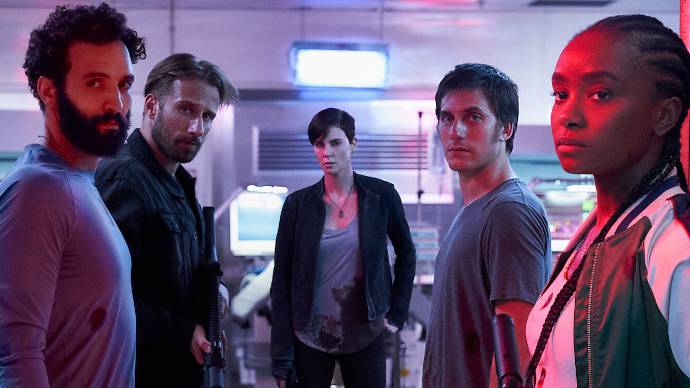 The Old Guard is based on the comic book series of the same name, featuring a team of immortal mercenaries who have been around for centuries due to their unexplained regenerative abilities.
One day, they have a shared vision—and they're made aware that there's suddenly another immortal out there in the world.
The premise may not seem like much at first glance, but The Old Guard is a solid attempt to elevate superhero movies with deeper characters, grounded worldbuilding, intimate stakes, and subversion of clichés, all while staying true to the heart of superhero movies.
Charlize Theron puts in a strong performance as the leader of the immortals, and writer Greg Rucka and director Gina Prince-Bythewood succeed at adapting the source comic into a winning movie.
4. Spider-Man 3 (2007)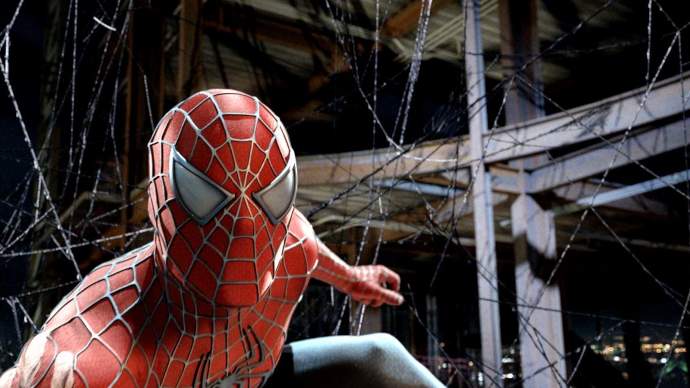 Though it may not have been the best of the trilogy, and it may have even spawned a plethora of memes, Spider-Man 3 is still a worthy entry on any list of best superhero movies on Netflix. In fact, I'd even go as far as saying that it's generally underrated.
The plot of this web-slinging romp finds Peter Parker (played by Tobey Maguire) in a good chapter of his life: he's about to propose to his long-time girlfriend Mary Jane (played by Kirsten Dunst).
However, disaster strikes in the form of his long-time friend Harry Osborn (played by James Franco), who has donned his father's Green Goblin suit in a desperate bid for revenge.
And it doesn't stop there! A separate villain by the name of Sandman (played by Thomas Haden Church) enters the picture, and an alien creature named Venom (played by Topher Grace) lands on Earth, binding itself to Peter's suit.
Peter soon discovers that he isn't himself anymore as he's driven more and more by impulse and aggression. Spider-Man 3 was a box office success, even if it let down some die-hard fans.
3. iBoy (2017)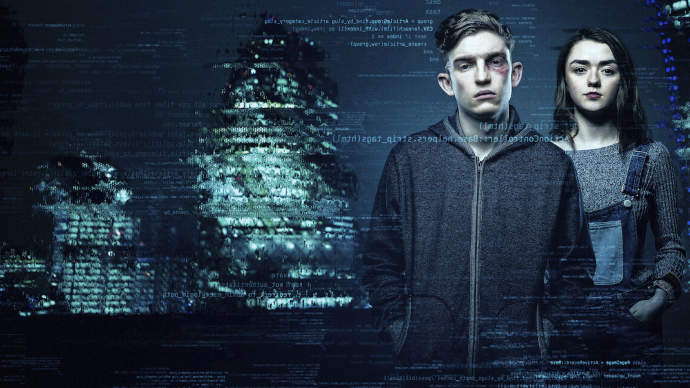 Directed by Adam Randall, iBoy is one of the more prescient superhero movies to explore our connection with technology. It conveys just how close we're getting to a symbiotic relationship.
When Tom (played by Bill Milner) is invited over to his crush's house for a study session, he jumps at the opportunity. However, living in a gang-ridden part of London, things take a turn for the worse: he enters the house to find criminals inside.
Before he can call the police, he's shot in the head. Days later, he wakes up to a doctor informing him that there's shrapnel from his phone embedded in his brain.
Needless to say, this causes all kinds of interesting complications—like the sudden development of superhuman abilities.
It's far from the best superhero movie ever made, but iBoy provides an interesting insight into our almost-superhuman relationship with technology, incorporating a dark tone to boot.
2. Spider-Man (2002)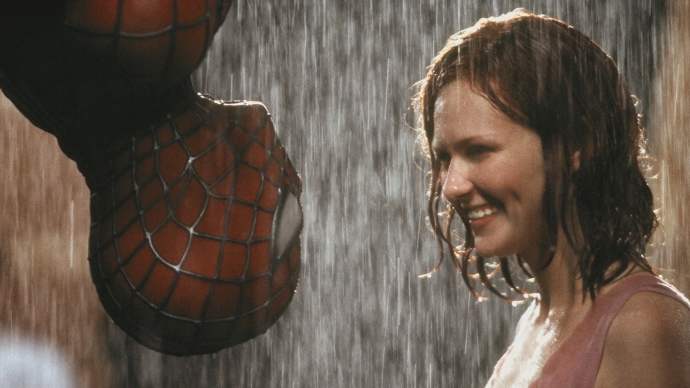 The movie that spawned the entire Spider-Man film franchise that we know and love today, Spider-Man was an absolute smash hit and more or less opened the world's eyes to the wonders of superhero cinema.
When Peter Parker (played by Tobey Maguire) is visiting an enclosure filled with biochemically altered animals, he notices that a spider has escaped its cage.
While taking a picture of the exhibit, he's bitten on the finger—and the radioactive ramifications cause him to change overnight.
Of course, we all know the story now, but Spider-Man has the highs and lows of a character who's going through dramatic changes: school fights, massive grief, and long-term crushes.
And in starring Willem Dafoe as the insane Green Goblin, there are few other superhero movies to feature the same caliber of villain.
1. Spider-Man 2 (2004)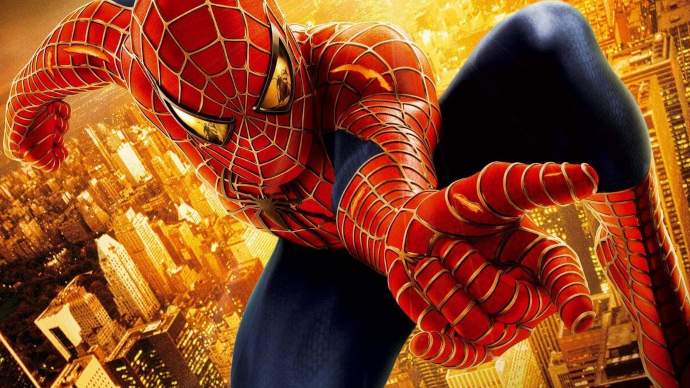 Spider-Man 2 was an absolute triumph, besting its predecessor and cementing the franchise as one of the best of its day. Remember, this was still four years before the MCU even got started!
The story starts off in a strange place as Peter Parker (played by Tobey Maguire) discovers he's starting to lose the potency of his powers.
Meanwhile, a new power-crazed bad guy with eight limbs (played by Alfred Molina) starts terrorizing the city. Could there be a worse time for him to struggle with a superhero life crisis?
There isn't much to say about Spider-Man 2 that hasn't been said a thousand times before. To this day, there aren't many superhero films that have done it better than this legendary sequel.