If there's one movie that has overshadowed every other movie released this year (so far), it's clearly Barbie. Where most people expected a fun but generic kids movie about the world's most famous doll, Greta Gerwig gave us something deeper: a timely feminist study.
In fact, Barbie was so popular that it has already secured a bunch of other toy-based movie productions. Monopoly, Hot Wheels, Uno, Magic 8 Ball, and Thomas the Tank Engine are just some of the rumors right now.
Toy-based and product-inspired films have been a niche since 1977, when Raggedy Ann & Andy: A Musical Adventure came out as the first of its kind. And who could forget the Transformers trend of the 1980s?
Admittedly, these kinds of films don't have the best reputation, but there are actually some good ones worth watching! Here are some of our favorite movies based on real-life toys and products.
13. Bratz (2007)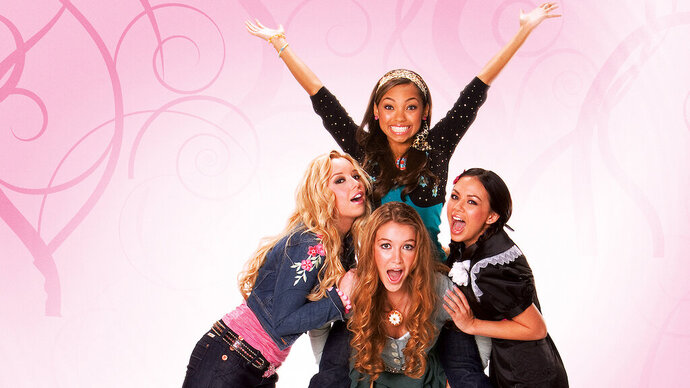 If you watched Barbie and liked it, you might want to follow it up with its earlier doll-based rival Bratz—if only to see the stark differences.
The Bratz line of fashion dolls for kids were poorly received in 2001 thanks to Ruth Handler's Barbie monopoly on the toy market, but the urban glamour girl gang quickly built their own alternative media franchise to the dainty, girl-next-door Barbie doll.
Sean McNamara's Bratz doesn't come close to Greta Gerwig's recent blockbuster, but it doesn't try to. Bratz is a movie that's content with being a cheesy chick flick. A simple Y2K sleepover staple.
Even so, following the recent success of Barbie, there are rumors of a Bratz-themed series reportedly in the works.
12. Pixels (2015)
UFOs, neon lights, car chases, video games, and Adam Sandler. Based on that alone, you can already tell what kind of movie Pixels is going to be—and sometimes that's just the kind you need.
Peter Dinklage, Kevin James, Michelle Monaghan, and Josh Gad star alongside Adam Sandler in this typical action flick that runs on the standard level of Hollywood humor.
The plot is ridiculous, what with aliens sending computer game characters down to kill us, but it's all still entertaining. Just as soccer moms always protested, it's the violence of video games that became a danger to society, with higher beings taking it as a call to war.
All your favorite retro gaming classics appear in Chris Columbus's Pixels, including Pac-Man, Donkey Kong, Arkanoid, Duck Hunt, Centipede. Throwbacks that make it perfect viewing for the whole family.
11. Masters of the Universe (1987)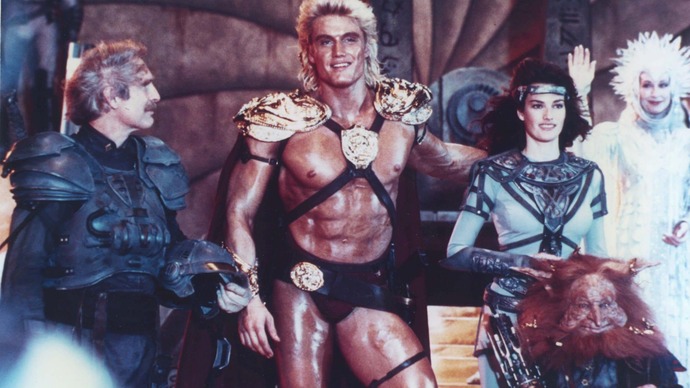 Speaking of retro, Masters of the Universe is a film that really shows you how far films have come. Although 80s audiences would have been fine with its quality of green screens and lasers, the special effects now stand out as a testament against time.
This isn't necessarily a bad thing, though. It's precisely its aged sheen that makes Masters of the Universe a slice of true nostalgia—not just for cinema of the time, but also the Mattel game it's based on.
Older viewers won't just remember watching Masters of the Universe, back when it was a low-budget flop adored by kids and before it earned its cult status. They'll also remember playing the game, too!
Gary Goddard's golden-hearted, somewhat-campy jewel of yesteryear remains Dolph Lundgren's favorite role, who headlines as the sword-and-planet toy protagonist He-Man.
10. The Super Mario Bros. Movie (2023)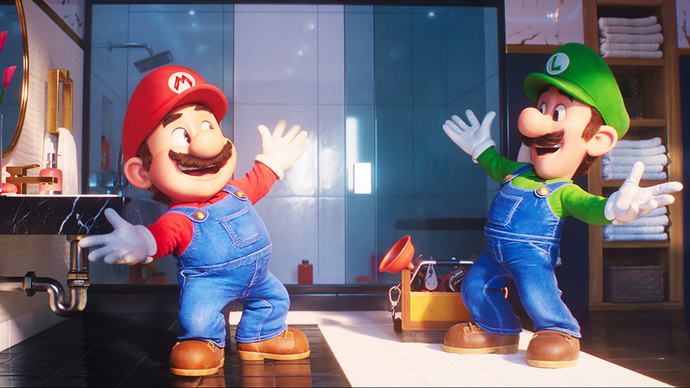 Japanese video game company Nintendo has been an iconic name in the market ever since it released Donkey Kong in 1981—and it's Super Mario and his brother Luigi who are their most famous characters, evolving from arcade game to multimedia franchise.
Not to be confused with the 1993 feature failure by Rocky Morton and Annabel Jankel, The Super Mario Bros. Movie is based on the most well-known Mario game where the Italian brothers jump through the levels of Mushroom Kingdom to save Princess Peach.
A Japanese game about Italian heroes voiced by American actors. What's up with that? Well, Mario and Luigi are actually from Brooklyn! Chris Pratt, Anya Taylor-Joy, Charlie Day, Jack Black, Keegan-Michael Key, and Seth Rogen bring all the right spirit and energy to bring the film to life.
9. Mars Attacks! (1996)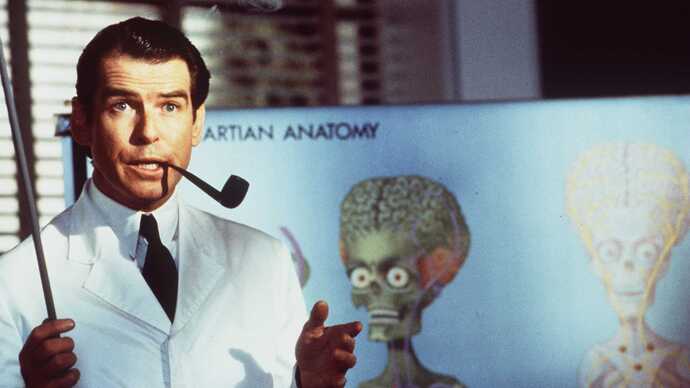 Some films are so bad that they leave a legacy that couldn't have been achieved if they were merely average. It's unlikely that a film about sci-fi trading cards could have ever been a masterpiece, so perhaps being terrible was the best result for Tim Burton's Mars Attacks!
Part of the film's amateurish charm is actually done on purpose. Mars Attacks! isn't just about a Martian invasion on Earth; it's a spoof on the 1950s B-movies that Tim Burton paid homage to with his biopic Ed Wood just two years before.
It's no coincidence that the 1960s Topps trading cards were released during the Cold War era, but Burton avoids all the heavy contextual politics of the game. Instead, we get an ensemble cast leading a hilarious parody of the sci-fi genre.
8. Pokémon: Detective Pikachu (2019)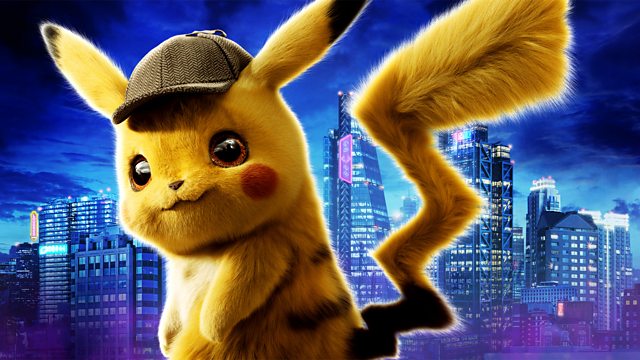 Pokémon is yet another Japanese media franchise that took the West by storm. Well, at first it was more of a gentle breeze, with the Game Boy universe becoming a slow, sleeper hit with players in the 90s.
Manga, card games, and TV shows followed the original RPG game in which humans and Pokémon creatures share a world like Japanese muggles and wizards. As with Barbie dolls, there were a string of animated film releases before we got the big live-action one in 2019.
Rob Letterman's comedy-infused mystery takes place after the 2016 video game, where a Sherlock Holmes-style Pikachu helps to tackle crime.
Ryan Reynolds is the face (via motion capture) and voice of Pikachu, who guides us through surprisingly good narrative arcs, twists, and character developments. It's better than you'd expect!
7. Trolls (2016)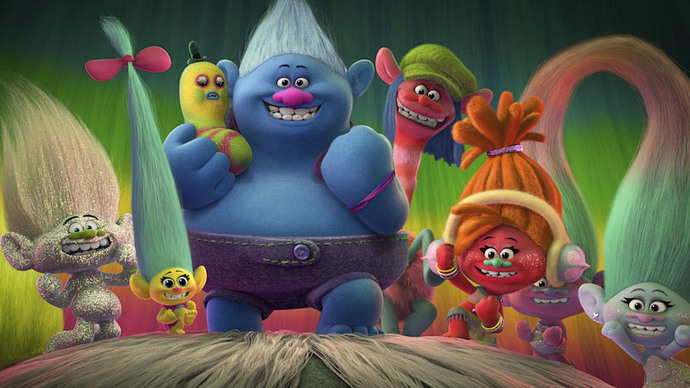 Trolls is the first in a trilogy of jukebox musicals where Good Luck Trolls (also known as troll dolls, Dam dolls, and gonk dolls) take center stage. Or, rather, center tree.
Created by Thomas Dam in the 1950s, Good Luck Trolls are iconic for their tall, colorful hair and sometimes ugly, sometimes cute faces. They've been owned and manufactured by various companies, and they moved in and out of fashion throughout the latter half of the 1900s.
Today, troll dolls are mainly collectors items and memorabilia—but Mike Mitchell and Walt Dohrn revived the Scandinavian folk toys with a poppy modern spin (i.e. toxic positivity and Justin Timberlake) in their glossy animation Trolls. Who'd have thought it would bag an Oscar?!
6. Dungeons & Dragons: Honor Among Thieves (2023)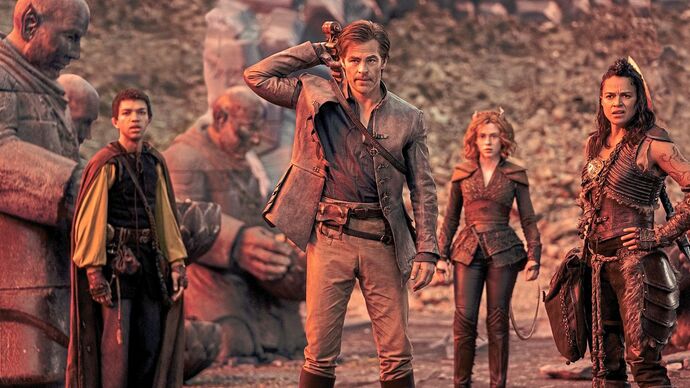 There's a whole, rich history behind modern gaming, with plenty of tropes and designs rooted in tabletop RPGs, the most famous of which is Dungeons & Dragons (or D&D).
Not only did the magical medieval wargame-inspired activity trigger the era of role-playing games, it also paved the way for video gaming.
As we saw in the vintage world of Stranger Things—a show that re-popularized D&D and likely led to this film being made—D&D was a hit during the 1980s. Military strategy meets fantasy quests in the open-ended tabletop game, which is the perfect setup for a movie adaptation.
After a bumpy production and confused film rights, Chris Pine eventually set off as a vengeful bard with his band of merry thieves. Marketed almost like a Marvel movie, Dungeons & Dragons: Honor Among Thieves moves away from the depressing Dark Age genre and into witty charm.
5. Tetris (2023)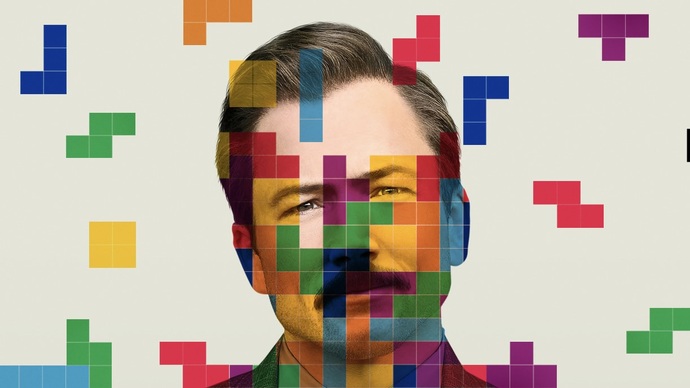 Tetris isn't so much an adaptation of the game but a film about the game itself. More specifically, the guy who invented it.
Taron Edgerton plays Henk Rogers, the star of this biopic, who didn't actually create Tetris. Instead, Rogers was the bridge between Alexey Pajitnov's Russian puzzle game and the rest of the world.
For a game as simplistic as colorful blocks on a screen, it caused a lot of drama. Its Soviet origins during the Cold War made its introduction to the masses a difficult one, with many licensing rights and disputes.
But don't worry! Tetris is a lot more interesting than legal jargon, and we even get a nod to early Super Mario Land. Ironically, though, the film itself also stirred a lawsuit relating to copyright infringement... all over an 8-bit game of Tetris!
4. Clue (1985)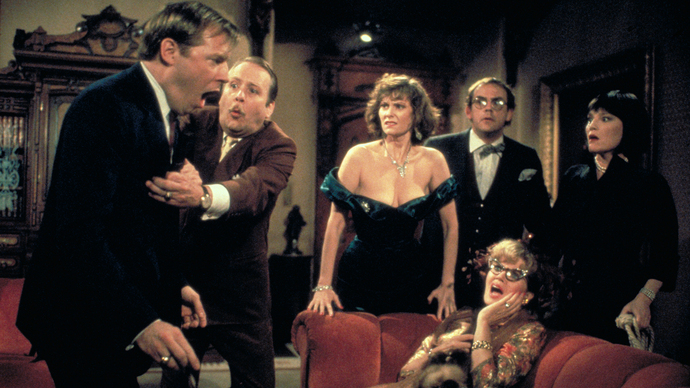 We all know Agatha Christie as the mother of murder mysteries, so of course the 1943 board game Clue was inspired by her novels, which in turn inspired the film! Yet, while Clue is the ultimate whodunit template, the movie version is anything but generic.
Jonathan Lynn's oddball comedy takes place at a secluded mansion in 1950s New England. There, six strangers are brought together and blackmailed to dinner, with death for dessert.
Was it Mrs. White with a candlestick? Professor Plum with a knife? Lynn treated the movie like a game itself, offering us three different possible endings that all somehow make sense. (A random ending was sent to each movie theater upon release.)
Like most Tim Curry movies, Clue eventually turned into a cult classic that endures through the ages to this day.
3. Toy Story (1995)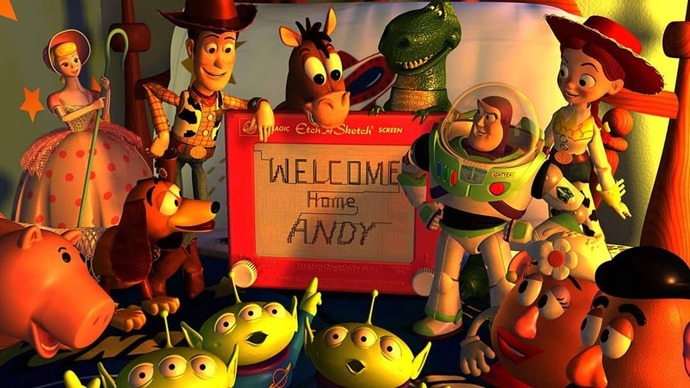 Toy Story isn't so much based on any given toy as it is toys in general. The first-ever animated feature combines generic products (like Mr. Potato Head, porcelain dolls, and a piggy bank) with fictional brands (like Buzz Lightyear and Woody's Roundup gang).
Of course, all the characters in the Toy Story franchise have since been made into real products and merchandise. But in the movie world, these toys come to life whenever humans aren't looking. (Then again, who are we to say they don't do the same in real life...?)
Toy Story is one of the classics of Pixar, the pioneer of all future animated movies. John Lasseter directed the first two installments, with enemies-to-friends toy protagonists voiced by Tom Hanks and Tim Allen.
2. The LEGO Movie (2014)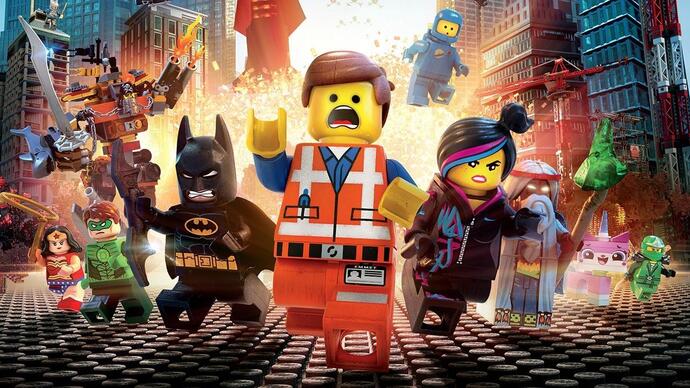 Besides getting Tegan and Sara's "Everything Is Awesome" stuck in everyone's heads, The LEGO Movie is mainly remembered for surprising parents with its intelligent allegory.
Unlike most toy-brand movies, The LEGO Movie offers up social commentary on the greedy nature of capitalism, urging viewers to consume less and connect more.
Will Ferrell voices President Business, the evil villain who symbolizes, well, business. Everything in everyman Emmet's world (voiced by Chris Pratt) is geared towards profit, turning citizens into mindless drones who work and buy, work and buy.
All of these clever innuendoes are encased in sharp dialogue and genuinely funny pop culture references, with a twist ending you won't expect. The LEGO Batman Movie was a mildly successful sequel, but don't bother with The LEGO Ninjago Movie...
1. Barbie (2023)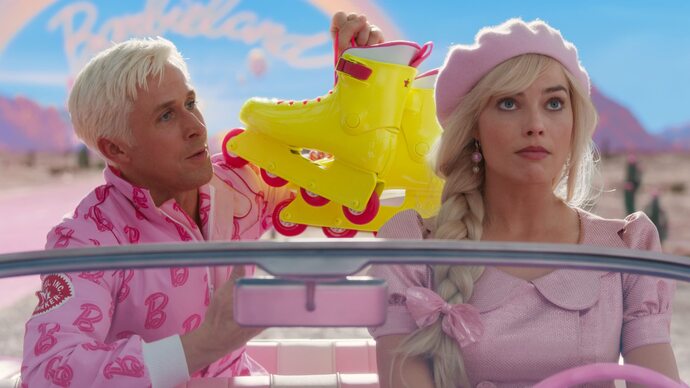 If you've gotten this far into 2023 and haven't watched Barbie yet, we suggest you hop aboard the bandwagon quickly!
When addressing themes of feminism, sexism, motherhood, consumerism, and existentialism, it's hard to please everyone. That said, Greta Gerwig satisfied most critics with her eccentric, creative, and heartfelt depiction of society through a woman's eyes.
After having an identity crisis, Barbie is plunged from her perfect matriarchal Barbieland and into the real world. You know, our world. A world where mortality and cellulite exist.
Gerwig covered a lot of ground in her subversive (in all the right ways) comedy-drama, supported by stunning set designs and acclaimed performances from Margot Robbie and Ryan Gosling.
Some fans even speculated a link between Barbie and The LEGO Movie, with Will Ferrell's CEO antagonist resembling his President Business. Both movies use kids products to investigate social issues, where a wealthy white man abuses his power but is eventually defeated.