Do you enjoy playing collectible card games but don't like having to carry around all those cards everywhere?
Well, there are quite a few digital card games—including CCGs, TCGs, and LCGs—that'll scratch the same itch as physical ones, but without all the space and monetary commitments!
For the uninitiated: CCG means collectible card game, TCG means trading card game, and LCG means living card game. Learn more in our glossary of board gaming terms.
7. Shadowverse CCG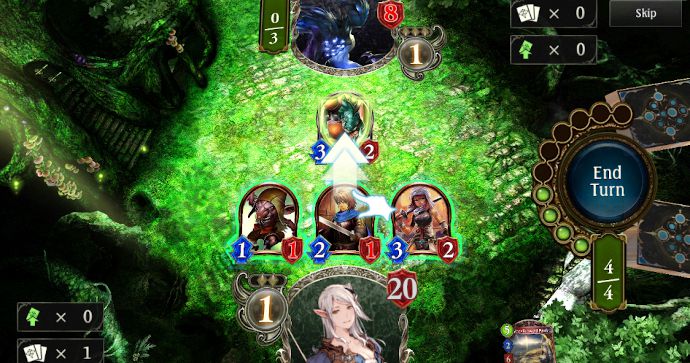 Shadowverse CCG may surprise you since it isn't tied to a massive franchise (i.e. Warcraft, Elder Scrolls, The Witcher, etc).
It's set in its own universe with a stylized anime look–and-feel to every aspect of the game. And unlike many other card games, there's a fairly involved story mode that's great for getting started with the game.
As far as the mechanics, it's a one-on-one card duel where each player is represented by a leader with 20 health and a starting hand of three cards.
The objective is to reduce your opponent's health to zero using the cards from your deck. It's free, so it's worth giving a shot!
6. The Elder Scrolls: Legends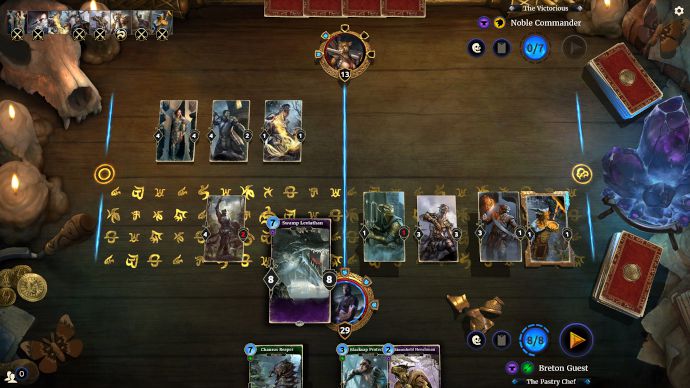 You've almost certainly heard of The Elder Scrolls at one point in your gaming life, and this is the card game based on the beloved franchise.
The game first released in 2017, and it's been going fairly strong ever since. While not as huge as Hearthstone, the game being free-to-play does mean that it has a solid player base.
Everything in Legends is based on characters, monsters, and lore found in The Elder Scrolls video games like Oblivion and Skyrim. Decks in this game are between 50 and 100 cards, and it's one-on-one (there are computer-controlled opponents to play against before going online).
The game has received mostly positive reviews from critics and fans of CCGs, so it's definitely worth a shot.
5. Gwent: The Witcher Card Game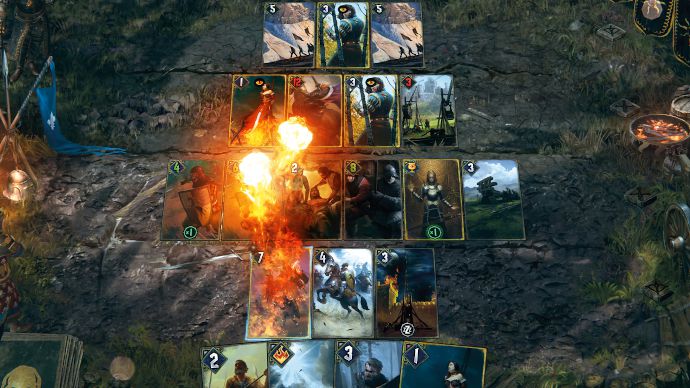 Gwent is the digital card game that was part of The Witcher 3. Because players enjoyed it so much within the larger game, the developers decided to spin the card game off into its own thing. The Witcher 3 came out in 2015, and the dedicated card game first hit the market in 2018.
Like most card games, it's a one-on-one battle. Each game is divided into three rounds. While the game is happening, each player needs to play at least one card from their deck of at least twenty-five cards.
Similar to Hearthstone, the decks belong to a faction, which determines aspects of the play style.
It's also free-to-play, which means you can jump in and get started without spending anything, though you'll need to invest if you want to keep up with the latest decks.
4. Hearthstone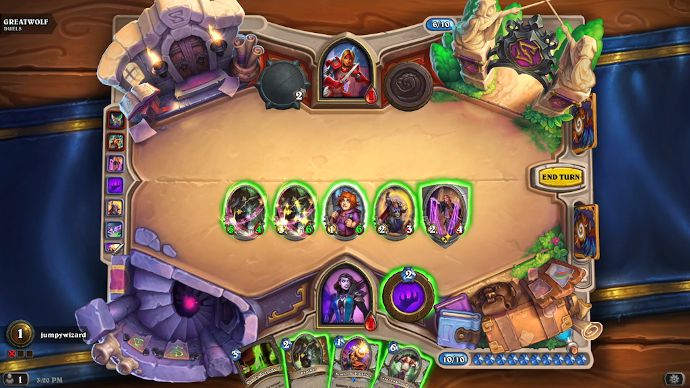 When it comes to digital card games, Hearthstone is easily the most recognizable brand in the space.
That's because it's the game that helped put digital card games back on the map and because it comes from Blizzard, one of the biggest game developers out there.
Part of what makes Hearthstone so great is how long it's been around. The developers have had years to come up with new cards and mechanics and a thriving pro scene has helped to shape an interesting meta that's constantly changing and evolving.
The actual game is played between two players, each with a deck of 30 cards. There are heroes that have their own powers and cards, as well as neutral cards that are available to all classes.
One issue you might find with the game is that it's hard to keep up if you don't spend money—but let's be honest, you can't play a physical CCG or TCG without spending money either.
3. Slay the Spire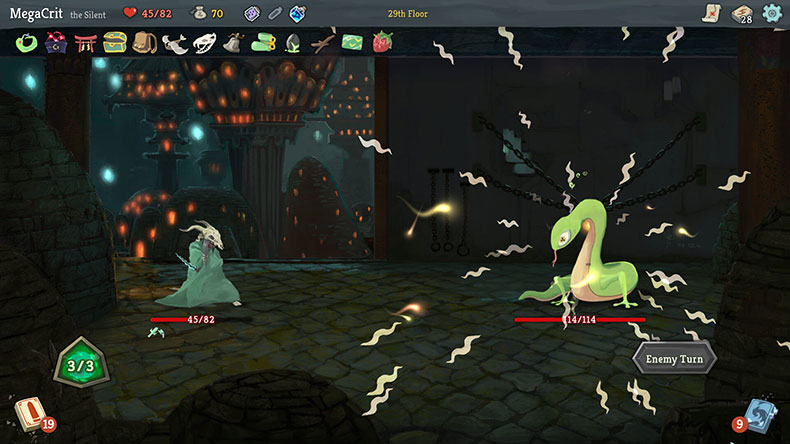 Slay the Spire is the only non-multiplayer digital card game on this list, but it's so good that we had to include it.
It's a roguelite dungeon crawler with CCG combat: you gain new cards by exploring the floors of the Spire, and you grow more powerful by building a better deck with the cards you acquire.
The nice thing about Slay the Spire (as opposed to the other games featured in this article) is that you never have to worry about buying cards.
You buy the game and you get everything you need to have a full experience. IGN even named it the Best Strategy Game of 2019!
2. Mythgard
Mythgard is a free-to-play digital card game that features one-on-one card duels with minions, spells, enchantments, and more.
You can play online with other players, but there's also a single-player campaign where you can learn the gameplay mechanics and get comfortable.
So what's unique about Mythgard? Well, every card can be unlocked through play, meaning no pay-to-win gotchas. There are 2 free decks rotated in every Monday and Friday, which makes the free experience that much more enjoyable.
And unlike a lot of digital card games, card positioning plays a fundamental role in combat.
1. Legends of Runeterra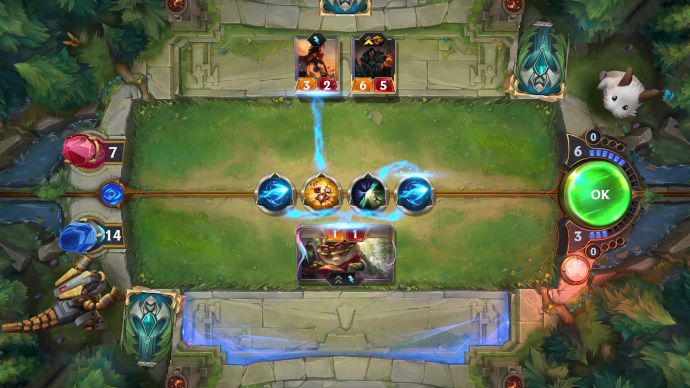 Legends of Runeterra released in April 2020 to much fanfare, which surprised absolutely no one given that this game comes from Riot Games and uses the same characters and setting as world-renowned League of Legends.
But even if you hate League of Legends, you should still give this one a shot because it's actually quite good.
In Legends of Runeterra, you play in a one-versus-one duel where both players have a 40-card deck, a 20-point Nexus, and one objective: destroy the enemy's Nexus before they destroy yours.
What's unique is that one player has an attack token and the other has a defense token every round, which dictates who can attack. The mana mechanics are also unique.
It's very streamlined and accessible without sacrificing any depth or fun. And it's free-to-play, so there's no risk in trying it out.
Honorable Mention: Artifact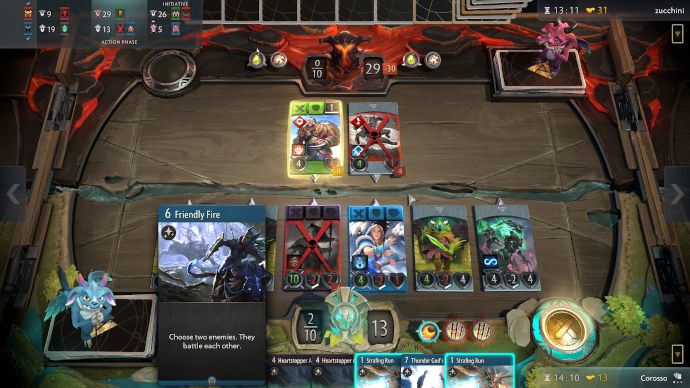 In its current state, Artifact is NOT one of the best digital card games to play. When it launched in November 2018, Artifact was widely criticized for pay-to-win microtransactions and overly complex game mechanics...
...but mostly for coming off as an exploitative cash grab by Valve of its Dota franchise. By summer of 2019, it pretty much died.
So why the honorable mention for Artifact? Because the game has been undergoing a massive revamp, and Beta 2.0 of Artifact is scheduled to drop publicly sometime in 2021.
Games like FFXIV and No Man's Sky have shown us that redemption is possible with lots of elbow grease, and we're hoping Artifact enjoys success when it's re-released.
The Future of Digital Card Games Is Now!
Who needs to go out and spend big money on physical card games? You can get much of the same fun from these digital games and you won't need to spend as much, nor will you need to fill your house with paper cards in order to have a good time!