Tuca & Bertie (Season 1)
Tuca & Bertie (Season 1)
A lively cartoon that follows two bird best friends and carries an underlying message.
A lively cartoon that follows two bird best friends and carries an underlying message.
I didn't know what to expect when I clicked on Tuca & Bertie for the first time. I regretfully moved my mouse towards the first episode and hit the Play button in the slowest way possible.
As soon as I saw the trippy animation sequences, I thought I had made a huge mistake.
My initial impression of this Netflix original couldn't have been more wrong. This lively cartoon speaks the truth about many social issues in a hilariously awesome way.
The next time you decide to ditch your friends and stay in for the night, make sure you tune into Tuca & Bertie.
The Good
Tuca and Bertie are two avian best friends trying to navigate the world of adulthood. The pair couldn't be more opposite of each other—Tuca, an unapologetic toucan doesn't have any set goals for her future, while Bertie, a type-A song thrush tries to succeed at her banal office job.
Anyone who watches the show can find themselves in either Tuca or Bertie. The overly anxious types can easily relate to the timidness found in Bertie, while the partygoers can see their carefree attitudes reflected in Tuca.
Although these two characters are birds, they have more humanlike characteristics than some cartoon characters that are actually human.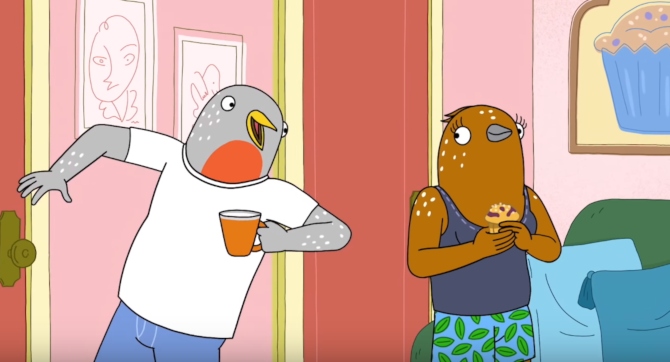 The first episode confronts a problem that all of us face at some point in our lives.
After years of Tuca and Bertie living together, Bertie decides that she wants to live with her boyfriend, Speckle—this means that Tuca will need to find her own apartment. Tuca is devastated at first, but her persistent attitude compels her to snag an apartment right above Bertie and her boyfriend.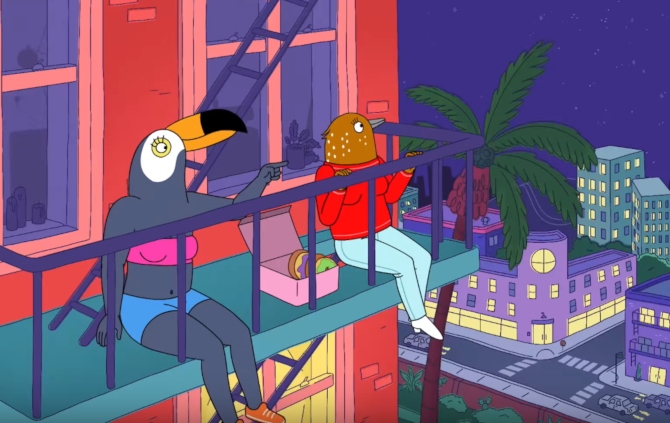 The show takes on a more serious tone when it confronts sexual harassment in the office.
When Bertie attempts to land a promotion at her workplace (ironically named Conde Nest), she experiences a form of sexual harassment from a very cocky rooster. The way the show addresses these issues isn't enough to kill the entire mood—it doesn't play out like a PSA at all.
The Bad
Honestly, I can't really find anything bad about this show. Some might consider certain elements of Tuca & Bertie obnoxious, but that's what makes it so great.
I'm not sure everyone would appreciate the absurd scenes that occur throughout the show. In one episode, Bertie's boob literally falls off, and in another, Tuca and Bertie bake Speckle's grandma's ashes into a cake.
All of these bizarre elements come together to form a pure acid trip of a show.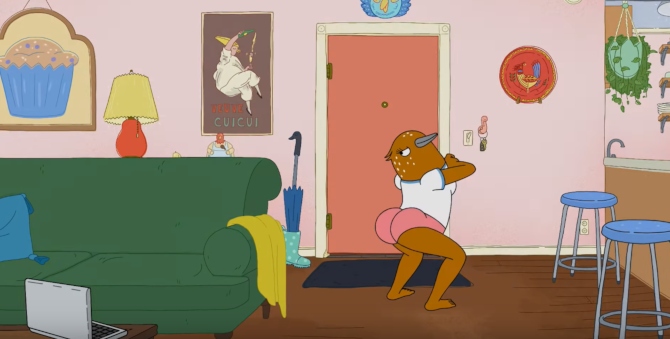 In other words, I can understand why some people might turn up their nose at the scene of Bertie twerking in her underwear. The crudeness definitely isn't for everyone, but what else can you expect from the creators of Bojack Horseman?
I forgot to mention that the show only has ten episodes. What's up with Netflix releasing only a few episodes at a time? It's just plain cruel—they feed us delicious little crumbs and make us wait years for more.
Although the first season of Tuca & Bertie was just released and we can't expect another season for a while, I just can't wait to see what else the show has to offer.
The Verdict
The fictional city in Tuca & Bertie has a spirited personality of its own—its inhabitants consist of birds, plant people, and monkeys that give the city a wild feel. Vibrant colors cover the city's buildings, making the entire environment surreal and almost magical.
The music in Tuca & Bertie breathes life into the show. The songs in every episode have a powerful bassline that makes you want to get up and dance—synths coupled with bouncing club beats match its high-energy vibe. The opening music in the video above is only a preview of the epic tunes you'll hear in later episodes.
Speaking of sound, I can't get enough of the voice acting. You just can't get any better than Tiffany Haddish as Tuca, Ali Wong as Bertie, and Steven Yeun as Speckle. Their voices make each character authentic and personable.
By the end, you'll wish you had friends like Tuca and Bertie.
Tuca & Bertie (Season 1)
Tuca & Bertie (Season 1)
If you liked this review, consider checking out the complete whatNerd Reviews Index!