PlayStation Plus has changed and it's actually better for gamers in many ways. But that doesn't mean it's perfect yet. In fact, there are still some disappointing aspects that fall short of expectations.
The big thing now is that PlayStation Plus is a multi-tiered subscription service, with certain benefits only available to higher-priced plans. It's not as overly complex as some multi-tiered subscription services, but the changes can be difficult to grasp at first.
Here's a quick overview of what PlayStation Plus used to be and what PlayStation Plus now offers, including a dive into all the benefits that come with each subscription tier.
How It Used to Be: PlayStation Plus and PlayStation Now
PlayStation Plus has always been confusing, but these changes are making it less confusing—and that's great for everyone.
It used to be that you had to understand and consider two separate services, called PlayStation Plus and PlayStation Now.
PlayStation Plus was the main subscription service that allowed you to play your video games online, similar to Microsoft's Xbox Live and Nintendo Switch Online. It also granted a handful of free games every month (a benefit that Microsoft later copied).
PlayStation Now was a separate subscription service that opened up access to a library of video games. Some of these games could be downloaded and played offline, while others were available to stream and play over the internet (called cloud gaming).
They were both useful services, but you'd run into overlap every so often if you were subscribed to both. Namely, the games you played via PlayStation Now might appear on PlayStation Plus, and that made the value of PlayStation Now feel worse.
And with Microsoft gaining a lot of traction with the successful Xbox Game Pass subscription, Sony needed to change things up a bit if they wanted to compete and stay in the game.
The New PlayStation Plus Tiers, Explained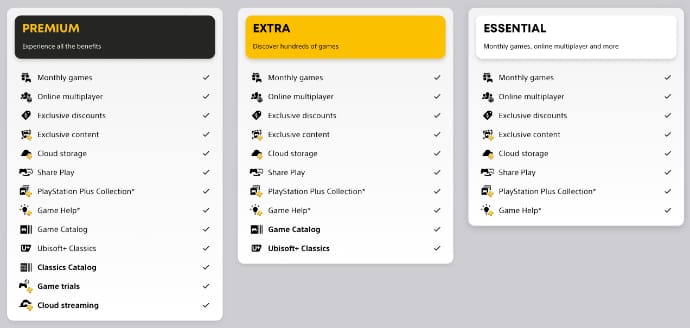 The main difference with the revised PlayStation Plus subscription service is that PlayStation Now is no more.
Most of the functionality that was included in the now-defunct PlayStation Now is still around—for better or worse—with it simply being folded into the new PlayStation Plus tiers.
Long story short: Instead of paying for two separate PlayStation subscription services, you can now simply pick the PlayStation Plus tier that makes the most sense for your needs.
While this makes billing easier—for example, you don't have to worry about PS Plus and PS Now renewing at different times—now you need to decipher the different tiers and pick just one.
The three tiers are PlayStation Plus Essential, PlayStation Plus Extra, and PlayStation Plus Premium. Let's take a closer look at what each one offers and whether they're worth it for your gaming needs.
Is PlayStation Plus Essential Worth It?
PlayStation Plus Essential is more-or-less the old PlayStation Plus. The pricing is the same ($9.99 per month, $24.99 per quarter, or $59.99 per year) and you get the ability to play online multiplayer games, store saves on the cloud, and receive free games every month.
However, the types of free games you get with PlayStation Plus Essential are limited compared to the higher tiers.
While the other plans include older titles from Sony's catalog, PlayStation Plus Essential only provides more-or-less "modern" games. This includes the PlayStation Plus Collection, a curated list of PlayStation 4 and PlayStation 5 games that "defined the generation."
Don't expect to get blockbuster video games on day one of release, but the offerings are generally better than the old PlayStation Plus. Initial PlayStation Plus Essential freebies included God of War and Final Fantasy VII Remake Intergrade, as well as Stray (a day-one release).
Is PlayStation Plus Extra Worth It?
PlayStation Plus Extra includes everything in the PlayStation Plus Essential tier—meaning online multiplayer and cloud saves—as well as all the same free games and access to the PlayStation Plus Collection.
In addition, PlayStation Plus Extra grants access to an Xbox Game Pass-style catalog of PlayStation 4 and PlayStation 5 games. The offering here is more-or-less comparable to what was available via PlayStation Now before it became defunct.
Both PlayStation 4 and PlayStation 5 games are downloadable and installable, but only the PlayStation 4 games are streamable. (In other words, if you want to play any of the PlayStation 5 games on PlayStation Plus Extra, you'll need to install them.)
PlayStation Plus Extra costs $14.99 per month, $39.99 per quarter, or $99.99 per year. (Given that PlayStation Now used to cost $9.99 per month or $59.99 per year, you're now saving money if you used to subscribe to both PlayStation Plus and PlayStation Now.)
Is PlayStation Plus Premium Worth It?
PlayStation Plus Premium is the top-of-the-line version of the new PlayStation Plus service, meaning it includes everything in both PlayStation Plus Essential and PlayStation Plus Extra, plus more.
This tier is pretty much reserved for fans of older, classic video games. On top of all the PlayStation 4 and PlayStation 5 games that come with PlayStation Plus Extra, you'll also get a smattering of games from the PlayStation 1, PlayStation 2, PlayStation 3, and PlayStation Portable.
The tricky party about this is how you actually play them.
For PS1, PS2, PS3, and PSP remasters, you can either stream them or download and install them. For original non-remastered PS3 games, you can only play them via streaming. (If you were subscribed to the original PlayStation Now, this should be familiar.)
PlayStation Plus Premium costs $17.99 per month, $49.99 per quarter, or $119.99 per year. This is pretty much on par with what you would've been paying for both PlayStation Plus and PlayStation Now.
We'll need to wait and see how many classic games get added to PlayStation Plus Premium in the coming months, but if Sony remains committed to it, then PlayStation Plus Premium could be a retro gamer's dream.
For everyone else, you're better off with either PlayStation Plus Essential or PlayStation Plus Extra—and you'll save money for it.