Twitch was always considered the leading streaming platform, that is until Mixer made a deal with one of the top names in streaming: Ninja. His move to Mixer in 2019 has drawn both viewers and streamers to the platform.
If you're an aspiring streamer, you're probably wondering where to begin your streaming career (or hobby). In this guide, we'll go through the main highlights of Twitch and Mixer.
Mixer: Pros and Cons
The Microsoft-owned Mixer has been put on the map by streamers like Ninja and Shroud. While Mixer is the best app for streaming Xbox One games, you can also stream on Windows 10. Just keep in mind that Mixer doesn't have a native app for the PlayStation 4 or Nintendo Switch.
Interface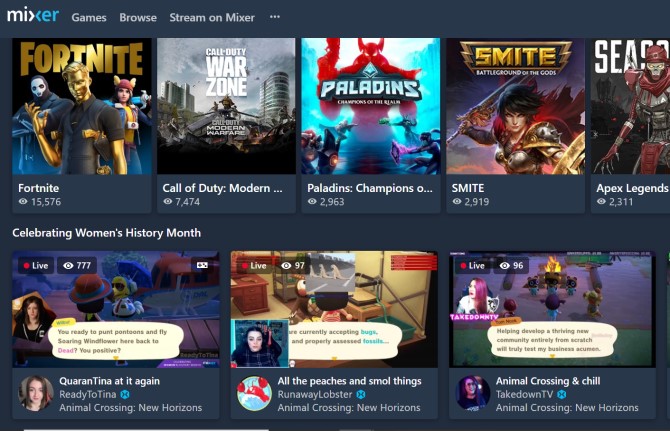 A simple interface means that more people are likely to use the platform to watch their favorite streamers. Luckily, Mixer is super easy to navigate.
On the front page of its site, you'll see the featured stream sitting alongside the other popular streams and game categories. For a list of current streams, you can head to Games in the top menu bar to browse streams by game, or choose Browse to see the most-watched streams.
Once you select a stream, the chat appears to the right side of the screen. Underneath the stream, you can press Past Streams to watch prerecorded streams, and hit Clips (which is still in beta) to view any snippets of the user's past gameplay. The bottom half of the page also contains the streamer's profile, as well as any essential links to the streamer's merchandise or social media accounts.
Audience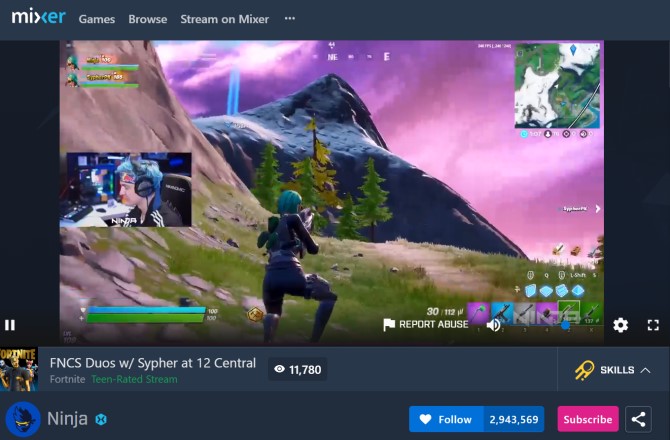 While Mixer's audience is quite small, that isn't necessarily a bad thing. A smaller audience lowers the chance of other streamers outshining you. Despite Ninja's move to Mixer, the platform still has yet to gain traction in terms of popularity. Mixer is a good place to start if you want to take advantage of a small (but promising) audience.
Chat Features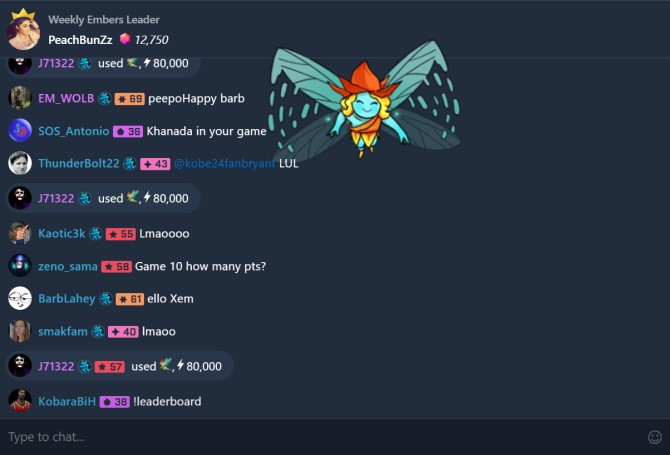 Chat is one of the most important aspects of streaming. Without it, your viewers can't interact with your stream. Mixer has plenty of chat features that can make your viewers' experience more entertaining.
As people watch your stream, they can earn Sparks. They can then trade these Sparks in for Skills, which let them use chat stickers, add special effects to the stream, or play mini-games in chat. Some viewers might even want to purchase Embers—these gems unlock premium effects and stickers. Viewers can also use both Skills and Embers to help streamers earn cash!
Streaming Experience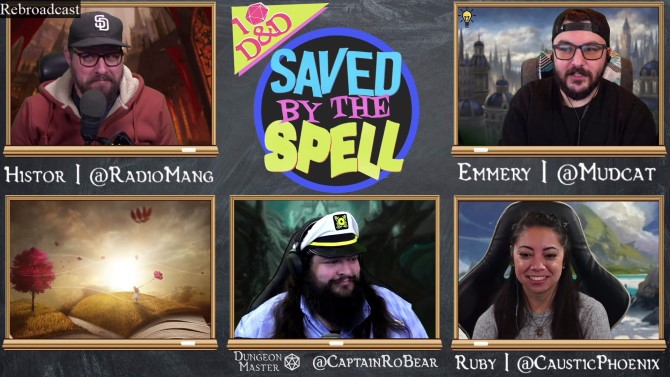 Mixer operates using something called Faster Than Light (FTL) streaming protocol—this allows for low-latency streaming. Thanks to the FTL protocol, viewers can watch and interact with your stream with barely any delay.
Another feature that makes Mixer unique is its built-in co-streaming feature. With co-streaming, you can collaborate with up to three other streamers to create a joint streaming session. This comes in handy when you're playing a multiplayer with friends and want to show off different perspectives.
Making Money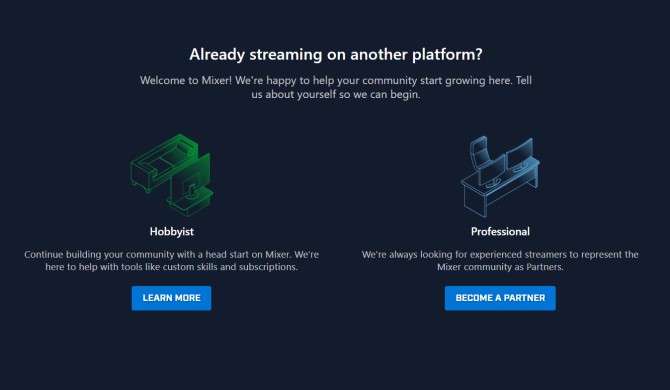 While you can make money off of your streams through sponsorships, tips, and donations, you can get more cash once you become a Mixer Partner. You can apply to become a Mixer Partner once you get 2,000 followers, stream for at least two months, and have 12 or more streams per month that total over 25 hours. If you get accepted, you'll receive a cut of the subscriptions you earn.
Twitch: Pros and Cons
Since Twitch's launch in 2011, it has held its status as the most popular streaming platform. Amazon acquired Twitch in 2014, growing the platform even more. Twitch makes streaming on a PC, Xbox One, or PS4 simple—you can install a native Twitch app on each to start streaming.
Interface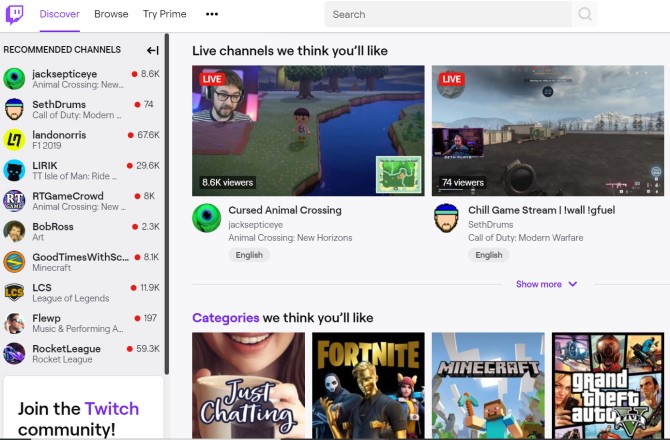 Like Mixer, Twitch also has an easy-to-navigate UI. On the site's homepage, you'll see the featured stream above a list of recommended channels. Further down the page are more suggested streams and categories. For quick access to recommended channels, you can click a streamer's name or icon on the left sidebar.
Clicking Browse on Twitch's main menu leads you to the category directory—here, you can select a particular game to view the channels streaming it, as well as browse current live channels.
You can check out a streamer's channel by simply clicking on one of their streams. Scroll down the Home page to view the streamer's profile, or hit Videos to see the user's previous broadcasts. Click the three dots next to Videos to display a dropdown menu—you can use this to access the streamer's clips.
Audience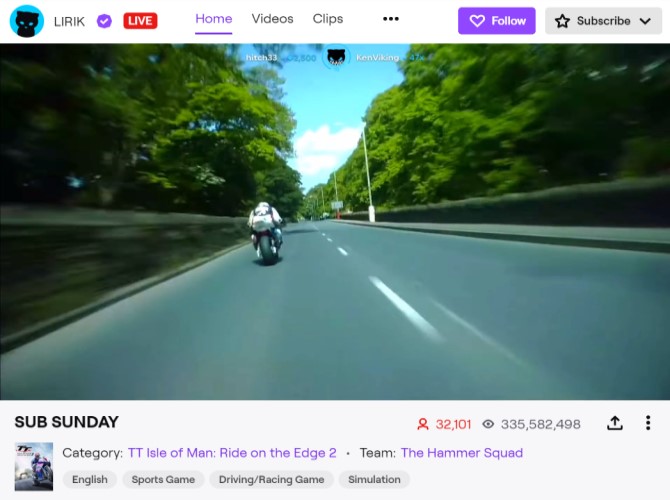 Twitch has a much larger audience when compared to Mixer, however, this may make it harder for your channel to get discovered. When you're just starting, you'll get drowned out by the millions of other streamers on the site. If you do manage to get a decent following, Twitch's overall audience is large enough to increase the chances of growing your channel.
Chat Features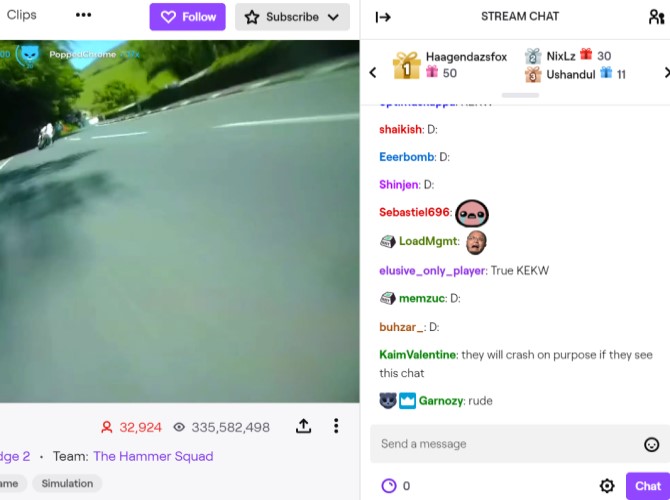 Unless users subscribe to a streamer, they don't get to have as much fun with chat. Subscribers get to use the custom emoticons specific to the streamer's channel.
Viewers can also participate in the Hype Train, a celebration that's triggered when the channel gets an uptick in subscribers and donations. During a Hype Train, users are encouraged to reach the next level of hype by donating, subscribing, and gifting subscriptions to other users within a certain amount of time. Once the Hype-o-Meter bar in chat gets filled, viewers can progress to the next level.
Streaming Experience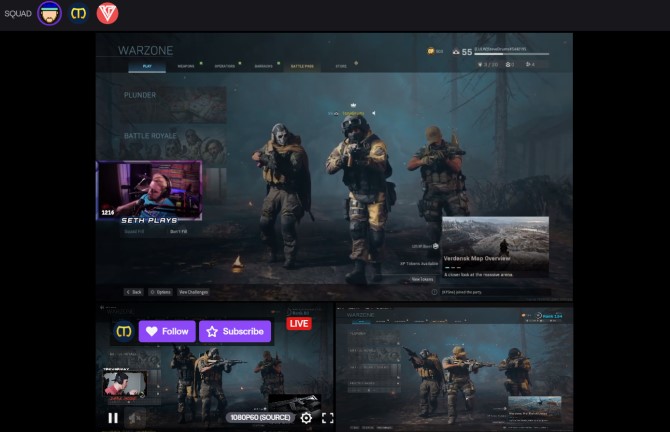 While Twitch lets you stream with up to three other friends in Squad Mode, this feature is only available to Twitch Partners. In other words, you'll have to wait for your channel to grow before you start co-streaming.
Twitch might not have Mixer's FTL protocol, but it does have a low-latency option. Streamers can toggle this feature to shorten the time it takes for their broadcast to reach their viewers.
Making Money
You can start earning money on Twitch with a fairly low amount of subscribers. When you hit 50 followers, have at least 500 minutes of broadcast on seven different days, and score an average of three or more viewers at once, you can become a Twitch Affiliate. Twitch itself will invite you to join the program once you meet these criteria.
After signing on as a Twitch Affiliate, you can earn money from subscriptions, receive donations in the form of Bits, and even get commission when viewers buy the game you're streaming (as long as it's available on the Twitch store).
You can become a Twitch Partner when your channel grows big enough. This comes with plenty of added perks, including access to more emotes and the ability to gain revenue from ads.
Bottom Line: Twitch vs. Mixer
Because of Twitch's large audience and ease-of-use, it might seem like the go-to choice for streaming. While Twitch offers a solid opportunity for growth, you might be able to see even more growth on Mixer if you're willing to wait it out. Mixer has a ton of potential that you shouldn't count out.
Ready to start streaming? Make sure you're equipped with some essential video game streaming equipment.