When you're an anime fan, you have one big decision to make: what streaming service do you choose? Netflix has a severe shortage of anime on its list, so it's out of the question. Hulu's pretty decent, but it has too many commercials.
And I think we all know that those sketchy, free anime sites aren't worth it either—the spammy ads and bugginess are just way too irritating.
Crunchyroll and Funimation specialize in anime, making them two of the most popular anime streaming services. When you narrow down your choices, you'll usually have to choose between the two.
Can't decide where to subscribe? Here's a rundown of both Crunchyroll and Funimation.
Crunchyroll
Many anime fanatics view Crunchyroll as the go-to anime streaming service. It's garnered millions of subscribers since its inception in 2006. Whether it tops Funimation is up to you.
Crunchyroll: Anime Selection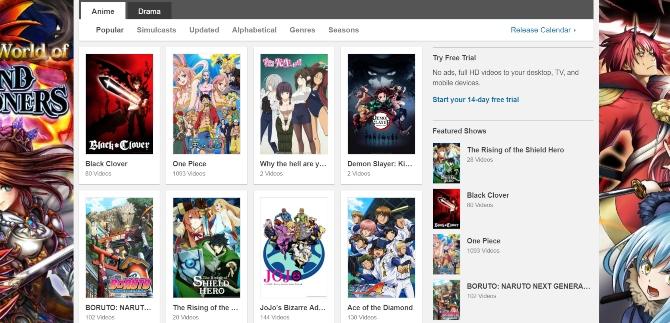 Crunchyroll has enough anime to keep you busy for the rest of your life—it currently has over 900 anime shows and 200 Japanese dramas for you to choose from.
Many shows on Crunchyroll are subbed, which is a good or bad thing depending on your preference.
You can find plenty of lesser-known shows, as well as some high-profile anime on Crunchyroll. Watch popular shows like Naruto Shippuden, Attack on Titan, and Fullmetal Alchemist, or discover your next favorite niche anime like Mob Psycho 100, or How Not to Summon a Demon Lord.
Be prepared to read, because these anime shows are subtitled.
Crunchyroll also offers a variety of simulcasts, meaning you can watch anime at the same time they're premiering in Japan.
If you like to read manga, Crunchyroll is a great resource. It features several manga that you can read online, and some are even simulpubs.
Crunchyroll: Interface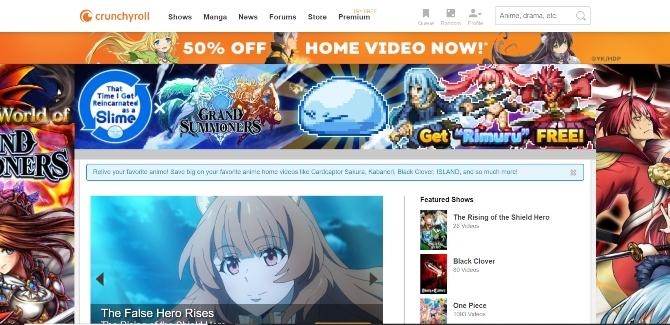 Crunchyroll has a pretty straightforward user interface where you can browse through the most popular anime, sort them alphabetically, or check out different genres.
You can add shows to your queue to watch them later, or even hit the Random button if you have no idea what to watch.
Crunchyroll: Availability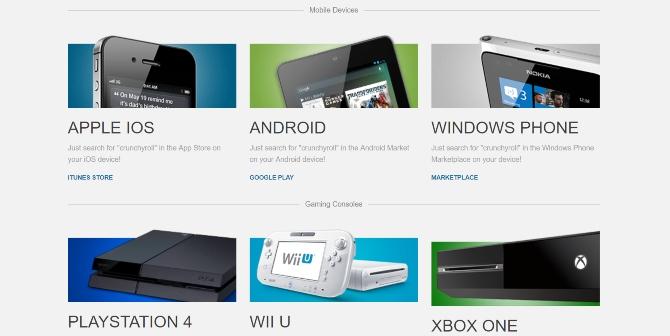 You can use Crunchyroll on a variety of platforms including Android, iOS, Windows phone, PlayStation 4, Wii U, Xbox One, PlayStation 3, PlayStation Vita, Xbox 360, Chromecast, Apple TV, and Roku. Crunchyroll has yet to create an app for the Nintendo Switch.
The apps tend to be a bit buggy. Unfortunately, Crunchyroll's apps are no strangers to lag, glitches, and crashes. If you plan to mainly watch anime on-the-go, you might want to reconsider.
Crunchyroll: Price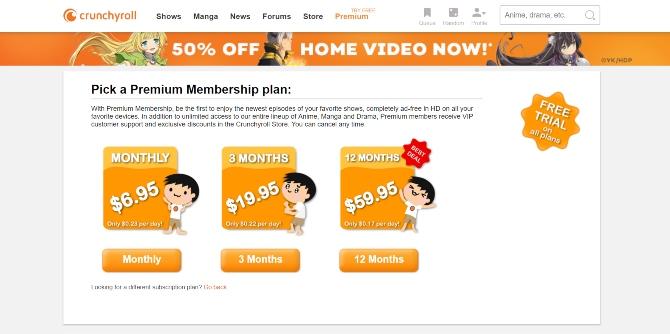 You can watch Crunchyroll for free, but you'll get the most out of it if you purchase the premium plan.
For $6.95 per month, you'll get to watch unlimited anime in HD and read all the available manga without any ads. If you don't like monthly payments, you can opt to pay $19.95 for three months, or $59.95 every year.
Crunchyroll has plans to increase its monthly price. Starting in May of 2019, you'll have to start paying $7.99 instead.
Funimation
Most people look upon Funimation with fondness and nostalgia. It made a name for itself after its dubbed rendition of Dragon Ball Z appeared on Cartoon Network's Toonami section in the late 90s.
Funimation: Anime Selection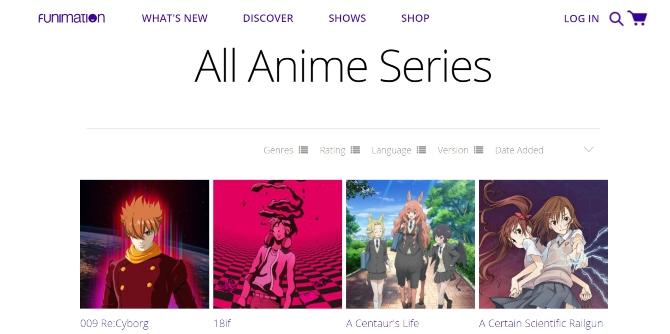 Funimation houses a huge variety of classic anime, as well as some newer ones. If you prefer dubbed anime shows, you'll love the fact that Funimation gives you the option to watch in Japanese or English.
Relive your childhood with dubbed versions of Dragon Ball Z, Yu Yu Hakusho, One Piece, and Cowboy Bebop. Not only do these shows have classic storylines, but you can't deny that they have some of the most epic theme songs in anime.
When you're not in a nostalgic mood, check out some of the newer dubbed shows like My Hero Academia, Assassination Classroom, and Golden Kamuy.
Funimation plays both simulcasts and something called simuldubs. Simuldubs allow viewers to watch the dubbed version of a new anime the day after its broadcast in Japan. With Funimation, you don't have to wait for a dubbed anime.
Funimation: Interface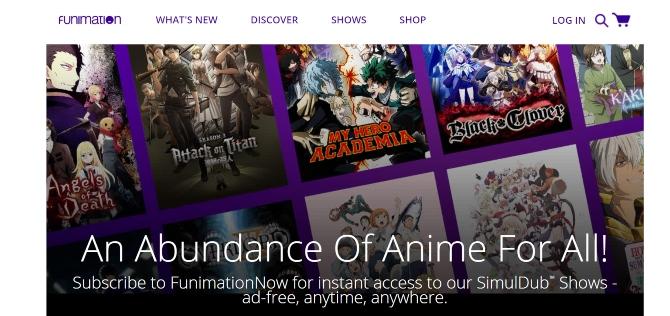 Funimation's interface is a bit less crowded than Crunchyroll's. By hovering over the Shows button on the menu bar, you can sort through the most popular anime, find anime by genre, view all simuldub anime shows, or just look at all shows alphabetically.
If you're feeling stumped, head to the Discover tab to help you find your next binge-worthy anime.
Funimation: Availability
Funimation has a slightly larger number of compatible platforms compared to Crunchyroll.
You can watch Funimation on your Apple TV, Android TV, Amazon Fire TV, Amazon Kindle, Roku, Windows phone, Xbox One, Xbox 360, PlayStation 3, PlayStation 4, Chromecast, Samsung TV, iOS, and Android.
Like Crunchyroll, Funimation has some of the same buggy problems with its apps. It's really a hit or miss—some days you might be able to watch anime perfectly fine from your phone, other days you'll want to delete the Funimation app and run your phone over with an 18-wheeler.
Funimation: Price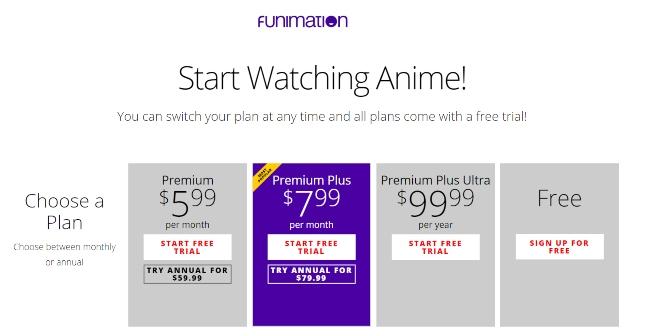 Funimation offers three tiers of pricing. All tiers get you ad-free access to subbed and dubbed anime.
For $5.99 per month, you can get the most basic premium plan. If you want to stream on five screens simultaneously and watch shows offline, try the premium plus plan for $7.99 per month.
Finally, subscribe to the premium plus ultra plan for $99.99 per year, and you'll get an annual Funimation gift, as well as two free rentals from the Funimation store every year.
Choosing Your Anime Outlet
Both streaming services have their strengths and weaknesses, but it all comes down to your personal preference.
If you prefer dubbed anime, then you should go with Funimation. On the other hand, Crunchyroll is great at releasing the newest shows, but you can't expect a plethora of dubbed episodes.