When unintentional, pregnancy can be the worst surprise that upends your life. But when it's desired and pursued? It's one of the most magical phenomena in the world.
The miracle that is the creation of life has inspired countless works, from the frescoes that decorate the Sistine Chapel to some of the most moving movies of all time. No matter what, pregnancy is a big deal.
These films expertly capture the importance and significance of conception and childbirth. In a world that can often feel devoid of meaning, the continuation of life and creation of new energy can bring us an innate sense of peace and purpose.
Here are our favorite movies that capture the magnitude, beauty, and consequences of pregnancy in all of its glory.
10. Mad Max: Fury Road (2015)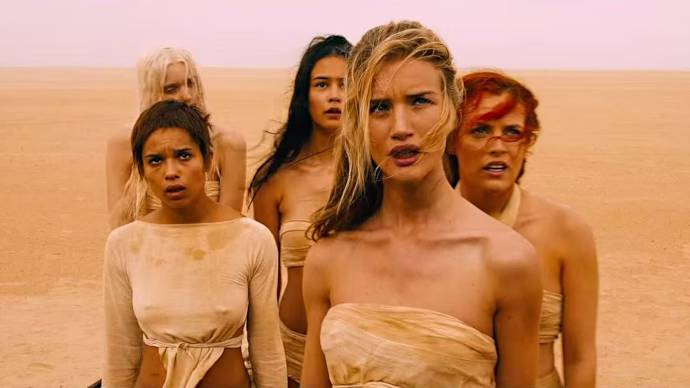 Kicking off this article with Mad Max: Fury Road might be strange and surprising, but hear me out! It's quite an important fit.
Max Rockatansky (played by Tom Hardy) is a loner, driving solo in a desolate desert wasteland, who's characterized by one thing: the will to survive and make it through to yet another day.
But he eventually discovers something actually worth fighting for when he comes across Furiosa (played by Charlize Theron) and her band of women who are attempting to escape the clutches of Immortan Joe.
Angharad's pregnancy is symbolic of the slavery that all these women are trying to escape, the slavery that they want to protect their unborn children from. Deep down, this pregnancy represents what's at stake in this struggle against Immortan Joe's relentless pursuit.
Admittedly, Mad Max: Fury Road doesn't actually dwell on the theme of pregnancy for long, but its inclusion still adds a layer of depth to what's otherwise a movie chock-full of gorgeous action.
9. Junior (1994)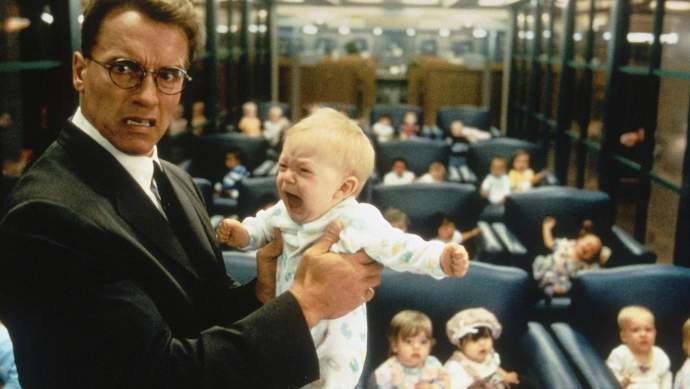 When you look at ratings sites, Junior appears like a bad movie at first glance. It wasn't received well at release and it hasn't been remembered fondly by many. But I think it's worth revisiting!
Scientists Dr. Alexander Hesse (played by Arnold Schwarzenegger) and Dr. Larry Arbogast (played by Danny DeVito) develop a serum that increases fertility and reduces the likelihood of miscarriage.
However, they have difficulty testing the drug's efficacy due to FDA regulations and the fact that most don't want to trial an unapproved drug. So, Larry convinces Alex to take the drug himself—and soon afterwards, he begins to experience unexpected symptoms...
That's right: in Junior, seven-time Mr. Olympia winner Arnold Schwarzenegger falls pregnant. Need I say more?
Okay, to be fair, Junior is far from the smartest or deepest film out there, but it's certainly entertaining. The chemistry between Schwarzenegger and DeVito is undeniable. Watch it for a laugh!
8. Mother! (2017)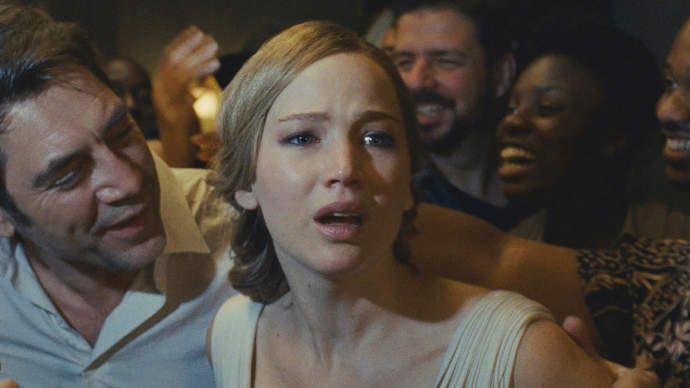 Darren Aronofsky has created several anxiety-inducing films, from Pi (1998) to Requiem for a Dream (2000) to Black Swan (2010). And yet, his most unsettling film might just be Mother!
The characters in this film don't have names—or, at least, traditional names like you'd expect. Mother (played by Jennifer Lawrence) and Him (played by Javier Bardem) live a quiet life in the countryside. When a strange couple visits them, all hell breaks loose.
Mother! has been interpreted in many ways, but according to the director, it's an allegorical story about the abuse of Mother Earth and the fertility of nature being defiled and taken for granted.
7. Revolutionary Road (2008)
As a director, Sam Mendes has a packed filmography of stellar dramas, including the likes of American Beauty (1999), Road to Perdition (2002), Jarhead (2005), and Skyfall (2012). But don't forget Revolutionary Road, which isn't as well-remembered yet still fantastic.
Revolutionary Road follows Frank and April Wheeler (played by Leonardo DiCaprio and Kate Winslet), a married couple who thinks they have it all figured out. When they slowly realize that they don't—and perhaps never did—the cracks in their marriage begin to show.
In an attempt to shake up their lives for the better, they decide to move to Paris... but April becomes pregnant again. The pair try to resolve the issue to the best of their abilities, with both DiCaprio and Winslet delivering star performances.
6. Juno (2007)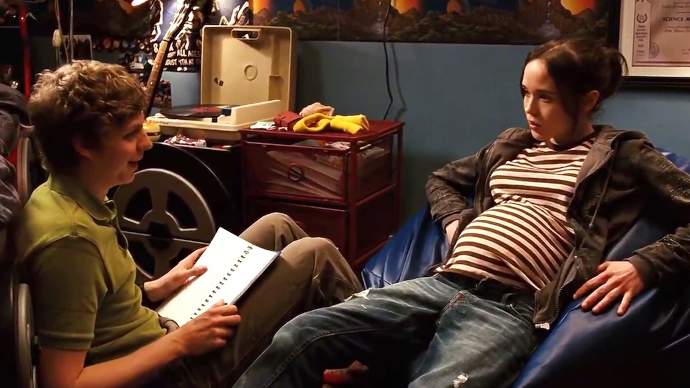 Pregnancy for a teen in high school is always a tricky situation, usually because it's unplanned by the mother and unsupported by the mother's parents, leading to all kinds of hardships and drama.
That's certainly the case for Juno (played by Elliot Page), an independent thinker who has big plans for her life. When she discovers she's pregnant, she decides to get an abortion.
But when she hears one fact about a fetus's fingernails, she realizes she can't go through with it and instead decides to have the baby. Knowing she doesn't want to keep the child for herself, she finds a couple who will adopt her yet-unborn child.
Directed by Jason Reitman, Juno follows Juno's emotional journey from beginning to end, and it's a fantastic watch with all the ups and downs you'd expect in a teen pregnancy but grounded in realism.
5. Parenthood (1989)
Directed by Ron Howard, Parenthood is one of the funniest depictions of a dysfunctional family. More importantly, it's one of the more accurate portrayals of how one pregnancy can shake up a family's dynamics.
Gil Buckman (played by the perennially hilarious Steve Martin) struggles to keep a good balance between working hard for his family and being a good father to his three kids.
When his wife Karen (played by Mary Steenburgen) tells him that she's pregnant with their fourth child, he begins to question if he can keep up with the pace of his life.
Meanwhile, pregnancies are popping up all over the place in Gil's extended family, meaning that themes of pregnancy, birth, and the nuclear family are prevalent all the way through.
4. Knocked Up (2007)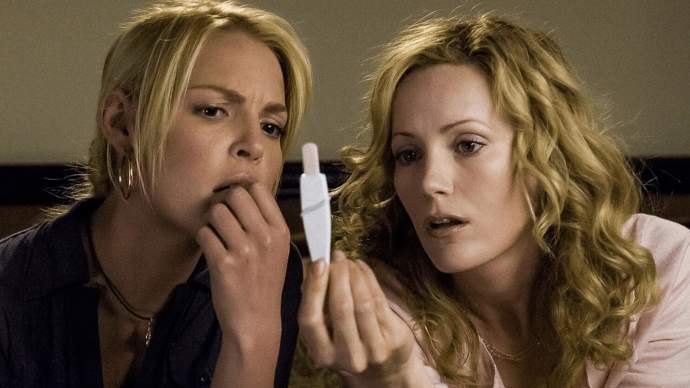 Leave it to Judd Apatow to make one of the funniest R-rated romcoms about pregnancy ever. Sure, Knocked Up has some problems in retrospect, but no one can deny that the comedy is well-written.
Reporter Alison Scott (played by Katherine Heigl) never has any fun. On one fateful night, she decides to let her hair down and go out to a bar, where she meets Ben Stone (played by Seth Rogen).
As you might expect given the film's title, their alcohol-fueled one-night stand leads to Alison getting knocked up.
The plot of the film then follows the pair as they attempt to traverse the difficulties of pregnancy in what's obviously a very new, uncertain, and awkward relationship—often with hilarious results.
3. Rosemary's Baby (1968)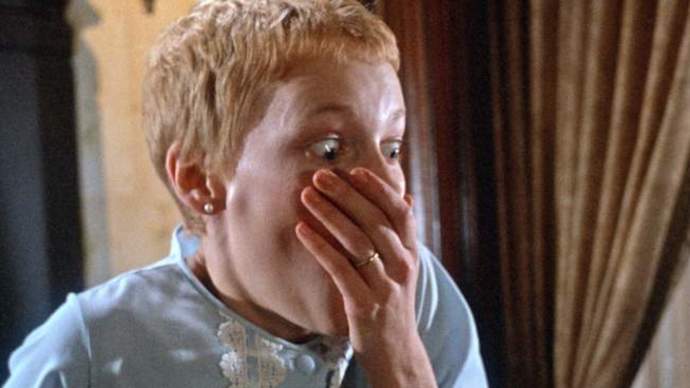 In real-life, pregnancy is often chaotic and filled with uncertainty, but in film, pregnancy can also be infused with horror. At least, it can be if you have Roman Polanski directing the tale.
His paranoia film Rosemary's Baby turns the miracle of conception and childbirth into a disturbing story of cult worship and selfish greed.
When Rosemary (played by Mia Farrow) and Guy Woodhouse (played by John Cassavetes) move into their dream apartment, they couldn't be happier. Unfortunately, it isn't long before that dream turns into an unstoppable nightmare for Rosemary.
Rosemary's Baby isn't just a classic horror film that stands the test of time, but also the most influential horror movie about pregnancy ever made.
2. Roma (2018)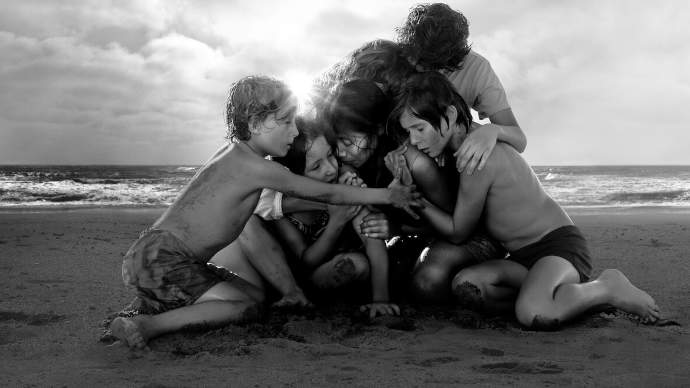 Roma is a gorgeously filmed black-and-white masterpiece that's set in the district of Colonia Roma in Mexico City in the 1970s.
Our star is Cleodegaria "Cleo" Gutiérrez (played by the tremendous Yalitza Aparicio Martínez), a live-in housemaid for a wealthy family that's beset with internal turmoil.
When Cleo realizes that she's pregnant, and when the father of her child violently declares that he'll have nothing to do with her or the child, things take a turn for the worse in Cleo's life.
Meanwhile, the father of the affluent household Antonio (played by Fernando Grediaga) is having an affair and his wife Sofía (played by Marina de Tavira) frequently fights with her children, even physically.
The familial strife that Cleo witnesses daily suddenly feels closer to home. With Roma, Alfonso Cuarón creates one of the most harrowingly beautiful portraits of childhood, pregnancy, and family, making it an utterly enchanting and must-watch film.
1. Children of Men (2006)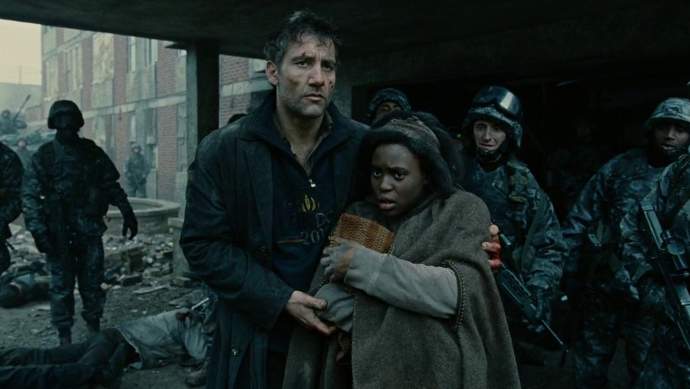 It was a difficult choice picking the top film about pregnancy, but ultimately, I don't think any other film can best Children of Men.
Directed by Alfonso Cuarón, Children of Men depicts a dystopian world in anarchic freefall. Set in the near future, all women have become infertile, putting the entire planet in a perpetual state of dread and ennui.
However, when all hope seems lost, our disillusioned protagonist Theo Faron (played by Clive Owen) is presented with a shocking secret: a young refugee woman has miraculously become pregnant.
Theo is now tasked with protecting her and escorting her to a rescue boat, allowing her to escape from the clutches of those who seek to exploit her and her newborn child for political purposes. No one can be trusted and time is quickly running out.
Of all the films on this list, Children of Men is the one that imparts on us the true value and virtue of pregnancy and childbirth. Amidst all of the chaos, the brutality, and the conflict, the mere sight of a woman with child is enough to leave everyone around speechless.
For that reason, Children of Men is really a no-brainer as our top pick for the all-time best movie about pregnancy.